The Best Deck Installation In Farragut, TN
Installing a new deck in Farragut, TN? You know what to do!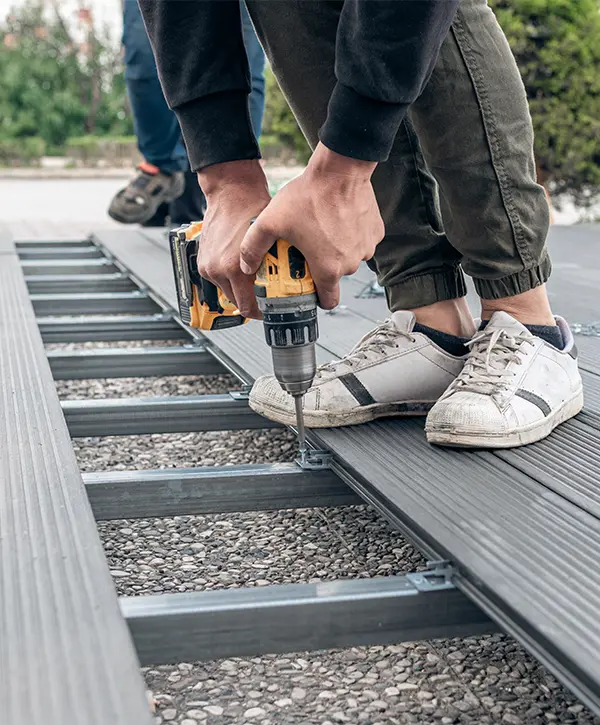 Adding a new deck to your property can increase its value and make your outdoor living space more comfortable. Investing in a new deck is a great option.
To ensure your deck installation project in Farragut, TN is durable and long-lasting, it's best to have Riverview Decks' local professionals handle it.
If you want to impress your guests with a stunning new deck, consider hiring the top deck builders in Farragut for your project.
A Deck Construction That Keeps On Giving
Riverview Decks strives to raise the bar of the deck installation industry by providing a top-notch installation process that caters to your specific requirements. Our dedication to surpassing expectations ensures that you can rely on us to deliver exceptional service.
With us, you'll also get:
Let Farragut Deck installation Pros Get On Your Project
We recognize that undertaking significant projects like building a deck in Farragut may cause stress because of the various tasks involved, which can result in confusion and anxiety.
At Riverview Decks, we prioritize offering a hassle-free experience to our customers. For this reason, we regularly enhance and adjust our processes to ensure that you have a stress-free journey with us. We aim to make your deck installation an exciting experience, and our approach supports us in achieving this goal.
You will have full control over your project and be kept fully informed of any updates or changes in real-time, with explanations provided for each step of the process.
Our Customers In Farragut Love Their New Decks!
Our former 2nd story deck may have been up to code in the past, but between age, weather and carpenter bees we needed to replace it. 
Nate and his crew replaced the formerly code allowable 4×4 posts with 6×6 posts, joists were maybe double in number, the wooden pickets replaced by rods that almost become invisible when looking out into the backyard. 
The flooring is Trex with a decorative edge that frames the floor as well as on the stair treads. We were surprised at how fast the Trex dries after torrential rain and how comfortable it is under a bare foot.
We aren't novices at carpentry and woodworking, but we were impressed with the crew's workmanship, precision of the cuts and their eye for detail; not to mention their almost non-stop work during hot, humid days. 
Nate, the crew, and even the supply delivery people were very professional, personable, respectful and punctual – clearly a well-organized company. Thank you, Nate, and thank you to your carpenters!
Type Of Upgrades And Materials
The deck installation industry regularly introduces new technologies and materials that can improve the functionality of your deck. With a variety of options available, it can be challenging to determine the most suitable one for your needs.
Let's discuss the most popular upgrades and materials.
To ensure your structure's stability, it is important that your deck framing is sturdy, durable, and resistant, allowing it to last as long as your home.
The customary and widely used material for deck frames is pressure–treated wood. While grade 1 and 0 treated wood can be used for framing and posts, they may not be the most long-lasting choices. Despite being treated, these woods will eventually rot and can be affected by termite infestations.
Based on my experience, I would suggest using metal for deck framing as it is stronger, more durable and dependable than wood. Additionally, metal requires less maintenance as compared to wood. This can help in reducing your expenses.
Here at Riverview Decks, we're big fans of Fortress Building Products, the biggest name in the metal frames industry.
To create the desired atmosphere in your outdoor area, it is important to choose the right material for your decking. Your chosen material should not only have aesthetic appeal but should also be practical and easy to maintain.
If you want a deck with a luxurious natural wood look, you should use high-end materials like Ipe, mahogany, tigerwood, or redwood. Keep in mind that these materials are more expensive and require regular cleaning, staining, and sealing. However, using them could impress your guests.
Composite decking is a popular material that can save you time, effort, and maintenance costs for your deck.
At Riverview Decks we work with the top composite decking brands in the industry, like TimberTech, Trex, and Fiberon, and you'll get these materials at competitive prices.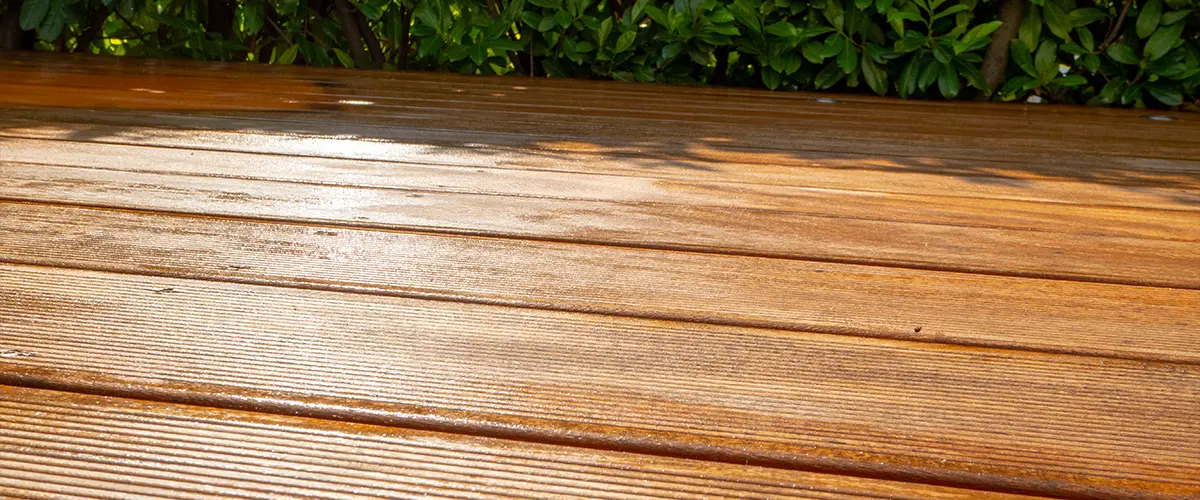 Most deck installation projects require railings. These enhance the appearance of your outdoor space and provide safety and comfort to everyone using the deck.
To ensure lasting quality, we suggest that customers opt for aluminum or composite railings over wood railings. While wood railings are the traditional choice, they often deteriorate and become unsteady over time, despite regular maintenance and treatment.
If you choose aluminum railings from a top brand such as Westbury, they will maintain their appearance and quality for as long as you have your deck.
Although they may be more expensive, they will perfectly match your deck and give it the luxurious feel that it deserves.
Adding to your deck not only makes it more comfortable, but also enhances safety, especially during nighttime. Moreover, there are certain building regulations in most states and cities that mandate the installation of stair lights for decks with stairs.
You have the freedom to choose your lighting options. However, it is recommended to use warm, low-voltage lighting that has a long lifespan to avoid a high electricity bill and frequent replacements.
Inspiration For Your Deck installation In Farragut TN
Take a look at the decks we have completed in your vicinity! Inform us about your preferred deck appearance, and we will ensure your imagination materializes. Our gallery is available for you to browse through for some inspiration.
The Best Way To Start Your Project
Easily obtain your new deck through a streamlined and user-friendly process that provides frequent updates and keeps you informed.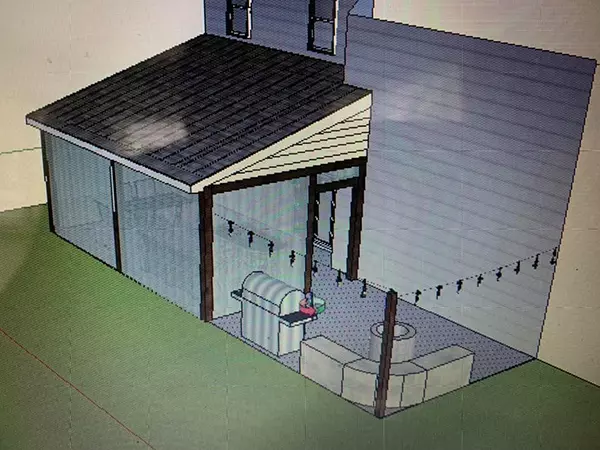 Request your free quote or call us directly to chat.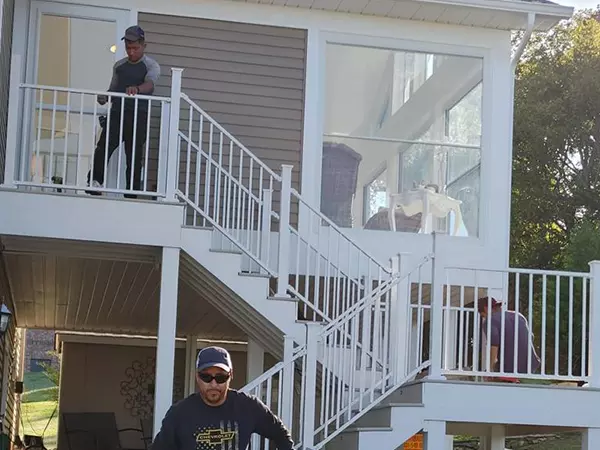 Be part of your incredible deck installation journey.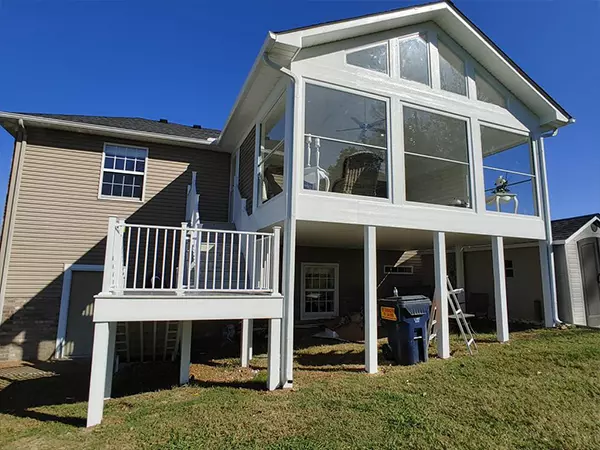 Your new deck is ready! Time to plan your next barbecue!
Frequently Asked Questions
Factors like size, elevation, and materials used will affect the total cost of your project. For example, a cedar deck measuring 12×12 could cost about $15,000, and a composite deck with aluminum railings, fascia wrapping, and stairs measuring 20×12 may cost about $27,000.
We will be able to give you a more precise pricing estimate once we meet with you in person to evaluate the project's size and discuss your options.
The duration for building a deck varies based on its complexity. Typically, a simple 12×12 deck made of lumber takes around three days to finish. However, if the deck has additional features like custom options, post, double-inset borders, or column wrapping, it may take longer. We will collaborate with you to develop a timetable that suits your project's individual requirements.
We provide two types of warranties for your deck. The first one is a 5-year workmanship warranty that guarantees the deck's stability and quality of construction. The second warranty is limited to a lifetime and covers manufacturer materials, ensuring that they are of superior quality and will not create any issues in the future.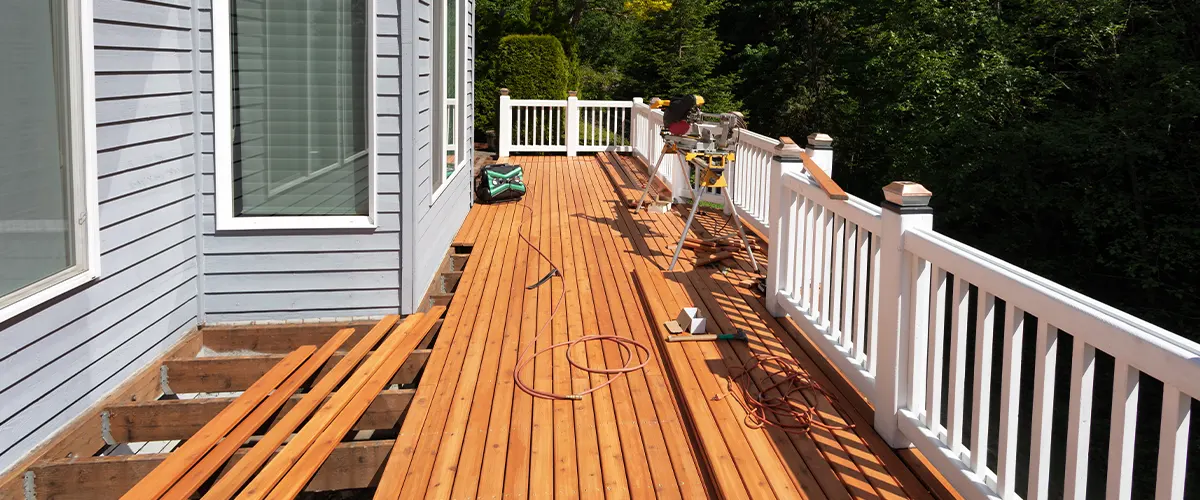 Let Riverview Decks Give You A Spectacular Deck!
Riverview Decks, your local experts in Farragut TN, can take care of your deck installation needs. 
With years of experience and expertise in deck installation and deck building in Farragut, we aim to deliver the best possible results by thoroughly understanding your needs and preferences.
You'll get:
Get The Best Deck installation In Farragut Today!