Pergola Installation In Knoxville, Maryville, And More Of TN
Your premier destination for pergola installation and deck building in Farragut, Lenoir City, Oak Ridge, and surrounding areas.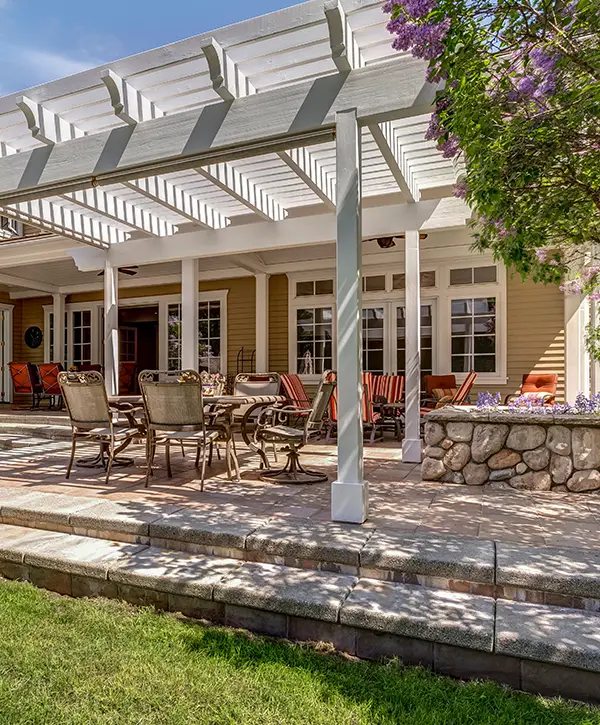 Are you looking to elevate your outdoor living experience and create a captivating space that combines beauty and functionality? Look no further than Riverview Decks, your trusted experts in deck building and pergola installation.
With our meticulous craftsmanship and attention to detail, we bring your pergola vision to life, transforming your deck into a stunning outdoor oasis.
Enjoy a service that includes:
Benefits Of Pergola Installation On Your Deck
A pergola is a great addition to any outdoor space, and can be especially beneficial when installed on your deck. Not only does it add an extra element of style and charm, but many practical benefits come along with having a pergola installed.
Whether you're looking for some shade from the sun or want to create a cozy atmosphere in your backyard, here are some of the top benefits of installing a pergola on your deck.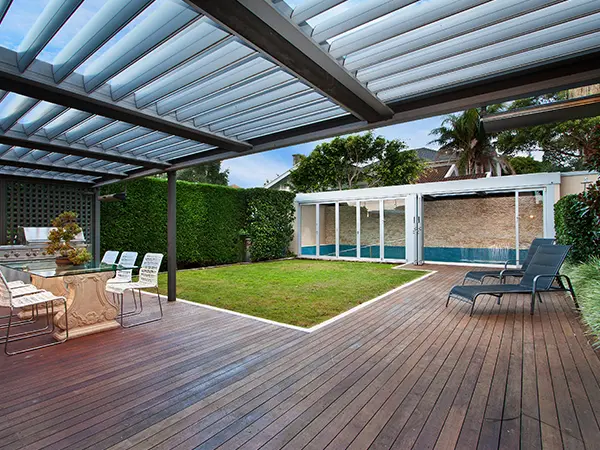 Sheltered Outdoor Retreat
A pergola offers a shaded and comfortable retreat right in your backyard. It shields you from the harsh sun, allowing you to enjoy the outdoors without worrying about harmful UV rays. With a pergola, you can create a space inviting relaxation, whether for lounging, reading, or simply spending quality time with loved ones.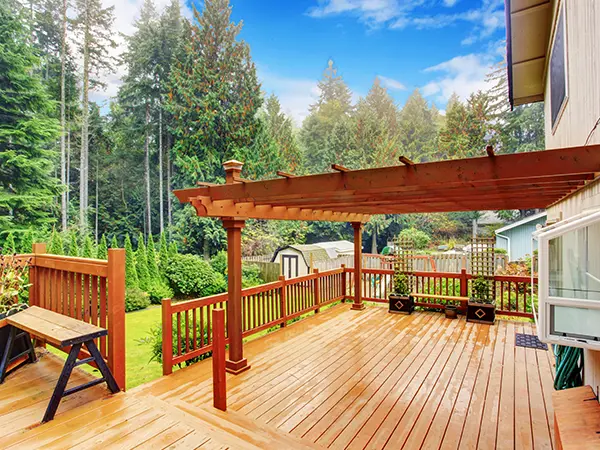 Adding a pergola to your deck instantly enhances the visual appeal of your outdoor space. It becomes a stunning focal point, elevating the overall beauty of your home. With customizable designs and materials, you can create a pergola that perfectly complements your existing architecture, making a statement that leaves a lasting impression.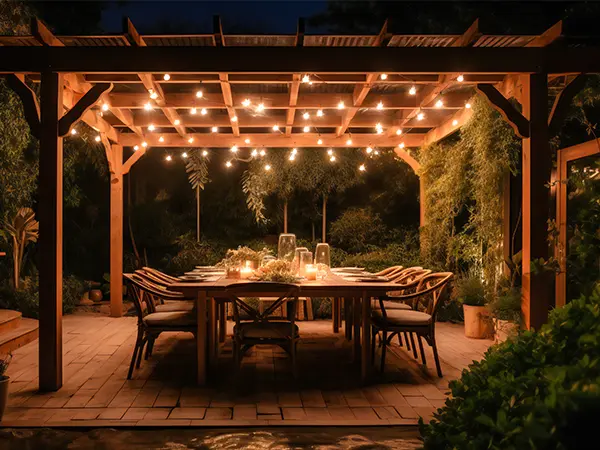 Defined Outdoor Living Area
A pergola helps define and delineate your outdoor living area. It creates a designated space that feels separate yet connected to the rest of your yard, giving a sense of purpose and organization. With a defined outdoor living area, you can arrange furniture, create zones, and establish a welcoming ambiance for gatherings and relaxation.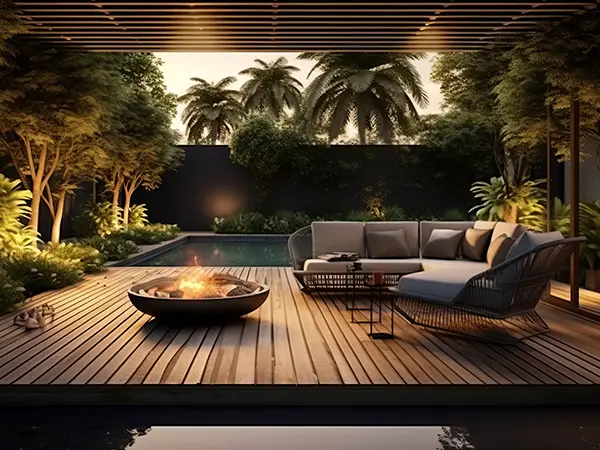 Flexibility in Design And Style
A pergola offers endless design possibilities to suit your unique taste and style. Whether you prefer a modern, sleek look or a more traditional, rustic charm, we can customize your pergola to match your preferences. You have the freedom to choose the materials, finishes, and architectural details that reflect your personal aesthetic, creating a truly personalized outdoor retreat.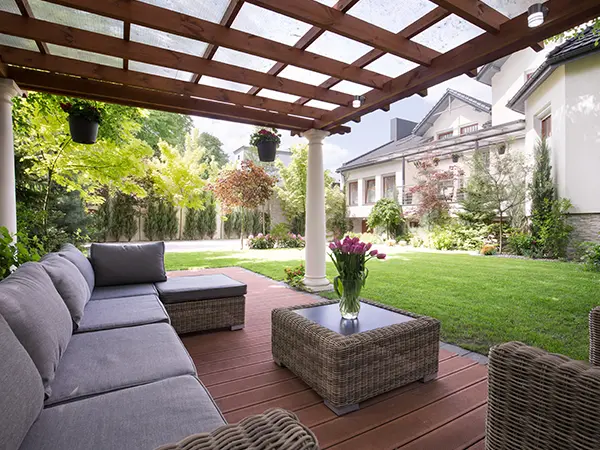 A pergola is an investment that adds value to your home. It enhances the overall appeal and desirability of your property, making it more attractive to potential buyers in the future. By adding a pergola to your deck, you're not only improving your quality of life but also increasing the market value of your home, making it a wise long-term investment.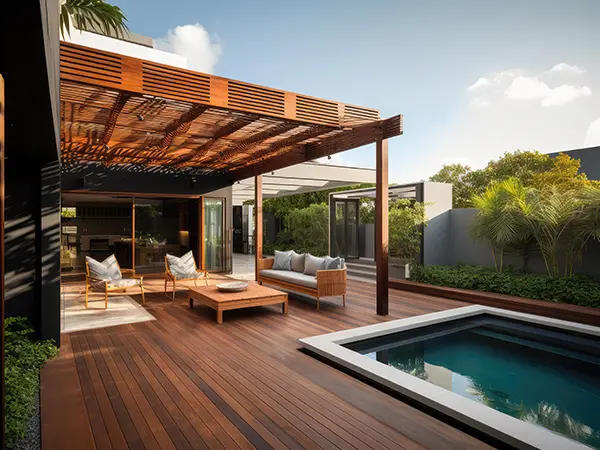 With a pergola, you can extend the usability of your deck throughout the year. It provides partial protection from the elements, allowing you to enjoy your outdoor space even during light rain showers or cooler evenings. By creating a sheltered area, you can appreciate the changing seasons, host gatherings, and relish the beauty of nature for an extended period.
As your trustworthy deck builders in TN, we offer all kind of amenities for people who work with us, so reach out for your free quote.
Pergola Installation With The Pros At Riverview Decks
When it comes to creating the perfect outdoor living space, a professionally installed pergola can truly transform your deck. At Riverview Decks, we take pride in delivering exceptional results, ensuring that every step of the process is expertly handled.
1. Consultation and Design
We begin by scheduling a consultation to understand your vision and goals for your pergola project. Our experienced team will work closely with you to create a design that complements your deck and aligns with your style. Whether you prefer an attached pergola or a freestanding structure, we'll guide you in choosing the perfect pergola kit and discuss options such as pergola covers, climbing vines, and more.
Before the installation begins, we'll assess your outdoor space and prepare it accordingly. This may involve clearing the area, ensuring a level surface, and creating a concrete slab foundation for the pergola posts if necessary. Our team will handle all the necessary preparations, ensuring a sturdy and long-lasting structure.
3. Professional Installation
When it's time to bring your pergola to life, our skilled craftsmen will take care of every detail. We'll assemble and secure the pergola kit with precision and expertise, ensuring that it is structurally sound and seamlessly integrated into your outdoor space. Our attention to detail guarantees a finished product that exceeds your expectations.
We'll install the appropriate roofing elements for your pergola, depending on your design preferences. This may include shade sails, retractable covers, or traditional pergola roofs. Our team will ensure that your pergola provides the desired level of shade, protection, and aesthetic appeal.
To complete the installation, we'll focus on the finishing touches that elevate your pergola to its full potential. From adding decorative elements to incorporating lighting fixtures and desired outdoor amenities, we'll transform your pergola into a captivating outdoor room, inviting relaxation and entertainment.
By choosing Riverview Decks for your pergola installation, you benefit from our extensive experience and expertise. Our team is well-versed in local building codes and regulations, ensuring that your pergola project is compliant and meets all necessary standards. You can rest assured knowing that professionals handle every aspect of the installation, resulting in a beautiful and durable addition to your deck.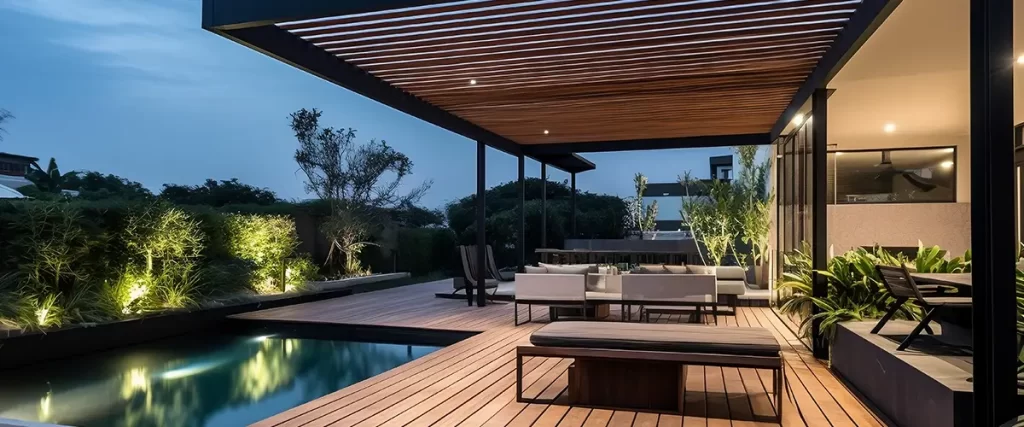 At Riverview Decks, we believe that a professionally installed pergola enhances your outdoor space in ways that surpass a DIY project. Contact us today to schedule a consultation, and let us bring your pergola vision to life.
A Word From Our Past Customers
Here's what your neighbors say about working with a top-tier contractor!
Nate was very educational and professional. […] 
I was very impressed with my cement patio and how it was perfectly leveled to my porch cement patio. Through this whole process there was no drama, no complications and All the workers were very professional. 
I would definitely recommend Riverview Decks to my family and friends, not only for decks, but for any remodeling job they need to have done. It was a good experience and I rate them a five star.
The owner Nate and his guys have done a phenomenal job for me and my wife. 
Top notch communication from start to finish. Top quality work. They got a little delayed due to product back orders, but they made sure we were communicated to, and knew when they would finish.
The project came out way better than we inspected. We highly recommend Lakeview Home Improvement.
How We Can Customize Your Pergola
A pergola can be ideal for your deck, offering enhanced aesthetics, defined outdoor living areas, and increased property value. With customizable designs and materials, you can choose a pergola that perfectly complements your existing architecture while providing flexibility in design and extended outdoor seasons.
Enjoy added protection and comfort with a pergola roof. Whether you opt for a solid roof or a louvered design, it provides shelter from the elements, allowing you to make the most of your outdoor space regardless of the weather.
Create a cool and inviting ambiance with features that provide maximum shade. From retractable canopies to shade sails, these elements allow you to control the amount of sunlight that enters your pergola, ensuring optimal comfort on hot summer days.
Enhance air circulation and keep your pergola cool with the installation of ceiling fans. These functional additions provide a refreshing breeze, making your outdoor space more enjoyable, even on the hottest of days.
After your deck is up and running, we'll do a thorough inspection to ensure everything is up to the highest standards of safety and quality. 
We'll also have a walkthrough to show you what we did, why, and how, so you can tell everyone about your amazing new deck.
Complement your pergola with a beautiful and durable concrete patio. This smooth surface enhances the aesthetic appeal of your outdoor space and provides a stable foundation for furniture, creating a seamless transition from your deck to your pergola.
Ensure the stability and safety of your pergola with the proper installation of lag bolts and ledger boards. These essential components secure your pergola to your deck or concrete patio, providing structural integrity and peace of mind.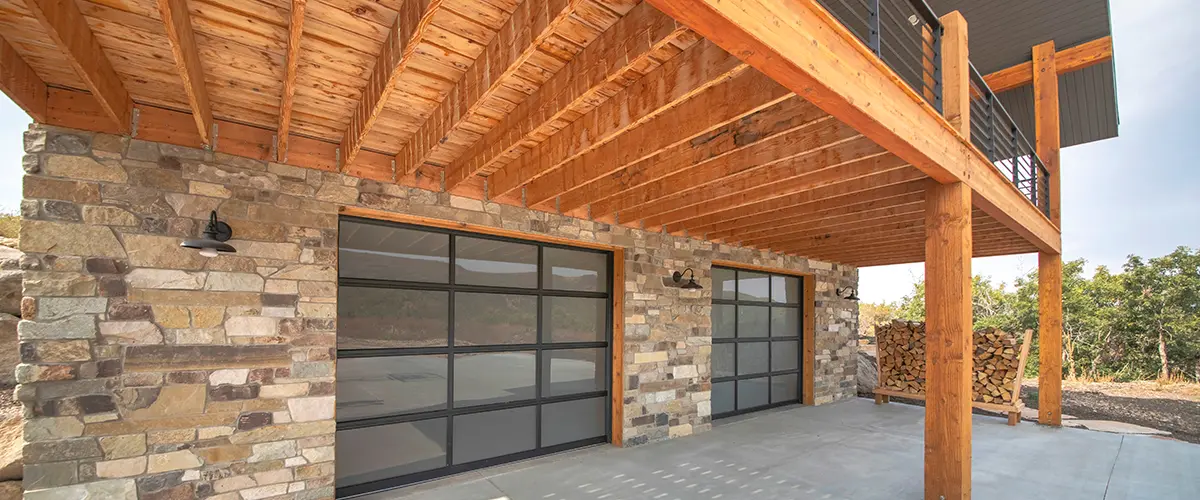 Contact us today to explore the possibilities and create a pergola combining beauty, functionality, and the perfect shade for your outdoor oasis.
Frequently Asked Questions about Pergola Installation
Make Long-Lasting Memories On Your New Deck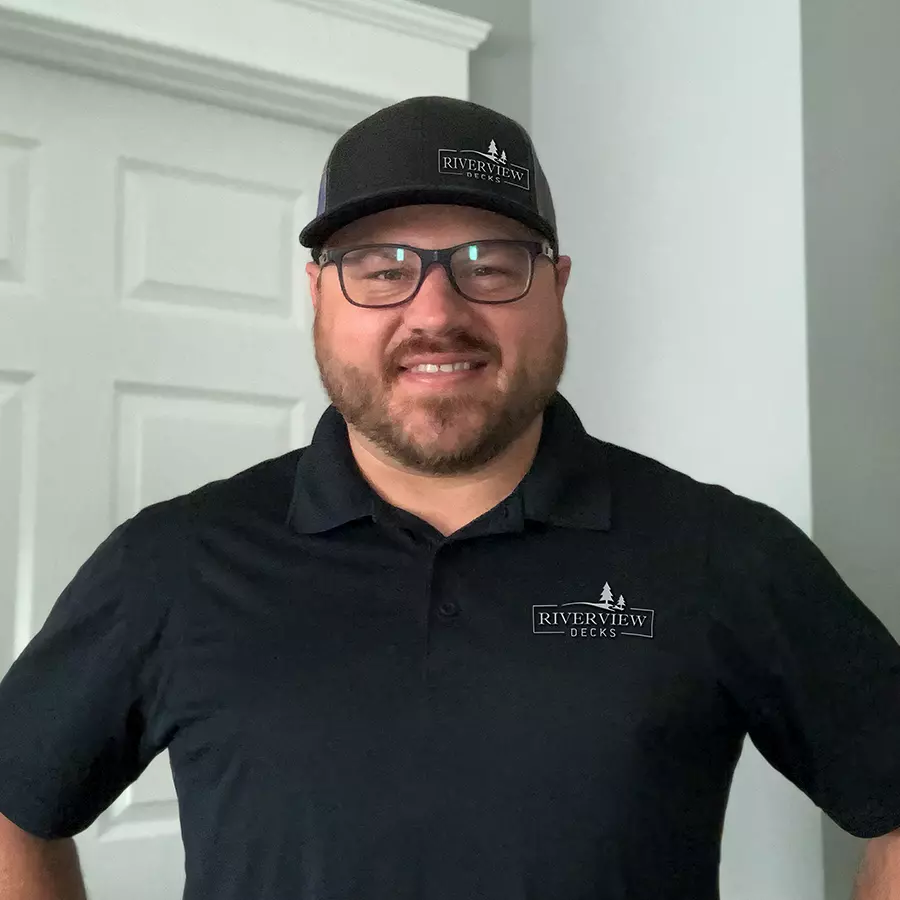 Ready to transform your deck with a stunning pergola? Contact Riverview Decks today and let our experts bring your vision to life.
From design to installation, we'll ensure a seamless process and exceptional results.
Don't wait any longer – take the first step towards creating your perfect outdoor oasis.