Hot Tub on Deck In Knoxville, Maryville, and more of TN
Get a custom-built deck to accommodate a relaxing hot tub.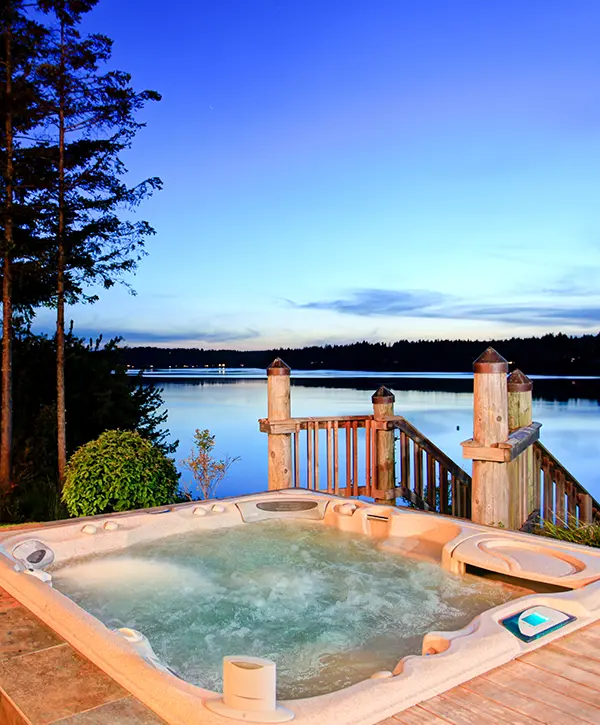 Welcome to Riverview Decks, your go-to source for expert deck building and repair services in Knoxville, Maryville, Farragut, Lenoir City, Oak Ridge, and beyond.
At Riverview Decks, we specialize in creating custom decks that are tailored to your unique needs and desires, including the installation of hot tubs on your deck.
We understand that having a luxurious hot tub on your deck can transform your outdoor living space into a relaxing and enjoyable oasis. That's why we're dedicated to helping you customize your deck to accommodate your desired hot tub installation.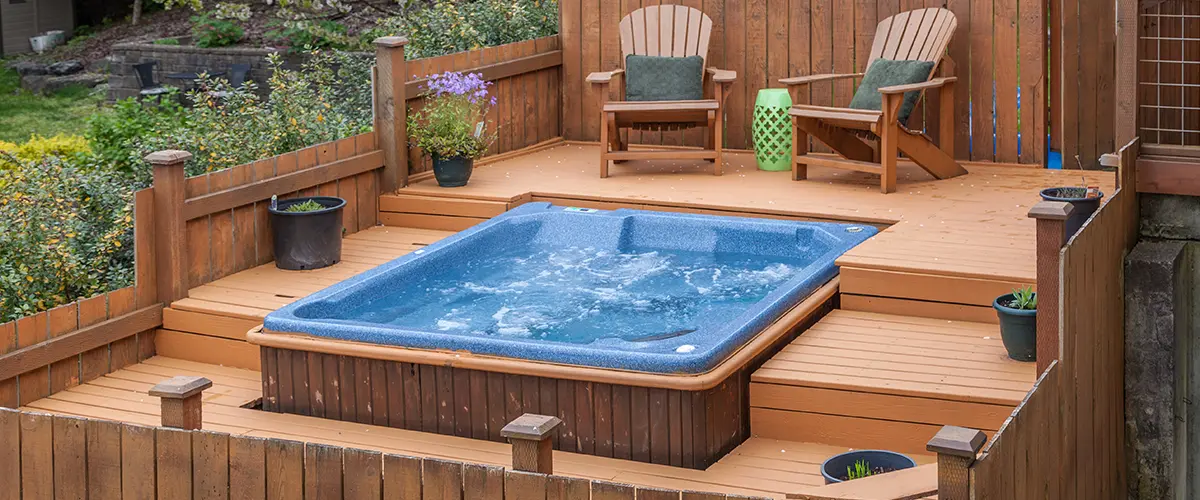 Benefits of Having a Hot Tub On A Deck
There's nothing quite like soaking in a hot tub after a long day, and having one on your deck can take the experience to the next level.
You're in for a treat with a hot tub on your deck! Set it to your liking by adjusting the water temperature, jet pressure, and lighting to create a spa atmosphere in your backyard. It's the ultimate way to relax and unwind.
Having a small yard doesn't mean you can't enjoy the perks of a hot tub! Installing one on your deck is a fantastic solution that'll free up valuable square footage in your yard for other activities.
If you're thinking about installing a hot tub, here's a friendly tip: putting it on a deck surface makes things a lot easier.
The deck provides a solid and stable foundation, so you won't have to worry about unsteady ground or uneven terrain. Plus, cleaning and draining your hot tub becomes a breeze, making maintenance a snap!
Don't miss out on the opportunity to install a hot tub on your deck; not only will you get to choose the perfect location for it, but you'll also get to enjoy serene privacy while taking in the beauty of your surroundings.
It's the perfect addition to your home that will leave you feeling relaxed and refreshed.
Adding a hot tub to your deck does more than just enhance its appearance, it transforms it into the ultimate hangout spot! Imagine relaxing on your deck and soaking in the hot tub, surrounded by nature.
It's an irresistible and enjoyable experience, making your outdoor space the perfect retreat for you and your loved ones.
We use only the highest quality materials, including pressure-treated wood and concrete deck footings, to ensure that your deck can withstand the added weight and pressure of a filled hot tub.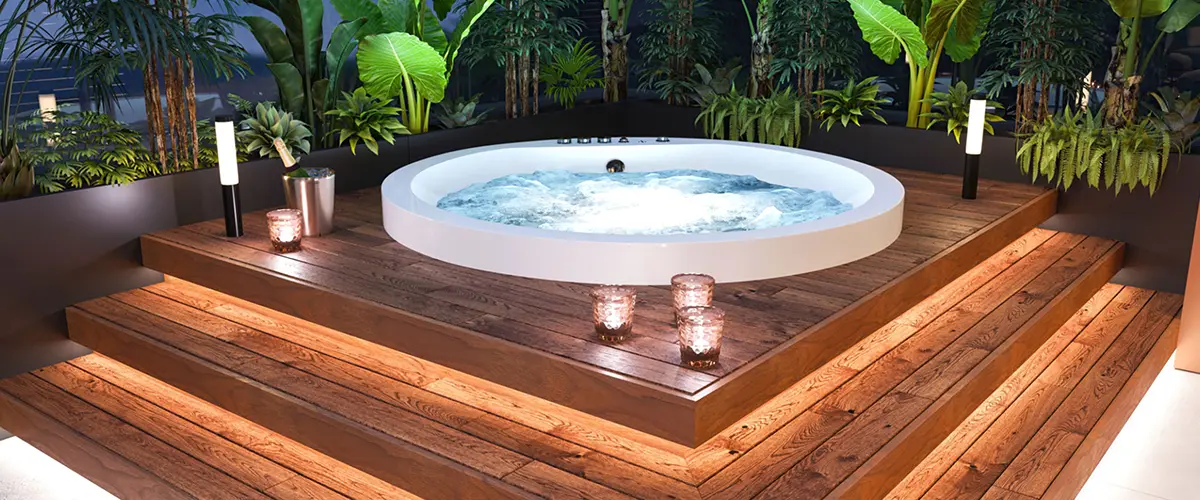 Types of Hot Tubs That Can Be Installed on a Deck
Are you thinking of adding a hot tub to your deck but don't know where to start? We've got you covered! The first step is to consider the size of your deck, how much you're willing to spend, and what level of luxury you want to achieve.
With so many hot tub options out there, finding the perfect one for your deck and lifestyle is a sure thing. Don't forget to consult with a professional to ensure the installation is safe and sound. To help you choose, we've listed some of the most popular hot tub types below.
Have you considered a recessed hot tub for a more luxurious and integrated feel? Unlike above-ground hot tubs, this option is installed below the deck surface to give a streamlined and elegant look. Sure, it requires more square footage, but the added benefits are totally worth it!
If you're dreaming of a hot tub, an in-ground option is a great choice! It might take a little more work to install, but there's nothing like the look of having your hot tub built right into your deck. The extra excavation is worth it because it'll give your backyard a sleek and elegant vibe.
An above-ground hot tub is a popular option for homeowners who want a less expensive and less invasive hot tub installation. This type of hot tub can be placed directly on top of the deck surface, so the square foot space it occupies isn't that extensive.
Looking for a budget-friendly and portable way to transform your deck into an oasis, then an inflatable hot tub may be just what you need. No hassle with permanent installation, simply inflate and relax. Plus, when you're not using it, just deflate and store it away.
Our team of expert professionals has years of experience in deck building and repair, and we know how to ensure that your deck can support the weight and size of your hot tub while maintaining its safety and structural integrity.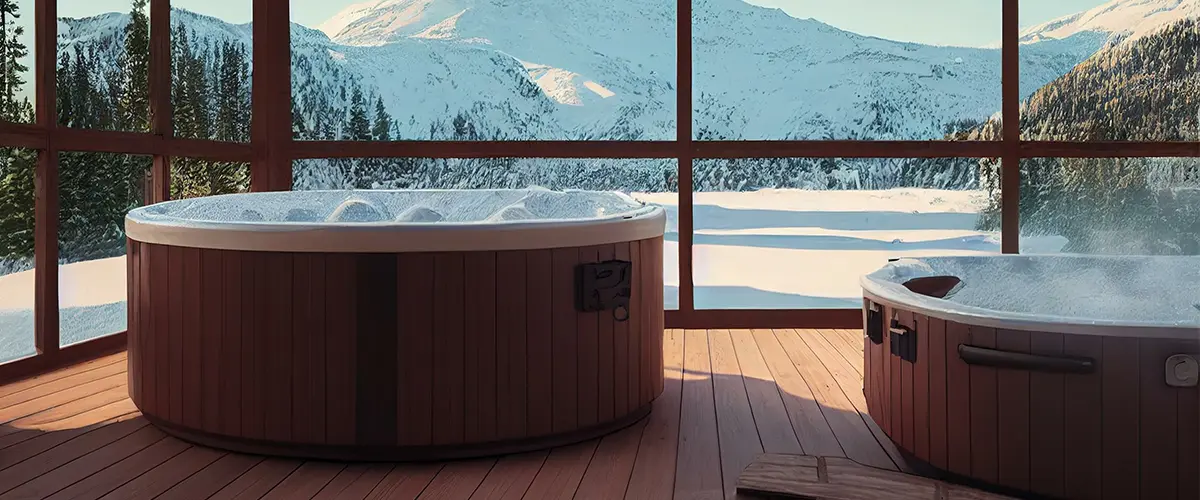 Safety Considerations For Installing a Hot Tub on a Deck
Installing a hot tub on a deck can be a great way to enjoy the benefits of a hot tub while also enjoying the convenience of having it right outside your door. However, there are some important safety considerations to keep in mind when installing a hot tub on a deck.
Hot tubs can be heavy, especially when filled with water. Before installing a hot tub on an existing deck, it's important to make sure that the deck can handle the weight of the hot tub.
You should consult a professional to determine the deck's load capacity and ensure that it can support the weight of the hot tub, which can range from 2,500 to 5,000 pounds when filled with water.
As you think about where you want to place your hot tub on your deck, there are a few things to keep in mind. First, think about how the weight of the hot tub will be distributed and make sure to locate it near any supporting beams or posts.
It's also essential to leave enough space around the hot tub for maintenance and easy access to equipment. Taking these steps will keep your hot tub in top shape for years to come, letting you relax with confidence.
Did you know that a concrete pad can really help out when you're installing a hot tub? It helps spread out the weight evenly, so your deck stays safe from damage. Plus, you get a more stable and level surface for your tub! It's a win-win.
f you are building a new hot tub deck, it's important to use pressure-treated wood, which is resistant to rot and insect damage. This type of wood is also stronger and more durable than untreated wood, making it a better choice for supporting the weight of a hot tub.
It's important to ensure that your hot tub deck has adequate support, including the use of sturdy posts, beams, and joists. You should also check the deck's load capacity and ensure that it can support the weight of the filled hot tub, which can be up to 100 pounds per square foot.
When you hire Riverview Decks, you don't have to worry about any of that. Just tell us you want a deck customized for a hot tub and we will take care of every detail!
How Others Feel About Working With Riverview Decks
Nate was very educational and professional. In 18 years it's a second time I have to replace my deck and Nate informed me how it had been done wrong; low to the ground causing it to rot.
He explained thoroughly what needed to be done so I could get many years from my deck but I I chose to do a cement patio , looking to the future of possibly a screened porch.
I was very impressed with my cement patio and how it was perfectly leveled to my porch cement patio. Through this whole process there was no drama, no complications.
All the workers were very professional. I would definitely recommend Riverview Decks to my family and friends, not only for decks, but for any remodeling job they need to have done. It was a good experience and I rate them a five star.
FAQs About Hot Tubs On Decks
At Riverview Decks, we have extensive experience designing and building decks of all types and sizes, including for customers lookin to install an outdoor hot tub later on. If you have any additional questions about our custom decks, don't hesitate to contact us.
Make Your Deck Safe For A Hot Tub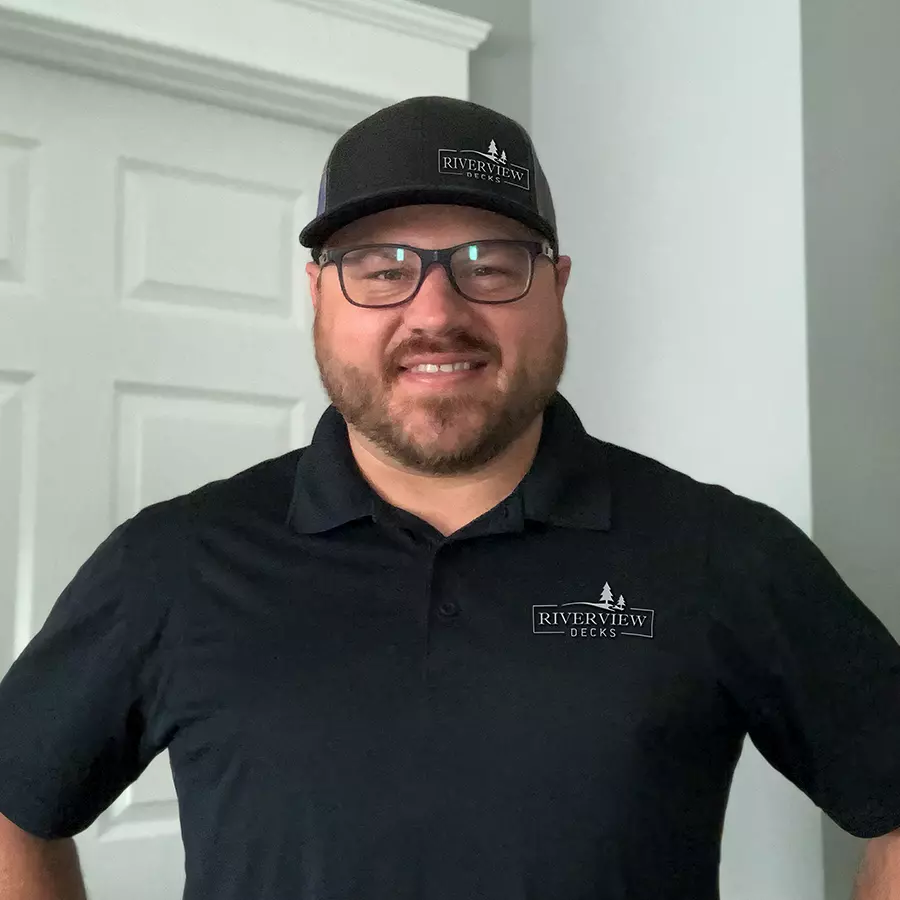 At Riverview Decks, we're committed to providing you with exceptional service and outstanding results.
Contact us today to schedule a consultation and learn how we can help you customize your deck for hot tub installation, and transform your outdoor living space into the ultimate oasis.