Porch Construction In Knoxville, Farragut, Maryville, Loudon, And More Of TN
Gain more outdoor space with our professional porch construction and deck building services.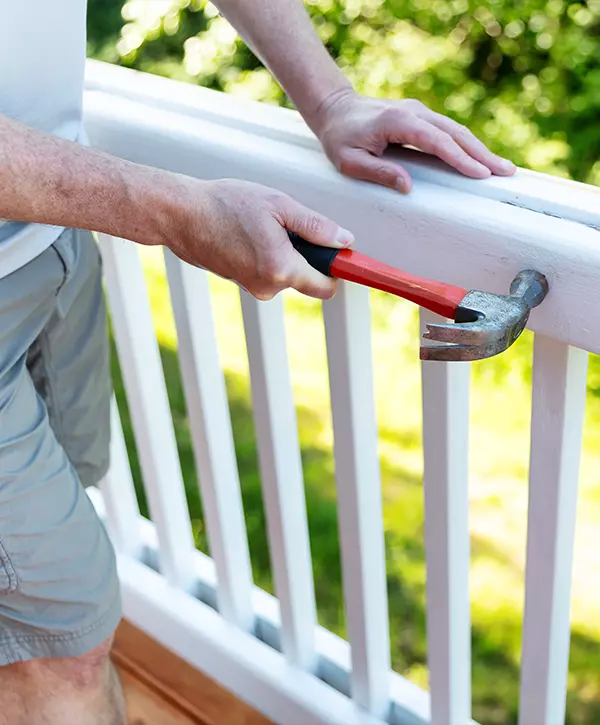 Welcome to Riverview Decks, where your dream porch becomes a reality. Elevate your home with a beautifully crafted porch that brings your family together and creates cherished moments. 
Whether it's a charming front porch, a tranquil screened oasis, or a custom-designed retreat, we offer a range of styles to suit your unique vision.
With our expert team guiding you every step of the way, you can expect a stress-free construction, compliance with local regulations, and a porch that reflects your style and preferences.
Our team has a lot to offer, including:
Benefits Of Having A Porch
Having a porch is more than just an addition to your home; it's a space that can transform your lifestyle and bring immeasurable joy to your family. Here are four key benefits of having a porch:
Your porch becomes the heart of your home, offering a warm and welcoming space for family gatherings and social interactions.
Imagine spending a lazy Sunday morning sipping coffee with your loved ones, breathing in that fresh air, or hosting a barbecue party where friends and neighbors come together to create lasting memories. A porch creates an extension of your living space, allowing you to enjoy the outdoors while still being comfortable and connected to your home.
Your porch can be your personal oasis, providing a serene escape from the hustle and bustle of everyday life. 
Whether you're reading a book, meditating, or simply soaking in the sights and sounds of nature, your porch becomes a tranquil retreat where you can unwind and recharge. Studies have shown that spending time in nature reduces stress and promotes overall well-being, making your porch an ideal spot to find peace and serenity.
Beyond the emotional benefits, a well-designed porch enhances the aesthetic appeal of your home and boosts its curb appeal. 
Potential homebuyers are often drawn to properties with charming porches, as they offer a touch of character and a sense of community. Consequently, adding a porch can significantly increase the resale value of your home, making it a smart investment in both your present and future.
A thoughtfully designed porch can serve as a versatile space, accommodating various activities throughout the year. 
During warm weather, it can function as an outdoor dining area or a play space for kids. As the seasons change, you can add cozy furniture and heaters to transform it into an intimate nook for enjoying the crisp autumn evenings or a sheltered spot to watch the rain.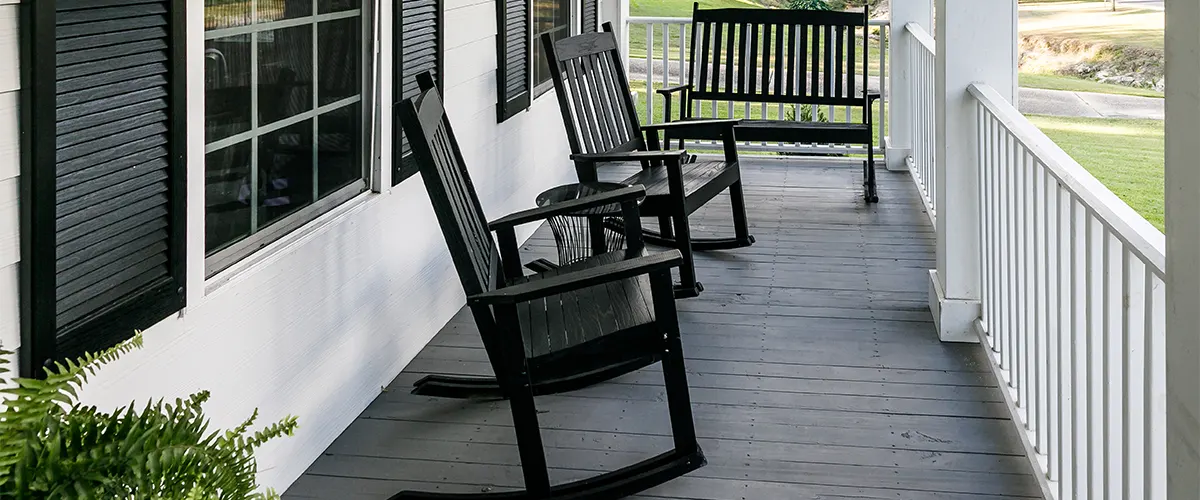 From fostering family togetherness and providing a peaceful retreat to increasing your home's value and offering versatile living space, Riverview Decks is ready to build you a flawless deck or an amazing porch for all your beautiful home moments.
Exploring Different Types of Porches
At Riverview Decks, we understand that every homeowner has their own vision for the ideal porch – a space that reflects their lifestyle, enhances their home's curb appeal, and brings family and friends together. Let's explore different types of porches that we can create to elevate your home and create unforgettable outdoor experiences.
The front porch is a classic and timeless addition to any home. It's a place where neighbors stop for a friendly chat, where you can enjoy a cup of tea while watching the world go by, and where the charm of your house style truly comes to life. With its inviting appeal, the front porch is the perfect spot to welcome guests and create a warm and hospitable first impression.
For those who crave a connection with nature while maintaining a barrier against pesky insects, a screened porch is an excellent choice. Enjoy the gentle breeze, sights, and sounds of the outdoors without the annoyance of bugs and mosquitoes. A screened porch transforms your outdoor space into a serene retreat where you can relax, read a book, or have intimate gatherings without interruptions.
Sleeping porches hark back to a bygone era, adding a touch of nostalgia to modern homes. Imagine spending cool summer nights sleeping under the stars, feeling the gentle breeze on your skin, and waking up refreshed to the soft morning light. A sleeping porch offers a unique and peaceful experience that connects you intimately with nature while still providing a cozy and comfortable sleeping area.
For homes with expansive landscapes and breathtaking surroundings, a wrap-around porch is a perfect match. This porch style wraps around multiple sides of your home, providing abundant space for relaxation, outdoor dining, and endless conversations. A wrap-around porch offers panoramic views from sunrise to sunset, creating an immersive outdoor living experience.
When you want to enjoy the outdoors, rain or shine, a covered porch is the solution. This type of porch is sheltered by the main roof of your home, providing shade and protection from rain, allowing you to make the most of your porch space regardless of the weather. It's a versatile option that caters to various activities, from casual lounging to hosting outdoor parties.
Get in touch with us and let us know how you'd like to use your porch. As a deck and porch builder, we construct spaces that fit many house styles so that we can build something truly outstanding for your home!
Heartfelt Stories of Happy Families
The following testimonials are authentic stories our valued customers share, expressing their genuine experiences with Riverview Decks and the joy our porches have brought into their lives.
Lakeview has done several projects for us. They specialize in higher end homes but their prices do not reflect that but their quality does. Highly recommend.
Nate was Professional and easy to work with. There were some changes to the remodel which Nate was happy to amend. We became quite good friends and I would highly recommend.
The Riverview Decks Promise
When it comes to elevating your home with a beautiful porch, we at Riverview Decks take pride in offering comprehensive porch construction services that bring families together in style and comfort. 
Our experienced team of porch builders understands the significance of a well-crafted porch that complements your home's architecture and meets local building codes to ensure structural integrity.
Custom Porch Design to Suit Your Unique Style
A porch project is an opportunity to personalize your outdoor space according to your preferences. 
Our experts in porch design will work closely with you to understand your vision and guide you through the process of creating a custom porch that blends seamlessly with your house style. Whether you dream of a classic front porch with a gabled roof or a modern screened in porch for relaxing evenings, our team can bring your ideas to life.
Meeting Building Codes and Obtaining Proper Permits
Navigating local building codes can be overwhelming, but with Riverview Decks as your porch construction partner, you can rest assured that everything will be handled efficiently.
 We have extensive knowledge of the requirements for porch roof, porch floor, porch decking, and porch framing to ensure your new porch meets all safety regulations. Our dedication to obtaining proper permits ensures a hassle-free process from start to finish.
Screened Porches: Embrace the Outdoors, Uninterrupted
For homeowners seeking an inviting space that connects them to nature without pesky insects or weather disturbances, screened porches are an ideal choice. 
Our construction services include the creation of beautifully screened-in porches, adding a touch of charm to your home's exterior while providing a cozy sanctuary to enjoy the fresh air.
Preserving the Integrity of Your House Wall
We understand that a porch is not merely an addition but an extension of your home's character. 
Our porch framing and construction techniques take into account the importance of seamlessly integrating the new porch with your house wall. The result is a porch that complements your house style and looks like it was always meant to be a part of your home.
Quality Materials for Porch Flooring and Ceiling
The foundation of any porch lies in its floors and ceilings. Our team carefully selects durable materials for porch floors and ceilings, ensuring they withstand the test of time and weather. From classic wooden porch floors to low-maintenance composite decking options, we offer choices that suit your preferences and budget.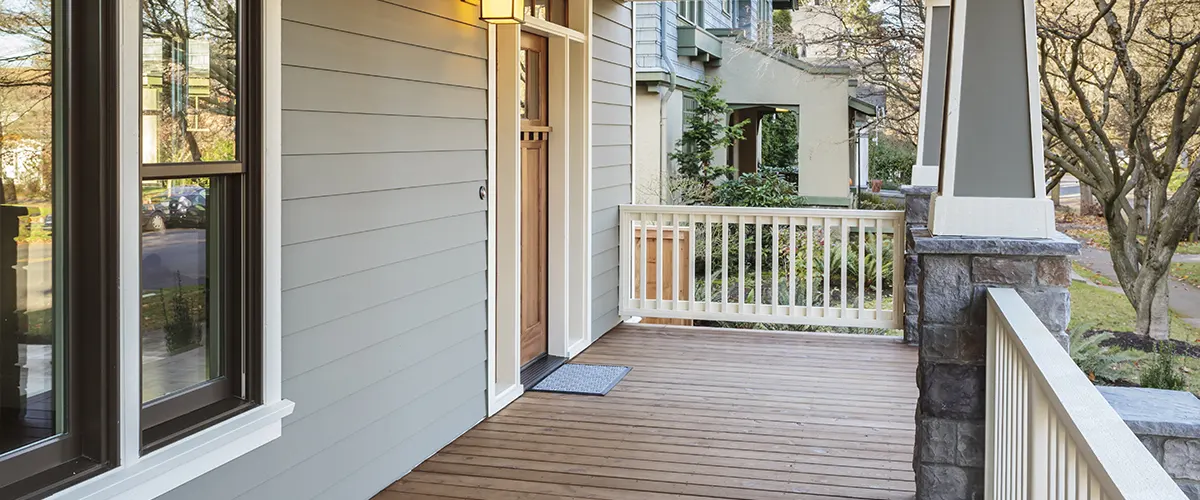 Our commitment to quality craftsmanship, compliance with building codes, and dedication to design excellence ensures that your new porch will be a cherished addition, elevating your home's functionality and aesthetics. Contact us today to schedule a consultation!
In Tennessee, a permit is required for building a custom addition, site-built deck, porch, or stoop that is constructed adjacent to the home. At Riverview Decks, we handle all necessary permits on your behalf to ensure a smooth and compliant construction process.
Our porch construction services at Riverview Decks are tailored to accommodate a wide range of house styles. Whether you have a modern, traditional, colonial, or farmhouse-style home, we work closely with you to design a custom porch that seamlessly blends with your home's architecture and complements its aesthetic.
Yes, we provide screened-in porches that allow you to enjoy the outdoors without worrying about bothersome insects or pests. Our screened porches offer a tranquil retreat, combining the beauty of nature with the comfort of an enclosed space, perfect for relaxing evenings and gatherings with family and friends.
Ready to Elevate Your Home with a Stunning Porch?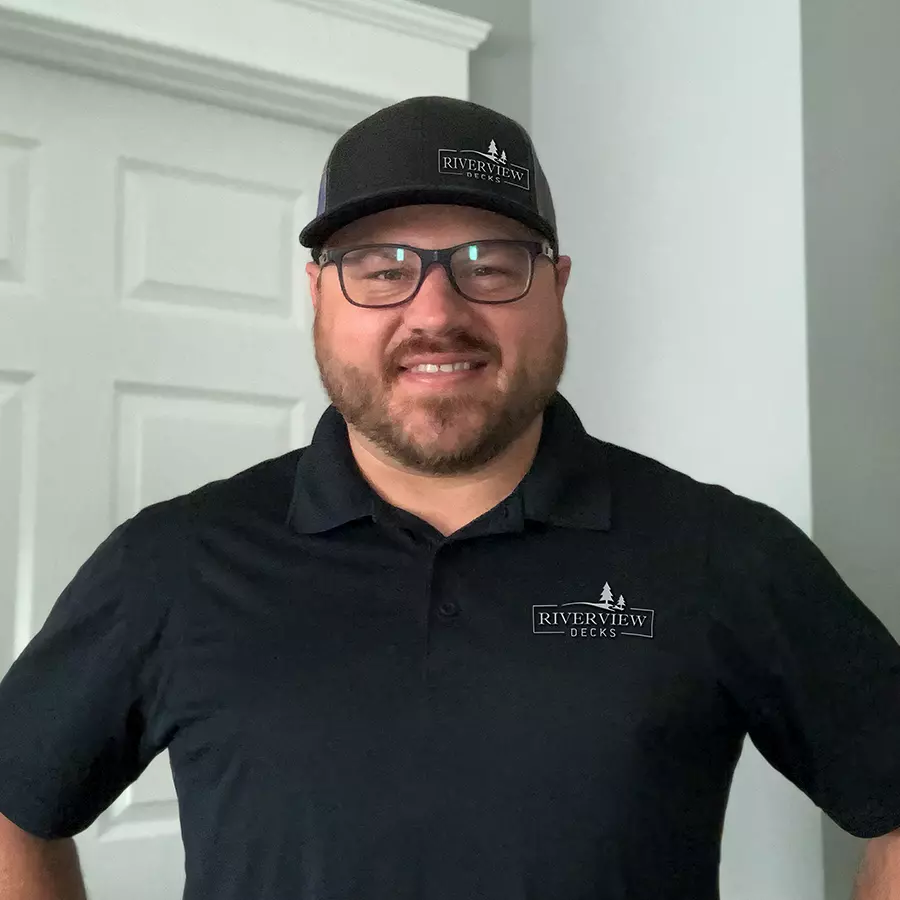 Our team of experts is here to bring your vision to life, providing top-notch craftsmanship and unmatched dedication to customer satisfaction. 
Don't wait any longer; let's discuss your porch project and turn your dream into reality. Call us now at (865) 801-4545 and take the first step towards enhancing your home with a beautiful and functional porch.