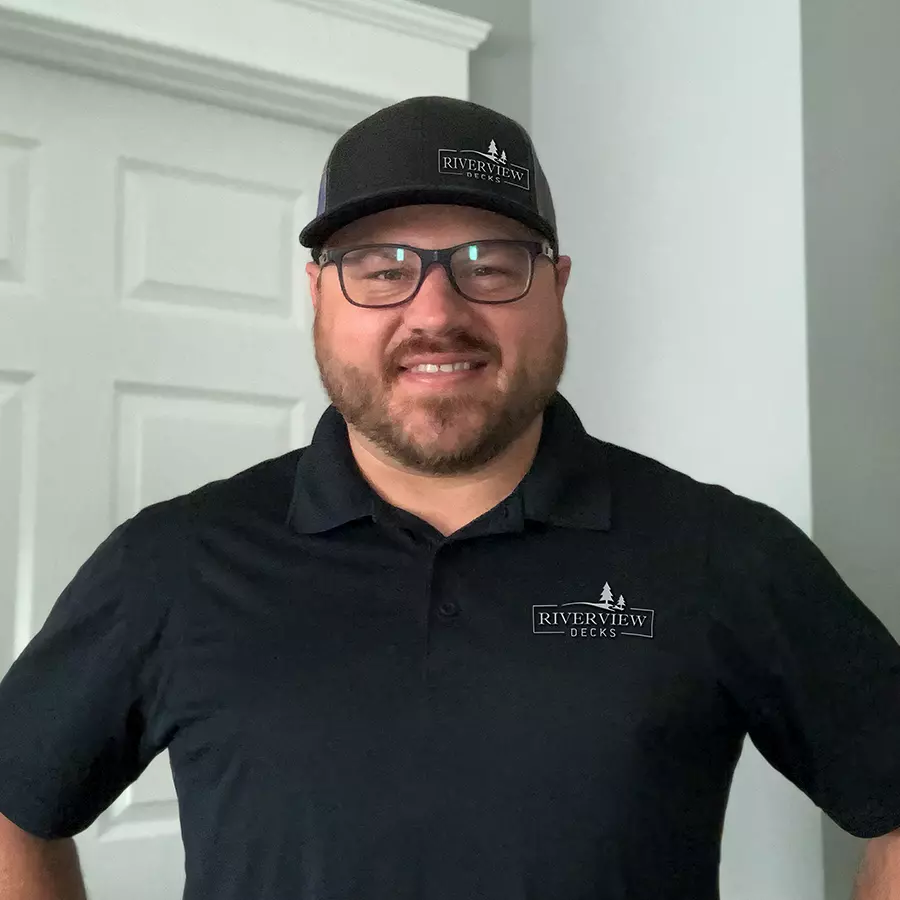 Hi, I'm Nate, owner of Riverview Decks. Below you can find answers to the most common questions we get from homeowners like you. If you don't find what you need, feel free to submit a free quote request and I'll get back to you right away.
Frequently Asked Questions
Yes, both repairing and building a deck in Tennessee requires a permit. Rest assured that we'll be taking care of the paperwork and permits wherever necessary.
The average cost to build a deck in Tennessee varies depending on the type of deck you want. A simple wooden deck will typically cost around $10,000, while a high-end composite deck with multiple layers and various upgrades can cost up to $250,000. Some popular upgrades include two-tone decking, covered decks, pergolas, double borders or inset borders, wrapped columns, deck skirting, drainage systems, gutter systems, decks, stair gates, aluminum or glass railing, drink and table rails, sitting areas, and more.
A composite deck can be more expensive up-front, but it is worth the investment in the long run. Wooden decks need to be stained and sealed every two years, which costs around $2k. Other work, such as replacing old warped or cracked boards and adjusting and stiffening loose handrails, may also need to be done.
Composite decks do not require much maintenance and come with a limited-to-lifetime warranty, which means you won't have to worry about any work. A composite deck will last for up to 30 years with just an occasional wash.
Riverview Decks is proud to have a team of qualified craftsmen and women. Our team is experienced and knowledgeable, and we always work to meet the high standards our clients expect. We carefully vet any subcontractors we work with, because we only want the best for our clients.
Yes, Riverview Decks is a licensed Tennessee residential general contractor with reciprocity in Alabama, Arkansas, Louisiana, Mississippi, North Carolina, and South Carolina. 
Of course. If you're in Tennessee and you're ready to get your deck building project started, we'll help you visualize your deck with 2D construction drawings as well as 3D renderings. We won't get started until you're happy with every detail.
The best time to build a deck in Tennessee depends on when you want to start enjoying it. Building your deck in the fall has less of a negative impact on your landscape. However, the spring and summer seasons can be unpredictable, with hot, sweltering days or stormy, rainy days. So if you're looking to start using your deck as soon as the weather is nice, late autumn or winter are great times to build.
We have built many decks for clients while they were on vacation, so your deck building project doesn't require your presence. You'll still be getting daily updates on your project even if you're not at home. If you do prefer to stick around while we work, we promise to keep the noise down as much as possible, so we don't intervene in your daily routine.
Once you get in touch with us, we'll have a phone consultation to learn more about your project and what you need. We'll also schedule an on-site consultation so that we can meet in person, discuss the scope of work, and provide pricing. Once everything is finalized, we'll show up on the date and get to work. Throughout your project's development, we'll keep you informed and updated on what's happening.
Ready To Get Started On Your Deck?
We'll answer all your questions as your project unfolds.