Deck Steps In Knoxville, Maryville, Farragut, and more of TN
Get sturdy and safe deck steps for single- or multi-level decks.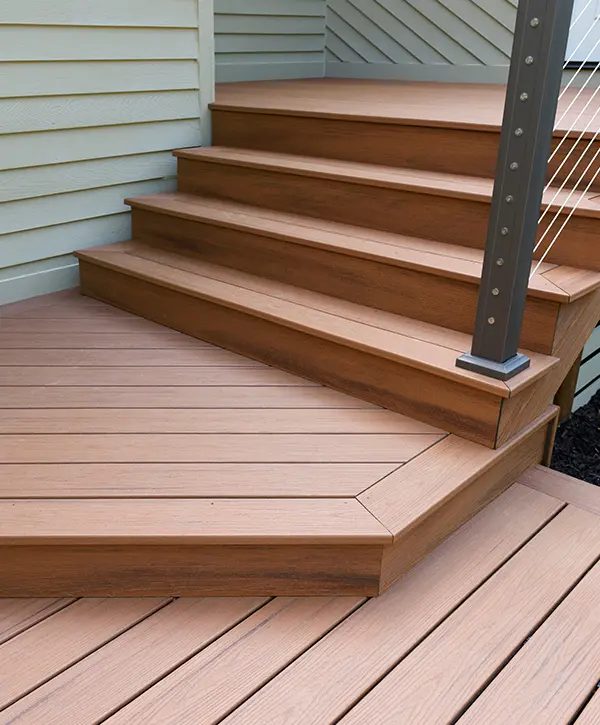 At Riverview Decks, we believe that your deck should be a place where you can relax and enjoy the beauty of the outdoors with your loved ones. That's why we know how important it is to ensure that your deck is not only beautiful but also safe and accessible.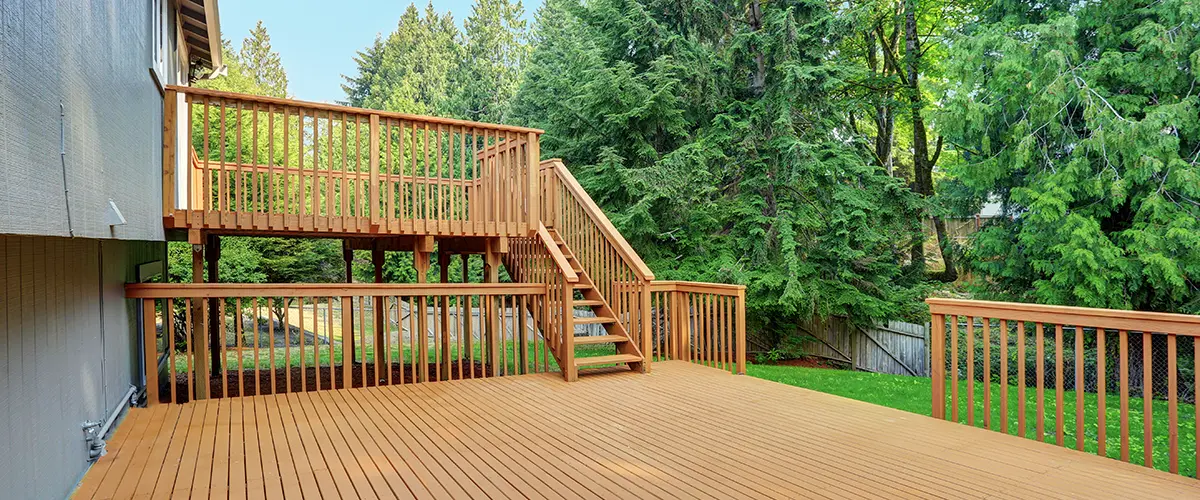 Importance Of Safe Deck Steps
One of the key components of a safe and accessible deck is the deck steps. Deck steps can help make getting on and off your deck easier, especially for those with limited mobility.
But they're not just about convenience – they also play a critical role in ensuring the safety of everyone who uses your deck.
Think about it – every time you or your loved ones use the deck steps, you trust their stability and strength. That's why investing in high-quality deck steps built to last and designed with safety in mind is so important.
At Riverview Decks, we take pride in our ability to design and build deck steps that are beautiful but also safe and reliable.
We carefully consider factors such as the height, width, and tread depth of the steps and the materials used to ensure that your deck steps are functional and aesthetically pleasing.
But we don't stop there. We also incorporate important safety features such as handrails, non-slip treads, and lighting, to provide extra safety and accessibility for you and your loved ones.
So if you're looking to build a new deck or upgrade your existing one, remember – the safety of your deck steps should be a top priority.
With Riverview Decks, you can rest easy knowing that your deck steps are built with safety and accessibility in mind, so you can focus on enjoying your outdoor space with peace of mind.
At Riverview Decks, we know that every deck is unique, which is why we offer a range of deck steps options to suit your specific needs and preferences. Here are some of the types of deck steps we can design and build for you.
Wood is a classic and timeless material for deck steps. It's affordable, easy to work with, and can be stained or painted to match the color of your deck. However, wood steps require regular maintenance to keep them looking good and to prevent rot and decay.
Composite steps are a durable and low-maintenance option that can mimic the look of natural wood. They're resistant to rot, insects, and fading, and can be a good choice for decks that are frequently exposed to moisture. They can be more expensive than wood steps.
Metal steps, such as aluminum or steel, can be a good option for decks that require a more modern or industrial look. They're durable, resistant to rust and corrosion, and require little maintenance. They can be slippery when wet, so they need to have safety features (non-slip treads).
So which type of deck steps is right for you? It depends on your budget, design preferences, and how much maintenance you're willing to do.
We help you choose the perfect deck steps that are safe, reliable, and beautiful. We work with you to design and build steps that meet your needs, so you can enjoy your outdoor space worry-free.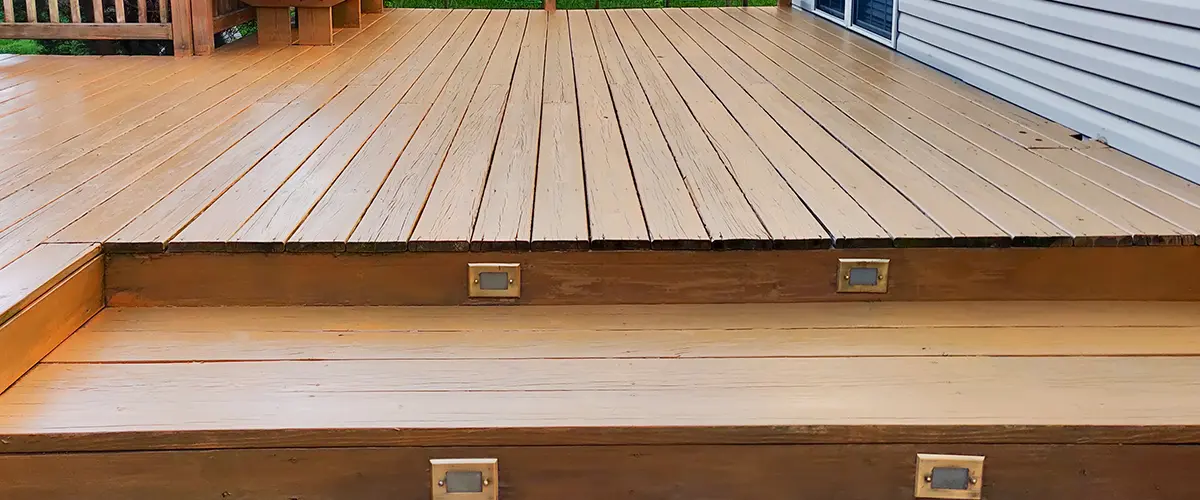 Deck Steps Design Considerations
When you're building deck stairs, there are several design considerations that you should keep in mind. These factors can affect your deck steps' safety, usability, and aesthetics, so it's crucial to select a design that satisfies your specific needs and preferences.
One of the most important considerations is the width of the steps. The width of the steps should be at least 36 inches wide to ensure a safe and comfortable passage.
This can be increased if you have a larger outdoor living space or anticipate high foot traffic on the stairs.
The height and tread depth of the steps are also critical design considerations. The height should be consistent throughout the stairs and between each step. A recommended height is around 7 inches or less.
The tread depth should be enough to provide a stable and comfortable step, with at least 10 inches of depth or more.
Proper height and tread depth dimensions will ensure safety and a comfortable feel when using the stairs.
It's also important to consider the materials used for the deck steps. The deck boards should be durable, slip-resistant, and able to withstand the elements. Depending on your local building codes, handrails may also be required to meet safety standards.
Choose Riverview Decks to create safe, beautiful, and reliable deck stairs that will enhance the beauty of your outdoor living space, backed by our expertise and experience.
Safety Features Of Deck Steps
When it comes to designing and building deck steps, your safety and well-being should be a top priority. Incorporating safety features not only makes your deck more usable and accessible, but it also helps prevent accidents and injuries.
It's important to note that safety features should be selected based on the specific needs and design of your deck steps. For example, the riser height and stair tread width can impact the selection of handrails and non-slip treads.
Handrails provide stability and support while using the stairs, especially for those with mobility issues. They can be attached to the deck stair stringers and come in a variety of materials and styles to match your deck design.
Non-slip treads can be added to the stair treads to provide extra grip and prevent slips and falls. These treads can be made of various materials, such as rubber or anti-slip tape, and can be easily attached to the deck board surface.
Adequate lighting can make a big difference in the safety and usability of your deck steps, especially at night. Lighting can be installed on or near the stair stringers to illuminate the steps and provide visibility.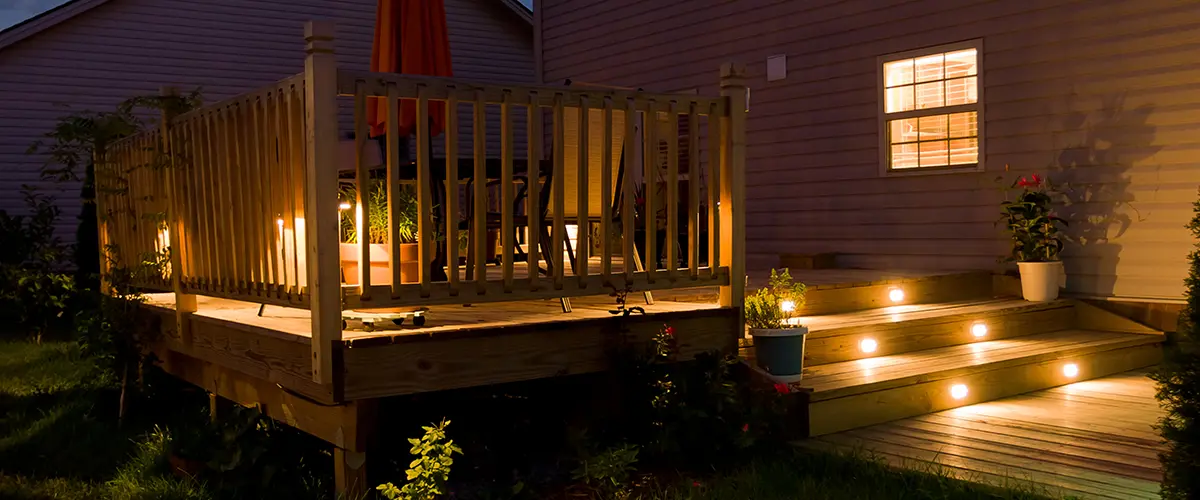 Brief Installation Process Overview
We understand that building deck stairs can be a complex and time-consuming process, but we're here to make it easy for you. Our experienced team will guide you through every step of the process, from designing your stairs to the final installation.
The first step in building deck stairs is to prepare the area where the stairs will be installed. This includes measuring the height of the deck and determining the location of the stair landing point.
We then attach the stair stringers to the deck framing using metal brackets and ensure that they are level and plumb.
2. Install Risers & Treads
Next, we install the stair risers and treads. These are the horizontal and vertical parts of the steps that provide the structure and support for the stairs. We attach them securely to the stair stringers using screws or nails.
Finally, we install the stair landing and attach it to the deck rim joist. This provides a stable and secure platform at the top of the stairs.
We take the installation process seriously, and it shows in the details of your beautiful (and safe) deck steps. We use only the highest quality materials, including durable and slip-resistant treads, to build stairs that will last.
A Word From Our Amazing Past Customers
We had a fantastic experience with Nate, Jose and his team! They were efficient and professional. The communication was impeccable.
I was updated every step of the way and always got a timely response when I had a question. They reminded me of a popular chain restaurant that we all know and love with their professionalism and polish.
Seriously, they are a step above the rest. Even the county inspector kept complimenting their craftsmanship.
My deck looks amazing! We will be using them for many future projects for sure.
Partner With A Deck Building Company Focused On Your Safety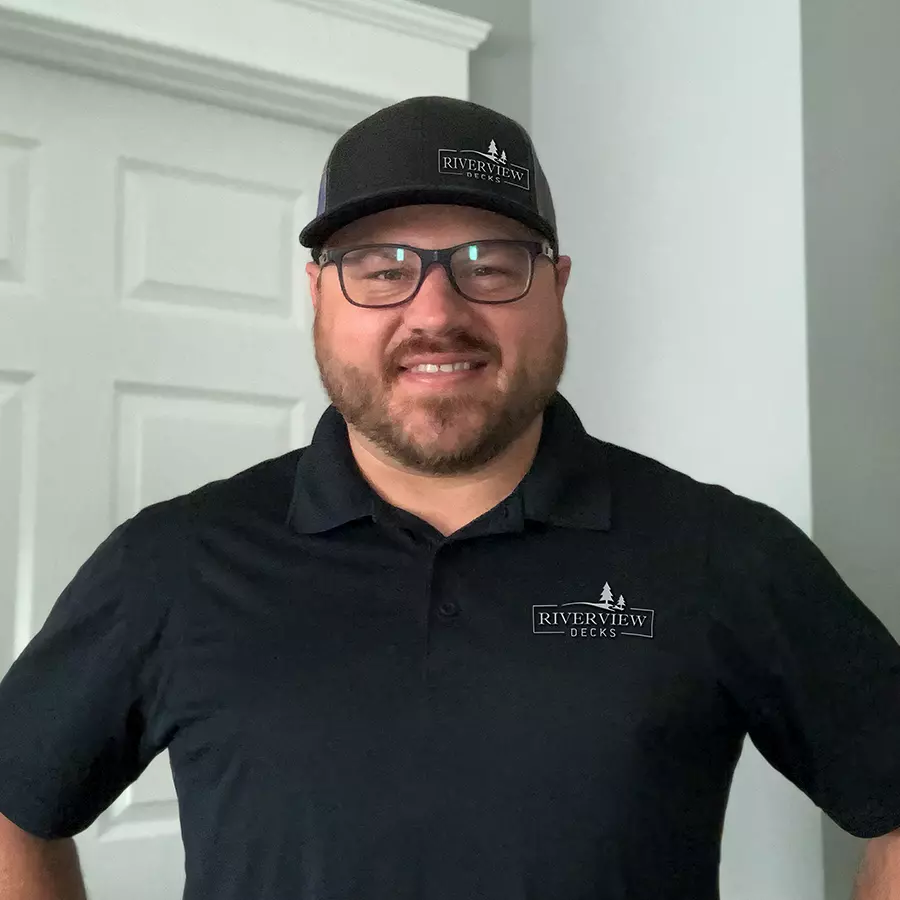 We understand that your deck is central to your personal style and daily life. At Riverview Decks, we take pride in providing premium deck stairs and building services that are both functional and beautifully designed.
We care about your family's comfort and safety and want to help you create a tranquil outdoor retreat. Click the button below to connect with us today, and let's build the deck of your dreams together!