Under Deck Ceiling in Knoxville, Maryville, and more of TN
Gain more usable space to enjoy quality time outdoors.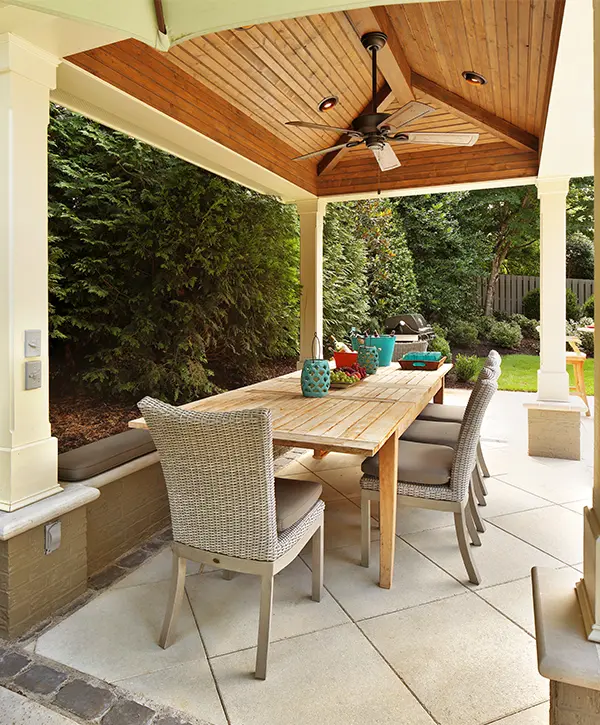 Under deck ceilings are a revolutionary solution that go beyond traditional deck structures, allowing you to utilize the space beneath your deck in a whole new way.
Whether you're seeking protection from the elements, expanding your outdoor living space, or adding a touch of elegance to your outdoor area, an under deck roof offers a multitude of benefits.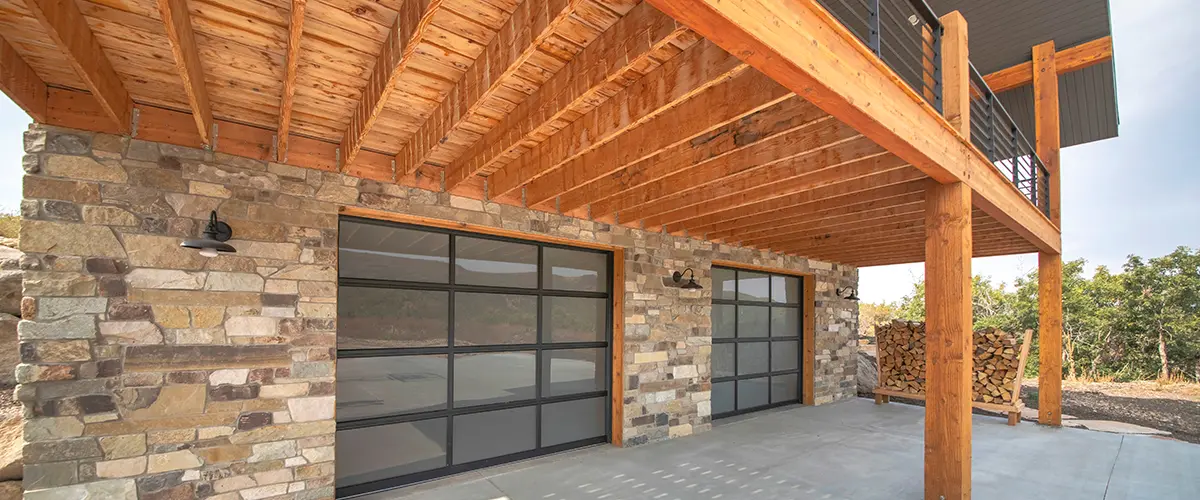 Advantages of an Under Deck Ceiling
An under deck ceiling is a great way to make the most of your outdoor space.
It protects you from rain and sun and adds an extra layer of insulation that can help keep your home cooler in the summer months and warmer during colder weather.
Expanding Your Living Space
Install under deck ceilings to add more functional space under your deck and utilize it as a comfortable retreat, an entertaining spot, or a practical storage area. This will help you expand the living space of your house while safeguarding it against harsh weather conditions.
Protection from the Elements
Under deck ceilings protect your outdoor furniture, belongings, and deck structure against rain, snow, and UV rays. This helps maintain the deck's longevity and appearance, and eliminates concerns about unexpected weather changes.
There are different materials, colors, and finishes available for under deck ceilings that can match the style of your deck and home. They provide a flexible way to showcase your unique taste and enhance the overall look of your outdoor area.
Under deck ceilings offer a private and secluded space that's ideal for relaxing and enjoying your outdoor oasis. You can use it as a cozy reading nook, a yoga area, or a peaceful hideaway, providing you with the privacy you crave.
Adding under deck ceilings to your home can improve its value by providing additional functionality, protection, and aesthetic appeal. This can be attractive to potential buyers or appraisers, which may result in a higher resale value.
Under deck ceilings are built to endure various weather conditions with minimal maintenance. Routine cleaning and occasional inspections ensure optimal performance and longevity.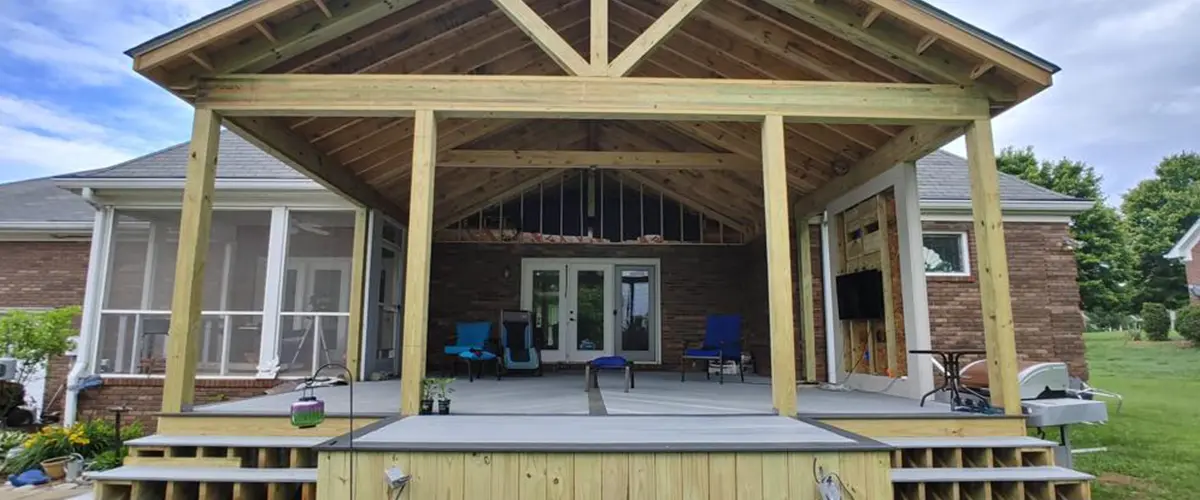 Contact Riverview Decks to discover how our exceptional under deck ceiling installation services can transform your outdoor space.
Under deck ceilings are an excellent way to maximize your outdoor space. Not only do they protect from rain and sun, but they also add extra insulation for better temperature control and increased privacy.
They can even enhance the aesthetics and design of your home, making it more valuable in the eyes of potential buyers or appraisers. However, under deck ceilings need regular maintenance to ensure longevity and quality. Here are some tips on how to maintain and care for them properly.
Regularly clean your under deck ceilings to remove dirt, debris, and any buildup that may accumulate over time. Use a soft brush or a gentle pressure washer to avoid damaging the ceiling surface. Pay attention to the drainage system and ensure it remains clear to allow proper water flow.
Periodically inspect your under deck ceilings for any signs of damage, such as cracks, leaks, or loose components. Promptly address any issues you discover to prevent further damage and maintain the integrity of the ceiling system.
Ensure that the under deck drainage system is functioning properly. Check for any clogs or blockages that could impede water flow. Clear any debris from the gutters or downspouts to prevent water accumulation, which can cause damage to the ceiling and deck structure.
Under deck ceilings are designed to withstand normal use and weather conditions. However, it's best to avoid placing heavy objects on the ceiling surface or subjecting it to excessive impact, as this can cause damage. Use caution when moving furniture or other items beneath the deck to prevent accidental damage.
Keep any overhanging branches, vines, or vegetation trimmed and away from the under deck ceiling. This prevents potential damage from falling debris, excess moisture, or pests that may find their way onto the ceiling.
Consider scheduling periodic professional inspections of your under deck ceilings. Experienced technicians can assess the overall condition, identify any potential issues, and provide necessary maintenance or repairs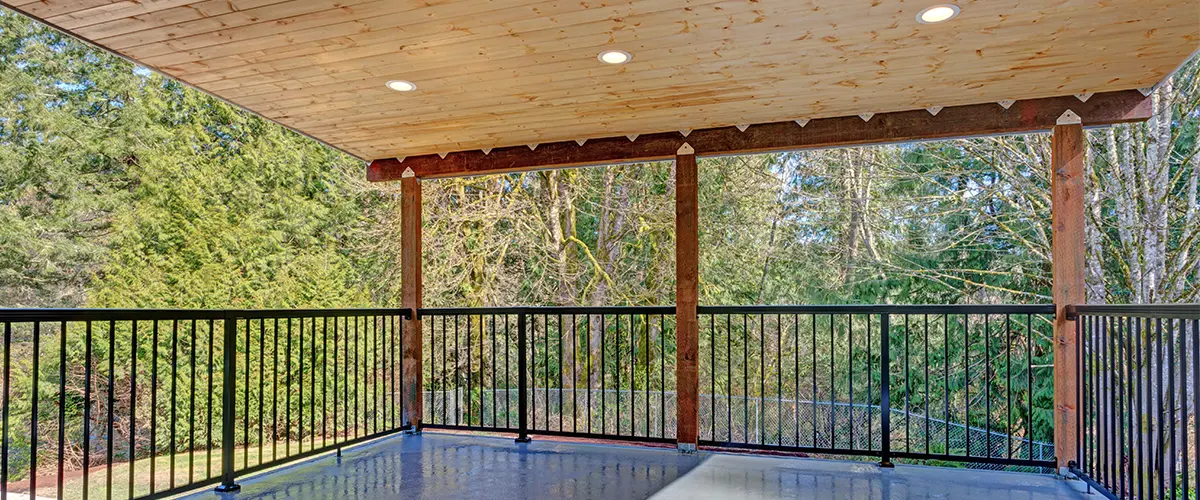 At Riverview Decks, we have the expertise to build your deck from the ground up while also covering it with a ceiling to make it usable regardless of the weather. 
The ZipUP Ceiling® and UnderDeck® systems that we use at Riverview Decks combine ease of installation, effective water management, versatility, easy access for maintenance, durability, and an aesthetically pleasing finish.
These qualities make them an awesome choice for enhancing the functionality and appearance of your ceilings or under deck spaces.
With ZipUP, you can expect durability and a polished look for your overhead space. The system is designed to withstand the test of time, providing long-lasting performance. Additionally, the finished appearance of ZipUP enhances the aesthetic appeal of your ceiling or under deck area, giving it a clean and visually appealing finish.
Effective Water Management
One of the standout features of the ZipUP system is its ability to effectively trap water and prevent leakage. The system channels any water from above to the gutter system, ensuring that your under deck area remains dry and protected from water damage. This provides peace of mind and preserves the integrity of your deck structure.
Versatility in Applications
ZipUP is not limited to one specific use. It can be utilized in various spaces and applications, whether it's for residential or commercial ceilings, walkways, or soffit systems. This versatility allows most homeowners and business owners to enjoy the benefits of the ZipUP system in different areas of their property.
Easy Access & Maintenance
The ZipUP system offers the convenience of easy access to plumbing, electrical components, or cleaning. The panels can be removed and replaced effortlessly, providing mechanical access whenever necessary. This accessibility simplifies maintenance tasks and ensures that your installations are always in top condition.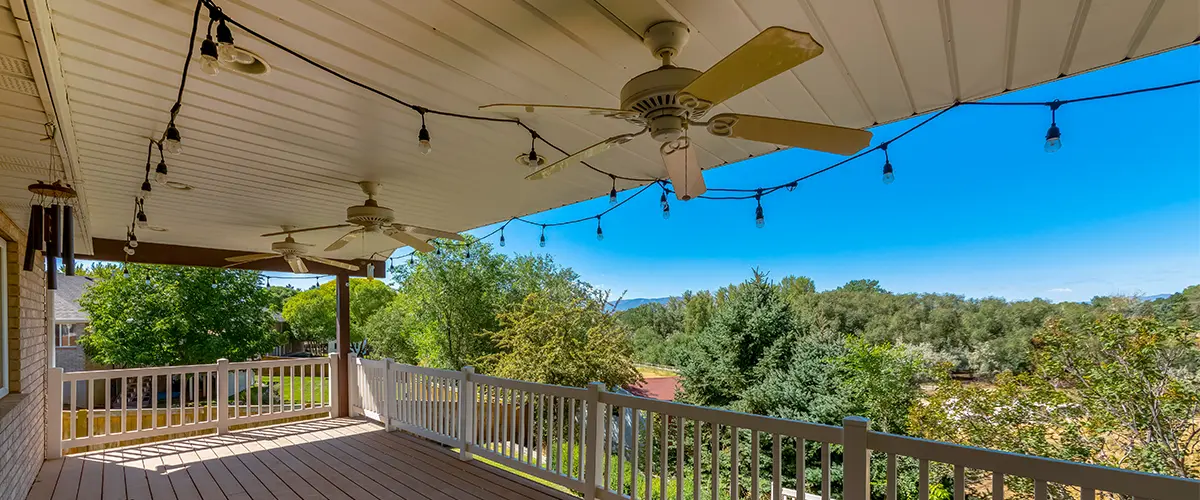 Contact us today if you need more information about UnderDeck or if you'd like to have these systems installed on your deck.
Why Our Past Customers Love Us
Nate and his team were professional and efficient. We were in constant communication.
I have 3 dogs that the workers were mindful of by keeping the gate closed and not leaving any nails or screws as a hazard. JC and/or Nate were here everyday to ensure quality and perfection.
There is no one else I would recommend for your deck both new or repairs. I only wish I could give more than 5 stars!
Partner With TN Deck Builders That Understand Your Needs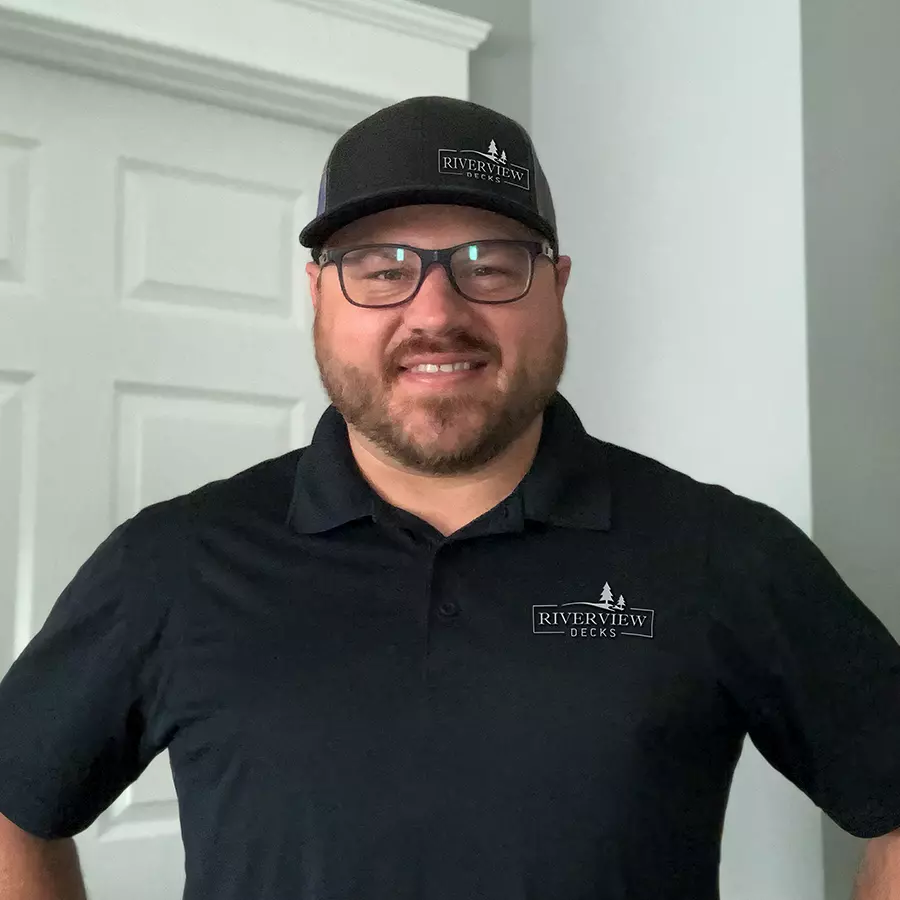 If you are looking for an effective and reliable way to protect your deck from moisture damage and enhance its aesthetic appeal, then look no further!
Contact our experts to see how easy it is to enhance your deck and turn it into a long-lasting space perfect for making memories, regardless of the weather.