Deck Remodeling In Knoxville, Maryville, and more of TN
Spend more quality time outdoors with a stunning deck remodel.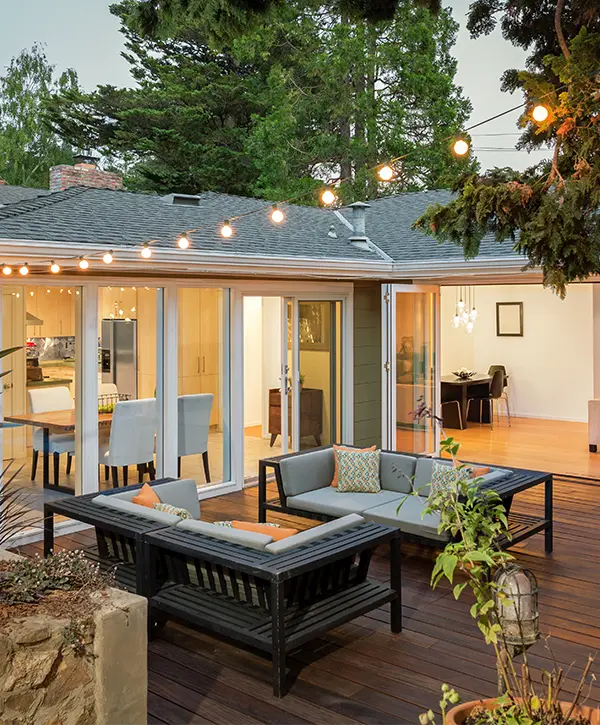 Remodeling your deck can enhance its functionality by incorporating new features like built-in seating, outdoor kitchens, or lighting.
This can create a more pleasant and accessible outdoor space for entertaining, relaxing, or spending time outdoors.
Riverview Decks has a skilled team of deck builders who can tailor your deck to your preferences. Let's see how we can help you get the deck you'll want to use every day!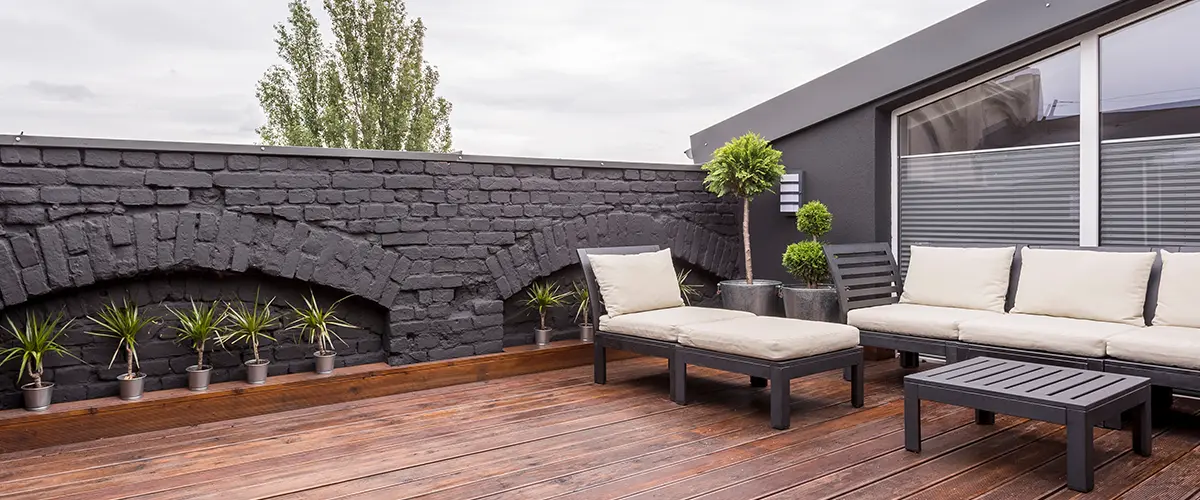 Benefits Of Deck Remodeling
Imagine renovating your deck to create a space that you and your family will enjoy. Deck remodeling involves tailoring the deck to fit your preferences and requirements, as well as expanding your outdoor area for enjoyable moments with friends and family.
Remodeling your deck can enhance your outdoor living space and boost your home's value by up to 80% when you decide to sell. Decks are a smart way to add extra square footage to your home.
You can save hundreds or even thousands of dollars in the long run by opting to repair and maintain your deck instead of replacing it. Riverview can provide professional advice on deck maintenance to help ensure its longevity.
Remodeling your deck can make your outdoor space more useful. It can be transformed into an area for hosting parties or entertaining guests, complete with outdoor furniture, planters, fire pits, and water features.
An expertly crafted and renovated deck has the ability to enhance the appearance of your house's exterior, adding sophistication and aesthetic appeal. Even if your deck is not easily seen from the outside, you can revamp it with new additions like furniture, planters, and colorful artwork.
By remodeling your deck, you can create more living space in your home. This will provide a comfortable and practical outdoor area where you can enjoy the company of family and friends, entertain guests, and relax in an attractive outdoor environment.
If your deck is old or damaged, carrying out a remodeling project will ensure that safety concerns are addressed. The remodeling project may entail replacing damaged boards, fixing loose railings, and updating other features to enhance the safety and security of your deck.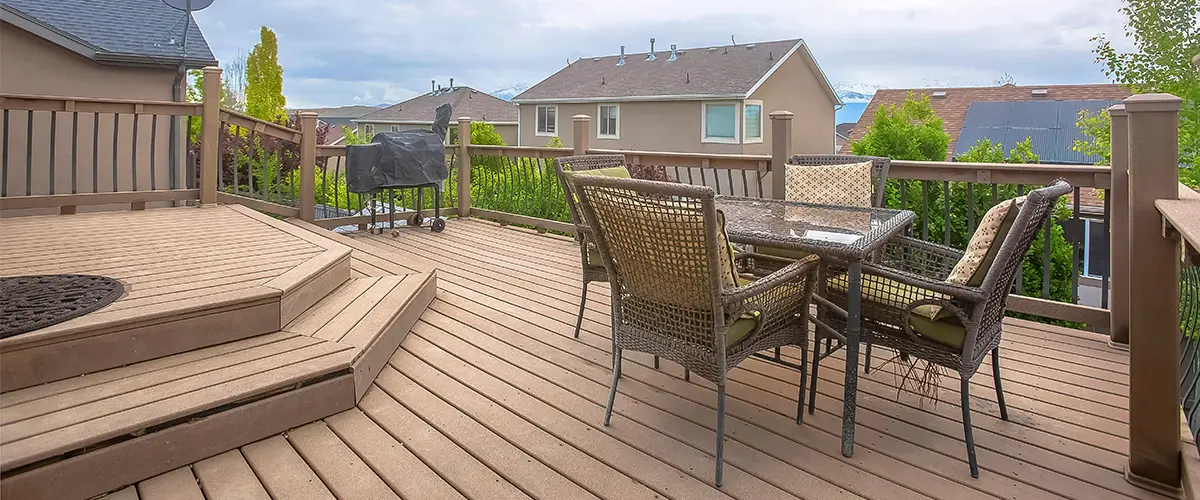 Deck Design Ideas For A Better Outdoor Living Space
If you have a plain and uninteresting wood deck, don't let it go to waste! There are plenty of ways to enhance it and create a beautiful area for making lasting memories with your loved ones. Check out these deck ideas as a starting point.
If you want to enhance your outdoor living area, consider installing a hot tub on your deck. Besides being enjoyable, a hot tub can be beneficial for your health.
Research suggests that soaking in hot water can ease muscle tension, promote better blood flow, and contribute to improved relaxation and sleep.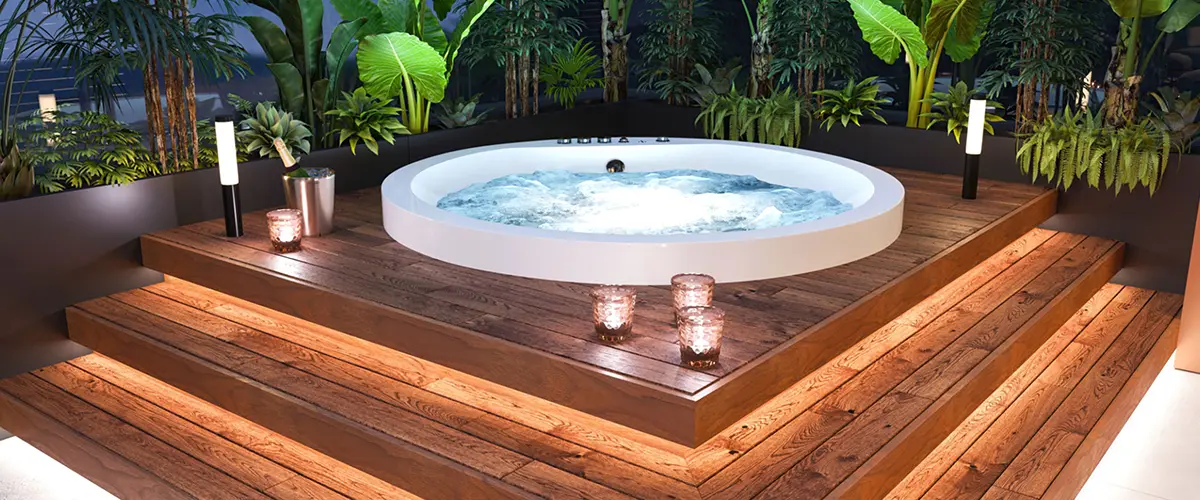 2. Make An Outdoor Dining Space
Expanding on adding a hot tub to your deck, you can also create an outdoor dining space for entertaining friends and family. It can be as simple as adding a dining table and some chairs.
With a beautiful outdoor dining area, you can enjoy an al fresco dinner with friends or host a barbecue without leaving your backyard.
3. Build an Outdoor Kitchen
Adding an outdoor kitchen to your existing deck is the perfect way to upgrade your outdoor living space. You can choose from various styles and sizes that fit your needs, budget, and design aesthetic.
A built-in outdoor kitchen will give you all the convenience of indoor cooking, with the bonus of enjoying the great outdoors.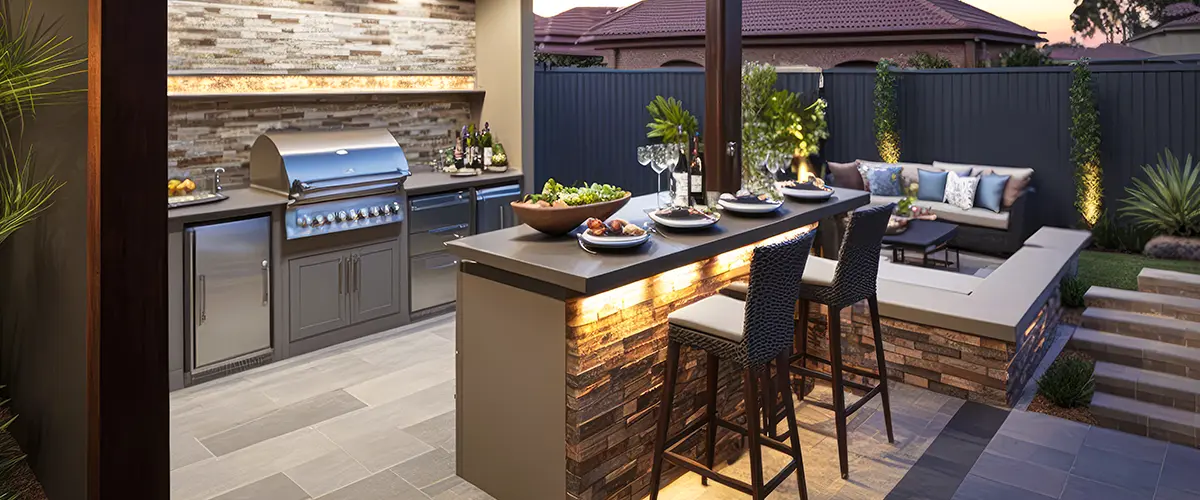 If you want to make your deck more inviting and cozy, consider adding a fire pit. This will provide a natural spot for people to gather around, making it easier to roast marshmallows and share stories with your guests.
Additionally, with the right design, a fire pit can become the centerpiece of your outdoor living area and bring everything together.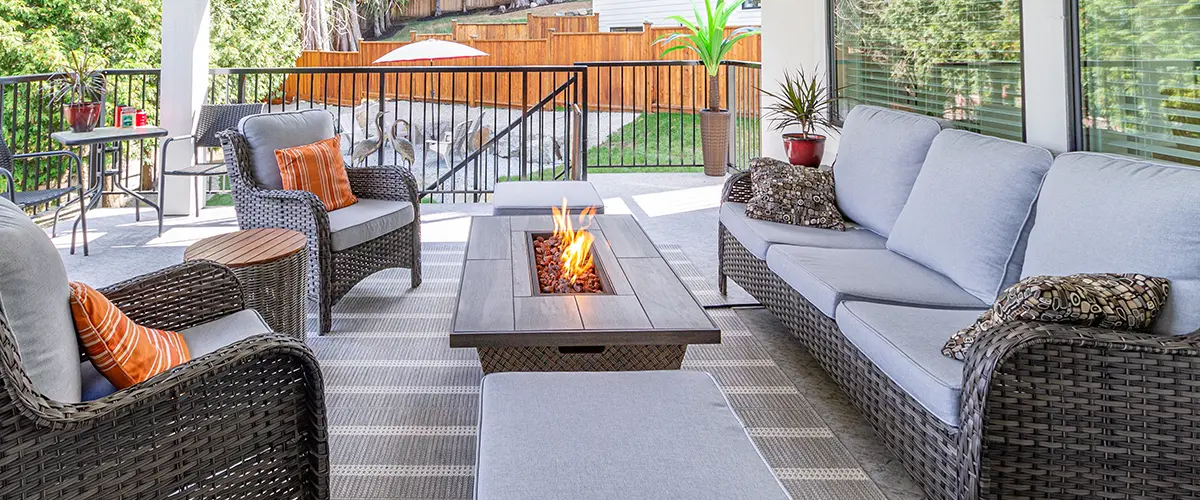 If you want to add visual appeal to your deck, consider landscaping it with planters, shrubs, and trees. You can choose from various styles of plants and flowers that will bring life to your outdoor space.
The addition of greenery can also improve air quality and provide a place for birds and other wildlife to visit.
One way to enhance your outdoor living space is by placing potted plants on your deck. This will introduce natural beauty and colors to your deck. Potted plants are also a low-maintenance and effortless way to liven up your backyard.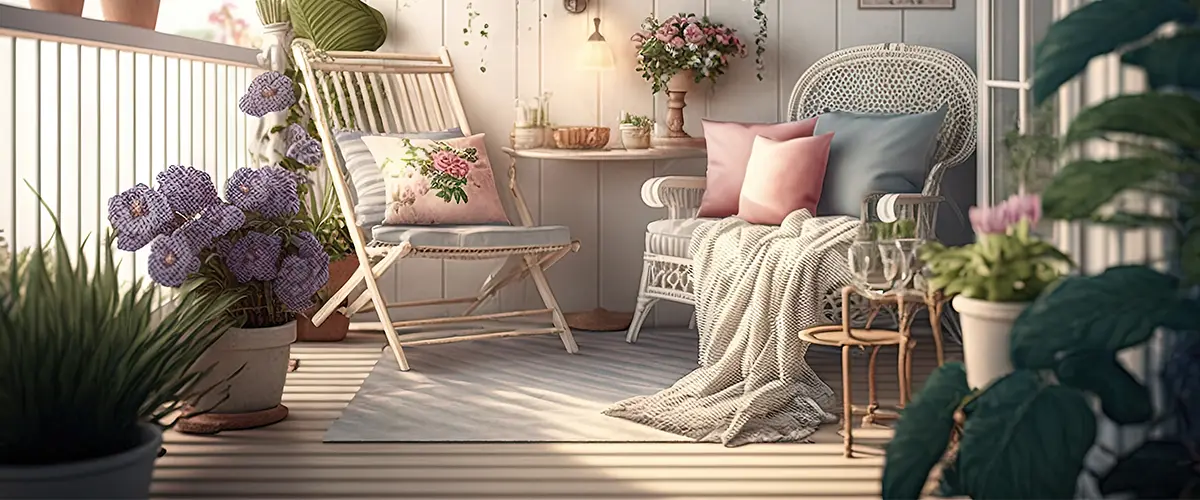 7. Add Pops Of Color With Rugs & Throw Pillows
String lights and lanterns can bring a hint of magic to any outdoor living space, regardless of its size. They provide subtle lighting that makes it easier to spend time outdoors in the evenings and can help set a cozy, romantic atmosphere.
String lights are also an inexpensive way to give your outdoor space an inviting look that will keep you coming back for more.
8. Add String Lights & Lanterns
Try using rugs and throw pillows in vibrant colors to liven up your outdoor deck. Outdoor rugs can add texture and pattern to the space, while throw pillows provide an extra pop of color. 
These decorations can help create a cohesive look that connects your deck to your home's overall aesthetic.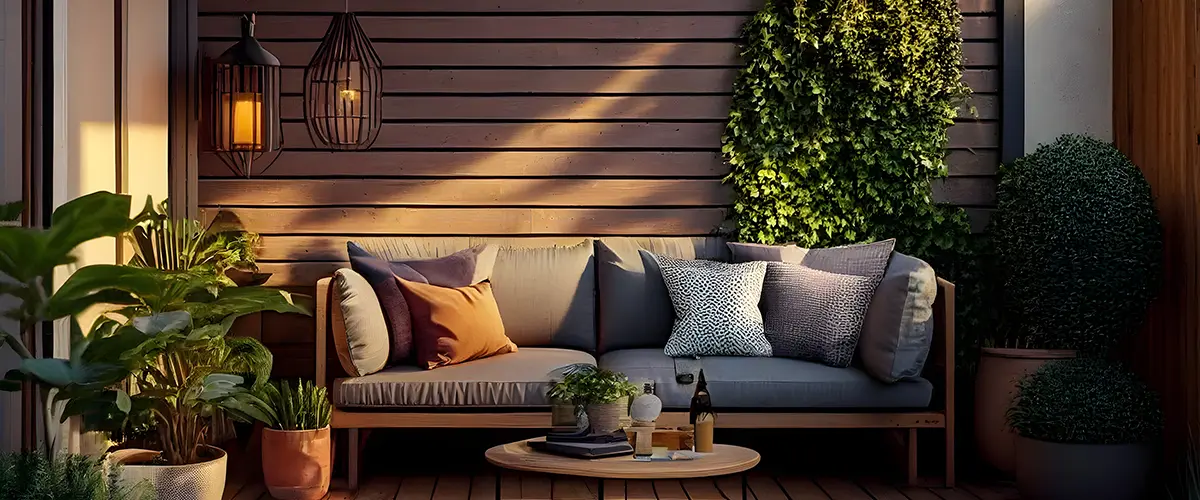 9. Add An Outdoor Audio System
If you love music, consider adding an audio system to your deck. With an outdoor audio system, you don't have to miss out on your favorite tunes when spending time outside.
An outdoor sound system can make any gathering more enjoyable and create an ambiance that will keep your guests wanting to come back for more.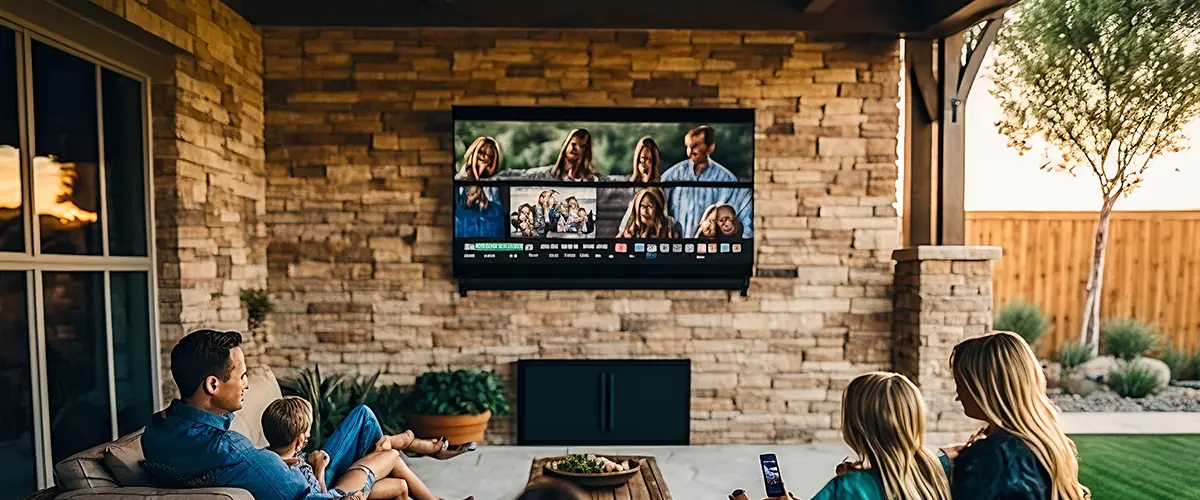 10. Build A Privacy Screen
Adding a privacy screen to your outdoor living space can provide both privacy and protection from the elements.
It is an affordable and simple option that creates a barrier between you and the outside world, while still allowing for natural light and fresh air. Privacy screens help to reduce noise and distractions such as traffic or nearby neighbors.
Discover the family-friendly deck repair services that always work around your needs and preferences.
Why Choose Riverview Decks
Nate was very educational and professional. In 18 years it's a second time I have to replace my deck and Nate informed me how it had been done wrong; low to the ground causing it to rot.
He explained thoroughly what needed to be done so I could get many years from my deck but I I chose to do a cement patio , looking to the future of possibly a screened porch. I was very impressed with my cement patio and how it was perfectly leveled to my porch cement patio.
Through this whole process there was no drama, no complications and all the workers were very professional.
I would definitely recommend Riverview Decks to my family and friends, not only for decks, but for any remodeling job they need to have done. It was a good experience and I rate them a five star.
Improve The Way You Use Your Deck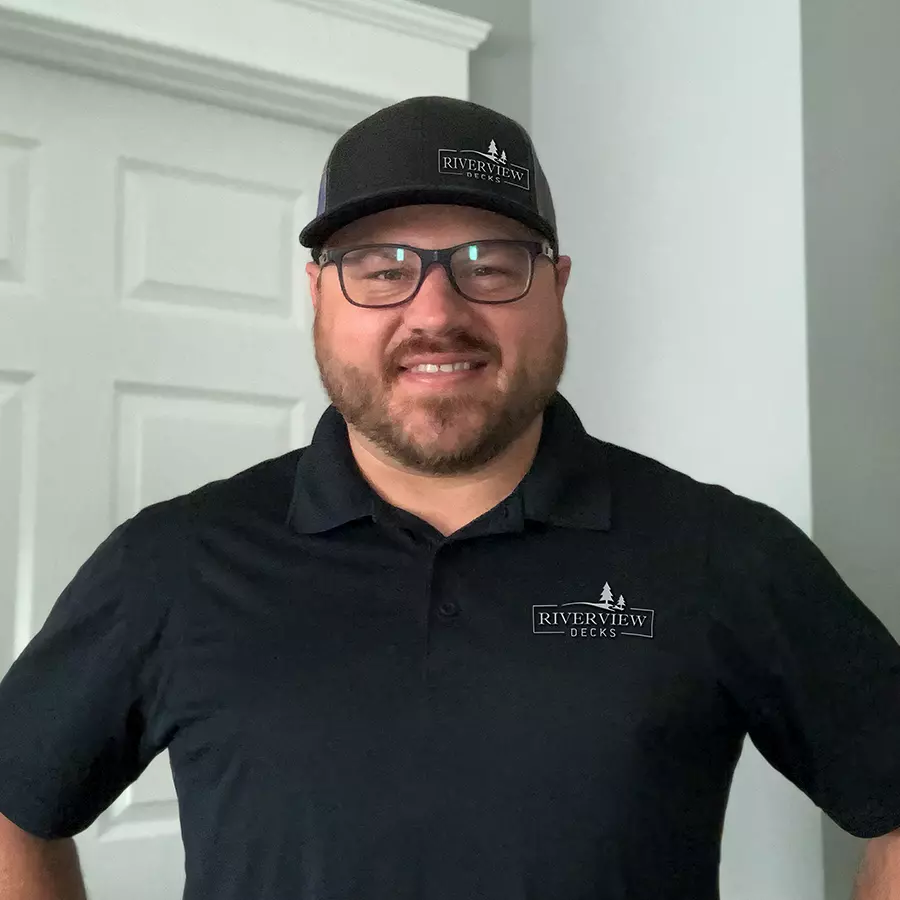 Riverview Decks can help you create the perfect deck for your outdoor space. Our experienced builders and designers will work with you to achieve your desired results. We specialize in deck remodeling to enhance your deck's functionality and appearance.
Contact Nate, the owner of Riverview Decks, at (865) 801-4545  to discuss your deck design in TN. Click the button below to request a free quote and start on the path to your dream deck.