Composite Deck Installation In Knoxville, Maryville, And More Of TN
Install your low-maintenance deck with a professional and enjoy all the perks that come with it!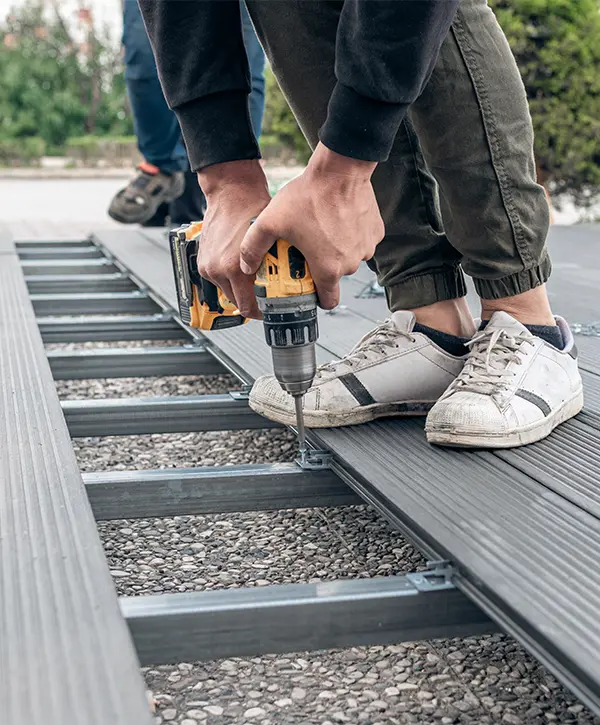 Welcome to Riverview Decks, your premier destination for all your deck building and repair needs in Knoxville, Maryville, Farragut, Lenoir City, Oak Ridge, and beyond. 
We take pride in transforming outdoor spaces into stunning, functional, and long-lasting extensions of your home.
Discover the beauty, durability, and low maintenance of composite decking as we guide you through this journey. Your dream composite deck is just a few steps away, and Riverview Decks is here to make it a reality!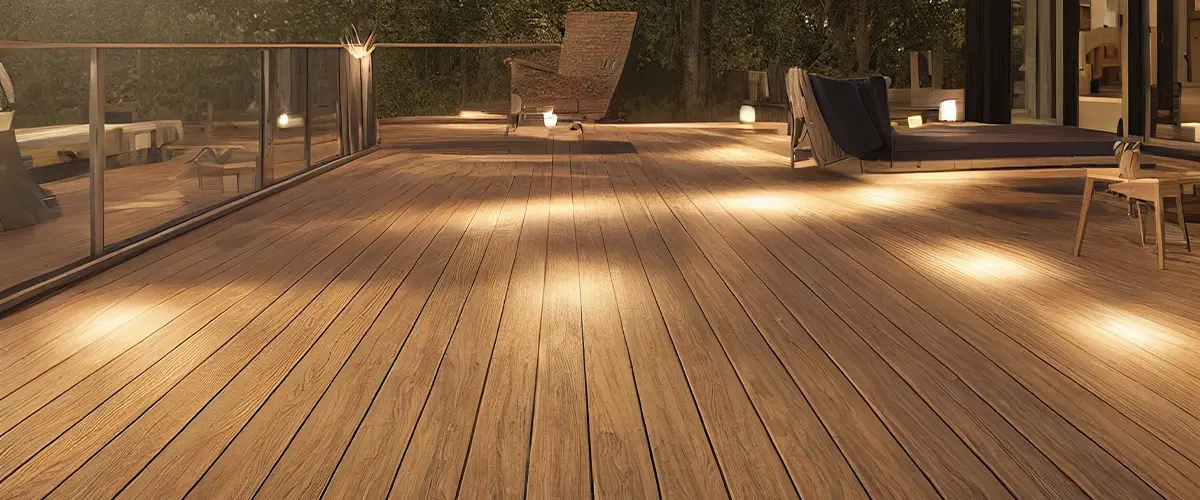 Composite Decking, Explained
Composite decking has revolutionized the world of outdoor living spaces, offering a superior alternative to traditional wood decks. Understanding composite decking and its unique characteristics can help you make an informed decision when considering this option for your deck installation.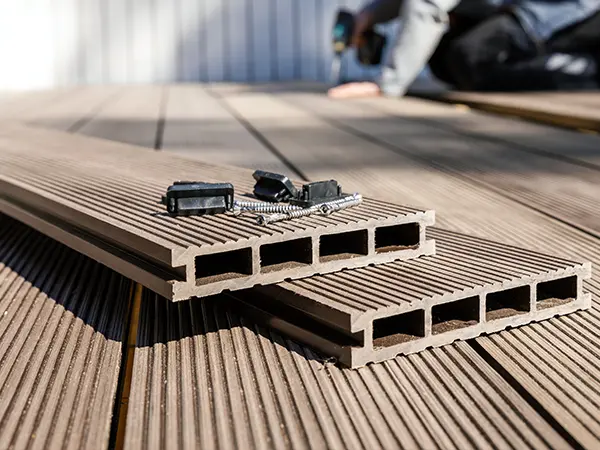 Unlike a wood deck made solely of natural wood, composite decking is a blend of wood fibers and recycled materials, such as plastic or PVC. 
This combination results in an exceptionally durable deck board, which is resistant to rot and less susceptible to warping, splitting, or cracking over time.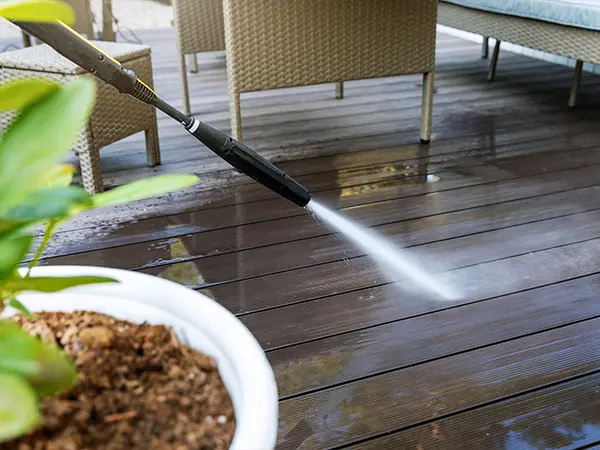 One of the most appealing features of composite decking is its minimal maintenance requirements. Unlike wood decking, which requires regular staining, sealing, and sanding, composite deck boards are designed to resist fading, staining, and mold growth. 
A simple periodic cleaning with soap and water is typically all that is needed to maintain its pristine appearance.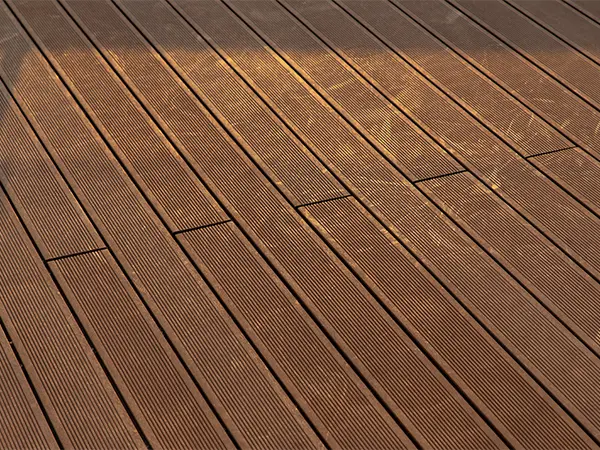 Composite decking materials are engineered to withstand the elements and offer an extended lifespan. 
With the use of high-quality composite decking brands like Trex deck boards, you can enjoy a deck that maintains its beauty and structural integrity for years to come, even in harsh weather conditions.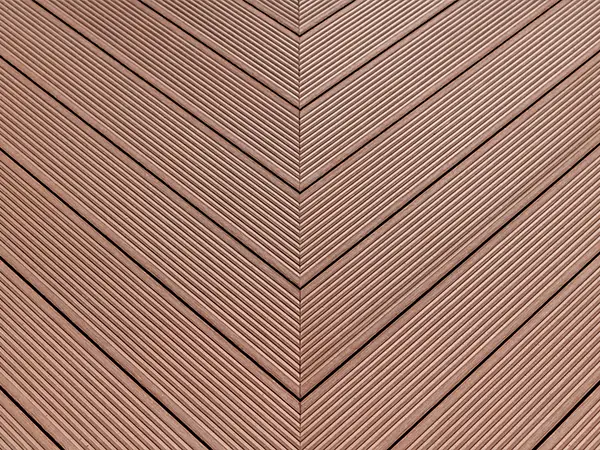 When installing composite decking, you gain the advantage of hidden deck fasteners. These innovative fastening systems eliminate the need for visible screws or nails, creating a sleek and seamless deck surface. 
Not only does this contribute to the overall aesthetic appeal, but it also ensures a safer, splinter-free deck for barefoot enjoyment.
With Riverview Decks, you're getting a dreamy outdoor space that's completely safe and durable! Enjoy a composite deck installation that takes care of everything – top to bottom!
Our Composite Deck Installation Process
Following these six easy-to-understand steps ensures a smooth and efficient composite deck installation process. Our team's expertise, attention to detail, use of proper spacing, consistent material quality, and high-quality tools ensure that your new deck will be a beautiful addition to your home, built to withstand the test of time.
#1. Evaluation and Preparation
Our team will evaluate your existing deck structure before installing your new composite deck and determine if any repairs or modifications are needed. If necessary, we will remove any old deck boards, keeping the frame intact. We'll also discuss design elements such as deck railings and the option for a picture frame border.
#2. Deck Frame Enhancements
We'll make the necessary enhancements if your deck frame requires reinforcement or adjustments to meet current building codes and standards. This ensures a solid foundation for your new composite deck and promotes its longevity.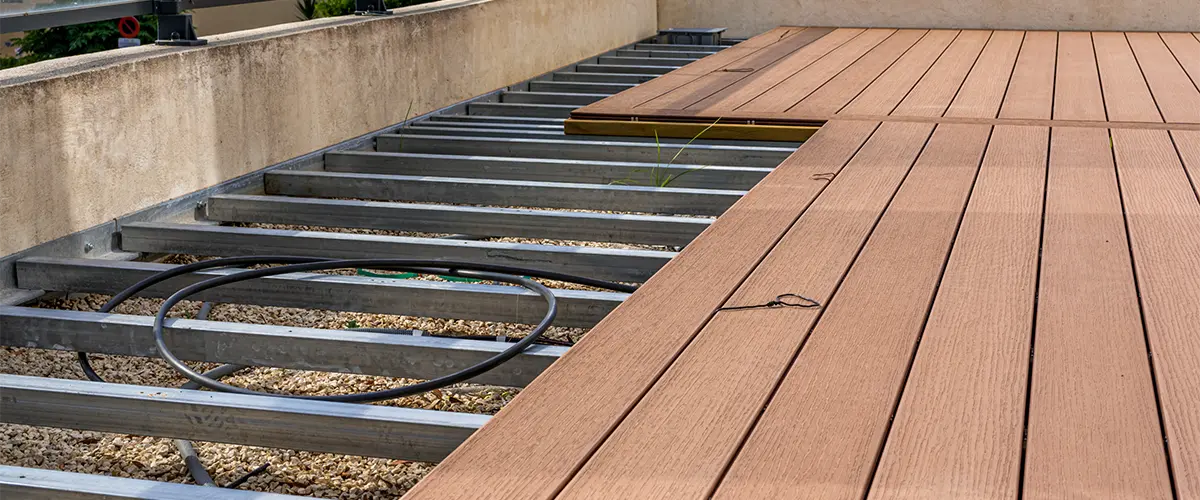 #3. First Board Placement and Spacing
We begin the installation by placing the first composite deck board, ensuring proper spacing between each board. This spacing allows for adequate water drainage and ventilation to prevent moisture buildup and warping. We use rubber mallets to gently tap the boards into place, ensuring a secure fit.
#4. Consistent Material and Design
To maintain a uniform and visually appealing look, we ensure that all deck boards used in the installation are of the same composite material. This consistency ensures a cohesive and seamless appearance for your new deck.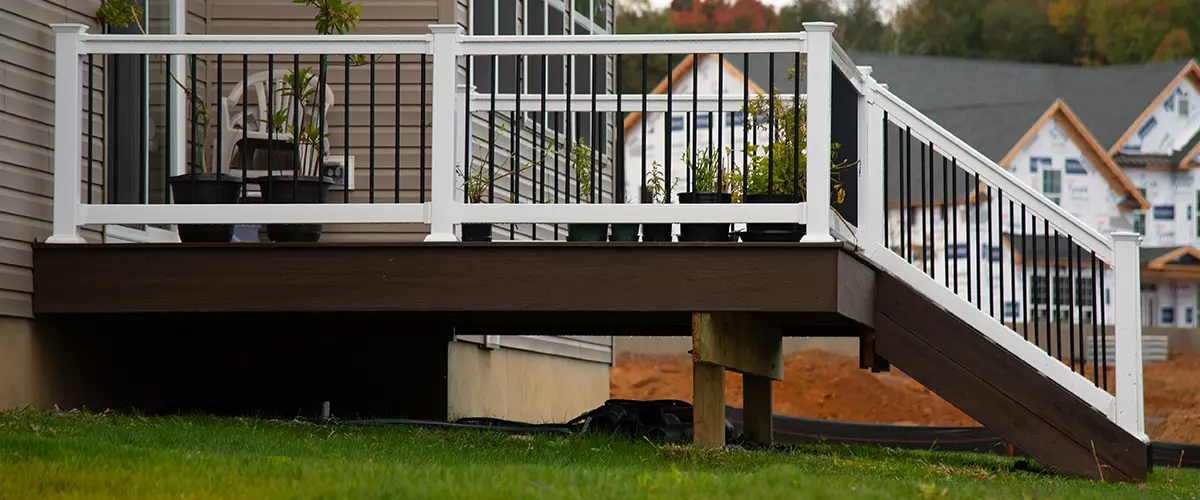 #5. Picture Frame Border and Railings
We can incorporate a picture frame border around the deck perimeter for an added touch of elegance. Additionally, we'll install deck railings to enhance safety and aesthetics. These railings can be chosen to complement your composite deck's overall design and style.
To complete the installation, we meticulously check for proper spacing, secure all deck boards, and trim any excess material if necessary. We use circular saws to achieve clean and precise cuts. Our team pays close attention to detail, ensuring that your composite deck is visually appealing and structurally sound.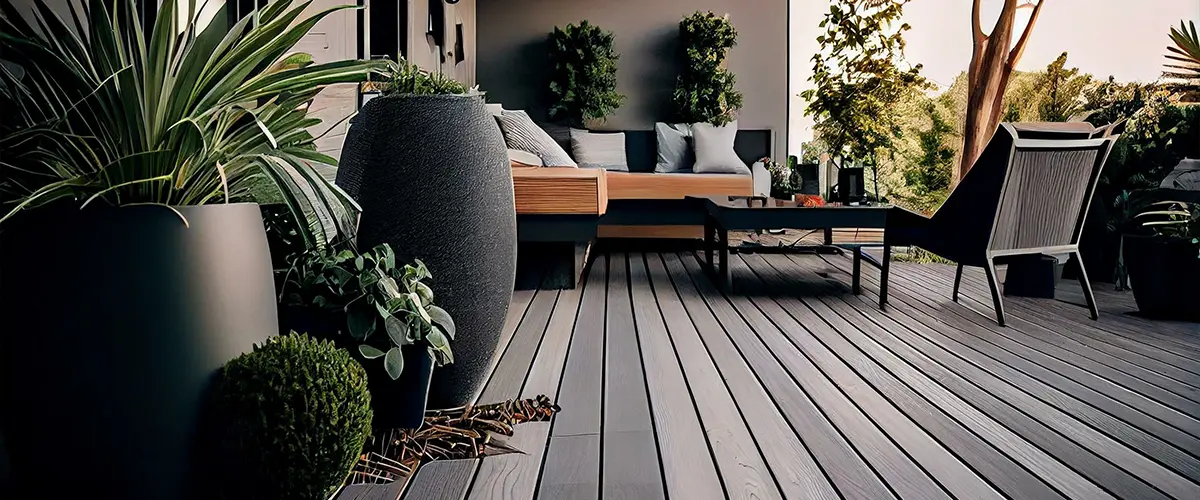 A Word From Our Past Customers
Here's what your neighbors say about working with a top-tier contractor!
We had a fantastic experience with Nate, Jose and his team! They were efficient and professional. The communication was impeccable. 
I was updated every step of the way and always got a timely response when I had a question. They reminded me of a popular chain restaurant that we all know and love with their professionalism and polish. Seriously, they are a step above the rest. 
Even the county inspector kept complimenting their craftsmanship. My deck looks amazing! We will be using them for many future projects for sure.
The 5 stars is reflective of the owner and of the business. Nate is a credit to his profession and works to ensure his clients are happy. 
We had a horrible deck which was rotting and becoming unusable. He developed a design that we loved and was on point with all of his suggestions. 
He was always promptly responsive, which we learned is difficult to find nowadays. It wasn't always smooth sailing (I guess few jobs ever are), but the end result is excellent and exactly what we wanted.
Our Professional Deck Installation Process
We made out deck installation process as easy and straightforward as possible. You'll fully enjoy the process, as well as the end product because we put your needs and preferences first and foremost. Here's how everything will go:
We'll discuss what's the best material for your budget and needs, and we'll come up with a beautiful and reliable deck design. 
You'll have everything taken care of, from getting the building permits to a thorough final walkthrough.
Your property will be a construction site, but it'll look nothing like one. We'll keep debris at a minimum and clean up after ourselves after every day of work. 
This way, you can still enjoy your outdoor space without risking to hurt yourself.
Once we have everything we need (materials, tools, and the contract signed) we start working. Expect to find us in your backyard all day, according to our schedule. 
You'll be in the loop at all times, so you'll know exactly what's the progress on your project.
After your deck is up and running, we'll do a thorough inspection to ensure everything is up to the highest standards of safety and quality. 
We'll also have a walkthrough to show you what we did, why, and how, so you can tell everyone about your amazing new deck.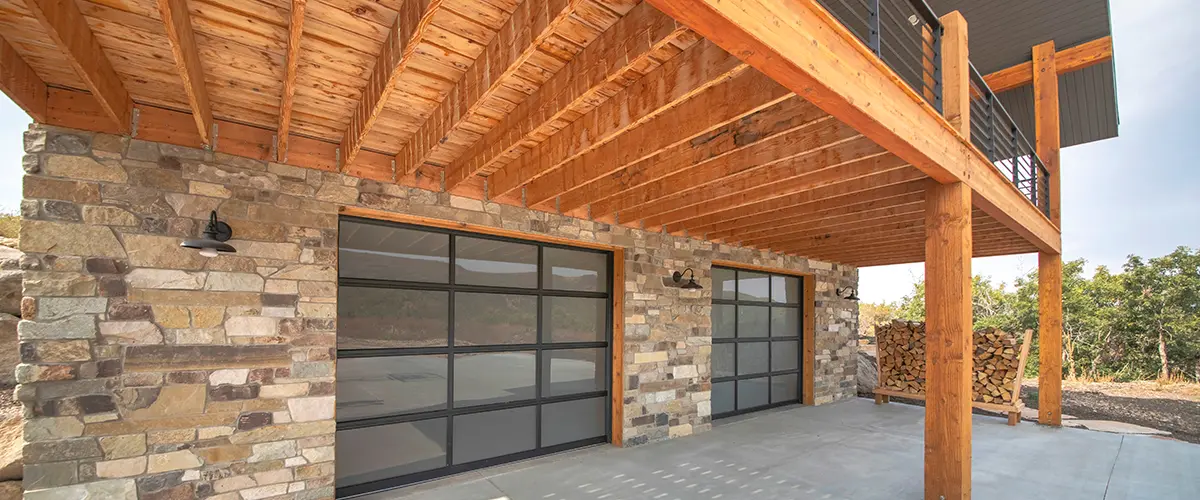 TN's Trusted Deck Building Company, At Your Service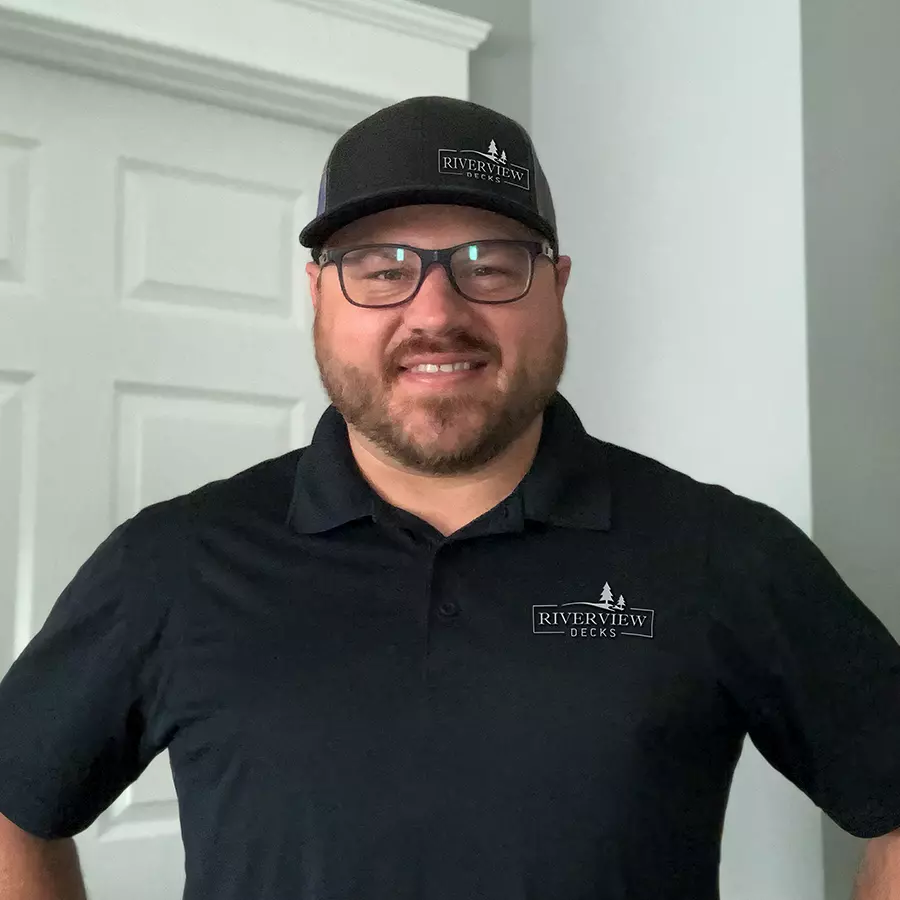 Give us a call today at (865) 801-4545 if you're ready to enhance your outdoor space with a composite deck. 
Our team of deck-building experts at Riverview Decks is ready to bring your vision to life. If you want a call-back with a free quote, click the button below!