Deck Addition In Knoxville, Maryville, Farragut, And More Of TN
Transform your aging deck into a stunning outdoor oasis!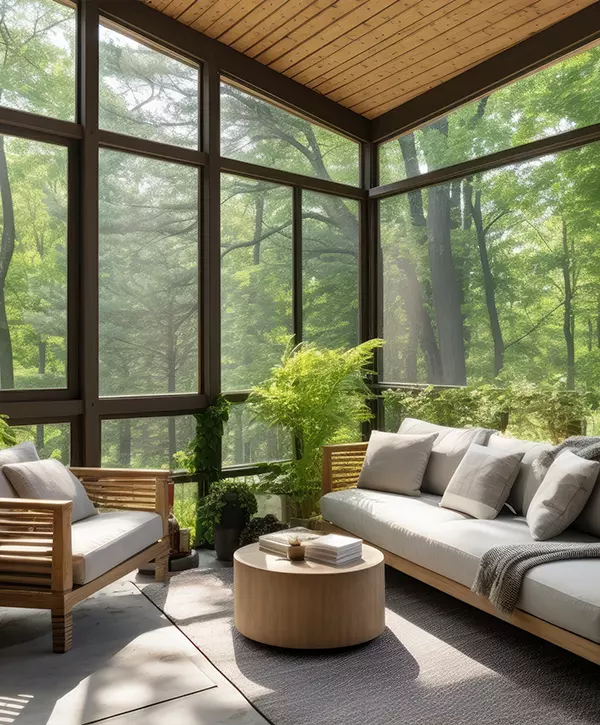 Imagine hosting memorable gatherings with friends and family on your stylish and durable deck. Or picture having a tranquil retreat right in your backyard, a perfect spot for a morning coffee, a good book, or a serene sunset.
Our expert team designs and builds decks that are not only aesthetically pleasing, but also crafted to withstand the test of time, providing an excellent return on your investment. We use premium materials and prioritize your personal style and needs, resulting in a deck that is uniquely yours.
Enjoy a service that offers:
Benefits of a Deck Addition
Adding a deck to your home not only extends your living space but also increases the value of your property. Whether you're in Knoxville, Maryville, Farragut, or anywhere else in Tennessee, a deck addition can provide many benefits. Let's explore some of the key advantages that a deck addition can offer homeowners.
A deck extension significantly enhances your outdoor living space, providing an additional area for dining, relaxation, or hosting gatherings.
New deck boards can transform the entire deck surface, improving the overall look of your home with a variety of styles and finishes to choose from.
A deck addition can significantly increase the value of your property, making it an excellent investment for homeowners planning to sell in the future.
A deck provides a versatile space that can be adapted for various uses, from a tranquil spot for morning coffee to an excellent location for a family barbeque.
If your needs change over time, you can easily extend a deck to accommodate those changes. This flexibility ensures your deck can evolve with you and remain a useful feature of your home.
A deck opens up opportunities to enjoy your natural surroundings, making it easier to connect with nature without leaving the comfort of your home.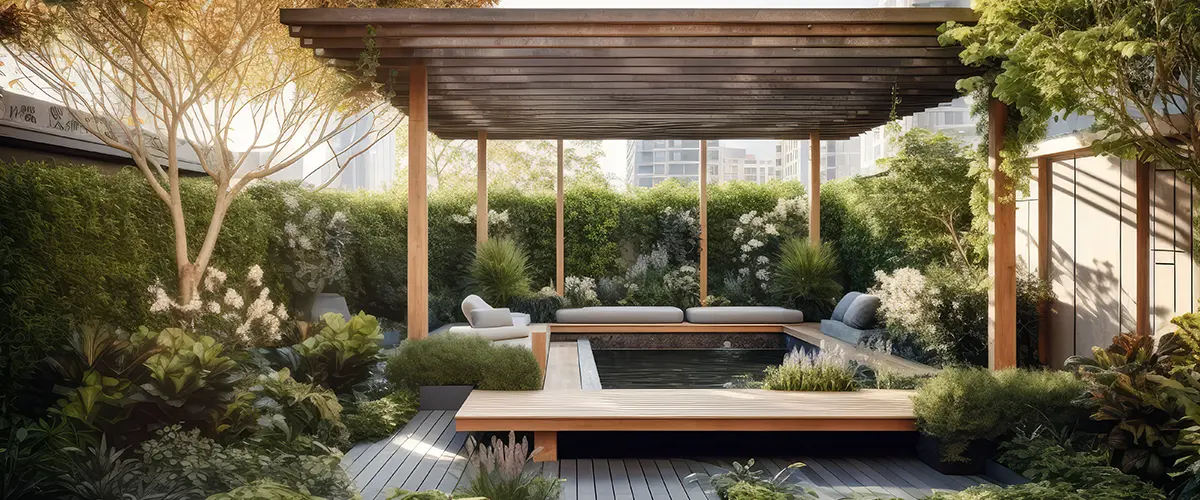 Ready for a deck addition in Knoxville, Maryville, Farragut, or elsewhere in TN? Contact us today and let our experienced deck-building team bring your vision to life and enhance the value and aesthetics of your home.
Learn Why Other TN Homeowners Love Riverview Decks
Check out the testimonials below from satisfied customers who have experienced the transformation a deck addition by Riverview Decks has brought to their homes.
We had a fantastic experience with Nate, Jose and his team! They were efficient and professional. The communication was impeccable. 
I was updated every step of the way and always got a timely response when I had a question. They reminded me of a popular chain restaurant that we all know and love with their professionalism and polish. Seriously, they are a step above the rest. 
Even the county inspector kept complimenting their craftsmanship. My deck looks amazing! We will be using them for many future projects for sure.
Nate was Professional and easy to work with. There were some changes to the remodel which Nate was happy to amend. We became quite good friends and I would highly recommend.
Professional Vs. DIY Deck Extension
When considering a deck addition, homeowners often face the decision of whether to hire professionals or embark on a do-it-yourself project. While the prospect of a DIY project may seem enticing due to potential cost savings, it's vital to examine the important factors of each of these two choices.
| Aspect | Professional | DIY |
| --- | --- | --- |
| Experience | Experienced professionals bring years of expertise. | Limited experience may lead to mistakes. |
| Quality | High-quality materials and workmanship. | Quality may vary based on skills and budget. |
| Permits | Professionals handle permits and compliance. | DIYers must navigate permits themselves. |
| Time | Efficient project completion. | May take longer due to learning curves. |
| Safety | Adherence to safety standards. | Risks of accidents without proper training. |
| Cost | Clear cost estimates and budgeting. | Unforeseen costs can add up. |
| Warranty | Often comes with warranties. | DIY projects lack professional warranties. |
| Resale Value | Higher resale value with professional work. | Potential for lower resale value with DIY. |
| Stress | Less stress, as professionals manage the project. | DIY projects can be stressful and overwhelming. |
Our Deck Addition Building Process At Riverview Decks
Building a deck addition involves several key steps to ensure a safe and durable outdoor space. Here's a brief overview of the 6 steps involved:
Begin by determining the purpose and function of your deck extension. Set a budget, obtain necessary permits, and create a design that considers the size, shape, and layout. Choose decking materials, such as composite decking, based on durability and aesthetics.
Prepare the area by marking the layout and clearing any grass, rocks, or debris. Ensure the ground is level and stable for a solid foundation.
3. Foundation and Footings
Dig post holes according to local codes and pour concrete footings. Install post anchors or brackets in the wet concrete to support the deck's posts. Allow the concrete to cure.
Install ledger boards on the existing deck's original edge joist. Attach joist hangers and install support beams and posts securely. Add new substructure framing and space the joists based on the deck design.
Lay the deck boards perpendicular to the joists, leaving gaps for drainage. Secure the deck boards with screws or hidden fasteners. Attach railing posts and install railing sections according to your design. Finish the deck's edges with fascia boards or trim.
6. Finishing Touches and Safety
Apply a protective finish to the deck boards and add desired accessories like lighting or planters. Install safety features such as handrails or balusters as required by local codes. Regularly inspect and maintain the deck for longevity and safety.
Ready to transform your existing deck or launch a new deck extension project? Don't hesitate to get in touch with us. At Riverview Decks, we're eager to bring your vision to life and add a touch of charm to your outdoor space.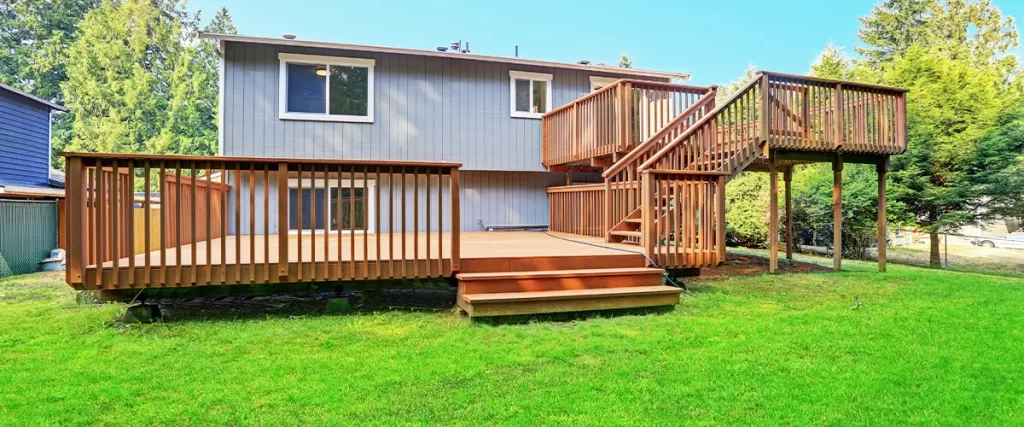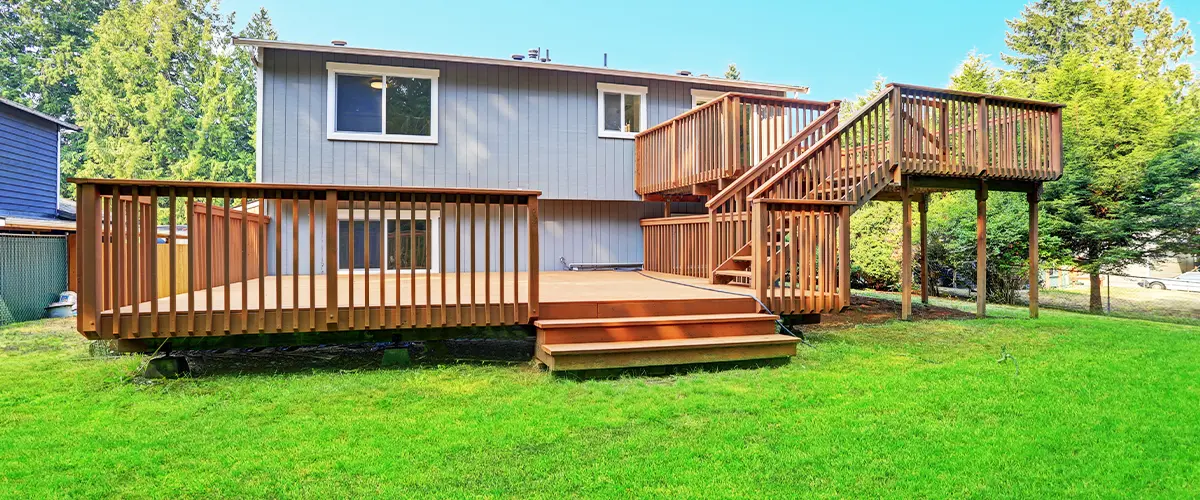 FAQs About Deck Addition In Knoxville, TN
Ready to Achieve Your Dream Deck?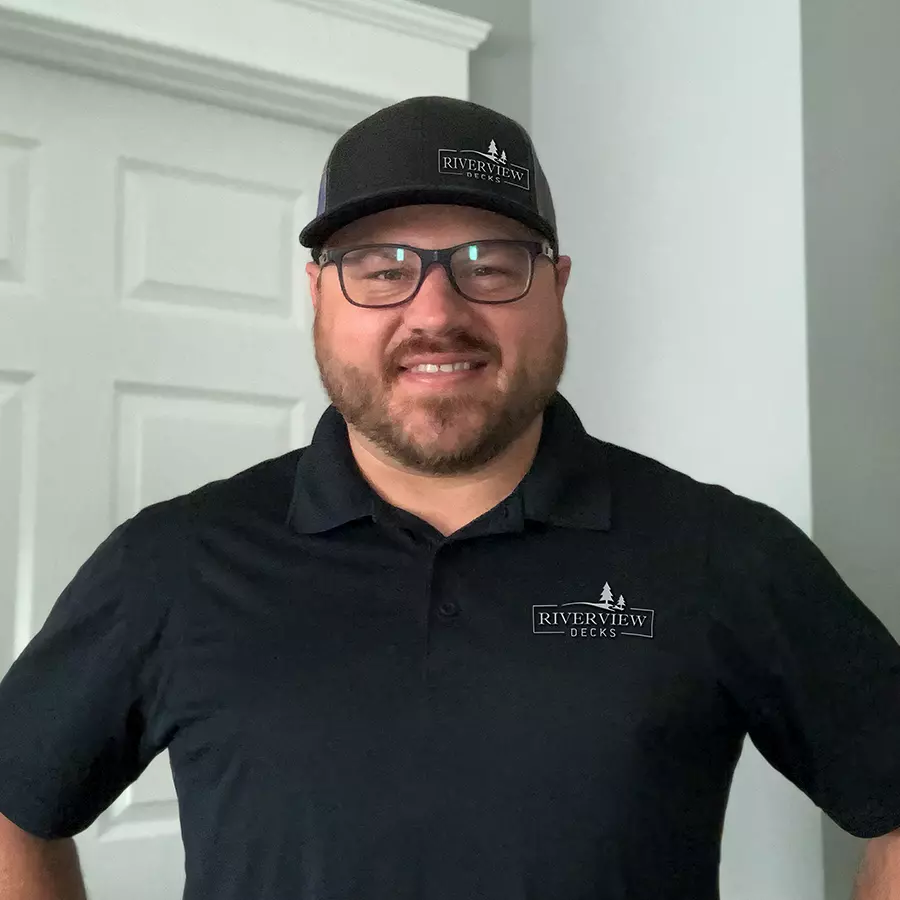 Don't wait any longer to make your dream deck a reality! At Riverview Decks, we pride ourselves on transforming your outdoor living spaces into charming, functional areas for relaxation and socializing.
Contact us today, and let us bring your vision to life with our expert deck-building services.