Free Standing Deck In Knoxville, Maryville, Farragut, Lenoir City, And More Of TN
Build a deck anywhere on your property with our free standing deck-building service.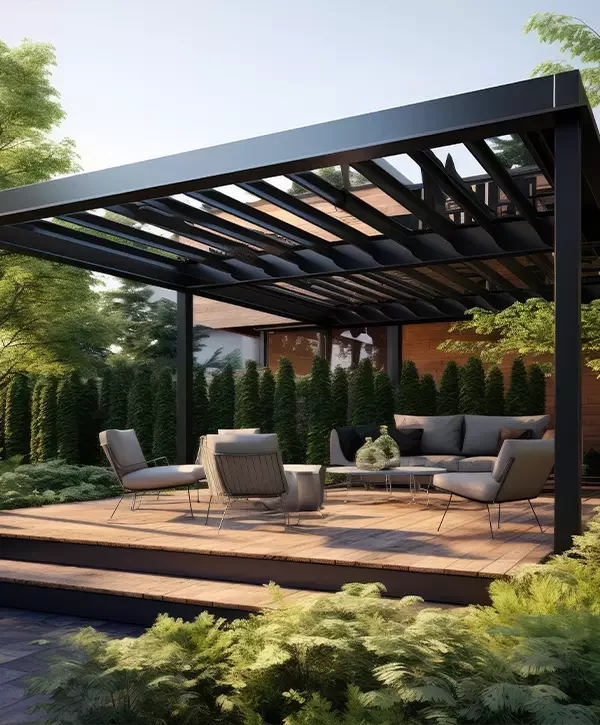 A free standing deck is a versatile addition to any home, providing extra space for relaxation, entertainment, or even outdoor dining. In areas like Knoxville, Maryville, Farragut, and Lenoir City, the appeal of outdoor living is particularly strong, making a free standing deck a desirable feature.
At Riverview Decks, we specialize in the design and construction of high-quality, durable decks that enhance the functionality and aesthetics of your outdoor spaces. Our team of seasoned professionals will work with you to deliver a personalized solution that meets your specific needs and complements the architectural style of your home.
Be a part of the amazing Riverview Decks family and enjoy:
Benefits Of Having A Free-Standing Deck in Knoxville, TN
In the heart of Knoxville, TN, a free-standing deck isn't just an addition; it's a gateway to a better outdoor lifestyle. Here's why opting for a free-standing deck is a game-changer:
A free-standing deck provides a versatile outdoor space, perfect for entertaining, relaxing, or simply enjoying the fresh air. Whether you're hosting a barbecue or sipping your morning coffee, this deck transforms your outdoor area into an oasis.
Unlike attached decks that require attachment to your house wall, free-standing decks stand independently. This means no interference with your house foundation or brick veneer. You get all the benefits without the structural concerns.
Our free-standing decks are constructed using modern-treated lumber, ensuring durability and resistance to Knoxville's variable weather. This wood is pressure-treated, meaning it's less prone to decay and insect damage, offering longevity.
Knoxville's scenic beauty deserves admiration. A free-standing deck design offers unobstructed views of your surroundings, whether it's the lush greenery, rolling hills, or overland water flow. Embrace the outdoors while maintaining the consistency of straight lines and an exact center.
Knoxville's diverse climate calls for a deck that can withstand it all. Our free-standing decks, constructed with pressure-treated lumber and stainless steel fasteners, are designed for year-round use. Experience the consistent gap between boards, even in varying conditions.
We ensure your free-standing deck project adheres to local building codes, securing the necessary building permits to maintain compliance. No hassles, just peace of mind that your deck is built to last.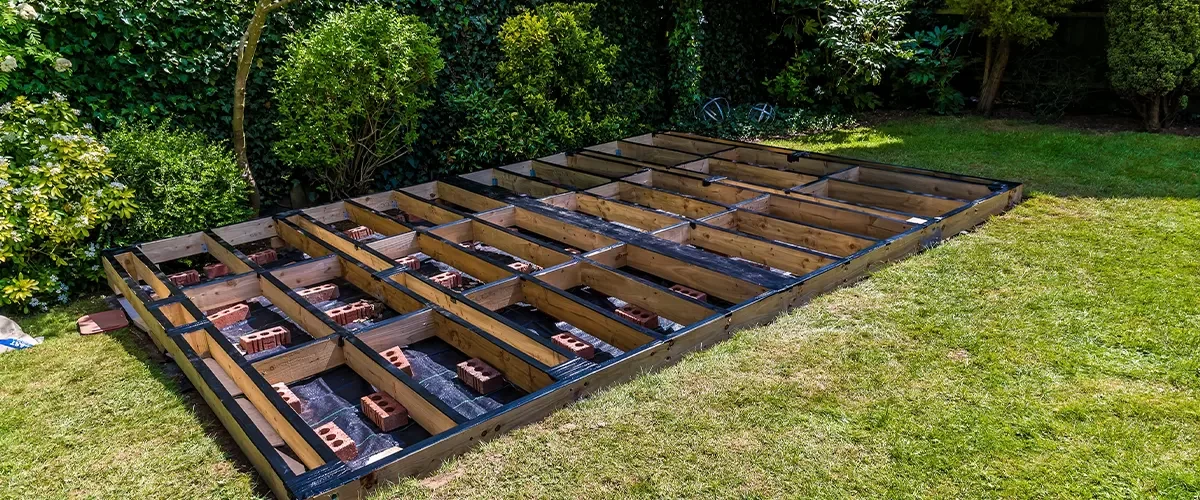 With a free-standing deck in Knoxville, you're not just building a structure; you're creating a lifestyle. Contact Riverview Decks today to explore the benefits and discover how we can make your dream deck a reality.
What Our Clients Say About Our Deck Building Services In Knoxville, TN
Our satisfied clients share their experiences with Riverview Decks. Discover the stories behind our exceptional services in Knoxville, TN.
We had a fantastic experience with Nate, Jose and his team! They were efficient and professional. The communication was impeccable. 
I was updated every step of the way and always got a timely response when I had a question. They reminded me of a popular chain restaurant that we all know and love with their professionalism and polish. Seriously, they are a step above the rest. 
Even the county inspector kept complimenting their craftsmanship. My deck looks amazing! We will be using them for many future projects for sure.
Nate was Professional and easy to work with. There were some changes to the remodel which Nate was happy to amend. We became quite good friends and I would highly recommend.
Types of Free-Standing Decks
At Riverview Decks, we understand your Knoxville outdoor space deserves a personal touch. That's why we offer a variety of free-standing deck types to suit your unique preferences.
1. Timbertech Free-Standing Decks
Timbertech decking materials are renowned for their beauty and durability. Our Timbertech free-standing decks offer a stunning aesthetic with the added benefit of low maintenance. These decks are designed to withstand the ever-changing Knoxville weather, making them a reliable choice for long-lasting outdoor enjoyment.
2. Trex Free-Standing Decks
For eco-conscious homeowners in Knoxville, Trex decking is a popular choice. Trex decks are crafted from recycled materials, making them environmentally friendly. These free-standing decks not only reduce your carbon footprint but also provide exceptional performance and a natural wood-like appearance without the need for extensive upkeep.
Platform decks are an excellent choice for those seeking simplicity and functionality. These low-profile decks are perfect for enjoying your Knoxville backyard without the fuss. They offer a clean, modern look and can be customized with Timbertech or Trex materials for added beauty and resilience.
If you desire a deck that provides elevation and a commanding view of Knoxville's scenic landscapes, raised decks are the answer. These decks can be constructed with Timbertech or Trex decking boards, combining aesthetics and durability for a stunning outdoor space.
Multi-level decks are all about creating distinct zones within your outdoor area. Timbertech and Trex materials can be seamlessly integrated into these decks, allowing you to blend style, function, and Knoxville's natural beauty.
Each of these free-standing deck types can be tailored to your specific preferences, using Timbertech or Trex materials to achieve the perfect balance of aesthetics and performance. Contact Riverview Decks today to discuss your dream free-standing deck-building project in Knoxville, TN.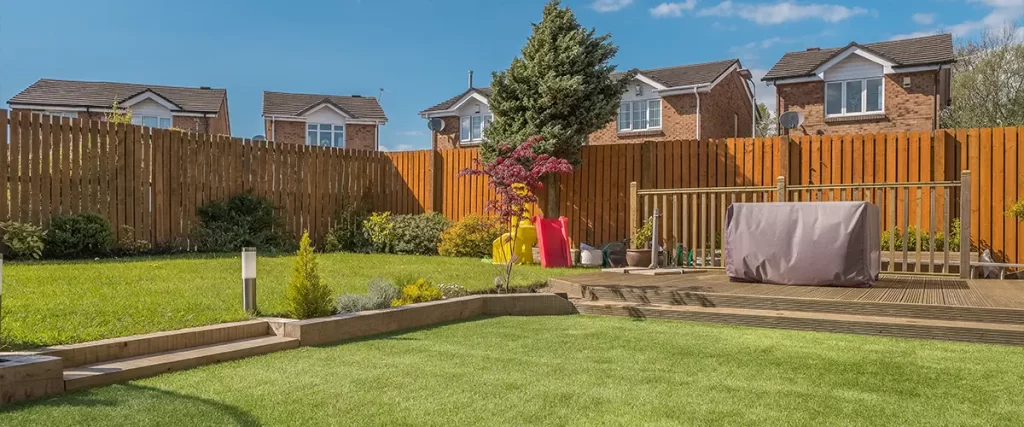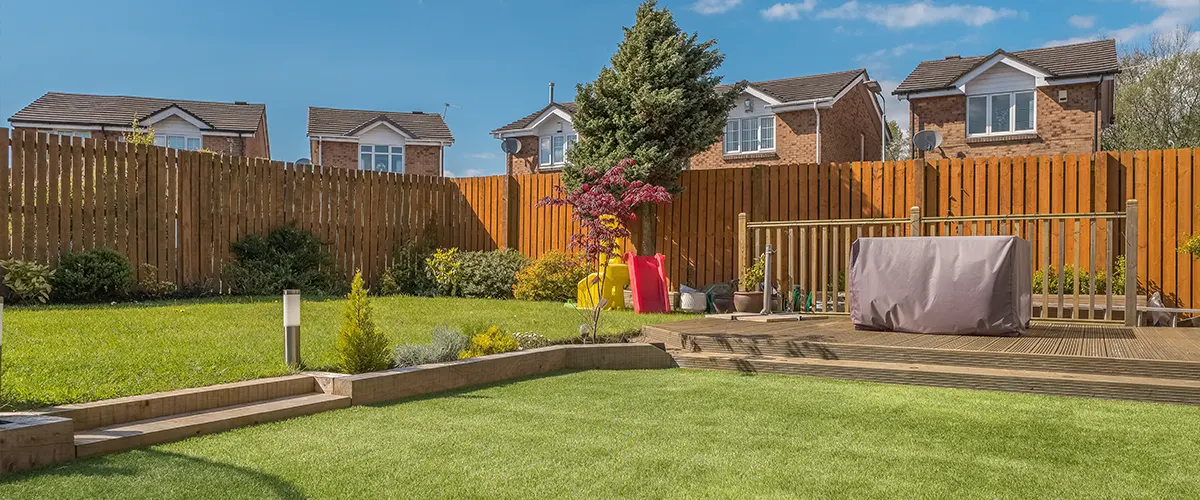 How We Build A Freestanding Deck At Riverview Decks
At Riverview Decks, we take pride in our meticulous approach to building free-standing decks in Knoxville, TN. Here are the six key steps we follow to ensure your dream deck becomes a stunning reality:
Step 1: Secure the Foundation with Concrete Footings
We begin by digging precise concrete footing holes at strategic locations to support the weight of your deck. These holes are carefully measured and placed to ensure stability.
Step 2: Set the Framework with Floor Joists
Once the concrete footings have cured, we install sturdy floor joists that form the backbone of your free-standing deck. These joists are strategically placed and securely fastened to provide structural integrity.
Step 3: Precision Work with Deck Posts
Our experts ensure your deck posts are accurately positioned, providing the right support for your deck. We use joist hangers and drill pilot holes for precise attachment.
Step 4: Craftsmanship with Circular and Reciprocating Saws
To create a deck that meets your exact specifications, we employ circular and reciprocating saws for precise cuts on deck boards. This ensures a clean and polished finish that enhances the overall aesthetic.
Step 5: Support Posts for Stability
Support posts play a crucial role in the stability of your free-standing deck. We carefully place and secure them, using the wet concrete method for a secure foundation that can withstand Knoxville's varying weather conditions.
Step 6: The Final Touch – Deck Boards
The crowning moment of your free-standing deck is the installation of deck boards. We meticulously lay these boards, ensuring consistent gaps and a seamless finish. Your deck boards are securely fastened, providing a safe and beautiful outdoor space for your enjoyment.
Rest assured that each step is executed with precision and care, showcasing our expertise as deck builders. Your free-standing deck will be built to last, providing years of outdoor enjoyment in Knoxville. Contact Riverview Decks to embark on your free-standing deck project today.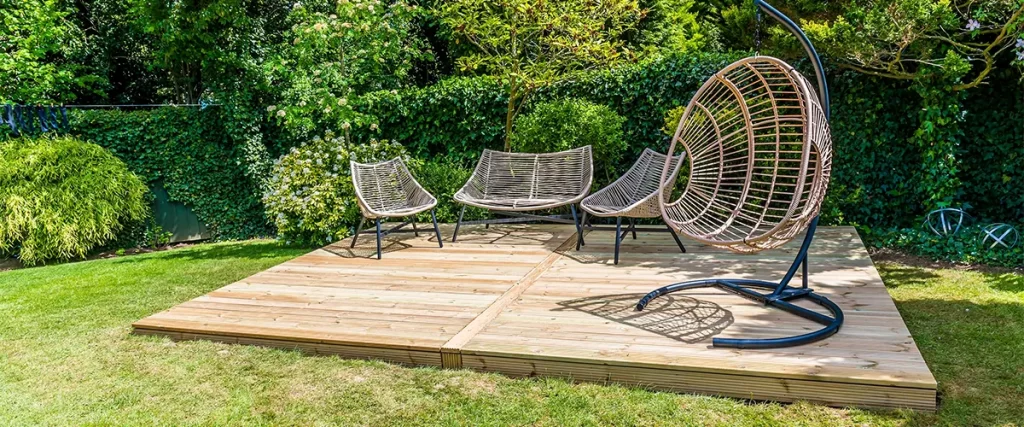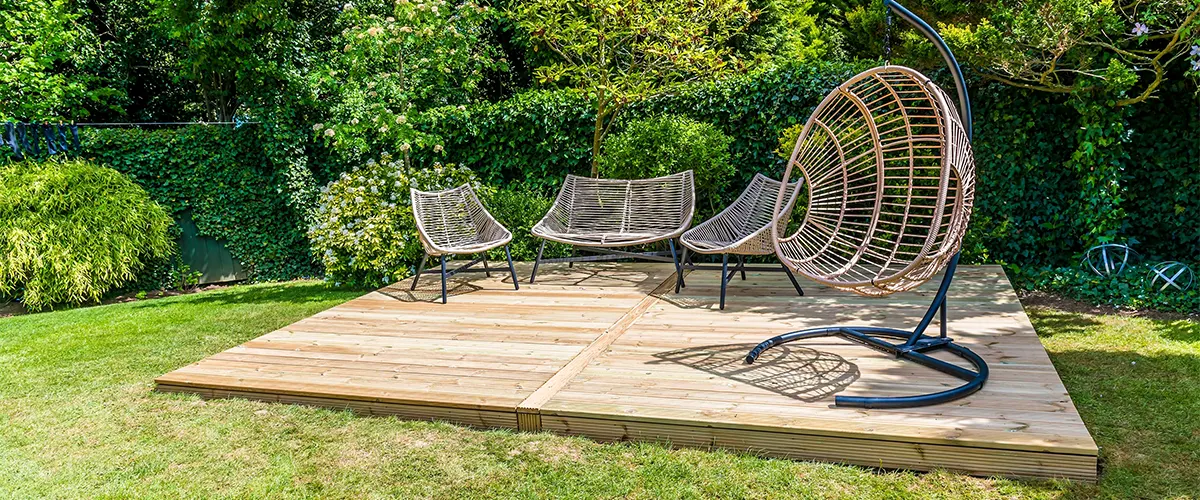 Talk To Your Top Deck Builders In Knoxville, TN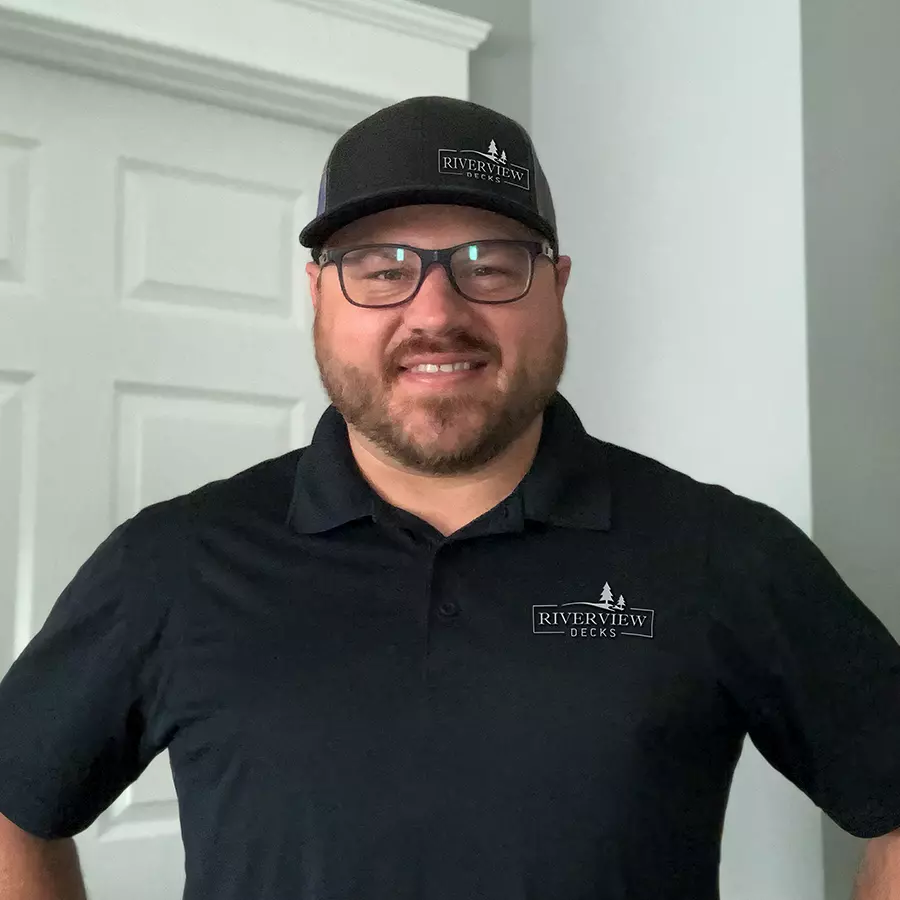 Don't wait another day to enhance your outdoor living experience. Contact Riverview Decks today at (865) 801-4545. Our team in Knoxville, TN, is ready to transform your backyard with a robust, beautifully crafted free standing deck. Your dream deck is just a call away!