When it comes time to deck your home, the variety of decking material options can be overwhelming.
Do you want the natural beauty of wood decking or the low-maintenance appeal of composite decking?
What about PVC or metal decking – is one a better fit for your needs?
To help make this important decision, we've outlined all the pros and cons of the most popular decking material options.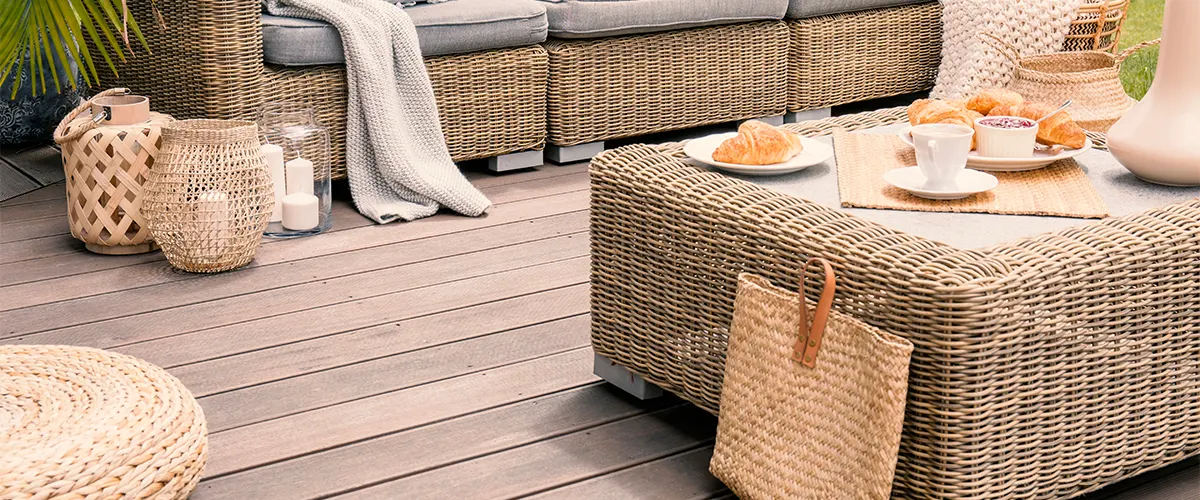 What Are The Benefits Of Having A Deck?
There are many benefits to having a deck. Perhaps the most obvious benefit is that a deck provides an excellent place to relax and enjoy the outdoors.
A deck can also be a great spot for enjoying a meal or hosting a party. Additionally, a deck can add value to your home.
When choosing a decking material, it is important to keep these benefits in mind and choose a material that will best suit your needs.
For example, if you are looking for a deck that requires little maintenance, composite decking might be the best option for you.
If you are looking for a deck with a more natural appearance, wood decking might be the better choice.
What Are The Different Types Of Decking Material?
There are a variety of decking material options to choose from, each with its own set of benefits and drawbacks. So let's take a look at the most popular options:
Natural Wood Decking Material
Wood decking is the most popular type of decking material. Wood decking is beautiful and has a natural look that many homeowners love.
It does, however, require more maintenance than synthetic decking materials. Wood decking must be sealed and stained on a regular basis to protect it from the elements.
Exotic hardwood like cedar decking or redwood decking have a very distinct appearance and because of their density, they can last longer and usually look better as they age.
If you want to learn more about the best wooden decking options you can find in TN, check out this article!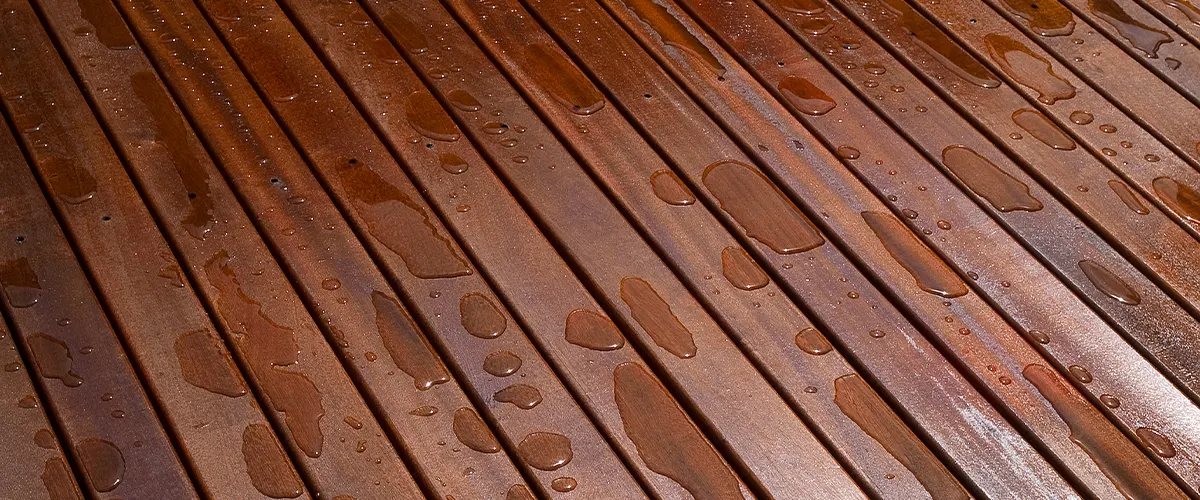 Pressure Treated Wood Decking Material
Pressure-treated lumber is the most common type of decking material. It's long-lasting, inexpensive, and easy to work with.
However, it's also susceptible to splintering and damage if not properly maintained. When working with pressure-treated wood, always wear gloves and a mask to protect yourself from the toxic chemicals in the wood.
These chemicals can be harmful to your health if inhaled or ingested. In addition, they're highly corrosive, so it's best to use only stainless steel fasteners. With proper care and maintenance, pressure-treated wood can provide years of enjoyment.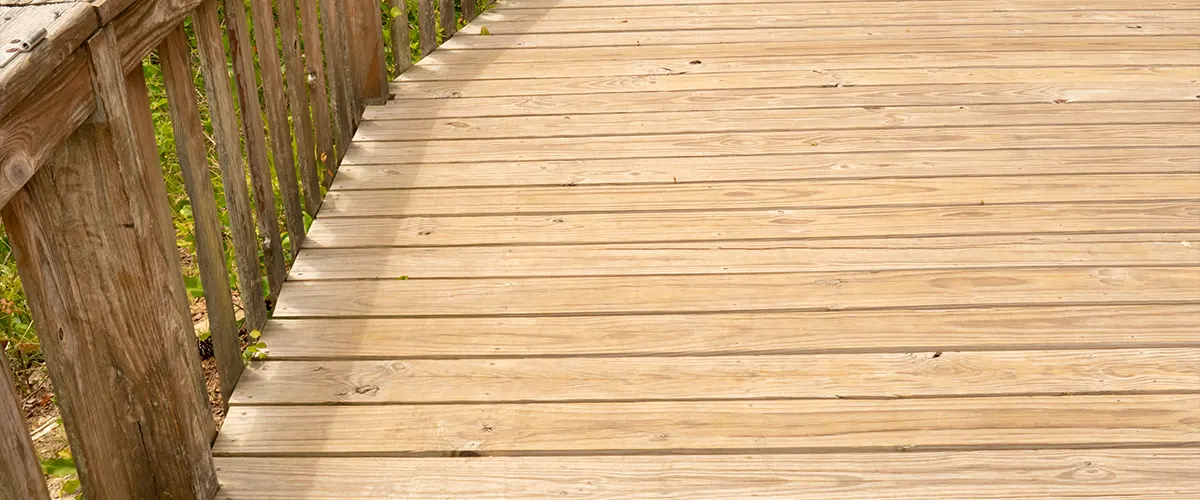 Composite Decking Material
If you're looking for a material that looks like wood but doesn't require the same level of maintenance, composite decking materials may be a good option for you.
Made from a combination of plastic and waste wood fibers, these boards come in a variety of colors and grain patterns that look convincingly like the real thing. And because they're not made from 100% wood, they won't splinter and don't need to be stained or painted.
Instead, they have built-in UV resistance that helps them keep their good looks for years to come.
While composites are more expensive than most woods upfront, you may end up spending less in the long run thanks to their low maintenance costs.
Just be sure to follow the manufacturer's installation instructions carefully, as these boards can move more in response to temperature changes than wood. But with a little care, your composite deck will provide you with years of enjoyment.
Check out The New Trex Decking Prices In 2022 if you're interested in getting the best decking material out there!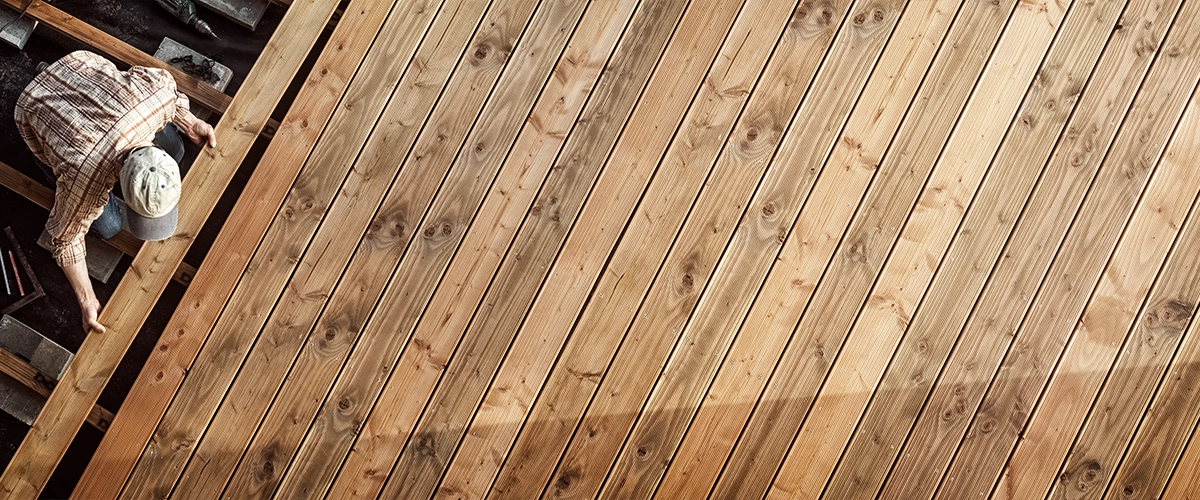 PVC decking is a low-maintenance decking material option. PVC decking is made from a type of plastic that is resistant to rot and insect damage. PVC decking is also easy to install and can be done by most do-it-yourselfers.
However, PVC decking does not have the same natural look like wood decking.
Aluminum Decking Material
Aluminum decking is often overlooked as a decking material, but it has a lot of advantages over other options.
It's lighter and stronger than wood, composite, and vinyl and resistant to mold, weather, and insects. It's even recyclable—not that you have to worry about that since an aluminum deck will last forever.
All these qualities make aluminum the most expensive decking option of them all. But aluminum is the way to go if you're looking for a deck that will last a lifetime with minimal maintenance.
Check out Fortress Building Products for some of the most popular steel solutions for your outdoor space!
What Are The Different Factors To Consider When Choosing A Decking Material?
There are a few different factors you should consider when choosing a decking material.
Choosing the right decking material for your home is a personal decision that comes down to both practical and aesthetic considerations. There are a variety of decking material options to choose from, each with its own set of benefits and drawbacks so you can make the best decision for your home.
If you're looking for a new deck, or are in the process of replacing an old one, you have a lot of options to choose from.
In this post, we've looked at different types of decking materials, but there are many more on the market.
If you need help narrowing down your choices or want advice on which material will be best for your home and climate, get in touch with us by filling out this form or call us directly at (865) 801-4545.