Although composite is starting to gain more and more ground, wood decking still remains the most popular choice for homeowners looking to build their first deck.
And if you're looking into getting your own, you want to know what's the best wooden decking you can get for your property.
Ranking all the wood types for a deck is not an easy task. Everyone is different and expects different things from their decks. Some might love how budget-friendly pressure treated lumber is, while others will love the look of mahogany.
Regardless, we'll do our best to find the best wood decking for you, your needs, and your budget.
Let's begin.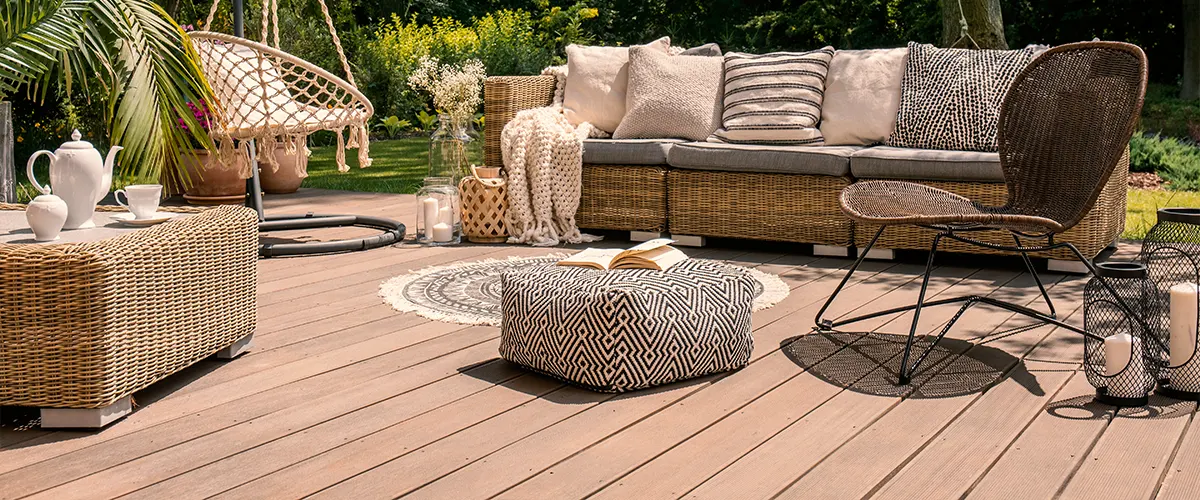 Cedar and redwood are still a very popular decking material option.
Western softwoods like cedar or redwood are valued for their natural beauty and rich color, especially the redwood and the western red cedar. Both these wood types contain oils and tannins that help the wood resist termites and other insects.
Unlike pressure treated lumber, cedar and redwood are fairly resistant to the elements, even without the chemicals and preservatives the PT lumber has.
Cedar comes in four grades: architect clear, custom clear, architect knotty, and custom knotty. All of these make great options for outdoor decks, but they do have some flaws.
Drawbacks Of Cedar And Redwood
Even if they're some of the most popular options for decking boards, these species of wood also have drawbacks.
The cost for cedar and redwood is close to triple the price of pressure treated lumber, making them a more expensive option.
Besides cost, cedar and redwood need constant attention, repairs, and maintenance. A power wash every year and a new coat of stain and seal every couple of years is crucial to keep a cedar or redwood decking in a good state.
The popularity of the pressure-treated lumber is slowly decreasing, as better and more efficient types of manufactured wood are coming out.
However, many of our customers are still in love with the southern yellow pine and how cheap it is to repair or replace.
Another reason pressure treated lumber is a favorite wood amongst homeowners is because it's treated to resist fungus, wood-boring bugs, and rot. They are resistant, but long exposure to water damage or pests can still damage this wood.
Pressure treat lumber is used mostly for your deck frames, and you can find more about deck framing here.
Drawback Of Pressure Treated Lumber
Pressure treated deck boards are inexpensive, but there are other aspects of it that stop many people from choosing this material as their decking wood.
Its tendency to split, warp and crack, are factors that make many homeowners reconsider a pressure treated deck. PT wood also needs constant maintenance to ensure it looks good.
Wood preservative and stain every two years, as well as an annual power washing, are pretty much all you can do to keep the PT lumber looking good.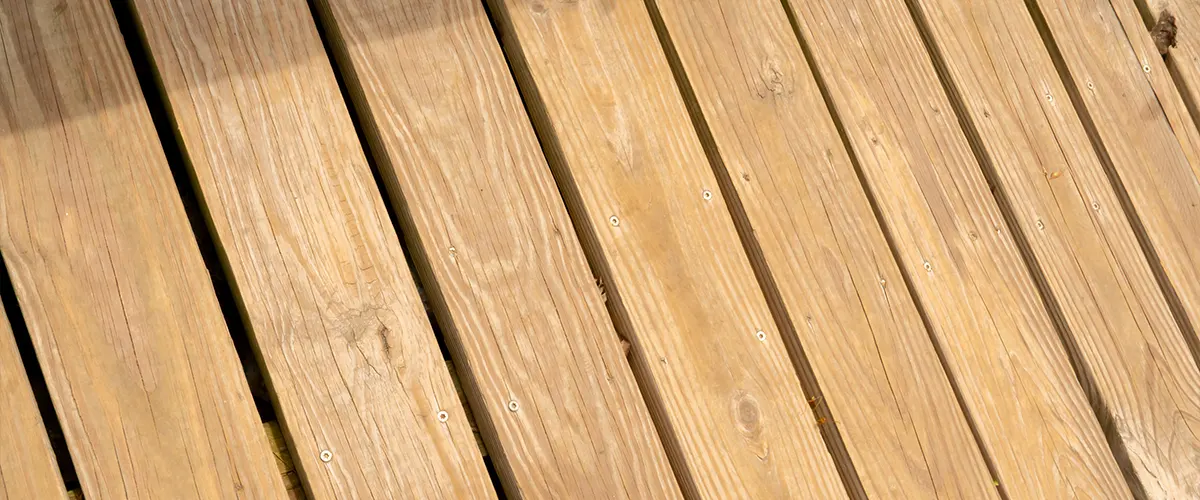 Exotic Hardwoods Like Mahogany Or Ipe
If money is not of importance, tropical hardwoods are some of the best types of wood. They don't require as much maintenance as softwoods, and they bring a unique and beautiful vibe to your outdoors.
A few tropical hardwoods that homeowners love getting for their wood decking are:
All of these are rich-grained woods. They're hard, durable, and resistant to rot and insects, making them the best wooden decking material of all natural species of wood.
Downsides Of Tropical Hardwood
As you could've guessed, tropical hardwoods are not cheap. Even so, in some parts of the country prices are almost similar to the best quality of cedar and redwood.
If you're considering tropical hardwood, know that these are not easy to work with and can get damaged easily when nailing or screwing them down.
They're dense and challenging to cut and drill. They're typically quite difficult to stain as well, which is why you'll need to use a penetrating oil-based stain, specifically designed for hardwood decks.
Even if composite is not a natural wood, it's still the best wooden decking material you could ever get. Composite is a low-maintenance material that needs minimum attention and care.
This type of decking material is resistant to rot and pests, the biggest enemies of wood. Besides, composite is much more durable and resistant, so warps, cracks, splits, or dents are less frequent on composite.
This material doesn't need staining or sealing, so that means more time spent enjoying it, rather than maintaining it. Obviously, it also means no more money spent on stains and seals.
Brands like Trex, Fiberon, and TimberTech are the most popular composite decking brands. To find more about composite decking price, check out this article!
Downsides Of Composite Decking
Even the best wooden decking out there has some downsides, but nothing compared to the vulnerability of pressure treated lumber or cedar.
Composite is fairly expensive upfront, and you can't refinish it. As a result, if you want to change the color of your deck or replace a board, you'll have to replace the entire deck.
However, there are very low chances that a composite deck will need repairs. Unless you intentionally try to damage it, composite material is tough and resistant.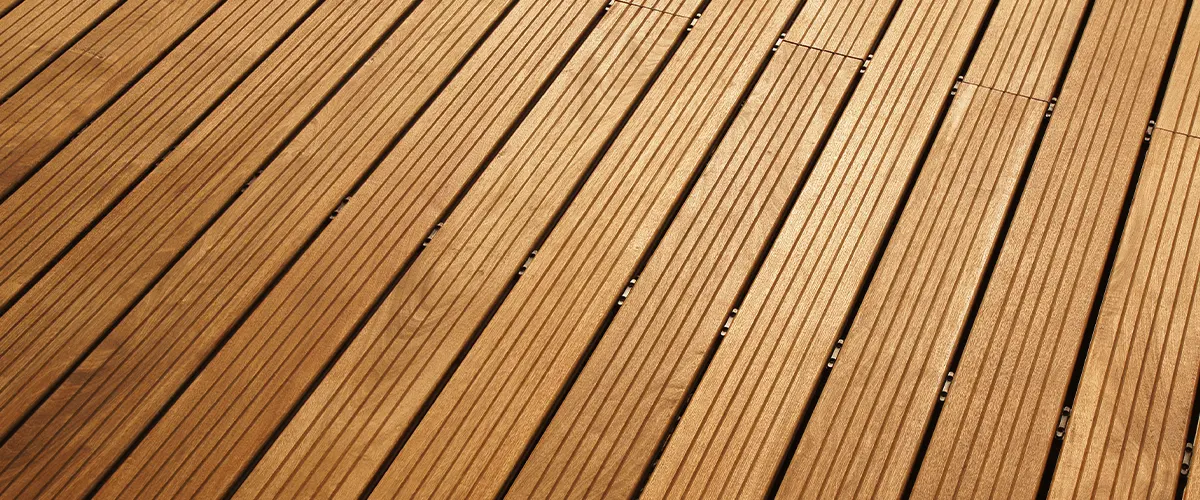 While we can't tell you exactly what's the best wooden decking for your particular needs without knowing you, we can talk and discuss your needs to find the best match for your outdoor space.
If you want an expert's advice on the best type of wood for your decking, request a quote and we'll get back to you as soon as possible. If you're in a rush, call us directly at (865) 801-4545 and let's discuss your upcoming project!