Planning to build or replace a deck in 2022? You must be interested in the newest Trex decking prices, how they changed, and how much their prices will change by the end of the year.
In this article, we'll discuss the Trex decking prices in 2022 and you'll find out if this year is the best to buy composite materials and get your decking project started.
Let's begin.
The typical cost of a Trex deck in the United States is $4,800. 
A tiny 144 sq.ft. Trex deck might cost as little as $1,600 for an economic project or as much as $10,600+ for a high-end project with many add-ons on the low end of the price range.
Trex decking is significantly less expensive than other top composite decking brands like Gorilla, Fiberon, and AZEK, but it is more pricey than wood-based decking materials.
| Budget | Trex Deck Cost (materials and install) |
| --- | --- |
| Low – End | $1,600 |
| Mid – Range | $4,800 |
| High – End | $9,600 |
Cost of Trex Decking by Series
The low-end and high-end are determined by the quality of your Trex deck boards. Trex has three lineups: Trex Transcend, Trex Select, and Trex Enhance.
| Trex Series | Average Cost per Square Foot |
| --- | --- |
| Trex Enhance | $5 – $7 |
| Trex Select | $7 – $9 |
| Trex Transcend | $10 – $12 |
Your Trex decking costs will be greatly influenced by the quality of the Trex decking materials, including the Trex boards.
Trex Decking Cost Per Square Foot
Trex decking prices run from $5 to $12 per square foot, depending on the type of boards you choose.
For installation, professional deck builders charge on average between $8 and $14 per square foot.
However, this depends on the labor rates in your area, the cost of living, the experience of the contractor and how he values his craft, and, of course, the complexity of your deck.
| Deck Square Footage | Average Trex Total Cost |
| --- | --- |
| 144 Square Feet | $1,650 – $3,900 |
| 300 Square Feet | $3,000 – $8,100 |
| 400 Square Feet | $4,000 – $10,800 |
Trex Decking Prices with Other Features
The cost of your Trex deck will be different based on the features you choose. A deck replacement, for example, will be less expensive than one that also needs the framing, posts, and blocks.
The costs of various feature bundles you may choose from in your deck are shown below, as well as the cost per square foot of each feature.
| Trex Feature | Average Cost per Square Foot |
| --- | --- |
| Decking boards only | $5 – $10 |
| Decking and railing | $7.50 – $15 |
| Decking, wooden frame, no railing | $10 – $15.50 |
| Decking, Trex Elevate frame, no railing | $18 – $23.50 |
| Decking, wood frame, railing | $12 – $20 |
| Decking, Trex Elevate frame, railing | $20 – $27 |
A full Trex deck, with decking, framing, and railing is the most expensive option, while the cheapest option is purchasing the Trex decking only.
Pros Of Composite Decking
Composite decking has become a popular choice for homeowners due to its many advantages over traditional wood decking.
Some of the pros of composite decking include:
Cons Of Composite Decking
Although composite decking has many benefits, there are some drawbacks to consider as well.
Some of the cons of composite decking include: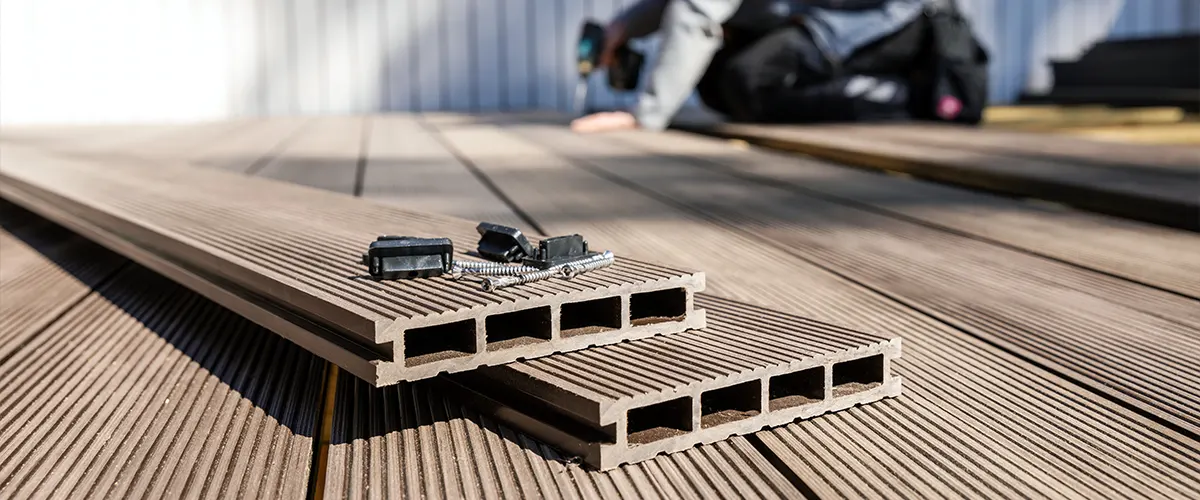 Can Trex Decking Be A DIY Project?
Composite decking may seem like a good DIY project, but it can be dangerous if not installed correctly. If you don't have the proper tools or experience, it's best to leave the installation to a professional.
Composite decking is very heavy and requires more support than traditional wood decking. This means you'll need to add more joists to your deck frame. If not done properly, this can weaken your deck and make it dangerous.
Another thing about composite is that it can't be refinished, so any mistake in the design and installation will mean a costly mistake that can break the flow of your outdoor space.
But more important than anything is how safe your deck is. Remember that this is a place where your most loved ones will spend time, run around, or party on it.
Needless to say, your deck needs to be safe for you and your family, and not even the best DIYer is acquainted with the building codes for decks.
Hiring A Professional To Install Your Composite Deck
If you've decided to hire a professional to install your composite deck, there are a few things to keep in mind.
First, you'll need to find a reputable contractor. Ask friends and family for recommendations, and look for online reviews. Once you've found a few contractors, get estimates from each one.
You should also ask the contractor about their experience installing composite decking. Be sure to ask for references from previous clients, ask to see photos of their work, or even visit past customers and ask them about their experience.
Finally, be sure to get everything in writing before the project starts. This should include the estimated cost, timeline, and scope of work. This will help avoid any misunderstandings down the road.
Once you've found the right contractor, you can sit back and relax while they handle the installation of your new composite deck.
Your Trex Deck With Riverview Decks
Your local deck builders from Riverview Decks are trained and experienced in installing the best Trex decking in Knoxville and East Tennessee. We make a priority out of your needs and well-being, and we strive to give you the best end-product in the neighborhood.
You'll go through a simple and quick process where you'll be kept in the loop at all times. Constant guidance, walkthroughs, and insights are just some of the advantages you'll have by working with us.
We're a friendly and polite team that loves helping homeowners like yourself upgrade their homes without the stress and anxieties of working with contractors. We'll tell you what are the Trex decking prices in your area and what is the best distributor to buy from.
Request a quote today and we'll get back to you as soon as possible. Or call us at (865) 801-4545 if you're in a rush and want to talk with us directly.