If you have a concrete patio on top of which you've decided you want a deck, there are a few things to consider before building a deck over concrete.
To begin with, it might be a lot less hassle building the deck if you would just tear down the concrete patio. Yes, you might have to pay a little extra to have it removed, but it makes the deck building process much easier.
If you want to save some money and time is not of great importance, you could have a professional build a deck over your concrete patio.
Let's see what's worth considering when building a deck over concrete.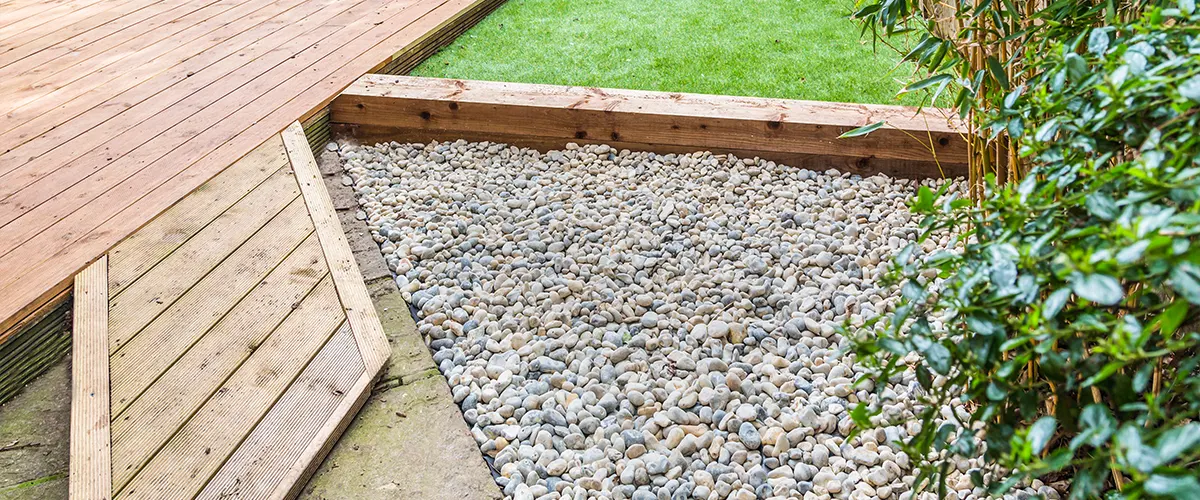 1. Fix Water Issues First
Concrete slabs can collect puddles of water that can cause a lot of issues if you're looking to cover it with a deck, be it wood deck or composite deck.
The first thing you'll want to do before you start planning the deck is to make sure the concrete slab has a slope that allows water to slide down on the ground.
Concrete will settle for as long as it's in place. If your old concrete patio is there for years, there are high chances that in some spots, it's sunk more than in others. Exterior-grade self-leveling compound will work great to level such an area, but make sure you also create the slope that we talked about.
Another great protective measure is to caulk the space between the concrete patio and the house so the water doesn't get trapped in there.
2. Draw The Deck Over Concrete Plan
The easiest way to visualize a project is to draw it. And to make it even easier, it's best to draw it exactly where it'll go. In this case, since you want to cover the concrete patio anyway, you can draw your deck plan on it.
The layout of your deck sleepers and deck boards depend mostly on the layout of your decking. For a standard decking design where all the decking materials run in one direction, all you need are rows of parallel sleepers.
Here are a few things to keep in mind when screwing down sleepers with concrete screws:
What Materials Should You Use For A Deck Over Concrete
Composite decking is one of the best materials you can get for your outdoor space. A new deck, even with treated wood, won't last as long as composite decking does. However, instead of building a deck over concrete, we recommend removing the concrete porch first.
3. What To Do If The Concrete Patio Has Cracks
Cracks in concrete are unavoidable. They're caused by water seeping in smaller cracks at first, or when the ground is moving.
This is a big issue, and probably one of the main reasons you want to cover your concrete patio.
Cracks in your concrete patio will limit your options because cracks tend to move, grow wider over time, or shrink and widen as the soil freezes and thaws.
You can see how this is a problem when you're trying to make sure your deck will remain even and won't move around with the concrete.
While building a deck over concrete is possible, we wouldn't recommend covering a cracked concrete patio with a deck. The risk is too high, and the end-product is unlikely to be as functional as a floating deck.
Needless to say, you can't really repair cracks in concrete. It's better to remove a cracked concrete patio, instead of building a deck over concrete.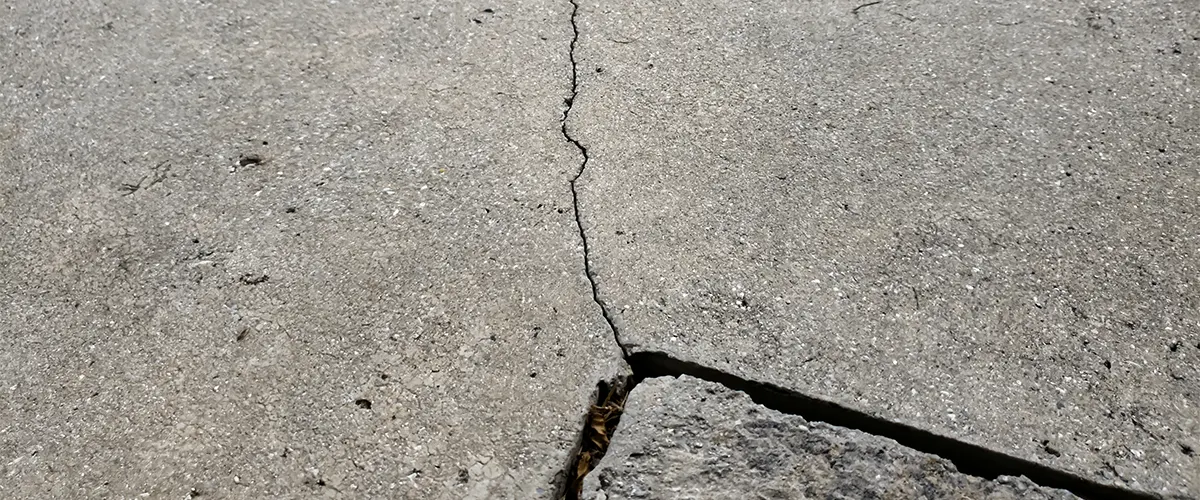 Why Build A Deck Over Concrete?
Yes, a deck is a beautiful addition that uplifts your outdoor space. But it's not the only option you have if you want to cover a rather old concrete slab.
Let's see some other alternatives.
A poured slab provides a solid, stable foundation for pavers. Cover the patio with a fine layer of sand and lay pavers over it to create a similar-looking paver patio.
It's a straightforward project that comes with a reasonable price tag ($3 to $6 per square foot). If you're looking to DIY, expect to put in some hard effort over the course of several days.
A rug is a super quick and affordable fix. It works great if you have a family gathering and there's no time to do a real fix, or you just want to hide it from view from time to time.
However, hiding a concrete slab under a rug is not a permanent solution, and sooner or later, you'll have to take action.
The top layer of interlocking plastic tiles simply snaps together; there's no need to nail them to the patio. Plastic-only alternatives are less expensive. Wood, ceramic, and stone versions are also available.
Other options are using concrete paint, resurfacing the existing concrete surface, or even tiling it.
There's a lot of stuff you can do with a concrete patio, but if you truly want to get rid of, why not get rid of it for good? It's better to invest a little in tearing it down, than spending a fortune on repairing it constantly or hiding it under a beautiful deck.
At Riverview Decks, you'll get the best deck building service in East Tennessee and Knoxville. We believe hiding a flaw is much worse and less productive than fixing it from the get go.
Which is why we offer cost-effective solutions for any possible problem in your outdoor space, from your decking material to the area you want to install your decking boards.
Request a free quote today and we'll get back to you as soon as possible, or call us today to find the solution together!