Your deck frame is what keeps your deck up. The 'bones' of your deck and the most important aspects of it when it comes to safety.
And as long as your frame is in a perfect state, you're ensured a relaxing time on your deck and the peace of mind that you and all your loved ones are safe.
Things change drastically, though, when your deck framing is not as stable as it used to be.
This is a quick guide to the best materials for deck framing, and when it's time to replace the frame.
Let's begin.
Deck framing is the process of creating the skeleton of a deck.
This includes the posts, beams, and rim joist that will hold up the decking surface. Deck framing can be done with either wood or metal framing members. The frame is where the deck boards are installed, and it's attached to the house with a ledger board.
Pressure Treated Lumber Deck Framing
Pressure treated lumber is a type of wood that has been treated with a preservative to make it resistant to rot and decay. This makes it a good choice for deck framing, as it will last longer than untreated wood.
However, pressure treated lumber is more expensive than untreated wood.
If you choose to use pressure treated lumber for your deck framing, make sure to select a type that is rated for ground contact. This will ensure that the wood will not rot when it comes in contact with the soil.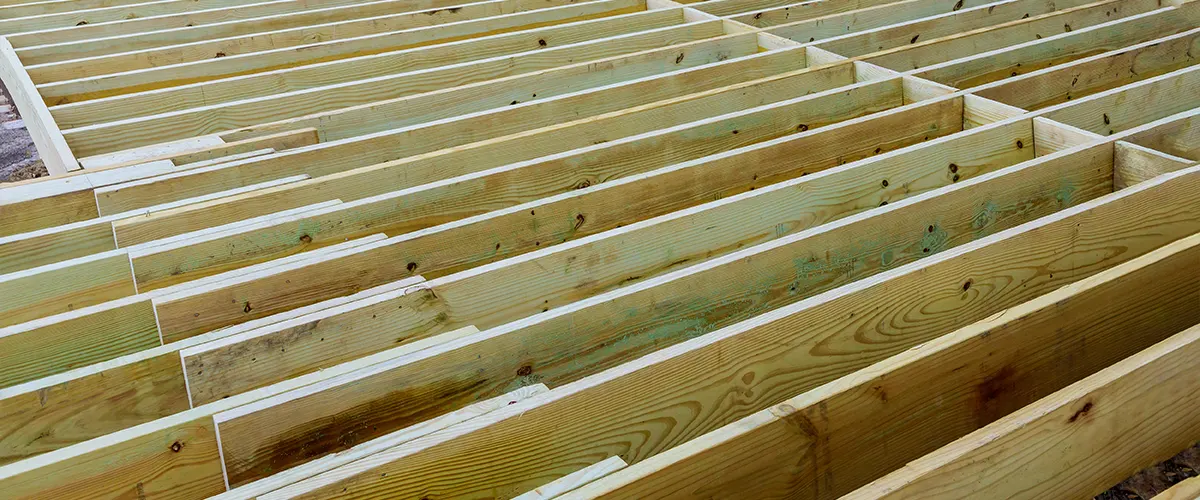 Metal is used for deck framing, and there are a few different types that you can choose from. The most common type of metal for deck framing is aluminum, which is lightweight and durable. Another option is steel, which is also strong and durable but can be more expensive than aluminum.
If you choose to use metal for your deck framing, make sure to select a type that is corrosion resistant. This will ensure that the metal does not rust over time.
When choosing a metal for your deck framing, also consider the weight of the decking material you will be using.
Aluminum is strong enough to support most decking materials, but steel is the strongest option and can support heavier materials.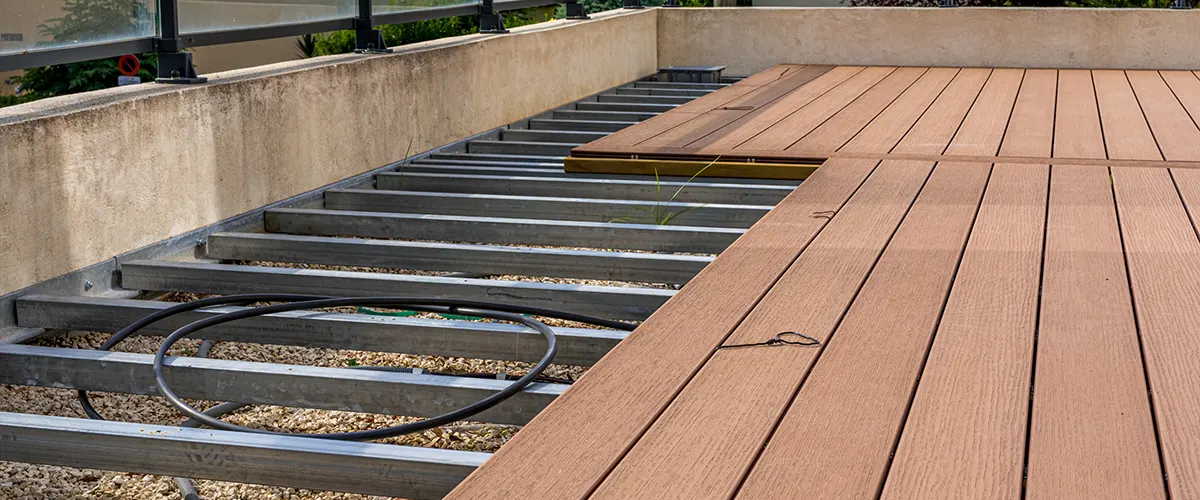 When to Replace Deck Framing
The lifespan of your deck framing will depend on the materials used and the environment it is in.
Wooden deck frames can last for decades, but they will eventually rot and need to be replaced.
Metal deck frames are much more durable and can last for many years, but they can still rust and become weak over time.
If you notice any of the following signs, it's time to replace your deck framing:
If you notice any of these signs, it's time to replace your deck framing.
The Cost Of Building A Deck
The cost of constructing a 10×10-foot deck is around $3,000, $10,000 to construct a 14×20-foot deck, and over $25,000 to build a 20×20-foot deck. Installing a deck made of pressure-treated wood, hardwood, or composite costs about $25 per square foot for both material and labor.
The average cost of constructing a deck is $25 per square foot, with most homeowners spending between $4,380 and $10,500 on the project.
A low-cost deck constructed of inexpensive materials costs $15 per square foot, while a high-end deck costs $35.
The materials used, size, complexity, and deck design are all factors that influence the ultimate cost.
Out Of Which The Deck Framing Cost Is...
If your deck is on the ground, it will need concrete footings, support posts, beams, joists, and ledger boards for structure framing. Ground-level decks will still require a frame, although rather than relying on concrete footings, they may be constructed on blocks.
To learn more about concrete deck blocks, check out this article.
The framing is almost always made of pressure-treated wood, even if the deck flooring and railing are constructed of different materials.
The cost of building a deck will vary based on the size, height, and method in which it is attached to your house. Lumber pricing varies by location within the United States. Furthermore, the framing will set you back between $85 and $100 per square foot.
Add to this the cost of necessary hardware, like the deck screws or the anchor bolt.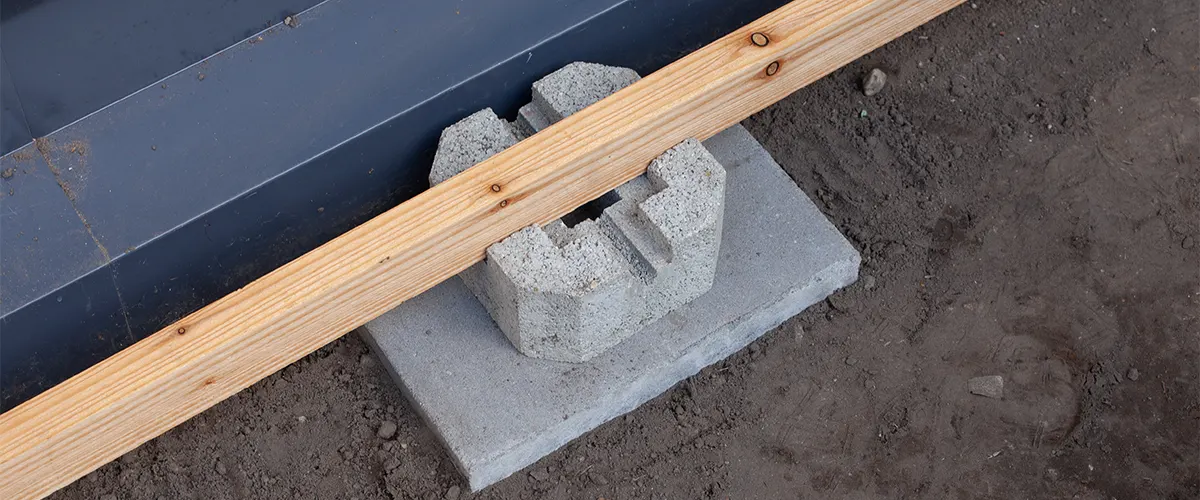 For deck construction, the best way to ensure it's safe for you and your loved ones is to hire a professional deck builder or handyman.
They will be able to assess the damage of your frame and give you an estimate for the cost of replacement. If the damage is extensive, it's probably best to hire a professional and build a deck from the ground up.
However, if the damage is minor, you may be able to do the repairs yourself.
You'll need to purchase the new lumber or metal framing members and have them cut to size. Then, you'll need to remove the old decking material and install the new framing.
You'll need to know the best way to install deck joists and rim joists, the batter boards, the fascia board, the joist hangers, the anchor bolts, and a lot more components that make your deck 100% safe.
This is a big project, so make sure you're confident in your abilities before attempting it.
A freestanding deck or one attached to your home is a beautiful outdoor space that makes your life a lot better. It increases your property's value and offers you and your loved ones a great place to relax.
At Riverview Decks, deck building is our specialty. We are dedicated and passionate about building functional and good-looking decks in Tennessee. Your needs and preferences are our top priorities, which is what ensures you'll get a smooth process and the best deck in your neighborhood.
To get started, request a free quote and we'll get back in touch as soon as possible. If you want to talk with us directly, call us at (865) 801-4545 and let's discuss your project!