Whether you're envisioning a tranquil backyard retreat or a vibrant entertainment hub for family and friends, we've curated 40 inspiring deck designs to suit every taste and style.
From classic traditional wood decking to modern composite options, we have a diverse array of ideas that will captivate your imagination and set the stage for unforgettable moments under the open sky.
Get ready to embark on a journey of creativity and discover how a well-designed deck can utterly transform your outdoor oasis.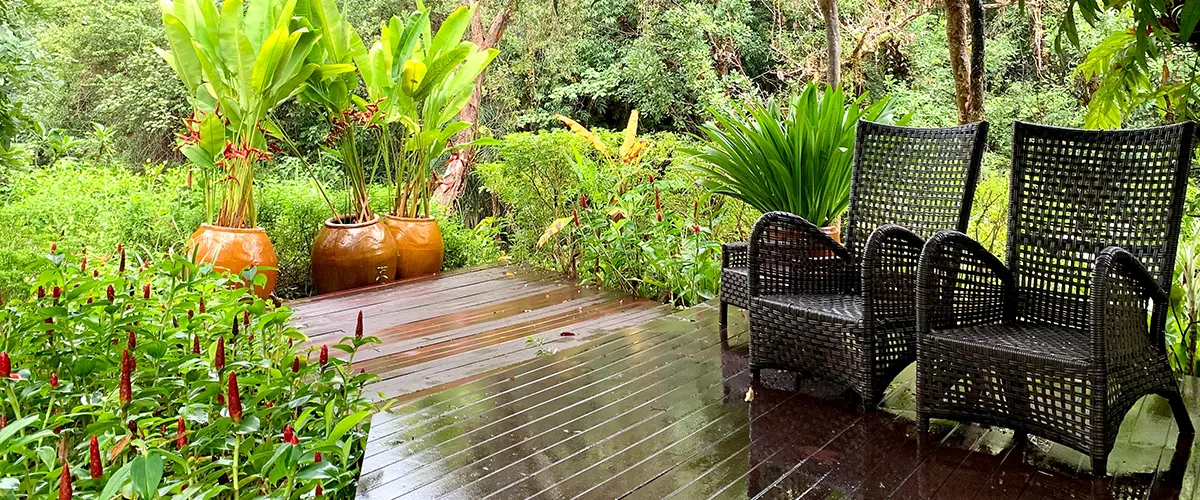 Themes To Serve As Deck Design Ideas
When it comes to crafting the perfect deck, choosing a theme can provide a cohesive and captivating design direction. Themes can infuse your outdoor living space with personality, style, and purpose, creating an atmosphere that aligns with your preferences and lifestyle.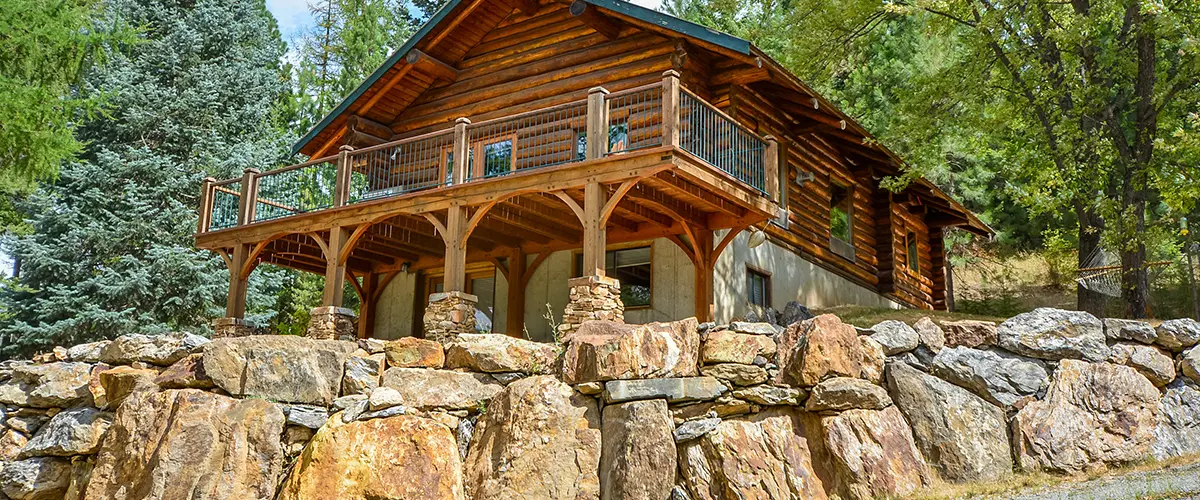 Embrace the charm of nature with a rustic deck design. Incorporate natural materials like weathered wood, stone accents, and earthy colors to create a cozy retreat that harmonizes with its surroundings.
Clean lines and sleek aesthetics define a modern deck. Use composite materials, geometric shapes, and minimalist furnishings to achieve a contemporary and low-maintenance outdoor space.
Transport yourself to the Mediterranean with a deck inspired by coastal charm. Think white-washed wood, vibrant blue accents, and lush potted plants to evoke a relaxed holiday atmosphere.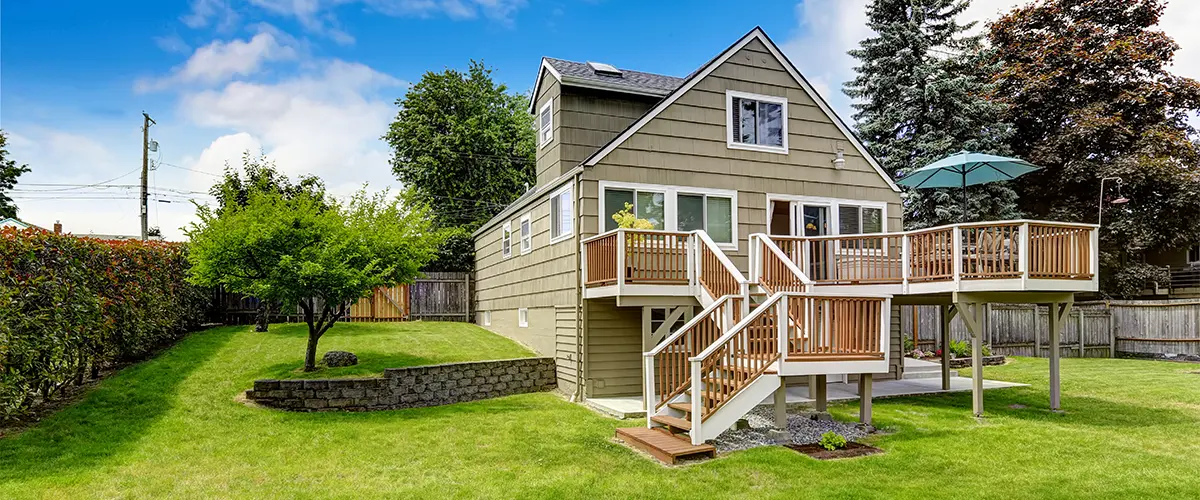 Maximize your outdoor space with a multi-level deck design. Gradually step down to different areas, each serving a distinct purpose like dining, lounging, or a fire pit gathering spot.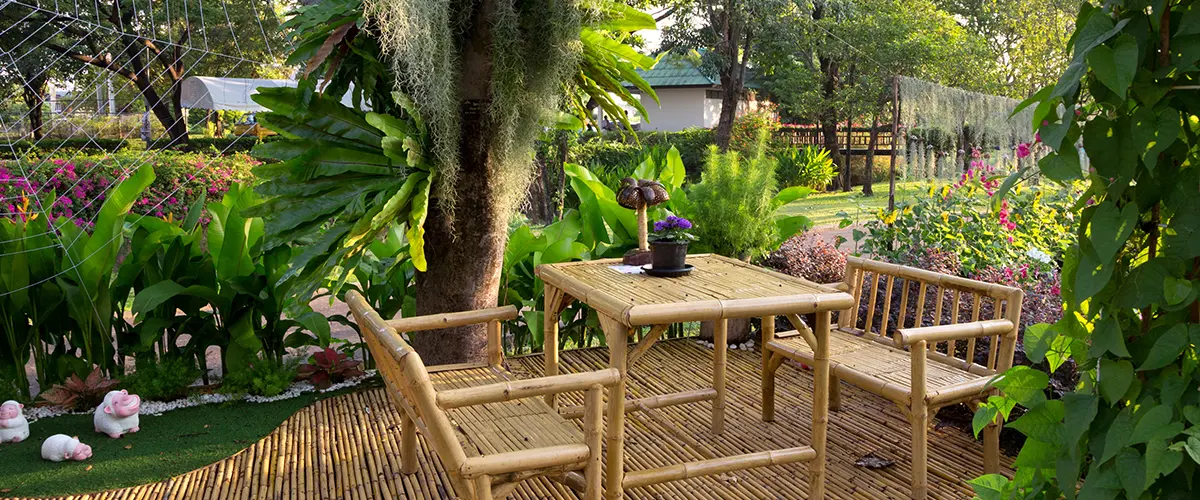 Escape to an island paradise right in your backyard. Integrate tropical hardwood, thatched roofing, and tropical plants to create a luxurious and exotic ambiance.
Create a serene and contemplative deck by incorporating elements of Zen design. A minimalist layout with a rock garden, bamboo screens, and a trickling water feature will promote relaxation and mindfulness.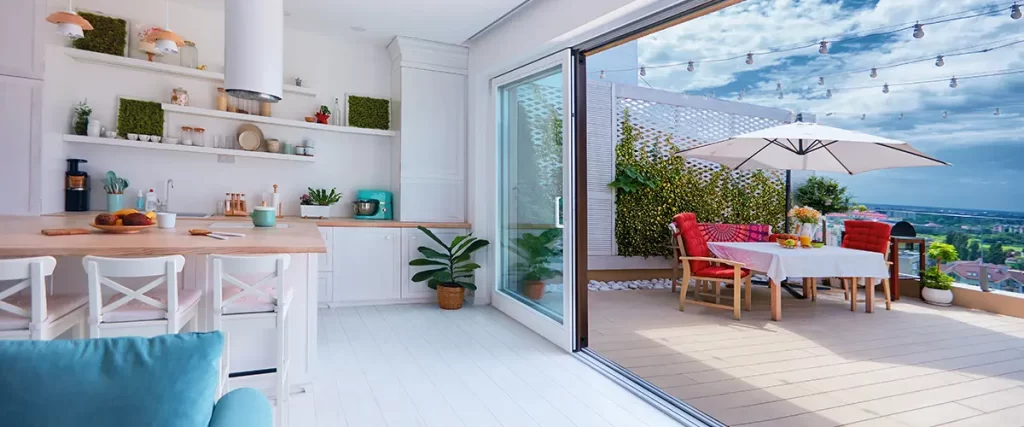 Channel coastal sophistication with a nautical-themed deck. Use navy blue and white color schemes, ship-inspired railings, and marine-themed decor to evoke a sense of seaside charm.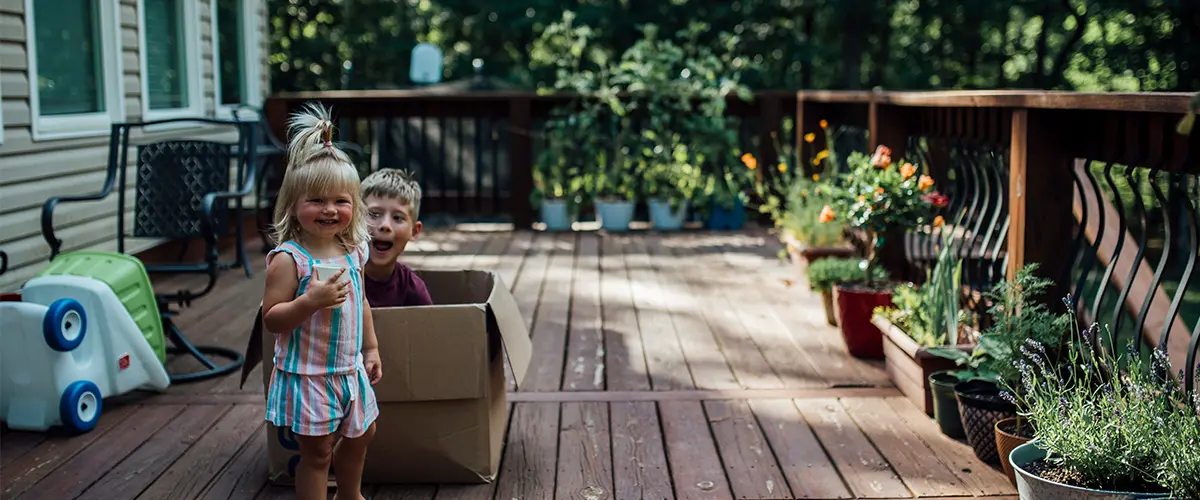 Design a deck that accommodates the whole family. Incorporate kid-friendly elements like built-in benches with storage, a play area, and space for outdoor games.
Bring greenery to new heights with a vertical garden deck. Install planters and trellises filled with climbing plants to add beauty and privacy to your outdoor space.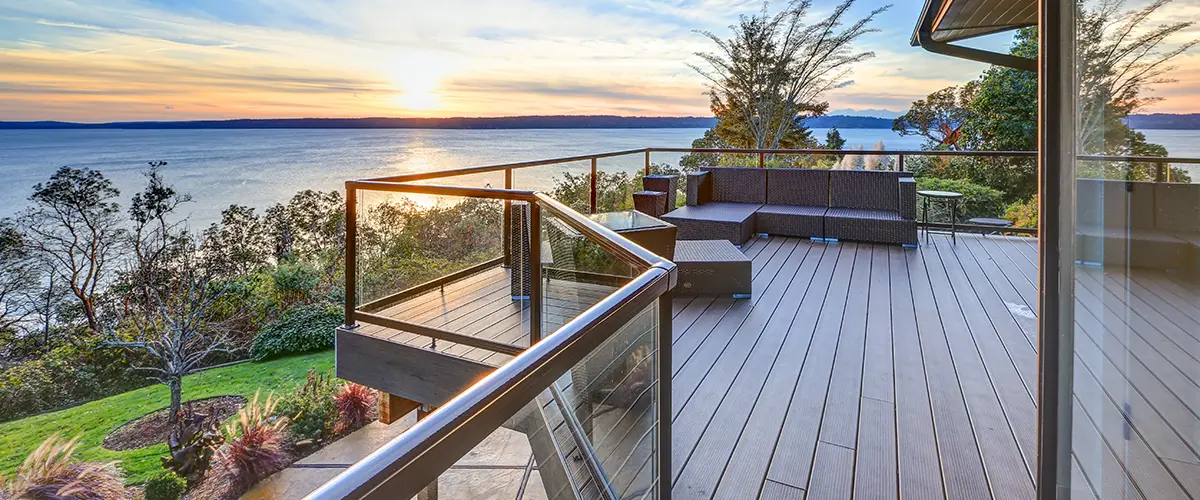 Capitalize on breathtaking sunsets with a deck designed for evening relaxation. Consider cozy seating, outdoor lighting, and a fire feature to enhance the ambiance during twilight hours.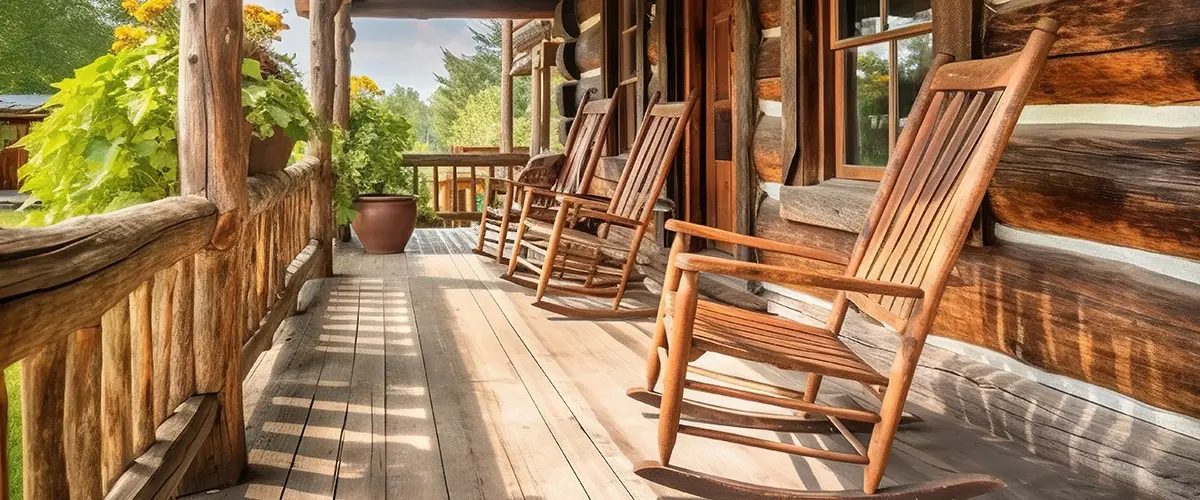 Embrace rustic charm with a farmhouse-inspired deck. Combine white railings, classic wood elements, and vintage furnishings for a warm and welcoming outdoor space.
Blend Eastern and Western design elements with an Asian fusion deck. Use bamboo accents, a koi pond, and stone features to create a harmonious and visually stunning environment.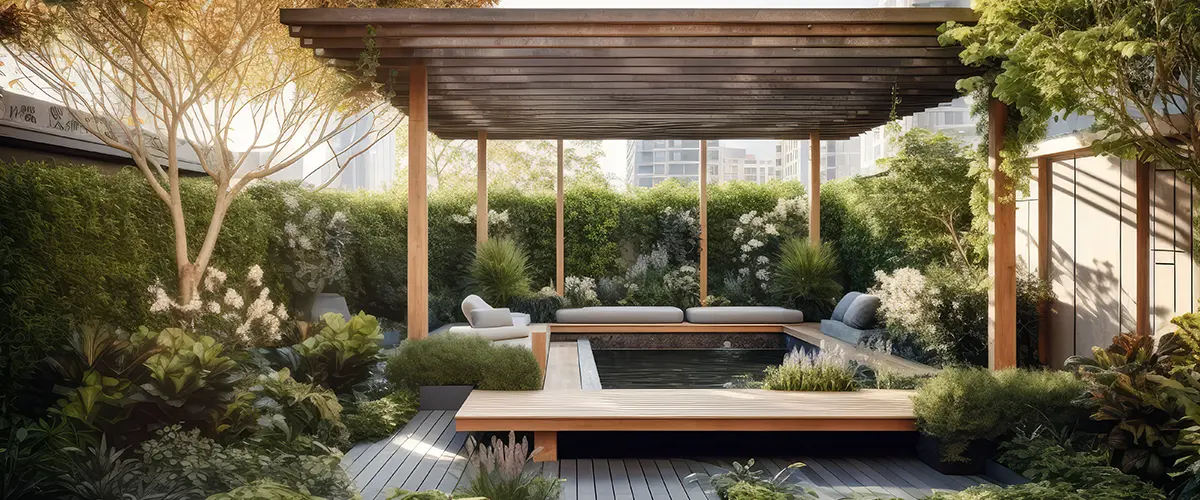 Transform your rooftop into a private oasis. Opt for lightweight materials, container gardens, and clever seating arrangements to create an urban escape with a view.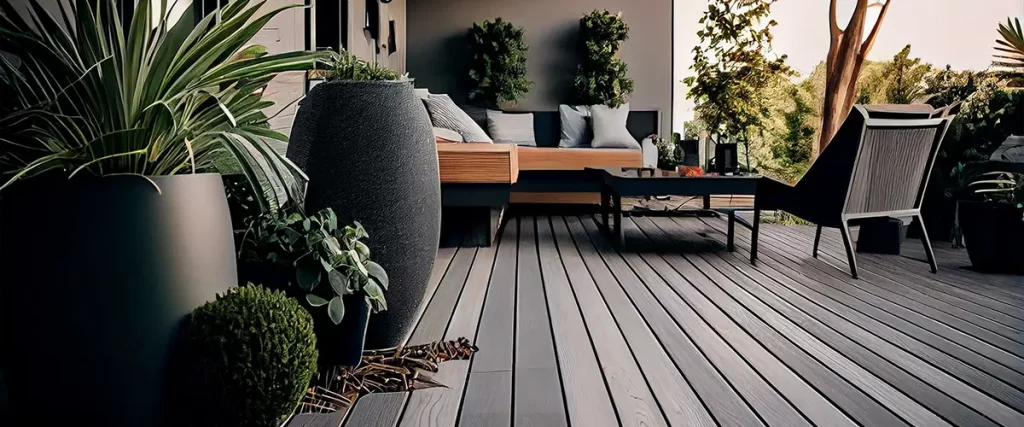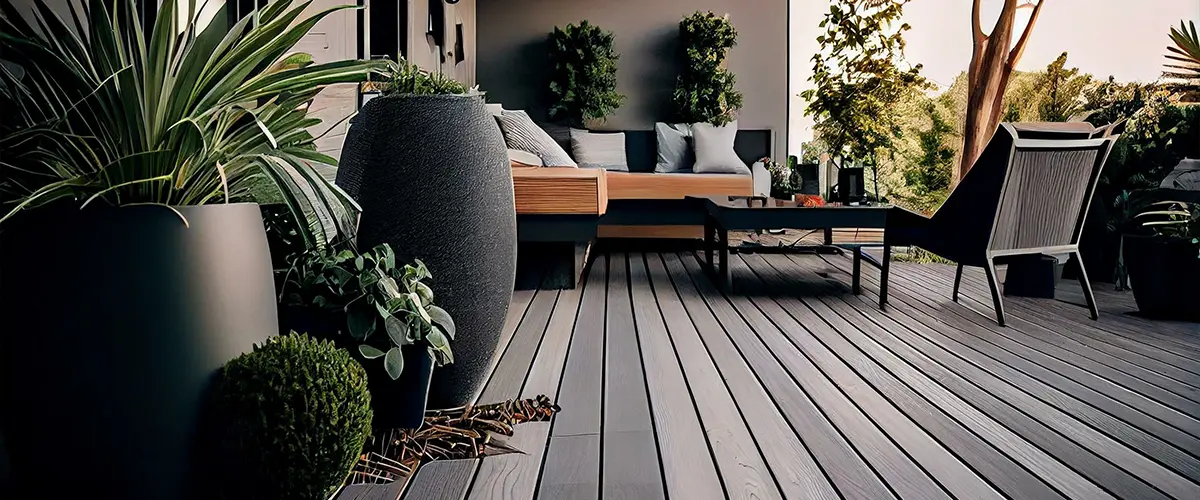 Achieve a contemporary and chic deck design with clean lines and neutral colors. Add pops of color through vibrant cushions and accessories to create an inviting atmosphere.
Create a timeless deck with classic elements like rich wood tones, ornate railings, and comfortable seating for relaxed gatherings.
Turn your deck into an artistic showcase with unique sculptures, handcrafted furniture, and creative lighting to set a unique and creative tone.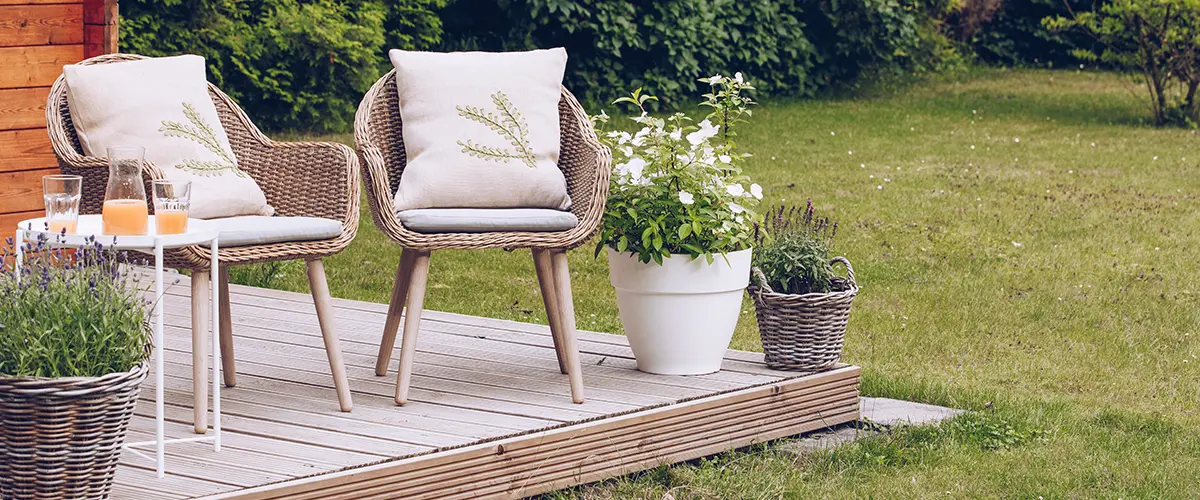 Capture the essence of a charming cottage with floral patterns, vintage decor, and a mix of wicker furniture for a cozy and inviting outdoor space.
Design an eco-friendly deck with reclaimed materials, rainwater harvesting systems, and native plants to promote sustainability and environmental consciousness.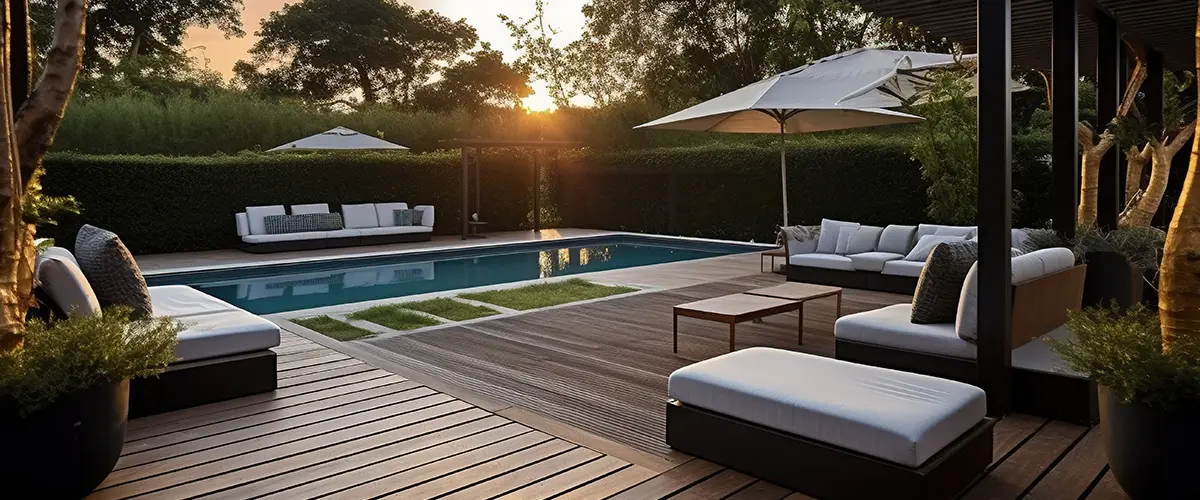 Combine the best of both worlds with a deck that surrounds your pool. Incorporate lounging areas, shade structures, and water features for the ultimate poolside experience.
Seamlessly blend indoor and outdoor living with a transitional deck. Use materials and colors that complement your home's interior to create a harmonious flow between spaces.
Details That Complement Deck Designs
The beauty of a well-designed deck lies in the thoughtful integration of complementary details that elevate the overall appeal and functionality.
Whether it's adding ambient lighting, choosing the right deck materials, or integrating decorative elements, we'll explore how these thoughtful touches can transform your deck into a harmonious and inviting oasis.
Get ready to discover the key details that will make your deck truly shine!
Platform Decks with a View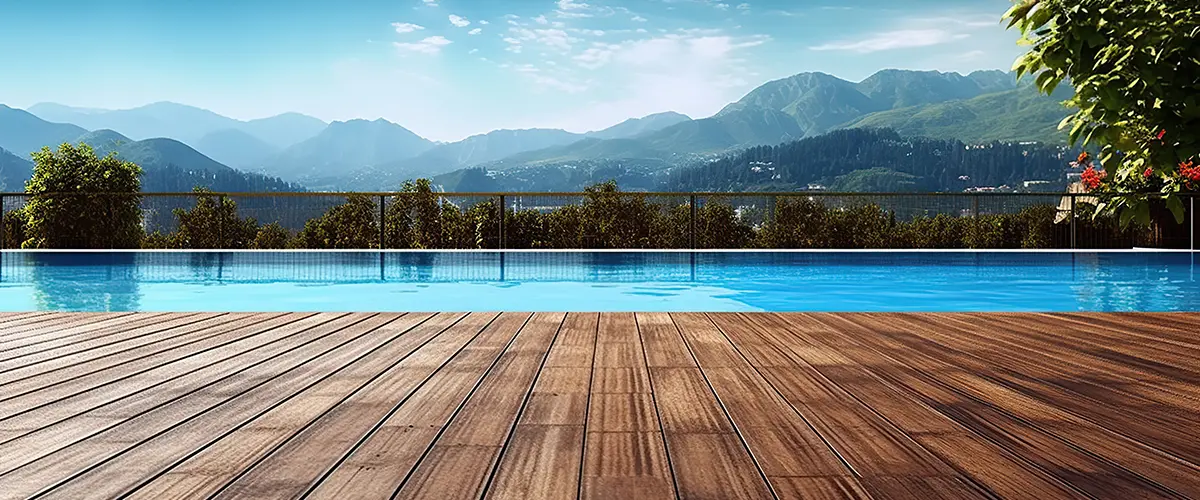 Elevate your outdoor experience with a platform deck that offers a stunning view of your surroundings. Whether it's overlooking a luscious greenery or a serene backyard, a platform deck creates a perfect spot to relax and unwind.
Ground-Level Deck with Easy Access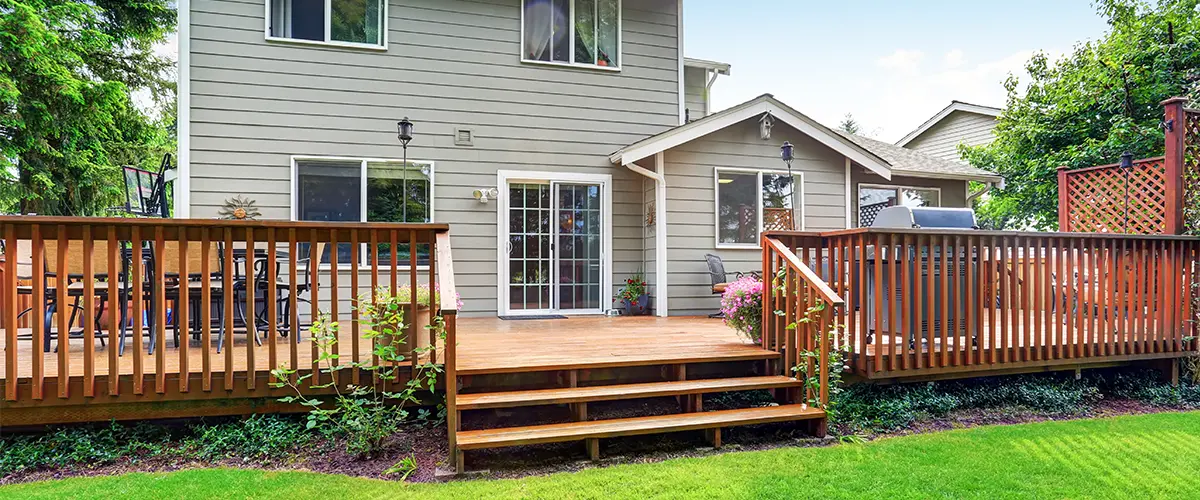 For a more convenient spot to enjoy the outdoors, consider a ground-level deck that seamlessly connects your indoor and outdoor living spaces. It's a family favorite for easy access and safe play.
Multi-Level Decks for Visual Interest
Add more visual interest to your deck by incorporating multiple levels. This design not only looks striking but also creates distinct areas for various activities.
Covered Deck for All-Weather Enjoyment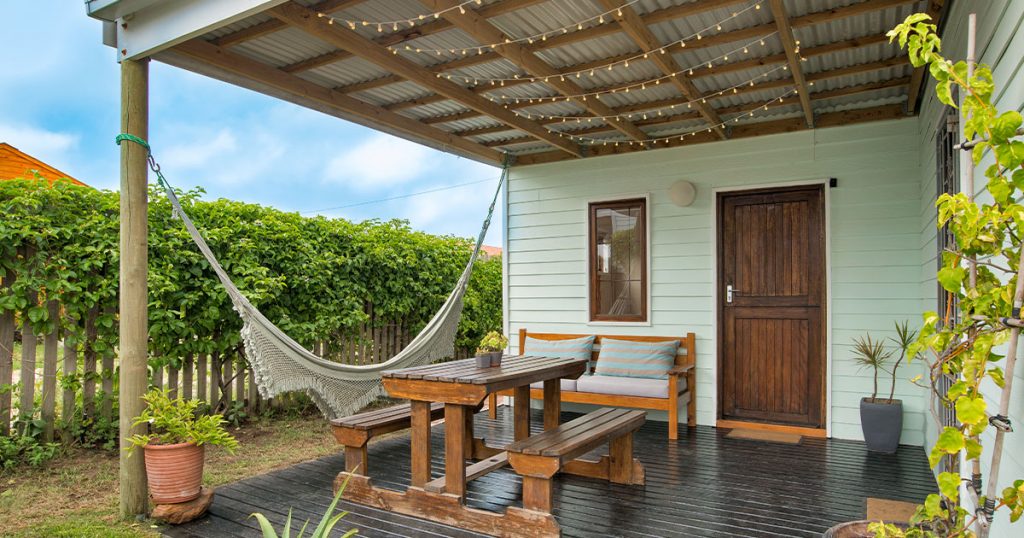 Opt for a covered deck to provide protection from the elements, ensuring that you can enjoy your outdoor space year-round, rain or shine.
Deck Railings with Safety and Style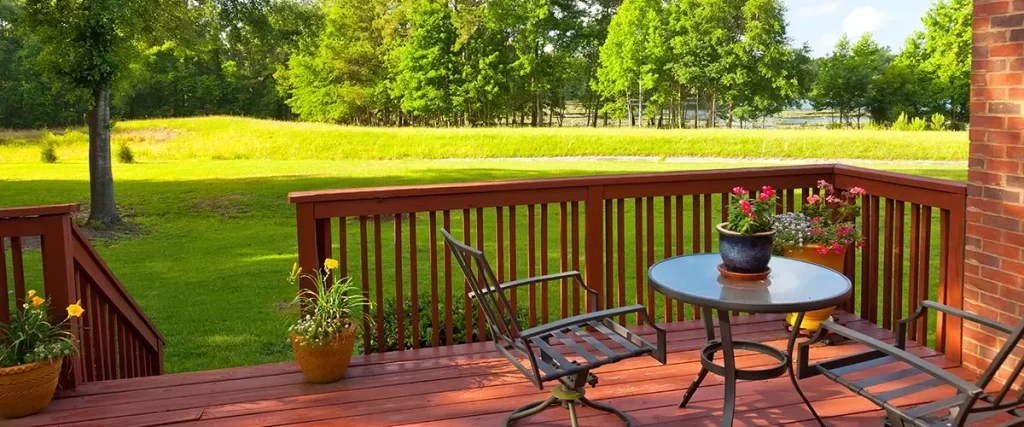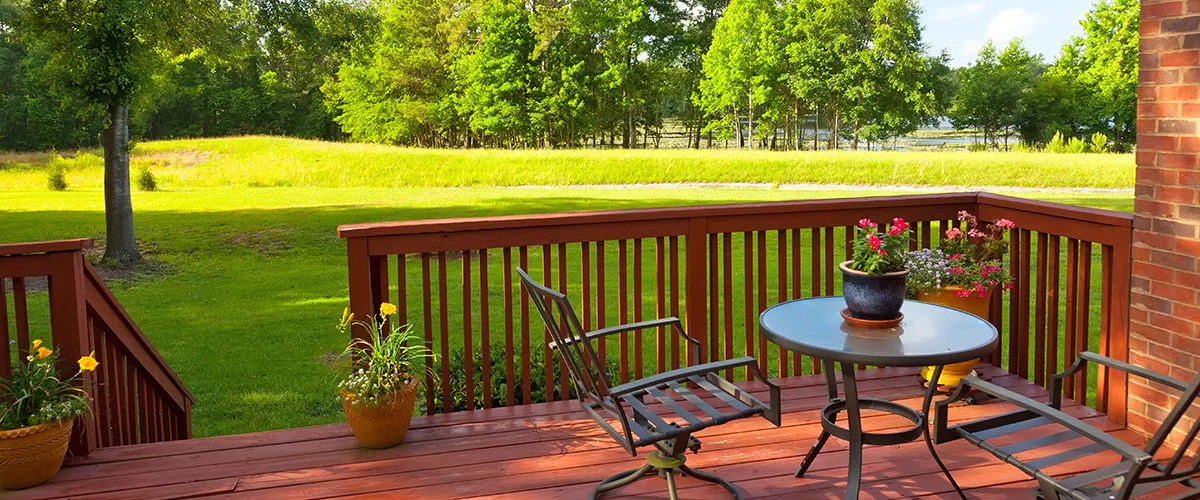 Deck railings play a crucial role in safety, but they can also be a design element that complements the overall look of your deck. Choose from various materials and styles to suit your taste.
Open Space Decks for a Spacious Feel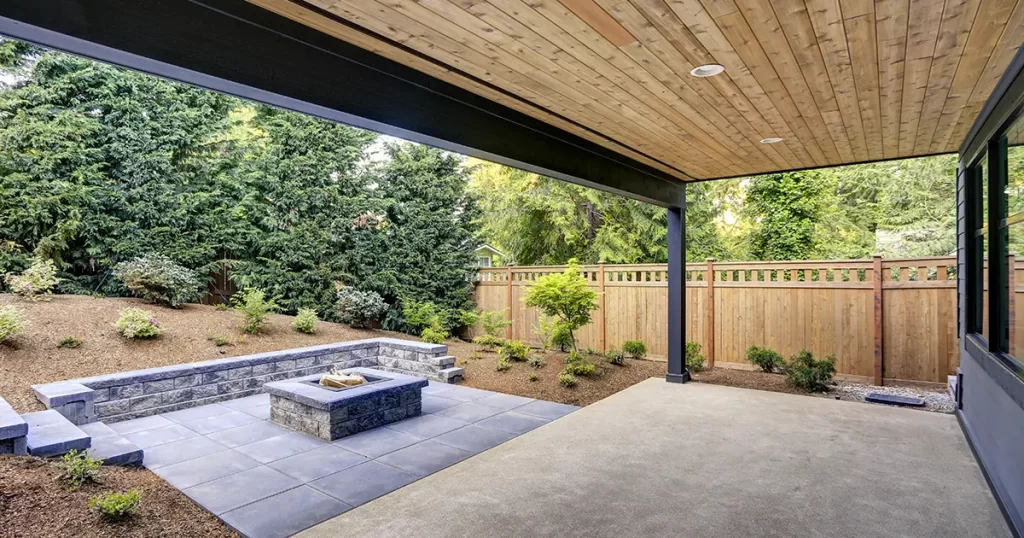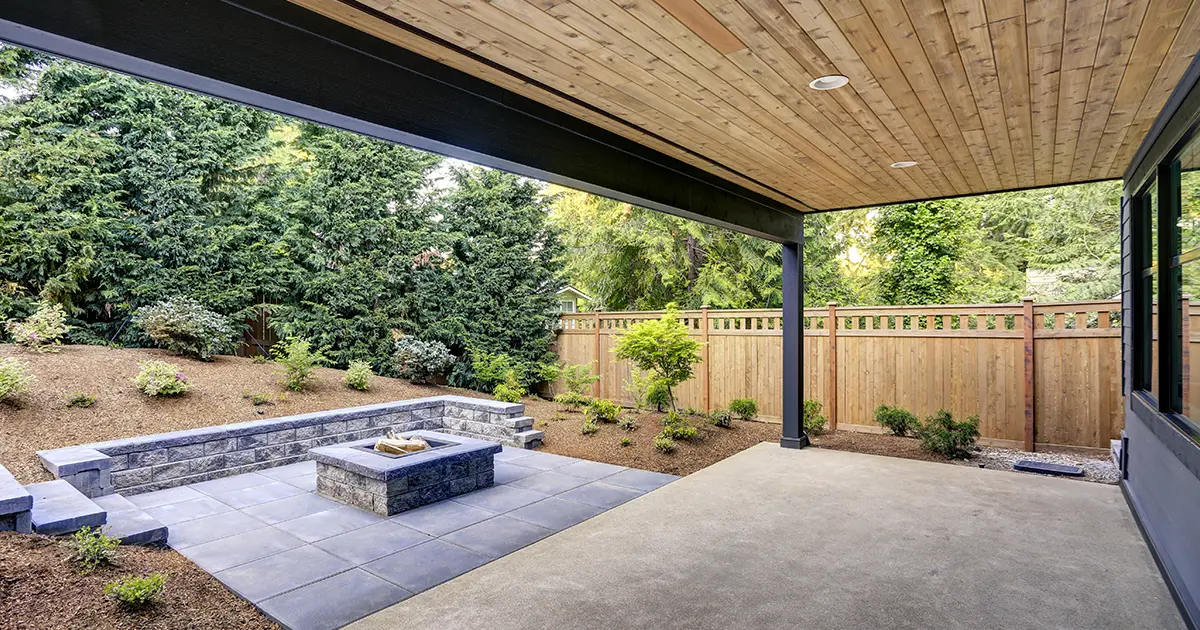 Embrace the beauty of open space with a deck that feels airy and inviting. This design allows for seamless movement and a sense of freedom in your outdoor area.
Spiral Staircase for a Touch of Elegance
Take your deck to new heights with a spiral staircase that adds a touch of elegance and sophistication to your outdoor living space.
Decking Materials for Low Maintenance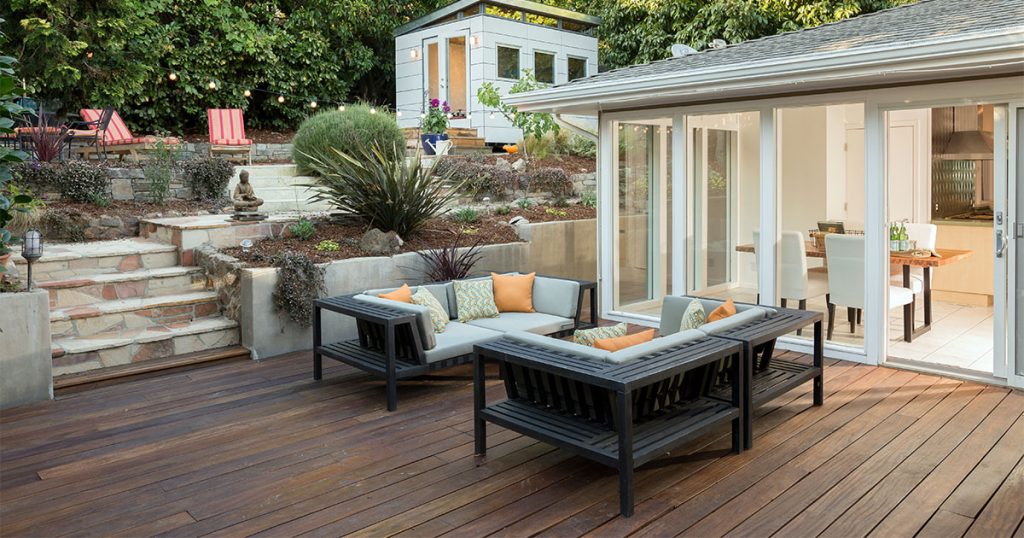 Opt for low-maintenance decking materials, such as composite decking, to enjoy your deck without the hassle of constant upkeep.
Focal Point Fire Pit for Cozy Gatherings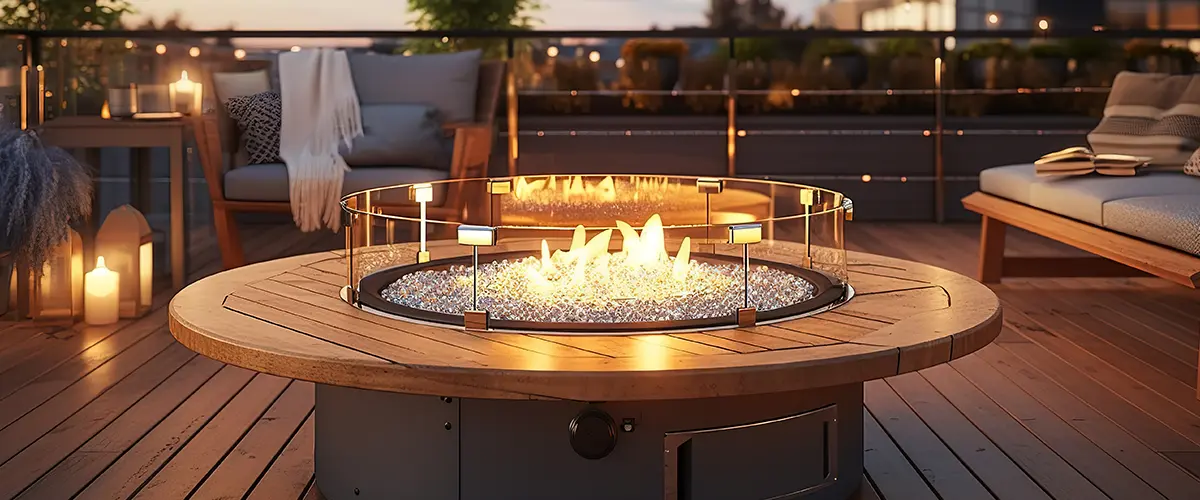 Create a cozy and intimate ambiance with a fire pit as the focal point of your deck. It's perfect for gatherings and making memories with family and friends.
Outdoor Area Rug for Added Comfort
Elevate the comfort of your deck with an outdoor area rug, which not only adds a cozy feel but also ties the design elements together.
Outdoor Furniture Pieces for Comfort and Style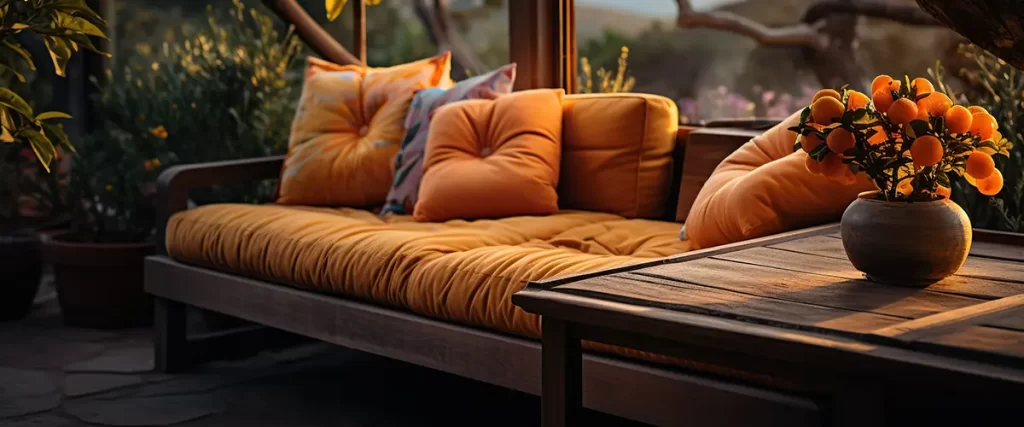 Invest in comfortable and stylish outdoor furniture pieces to create a welcoming and functional outdoor living space.
Dining Table for Al Fresco Meals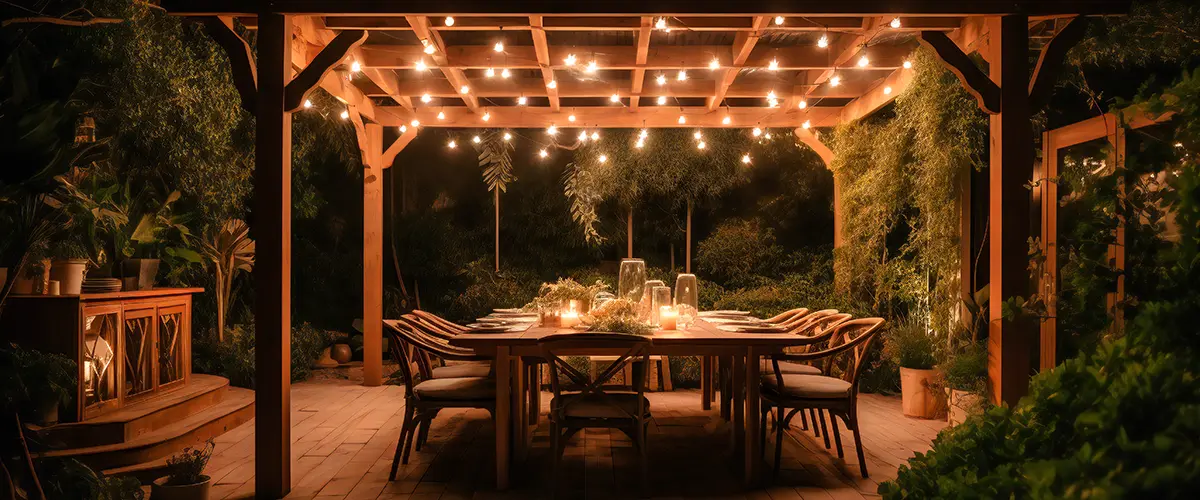 Set up a dining table on your deck to savor delicious meals outdoors while enjoying the company of loved ones.
Coffee Table for a Relaxed Vibe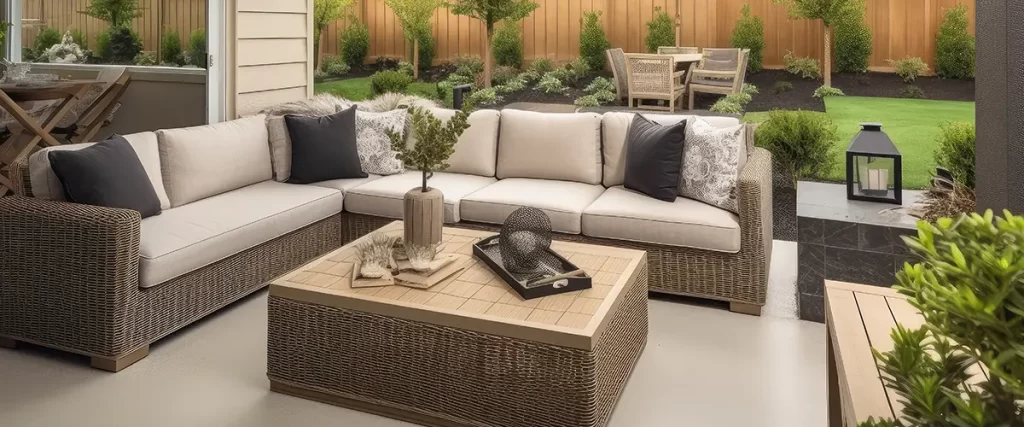 Add a coffee table to create a relaxed and comfortable atmosphere where you can enjoy morning coffee or evening drinks.
Throw Pillows and Blankets for Cozy Charm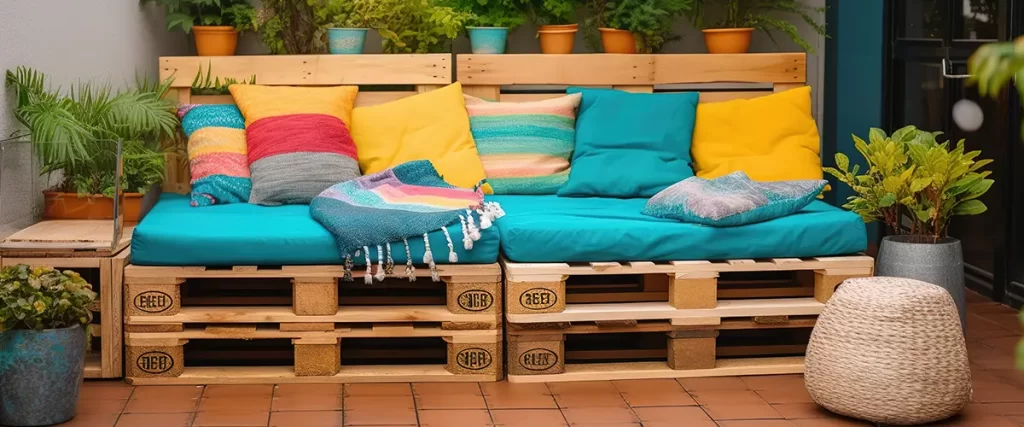 Accessorize your outdoor furniture with throw pillows and blankets to add a touch of coziness and charm.
Potted Plants for Natural Beauty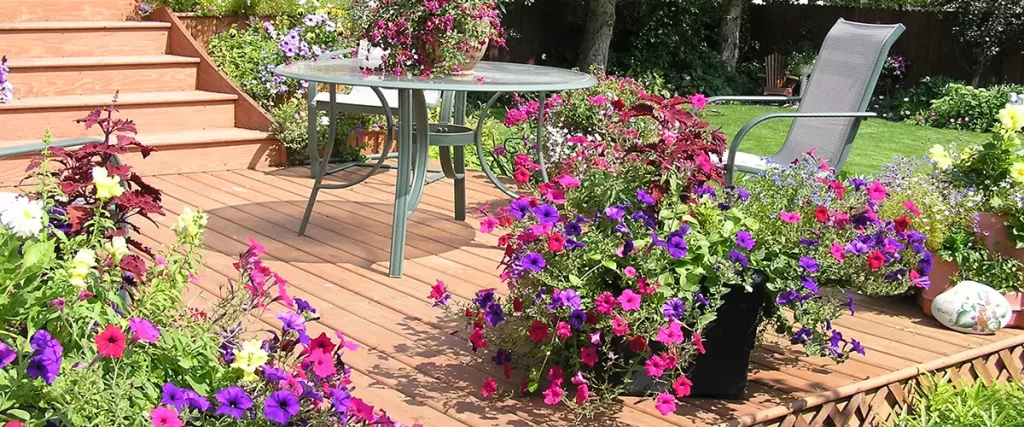 Incorporate potted plants into your deck design to infuse your outdoor space with the beauty of nature.
String Lights for Enchanting Evenings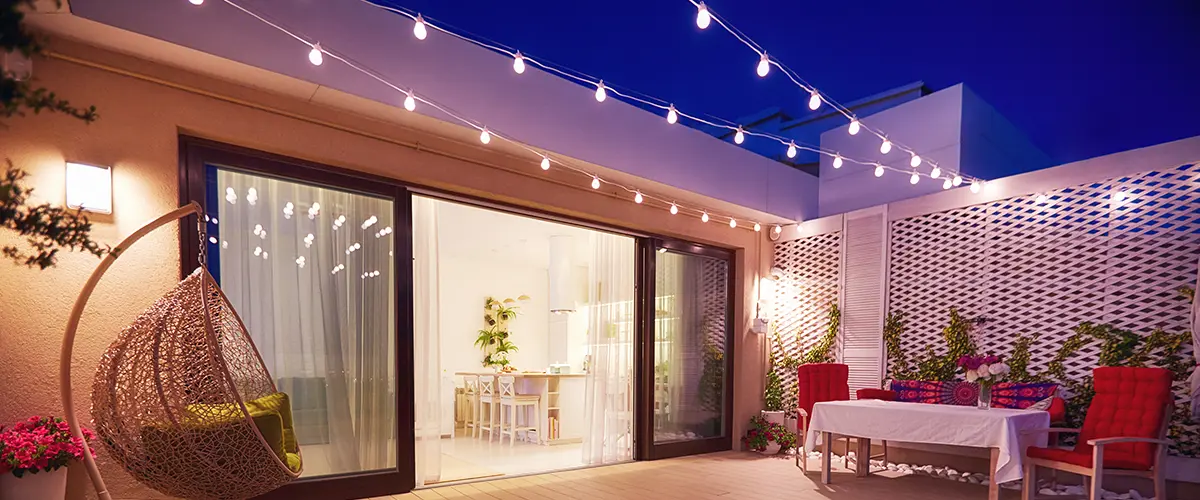 Install string lights around your deck to create a magical and enchanting ambiance during evenings.
Outdoor Space for Intimate Gatherings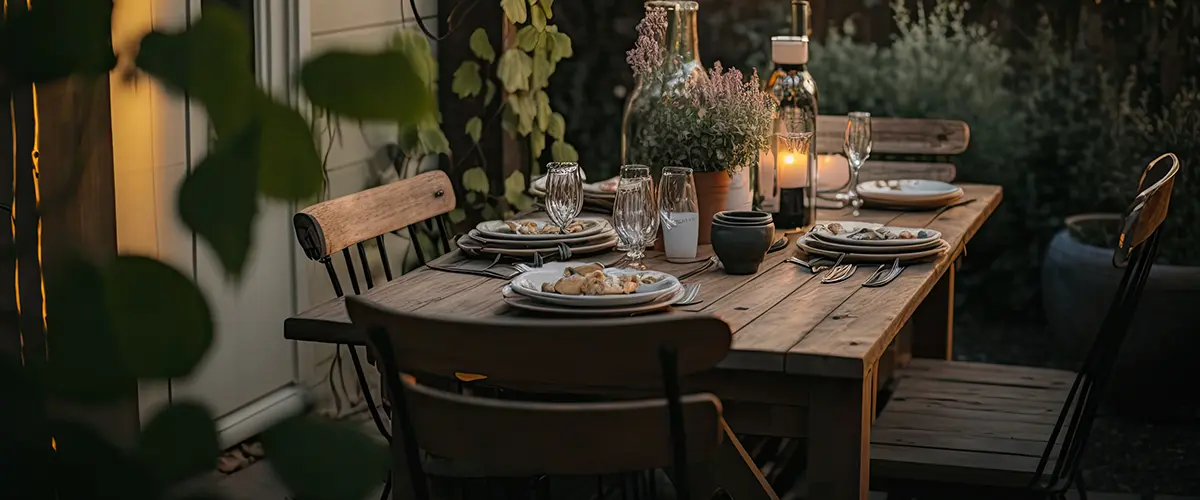 Design your deck as an inviting space for intimate gatherings and special moments with loved ones.
Deck Decorating Ideas for Personal Touches
Add your personal touch to the deck with creative decorating ideas that reflect your style and taste.
Outdoor Living Space for Relaxation and Recreation
Turn your deck into an outdoor living space where relaxation and recreation go hand in hand.
Visual Interest with Unique Deck Designs
Experiment with unique deck designs that add visual interest and set your outdoor area apart.
Or Talk to Tennessee's Pro Deck Builders
Looking to elevate your outdoor living space with a stunning deck design? Contact us at Riverview Decks today and let our expert team bring your vision to life!
Don't miss the chance to transform your backyard into a captivating oasis with our deck building services. Reach out to us now and take the first step toward creating the deck of your dreams!