Deck Installation Cost Guide in Farragut, TN
Let's break down the deck installation cost in Farragut, TN, so you can plan your budget accordingly!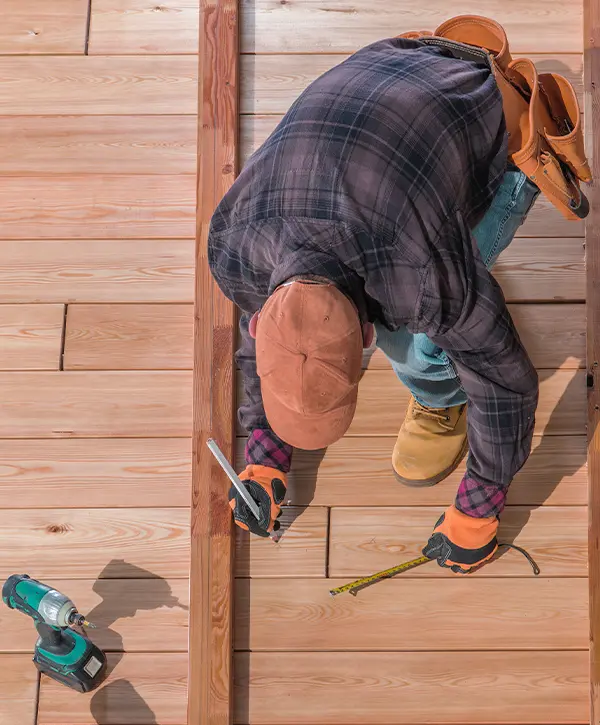 At Riverview Decks, we understand that deck installation is a significant investment. That's why we prioritize complete transparency and provide detailed estimates for every aspect of your project. We believe in keeping you well-informed and comfortable throughout the entire process.
Planning your budget efficiently is crucial, and having a clear understanding of the financial commitment involved will help you avoid any unpleasant surprises down the line.
 With our expertise and commitment to transparency, you can trust us to deliver exceptional results while keeping your budget in mind.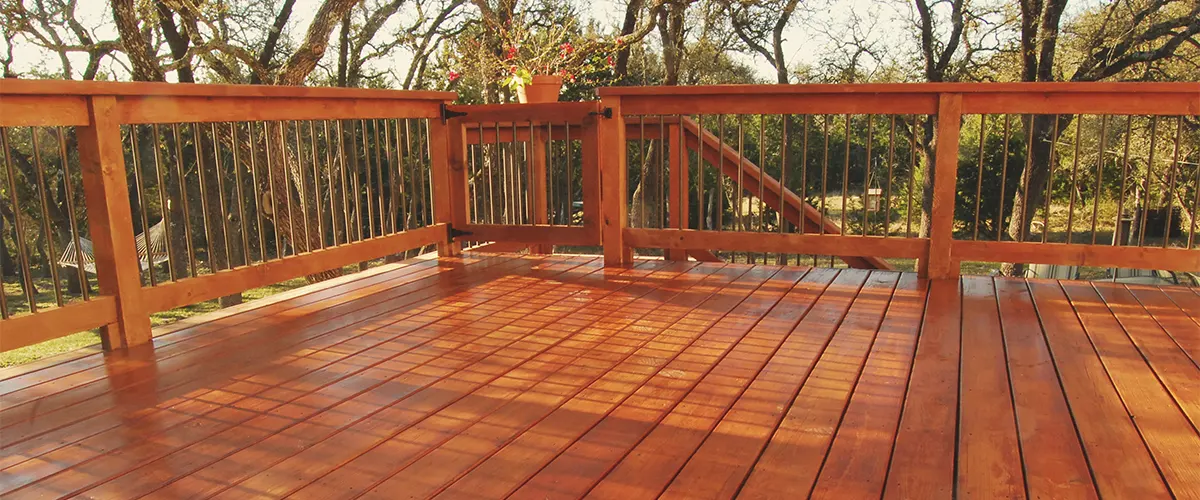 Typical Deck Installation Cost In Farragut, TN
The cost of deck installation in Farragut, TN, is primarily influenced by two key factors: the size of the deck and the materials used.
When it comes to the size of your deck, the rule of thumb is simple – the larger the deck, the more materials and labor will be required, resulting in a higher cost. It's as straightforward as that! More square footage equals a larger price tag, but don't worry, we've got you covered.
Now, let's talk about materials! There's a wide range of options to choose from, each with its unique costs. You can go for the cost-effective and popular choice of pressure-treated wood, or you can opt for composite materials that offer long-term benefits like low maintenance and high durability, although they may be a bit more expensive.
The decision here will significantly impact the overall cost of your project, but rest assured, we're here to guide you through these choices.
| Size (square feet) | Average Cost |
| --- | --- |
| Basic Deck Construction 10'x10' | $40k |
| Average Deck Construction 12'x18' | $65k |
| High-end Deck Construction 18'x18' | $80k |
At Riverview Decks, we pride ourselves on offering top-tier deck installation services to the community in Farragut, TN. Our team of trained professionals is committed to delivering exceptional craftsmanship and detail-oriented service, ensuring your deck stands out as a testament to quality and style.
Labor Costs In Deck Installation In Farragut, TN
When considering deck installation, it's natural to ponder the thought of doing it yourself to save on labor costs. However, hiring a professional deck installer, like our team at Riverview Decks, presents numerous advantages.
For starters, professional deck installers bring years of experience and expertise to the table. This means we can efficiently handle any challenges that may arise during the installation process, thereby minimizing costly mistakes and ensuring that the deck is built to last. Our team is also knowledgeable about local building codes and regulations in Farragut, TN, ensuring that your deck installation meets all necessary standards and avoids potential fines or legal issues.
Furthermore, we offer a high level of craftsmanship that assures your deck doesn't just look great, but is also structurally sound and safe. This adds to the longevity of your deck, meaning it won't need frequent repairs or replacements, thus saving you money in the long run.
Hence, while there are labor costs involved in hiring a professional deck installer, the benefits outweigh the costs. The peace of mind knowing that your deck is well-built, safe, and compliant with local regulations is priceless. Plus, with the time you save by not doing it yourself, you can start planning that first deck party sooner!
When embarking on the construction of a deck, it is of utmost importance to prioritize safety and functionality. While aesthetics play a significant role, ensuring that all project requirements are met is essential.
To achieve this, it is advisable to engage the services of a skilled architect who can provide expert guidance and support throughout the process. With their extensive knowledge and experience, architects can help in creating a deck design that not only meets your needs but also adheres to building codes and regulations.
Their hourly rates typically range from $125 to $250, depending on their level of expertise and the complexity of the project. By involving an architect in your deck-building journey, you can have peace of mind knowing that your project will be handled professionally and with careful attention to detail.
If you're in search of a stunning and secure deck that will elevate your outdoor space, it's highly recommended to seek guidance from a professional deck designer. With their expertise and knowledge, they can provide you with expert advice on selecting the perfect colors, materials, railings, balconies, and posts that will beautifully complement your home and personal style.
Not only that, but these skilled professionals can complete the entire deck construction project within just a few hours, thanks to their efficiency and experience. And the best part? They offer an unbeatable hourly rate ranging from $100 to $200, ensuring that you get excellent value for your investment.
By investing in a skilled worker to bring your dream deck to life, you can have peace of mind knowing that it will be built safely and up to all regulations. Don't let the cost deter you, as the long-term benefits and enjoyment you'll get from a well-crafted and professionally designed deck are truly priceless.
Are you searching for high-quality work that not only fits your budget but also exceeds your expectations?
It's always wise to hire experienced professionals who offer comprehensive expertise in their field. For instance, in Farragut, TN, skilled carpenters typically charge between $30 and $35 per hour for custom deck assembly. This is a testament to their specialized knowledge and the meticulous attention to detail they bring to every project.
On the other hand, be cautious of inexperienced workers who may offer their services at an unbelievably low cost of $15 per hour. Remember, the price of the service often hints at the quality of the result. It's essential to prioritize the long-term durability and beauty of your deck by entrusting the job to professionals who deliver exceptional craftsmanship.
At Riverview Decks, we offer a comprehensive deck installation service. Our experienced team handles everything from design and construction to final touches, ensuring an impeccable finished product. We're committed to providing a stress-free, high-quality service that leaves you with a stunning deck, ready for you to enjoy.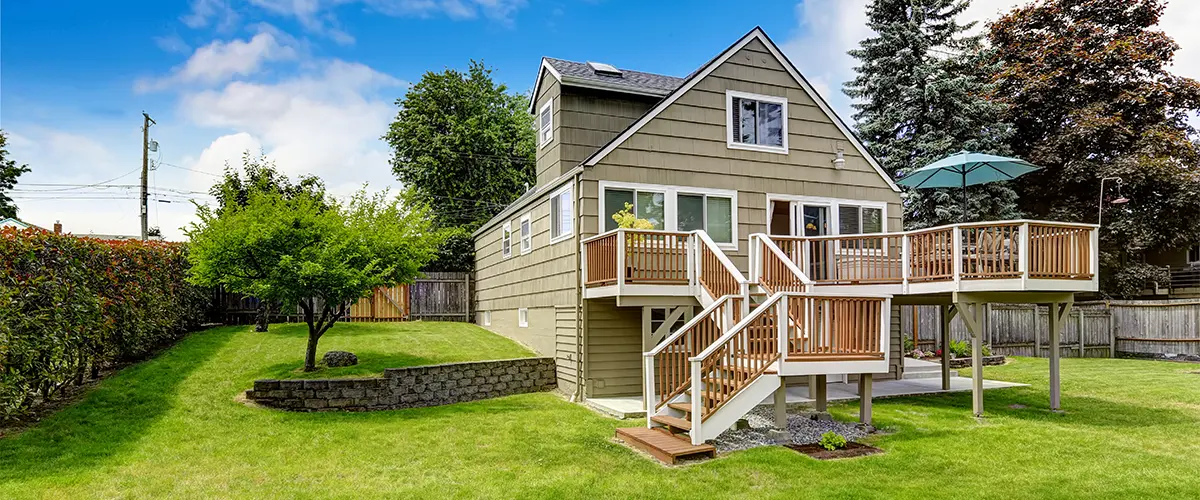 Deck Installation Materials Cost
The type of materials you choose for your deck installation significantly influences the overall cost of the project. High-quality materials may have a higher upfront cost but provide longevity and durability, which in turn, saves money in the long run.
On the contrary, cheaper materials could lead to frequent repairs and replacements, thereby increasing the cost over time. Understanding the cost implications of various materials and making an informed decision can help balance your budget while ensuring the quality and longevity of your deck.
Pressure-treated pine has gained popularity as a top choice for decking, thanks to its attractive appearance and affordability compared to other wood options. The cost of pressure-treated pine decking materials ranges from $15.00 to $25.00 per square foot, with an additional $20 to $30 for installation.
Let's see some other types of wood and their cost of installation:
| Type of Wood | Average Cost (per square foot installed) |
| --- | --- |
| Pressure-treated pine deck | $15.00 to $18.00 |
| Bamboo deck | $19.00 to $22.00 |
| Cedar deck | $25.00 to $28.00 |
| Composite deck | $29.00 to $31.00 |
| Redwood deck | $33.00 to $35.00 |
| Cumaru deck | $34.00 to $36.00 |
| Massaranduba deck | $35.00 to $38.00 |
| Garapa deck | $33.00 to $35.00 |
| Tigerwood deck | $39.00 to $42.00 |
| Ipe deck | $47.00 to $49.00 |
| Teak deck | $49.00 to $51.00 |