The Best Deck Building In Alcoa, TN
Interested in starting your deck building in Alcoa TN? This guide will walk you through everything.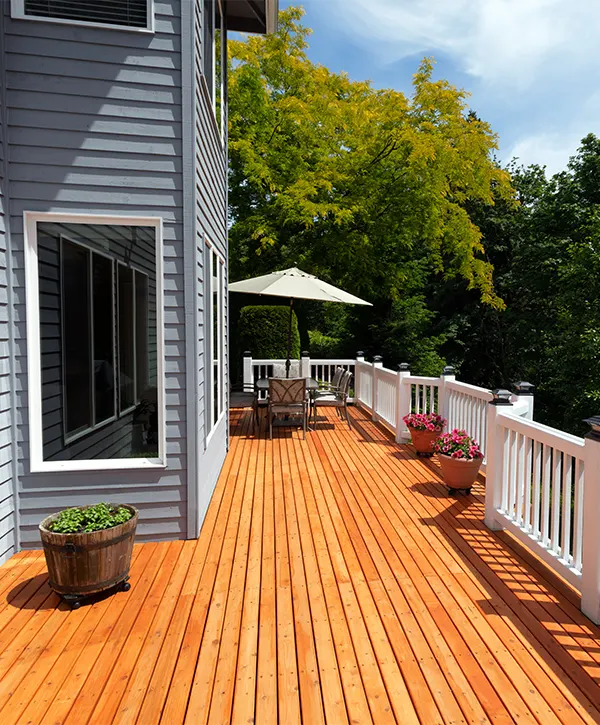 If you're looking for a deck in Alcoa, choose our company first! Our dedication to providing fast and straightforward services means that customers can relish their new decks right away. On top of this, we have access to superior materials at an astonishingly low cost which is unmatched by other businesses in the remodeling industry – making us your number one pick!
Our mission is to revolutionize the deck-building industry and transform public opinion of contractors. We guarantee this by being reliable, efficient, attentive and straightforward in our service; thus allowing us to construct decks that are beyond clients' expectations!
A Deck That Comes With Extra Benefits
We love seeing the joy on our client's faces when they see their newly finished decks. This only happens because we always go above and beyond what is expected of us. Plus, you'll also get:
Enjoy An Amazing Outdoor Space With Custom Decks In Alcoa
At Riverview Decks, we understand that when you purchase from us, aesthetics and safety are of paramount importance. To ensure your investment is safeguarded for many years to come, both elements must be taken into account with every deck build. We guarantee the highest quality possible in all our creations!
You've found the ideal home for your needs, and now you're getting a premium-quality deck from us that will astound anyone who sees it. With this robust and stylish addition to your property, any renovation project is worth investing in!
Check out our deck building offer right now! Get the best deal for your deck construction project and enjoy a smooth process with no set backs.
Alcoa Homeowners Love Their Riverview Decks!
Our former 2nd story deck may have been up to code in the past, but between age, weather and carpenter bees we needed to replace it. 
Nate and his crew replaced the formerly code allowable 4×4 posts with 6×6 posts, joists were maybe double in number, the wooden pickets replaced by rods that almost become invisible when looking out into the backyard. 
The flooring is Trex with a decorative edge that frames the floor as well as on the stair treads. We were surprised at how fast the Trex dries after torrential rain and how comfortable it is under a bare foot.
We aren't novices at carpentry and woodworking, but we were impressed with the crew's workmanship, precision of the cuts and their eye for detail; not to mention their almost non-stop work during hot, humid days. 
Nate, the crew, and even the supply delivery people were very professional, personable, respectful and punctual – clearly a well-organized company. Thank you, Nate, and thank you to your carpenters!
Type Of Upgrades And Materials
Recently, the deck-building industry has experienced a monumental metamorphosis with composite materials becoming much more sought after due to their time efficiency. Moreover, aluminum details are increasing in popularity as they enable your deck to last for years on end.
With so many materials to choose from, it's essential that you conduct thorough research before committing to any major repairs or renovations for your outdoor space.
The main explanation most decks fail is due to the frame. Although pressure-treated wood remains a favorite among property owners, it's far from perfect. Grade 1 pressure-treated lumber can still be prone to rotting and developing mold/mildew over time, thus diminishing appearance and safety.
If you are searching for quality aluminum or steel frames, Fortress Building Products is your solution. Not only will their products perfectly fit any type of decking material, but they're also crafted with longevity in mind. While metal framing may come at a higher price than wood initially, it's ultimately worth the investment as over time it proves more cost-effective!
Decking boards are one of the most important aspects of your new deck. They finish the look and set the mood of your new space, so you'll have to make sure you're fully content with your decision.
Wood decking is an inexpensive feature that'll give your deck a natural feel. However, a wood deck will need regular maintenance. You'll find yourself needing to stain, seal, or repair it quite frequently, which ultimately means more money spent in the long run.
Or just say goodbye to tedious annual deck maintenance and upgrade your outdoor living space with composite materials. Not only will you save money in the long run due to fewer refinishes or repainting, but you can still have a stunning wood-like aesthetic without all of the upkeep!
We work with top brands in the industry, like Trex, TimberTech, Fiberon, and others.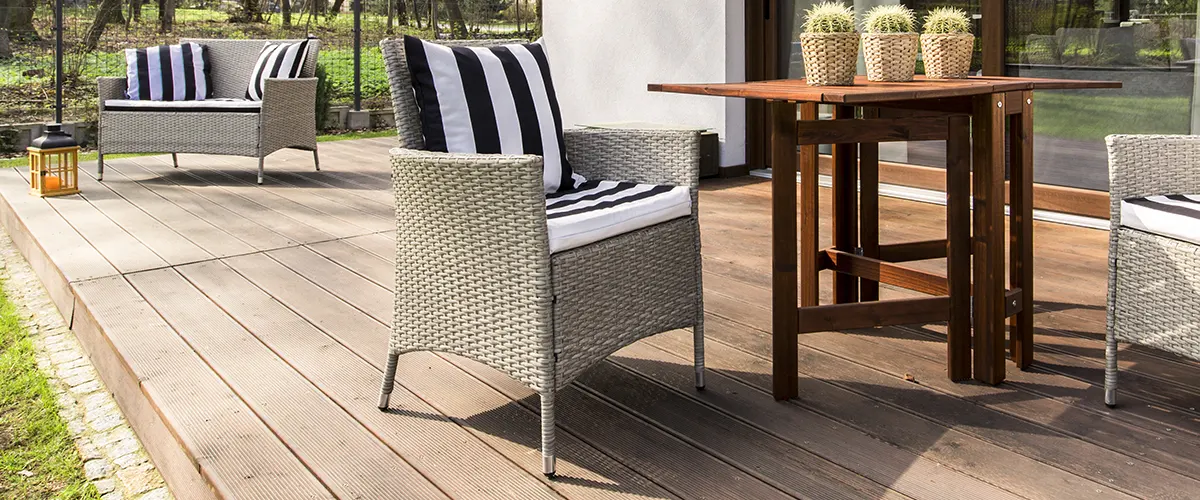 Not only are they mandatory for most decks, but railings also help you finish the look of your new addition. Railings increase the safety of your deck, complement its look, and can incorporate other extra features, like a drinking rail, beautiful wrapped columns, or lights.
Although wood is still the most common railing material, aluminum is rapidly gaining ground. And for good reason. Aluminum is more durable, is resistant to water and pests, it looks better, and it doesn't need any on-going maintenance.
Composite is a decent alternative, but a good composite railing has a very similar price to the best aluminum railing from Westbury.
Don't be caught off guard – some cities and states demand homeowners to install deck lights for security reasons! Wouldn't it be great if you could get both a stunning atmosphere as well as nighttime guidance? Here in Alcoa, we are passionate about our deck lighting. Low-voltage options offer the best of both worlds; they won't put a dent in your wallet, yet still provide exceptional quality. Get ready to experience these beautiful benefits!
Ideas For Your Deck Building In Alcoa
If you're not sure about what you'd like your new deck to look like, here are some of our finished projects in and around Alcoa. Check out our work and see for yourself what you could be getting as well!
Deck Building In Alcoa Has Never Been More Simple
The process you'll go through is designed to ensure a smooth experience and a radical uplift of your outdoors. Remain at the front and center of your project and watch your dream deck come to life!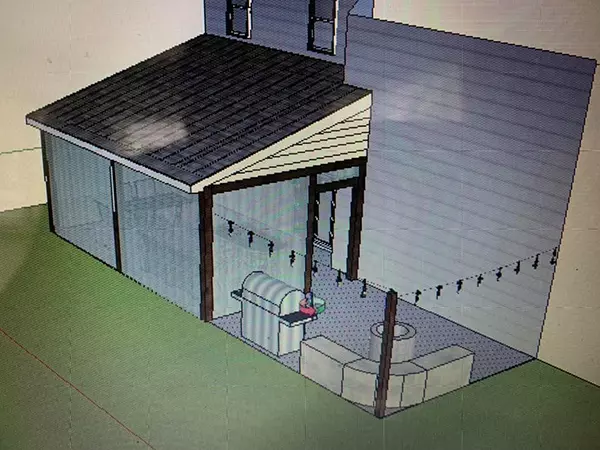 Request your free quote or call us directly to chat.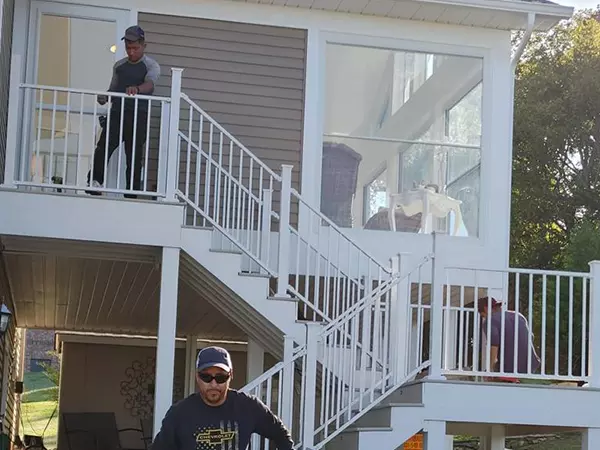 Be part of your incredible deck building journey.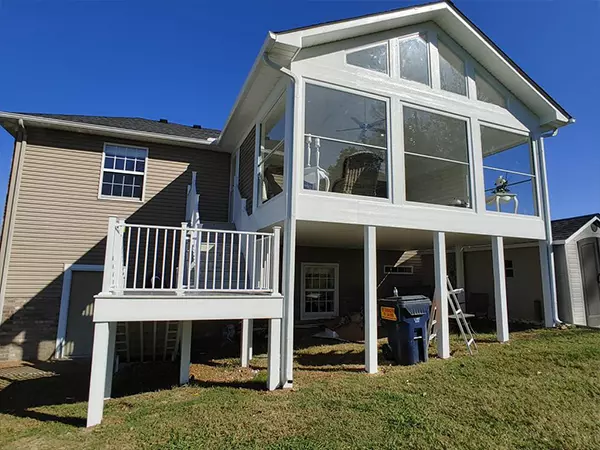 Your new deck is ready! Time to plan your next barbecue!
Frequently Asked Questions
The overall cost of your deck depends on a few factors, such as its size and height, the materials used, and whether it requires stairs or any additional features. For instance, if you opt for a 12×12 cedar deck with standard construction then this could be around $15 thousand. However, should you require something more complex such as a 20×12 composite deck with aluminum railings plus fascia wrapping along with steps added in – that is likely to come up to $35 thousand.
In order to make sure we are in agreement on the work that needs to be done, our initial consultation will provide you with a clear understanding of the process and materials. This way, budgeting for your project is stress-free as you'll have an exact idea of what's necessary and which items fit best within your style preference.
The typical project we take on usually requires no more than three days to finish. For complex operations such as an elevated deck or ones with many extra components and improvements, we recommend you allocate a full week for the work.
Depending on your particular needs, our team will provide you with a timeline estimate so that you can plan accordingly. During our visit to your site, however, we will be able to give you a far more accurate gauge of how long it'll take us in order for everything run smoothly.
Yes! We provide a 5-year workmanship guarantee, assuring that your deck will last as long as you live in your house. The manufacturer also provides a limited-to-lifetime materials warranty.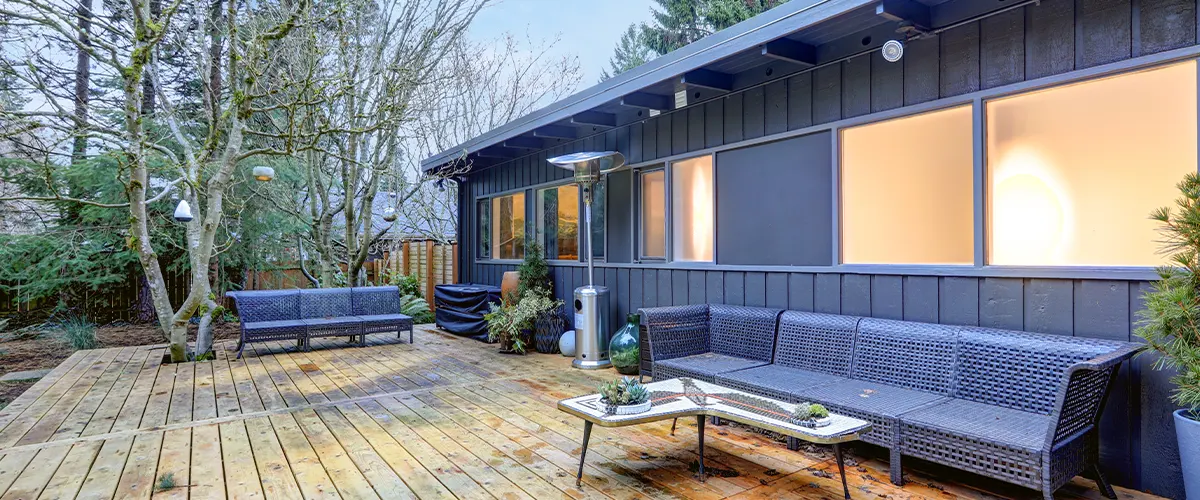 Let Riverview Decks Take On Your Project
The overwhelming task of looking for a dependable and honest contractor can be frustrating. But if you're located in Alcoa, your search is now at an end – Riverview Decks are one of the most accomplished deck builders in the area! Their team will take into account all your individual preferences and needs to make certain that your project comes out precisely as planned. Make sure you get started on creating your outdoor oasis with Riverview today!
With us, you'll also get:
Get The Best Deck Building In Alcoa Today!