Underdeck ceilings provide multiple benefits, including increased insulation and noise reduction while improving the aesthetics of deck area of your home.
However, understanding the costs involved is crucial before diving into this home improvement project.
In this blog, we'll cover everything you need to know about under deck ceiling costs – from materials and tools required, to installation expenses.
Let's begin!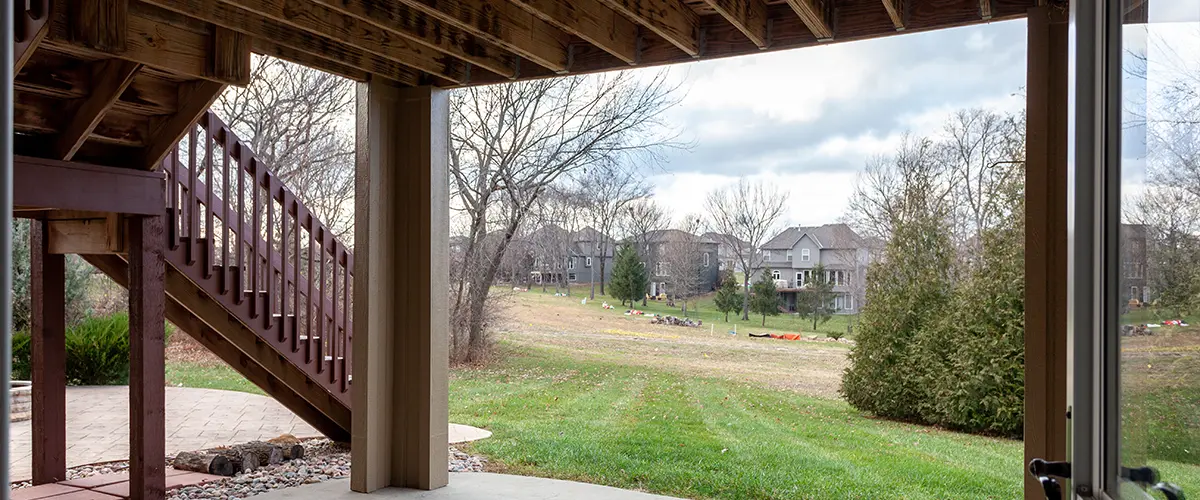 Understanding Under Deck Ceiling Systems And Cost
To understand the cost of under deck ceiling systems, it's important to consider the materials and tools required, as well as the price range associated with each type of under deck system used.
Materials And Tools Required
To install an under deck ceiling yourself, these are the essential materials and tools required:
These will ensure a smooth DIY home renovation project, allowing you to potentially save money on your project.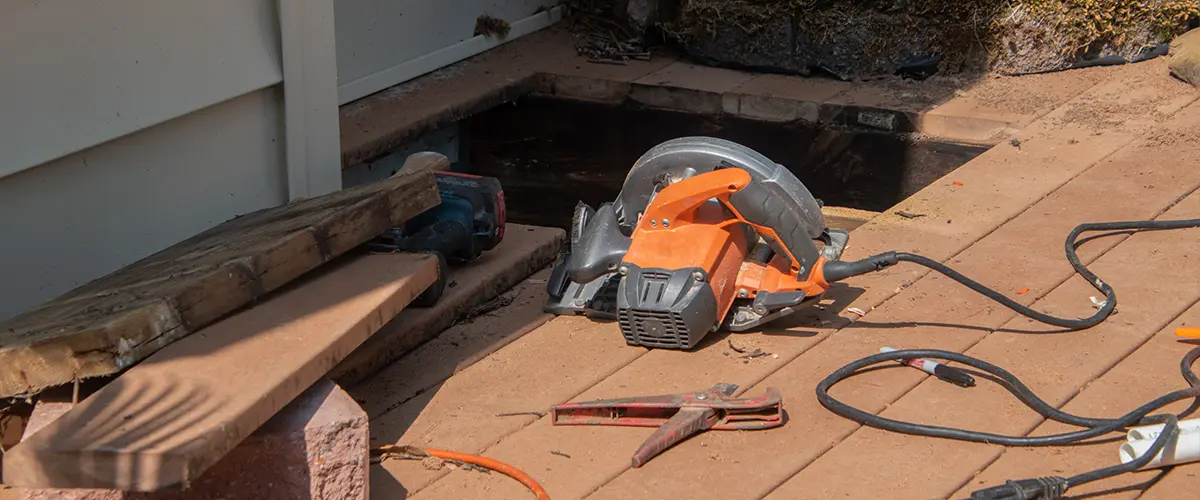 The cost of an under deck ceiling system can vary depending on several factors such as materials used, area size, and whether you choose to DIY or hire a professional. 
Here's a table to help you understand the approximate price range for different under the deck ceilings, ceiling materials and installation methods:
| Material/Service | Average Price Range |
| --- | --- |
| Aluminum Ceiling Material | $6 - $10 per square foot |
| Vinyl/PVC Ceiling Material | $6 - $12 per square foot |
| Wooden Ceiling Material | $15 or more per square foot |
| DIY Installation | Reduced price, depending on skills and tools available |
| Professional Installation (Labor Cost) | $1 - $2 per square foot |
| Building Permit (if required) | Varies by local jurisdiction |
| Deck/Patio Enclosure | $2,800 - $40,000+ depending on size and materials |
It is essential to consider these costs while planning your under deck roof and ceiling project to make the best decision for your budget and desired outcome.
Trex RainScape Underdeck Drainage And Ceiling System
| Feature | Details |
| --- | --- |
| Low-Maintenance Waterproof Ceiling Solution | Designed to capture water, channel it away, and prevent moisture from entering the structure. |
| Compatibility with Trex Decking Materials | Specially designed for use with high-quality Trex decking materials. |
| Easy Installation | No special tools or equipment required, making it a suitable project for DIY enthusiasts. |
| Durable and Corrosion-Resistant Materials | Built to withstand the elements and resist corrosion, ensuring long-lasting performance. |
| Sleek and Modern Design | Provides a visually appealing, unobtrusive look to enhance your outdoor living space. |
| Moisture-Preventing Design | Helps protect your structure from rot, decay, and other moisture-related damage. |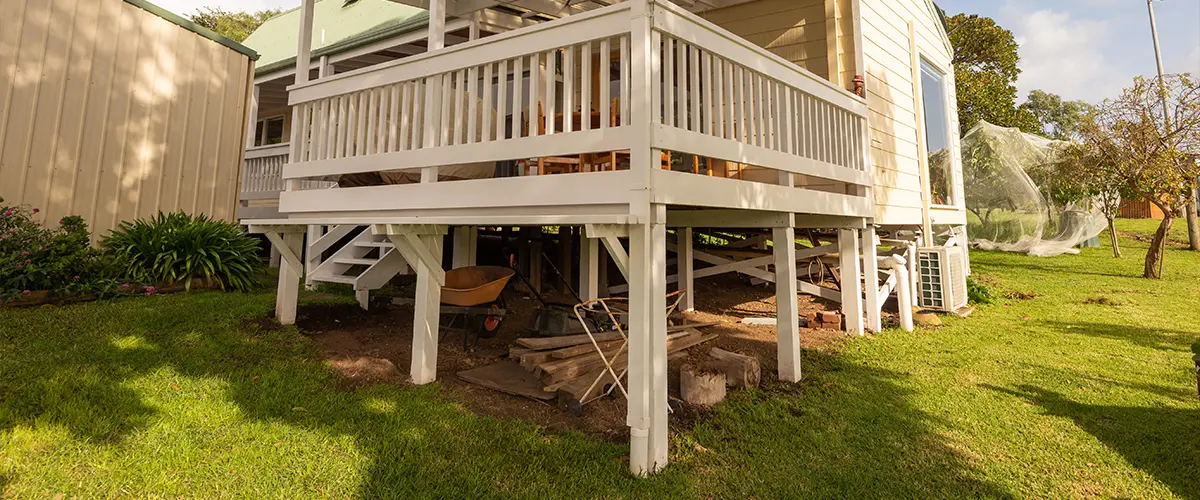 Additional Costs For Wall Trim
Aside from the main materials used in an under deck ceiling project, wall trim is also an important element to consider. Wall trims are necessary to cover the edges of your underdeck ceiling and provide a sleek and finished look.
However, they do come with additional costs that should be factored into your budget. The price range for wall trim varies depending on the type of material you choose, such as PVC or wood, and the style you prefer.
On average, homeowners can expect to spend between $1.50 to $3 per linear foot.
When preparing existing deck for an under deck ceiling installation project, homeowners need to take into account every element involved in creating their dream outdoor space.
DIY Vs Hiring A Contractor
Installing an under deck ceiling can be a beneficial addition to your home, providing you with additional outdoor living space and protection from the elements. 
Homeowners have the option of installing the under deck ceiling themselves or hiring a professional contractor. 
| DIY | Hiring a Contractor |
| --- | --- |
| Saves you approximately 25% on total costs. | Cost of hiring a professional to install a 14 by 20 feet ceiling is approximately $2,436. |
| Requires time, effort, and skills to complete the project. | Professional installation ensures quality work and is typically faster. |
| Safe and satisfactory installation depends on your knowledge and ability to properly install the system. | Contractors are experienced, knowledgeable, and insured, providing peace of mind and a well-installed system. |
| Access to limited resources and tools may impact the quality and efficiency of the installation. | Contractors have access to specialized tools, materials, and techniques that can improve the durability and appearance of the under deck ceiling. |
| Potential for mistakes or issues during installation, leading to additional costs or damage to your home. | Contractors often provide warranties on their work, ensuring any issues are resolved quickly and efficiently. |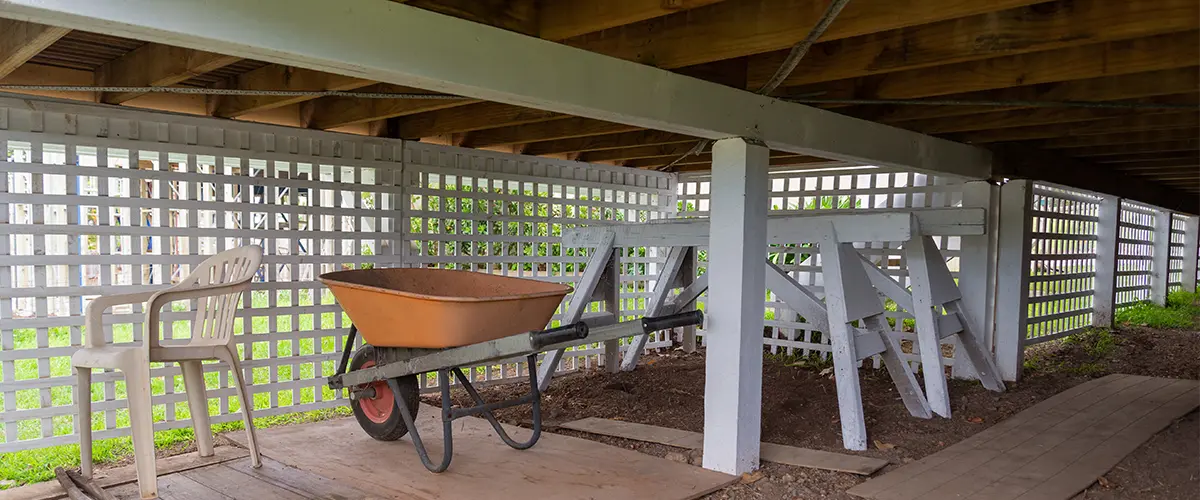 Factors Affecting The Cost
The cost of installing an under deck ceiling system varies depending on several factors. Here are some of the most important factors affecting the cost:
Overall, understanding these factors is essential for homeowners looking to install an under deck ceiling system while keeping overall costs within budget.
Installing an under deck ceiling system is a great way to enhance your outdoor living space. The cost of installing one will depend on various factors such as materials, size, and complexity.
A basic under deck ceiling can range from $6 to $15 per square foot with the addition of labor costs for professional installation. DIY underdeck ceiling installation could save you about 25% on total costs.
Materials like aluminum or vinyl/PVC are popular choices and wood roof options like patio roofs can run between $4,500-$14,000.
If you want a professional installation to ensure you won't have to deal with dampness, rot, and water pools beneath your deck, give us a call and let's give you a long-lasting investment!
At Riverview Decks, we offer professional under deck ceiling installation that gets you the best outdoor space in the neighborhood. Work with us and enjoy a reasonably priced project and the finest craftsmanship in Knoxville, TN, and its surroundings!
Get in touch with us at (865) 801-4545 if you want to learn more about other under deck ceiling options, or request a quote if you're ready to get started!