The Best Deck Building In Maryville TN
Interested in starting your deck building in Maryville TN? This guide will walk you through everything.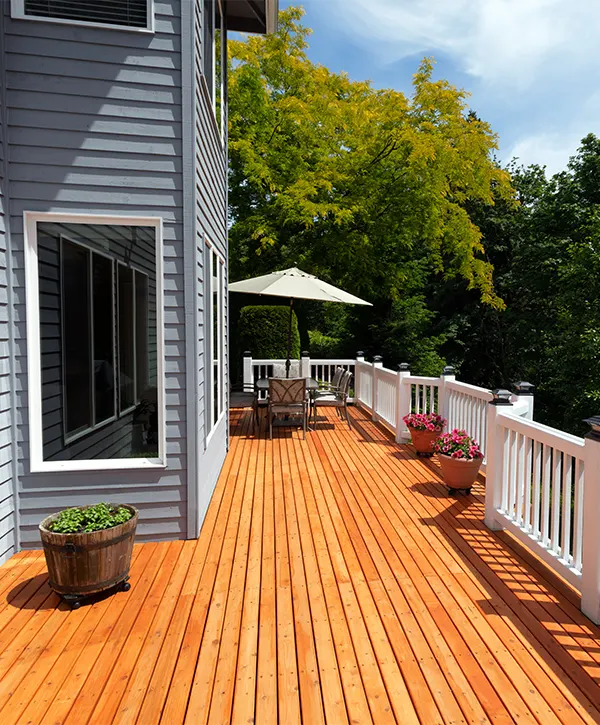 Deck building in Maryville TN is one of the best additions you can make to your property. It raises its value, boosts its comfort, and simply makes it stand out from the other homes in the neighborhood.
If you're looking for the right company to get your deck building project started, there's no better option than Riverview Decks!
We're aiming to change the deck building industry in Maryville TN and offer homeowners more than any other contractor does. With us, you're getting a beautiful new deck that'll stand the test of time and entertain your guests for many years!
A Deck That Comes With Extra Benefits
Every deck building project we work on has to reach a certain level of perfection. Our straightforward process helps us achieve that, but we're bringing much more to the table.
Get Your Premium Deck Building In Maryville And Enjoy A Lifetime Of Serenity
Decks in Maryville are becoming increasingly popular for homeowners who love kicking back in their own outdoor space.
Here at Riverview Decks, our goal is to give you a deck that'll make your day better the moment you step on it. We're constantly improving and adapting our process depending on your needs, so you can get this place without the stress and anxieties of home improvements.
You'll enjoy not just a premium deck, but also a superior deck building process where you remain at the front and center of our work.
Check out our deck building offer right now! Get the best deal for your deck construction project and enjoy a smooth process with no set backs.
Maryville Homeowners Love Their New Decks!
Become one of the happy deck owners in Maryville and share your story with your neighbors!
Our former 2nd story deck may have been up to code in the past, but between age, weather and carpenter bees we needed to replace it. 
Nate and his crew replaced the formerly code allowable 4×4 posts with 6×6 posts, joists were maybe double in number, the wooden pickets replaced by rods that almost become invisible when looking out into the backyard. 
The flooring is Trex with a decorative edge that frames the floor as well as on the stair treads. We were surprised at how fast the Trex dries after torrential rain and how comfortable it is under a bare foot.
We aren't novices at carpentry and woodworking, but we were impressed with the crew's workmanship, precision of the cuts and their eye for detail; not to mention their almost non-stop work during hot, humid days. 
Nate, the crew, and even the supply delivery people were very professional, personable, respectful and punctual – clearly a well-organized company. Thank you, Nate, and thank you to your carpenters!
Type Of Upgrades And Materials
Back in the day, all you needed to build a deck was wood. Right now, composite decking, steel deck frames, or aluminum railings are gaining ground in homeowners' backyards.
At our on-site consultation, we'll guide you through the best options and upgrades for your own deck building project.
Now, let's discuss what goes into a deck and some of the best materials available.
The deck frame is what holds the entire structure up. It's made of posts, joists, connectors, and many other hardware pieces that make your deck safe and sound.
While pressure treated wood remains a common option for most of our customers, this material lacks in several aspects. Even lumber rated with ground-contact will eventually rot and weaken.
Steel frames from brands like Fortress Building Products are the safest option you can get for your new deck. Steel is built to last for decades, sustain incredible amounts of weight, and hold strong even in the toughest climates out there.
While a steel frame will be more expensive than a wood frame, the safety and longevity it'll provide will undoubtedly pay off.
Decking boards are one of the most important aspects of your new deck. They finish the look and set the mood of your new space, so you'll have to make sure you're fully content with your decision.
Wood decking is an inexpensive feature that'll give your deck a natural feel. However, a wood deck will need regular maintenance. You'll find yourself needing to stain, seal, or repair it quite frequently, which ultimately means more money spent in the long run.
Composite decking, on the other hand, is the new favorite of homeowners who simply don't have the time to constantly attend to their decks. This is a low maintenance material, much more durable and resistant than wood. Definitely a better choice for older homeowners looking to spend more time on their decks, rather than maintaining them.
We work with top brands in the industry, like Trex, TimberTech, Fiberon, and others.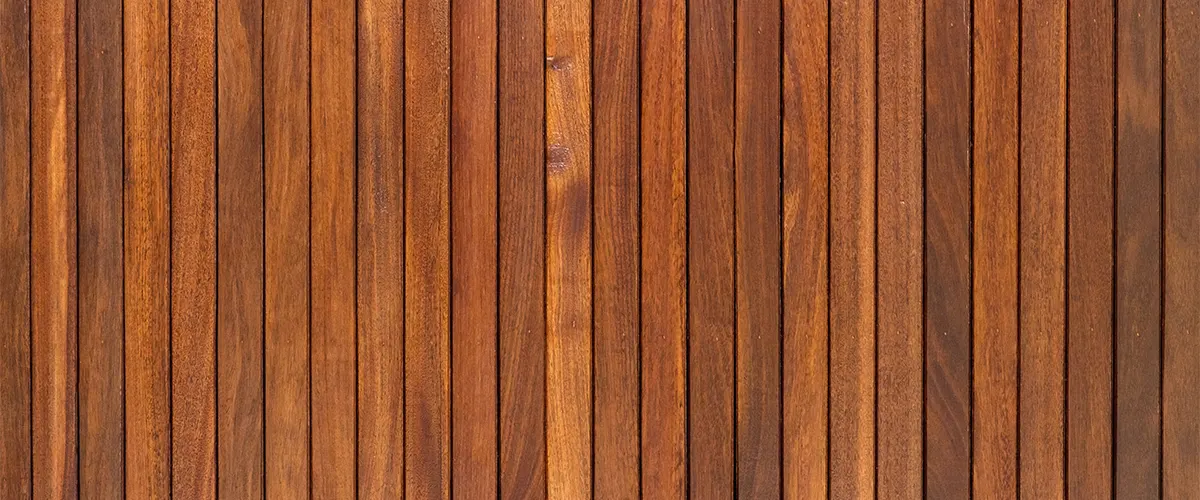 Not only are they mandatory for most decks, but railings also help you finish the look of your new addition. Railings increase the safety of your deck, complement its look, and can incorporate other extra features, like a drinking rail, beautiful wrapped columns, or lights.
Although wood is still the most common railing material, aluminum is rapidly gaining ground. And for good reason. Aluminum is more durable, is resistant to water and pests, it looks better, and it doesn't need any on-going maintenance.
Composite is a decent alternative, but a good composite railing has a very similar price to the best aluminum railing from Westbury.
Lights provide a lot of comfort while also enhancing the safety of your deck at night. In addition, in most states and cities, stair lights for every deck with stairs are required by building codes.
The lighting is your choice. We recommend a warm, low-voltage option that will last longer. Not only does this save you money on your electricity bill, but you also won't have to replace them as often.
Inspiration For Your Deck Building In Maryville TN
If you're not sure about what you'd like your new deck to look like, here are some of our finished projects in and around Maryville. Check out our work and see for yourself what you could be getting as well!
The Best Process To Start A Deck Building In Maryville TN
The process you'll go through is designed to ensure a smooth experience and a radical uplift of your outdoors. Remain at the front and center of your project and watch your dream deck come to life!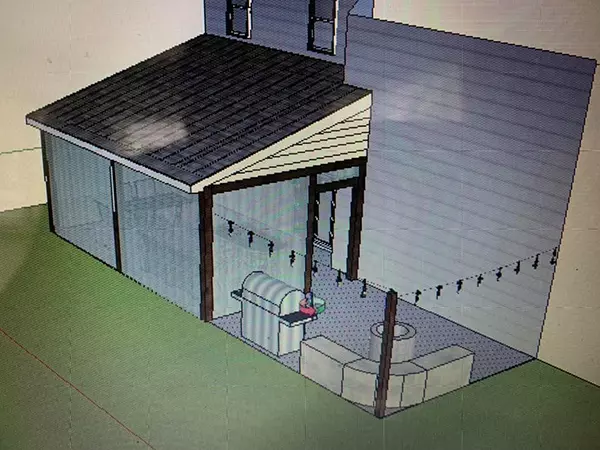 Request your free quote or call us directly to chat.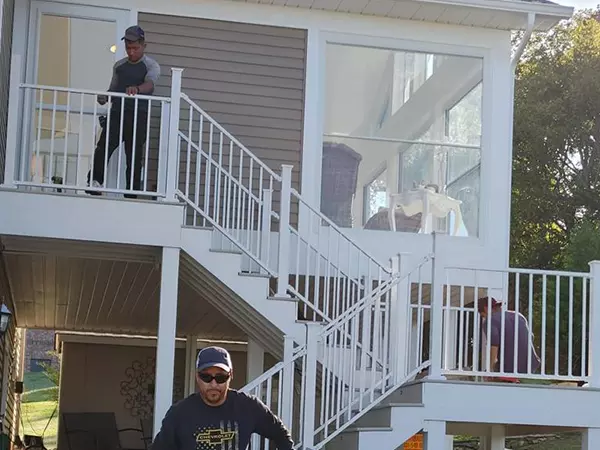 Be part of your incredible deck building journey.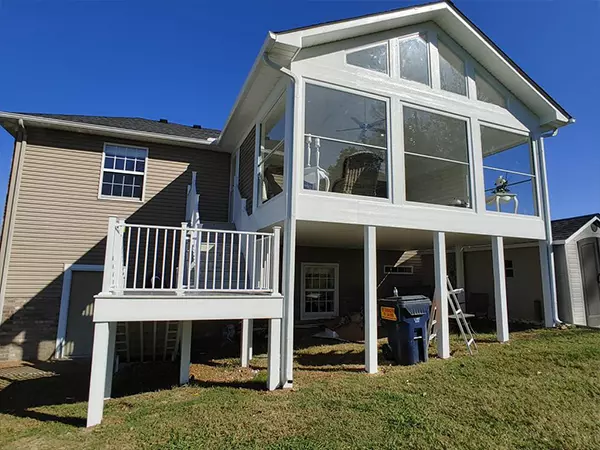 Your new deck is ready! Time to plan your next barbecue!
Deck Building Projects In Maryville With Riverview Decks!
Deck Building In Maryville Area: A Case Study
One of our customers in TN wanted a new, 18'x18′ deck. They wanted something different, so their decking material ended up being a double-tone composite decking, but installed differently.
The upgrade included:
Before
After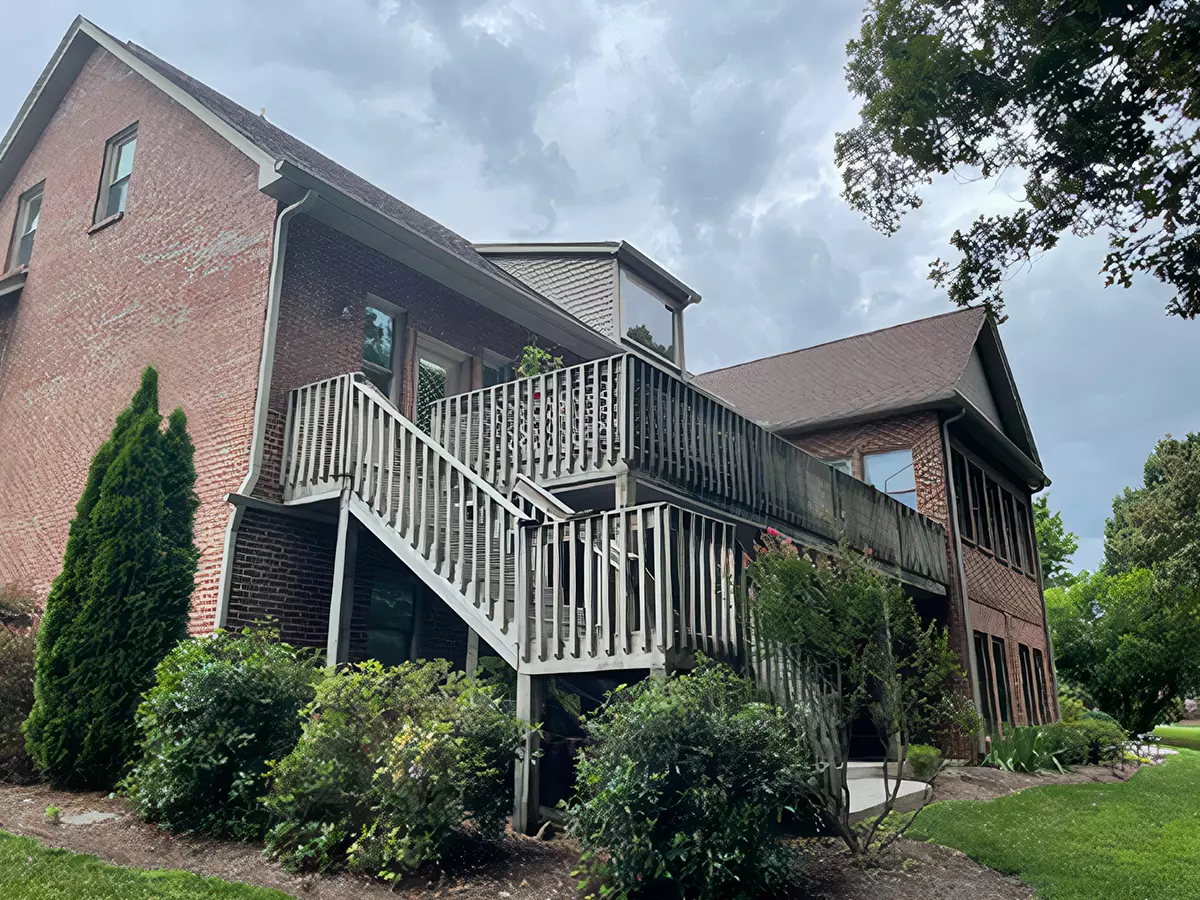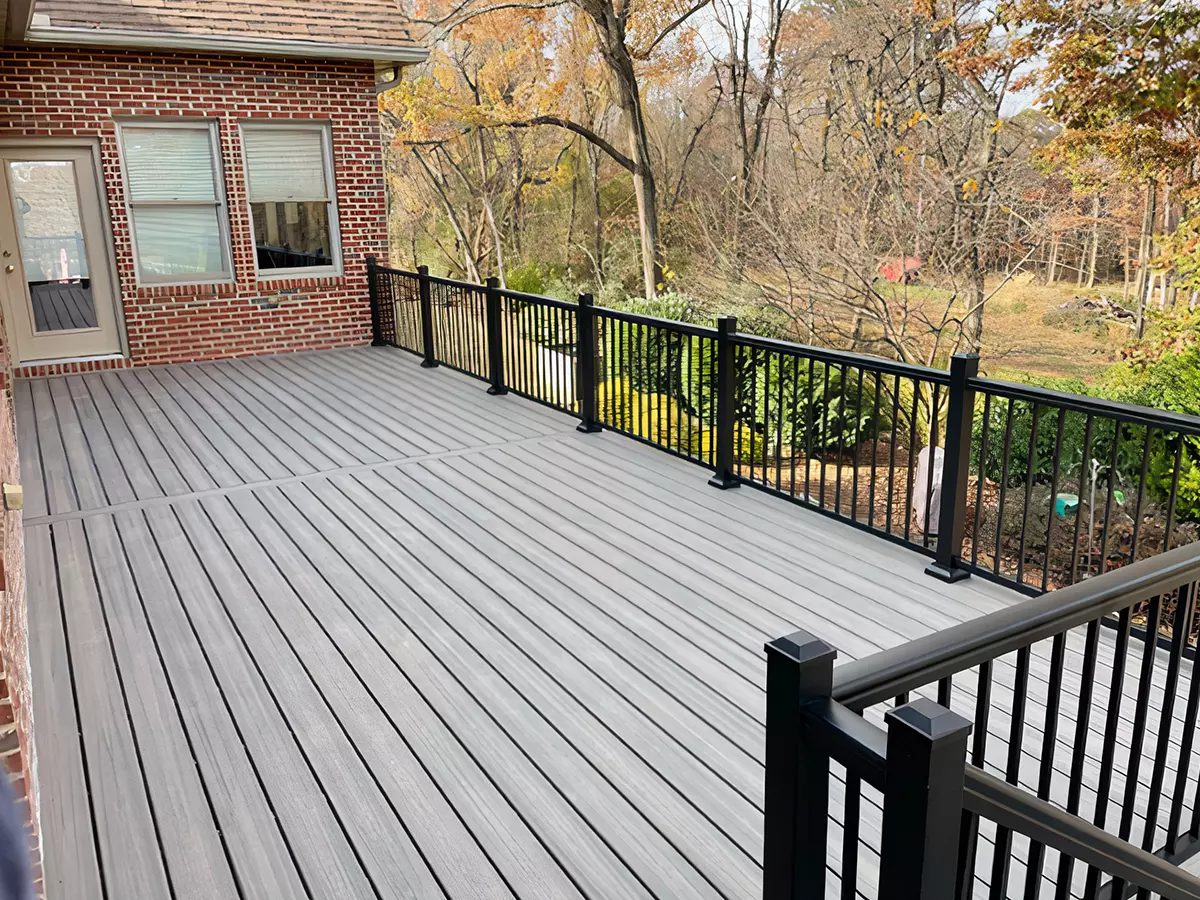 We quoted this deck building project at $68.5k, and the most expensive upgrade on the list were the aluminum powder-coated handrails.
Frequently Asked Questions
Size, elevation, materials, and extra features will all impact the final cost of your project.
If a simple 12×12 cedar deck will cost around $15k, a 20×12 composite deck with aluminum railings, fascia wrapping, and a set of stairs, you're looking to spend around $35k.
At our on-site consultation, we'll discuss your options and see the actual scope of work, and we'll be able to offer you a better pricing estimate.
We finish most of our deck building projects in between one to three days. However, if you want a larger deck, elevated from the ground, with all sorts of upgrades and extra features, the timeframe will go up to a week.
We'll work with you to create a detailed schedule for your project, and you'll know exactly what will happen and when.
Yes! You'll get our 5-year workmanship warranty that guarantees your deck is built to last a lifetime. In addition to this, you'll also get our limited-to-lifetime warranty on manufacturer materials. This ensures the materials on your deck have superior quality and they won't create any issues for many years to come.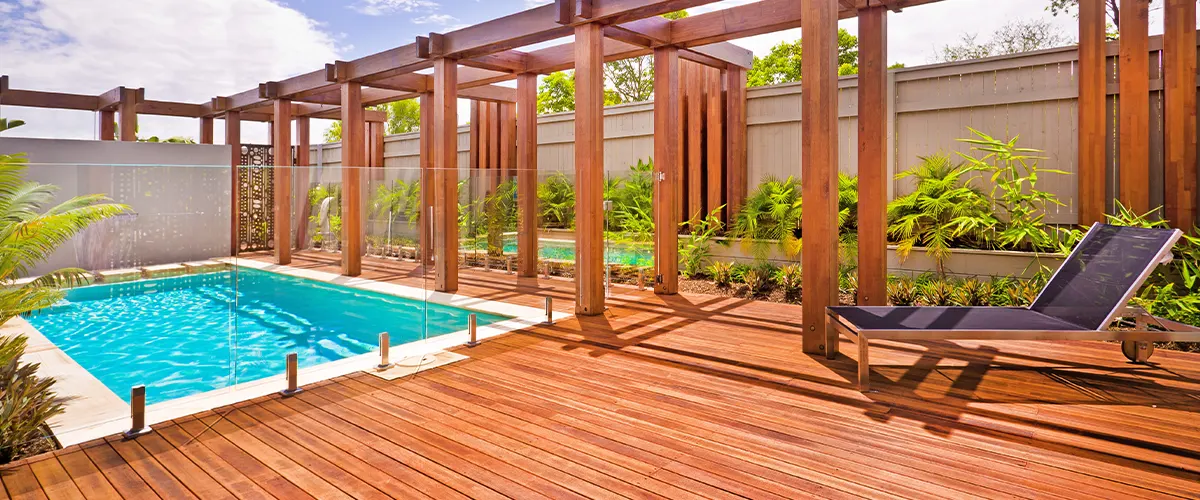 Let Riverview Decks Take On Your Project
When decks are all about safety, you'll want a company that goes over and beyond to ensure your deck will stand tall even in the worst weather conditions.
At Riverview Decks, we take pride in how thorough our building process is. We're dedicated deck builders that want to see you fully satisfied with your new deck. Which is why your needs and wants will remain our top priority during the building phase.
With us, you'll also get:
Get The Best Deck Building In Maryvilly Today!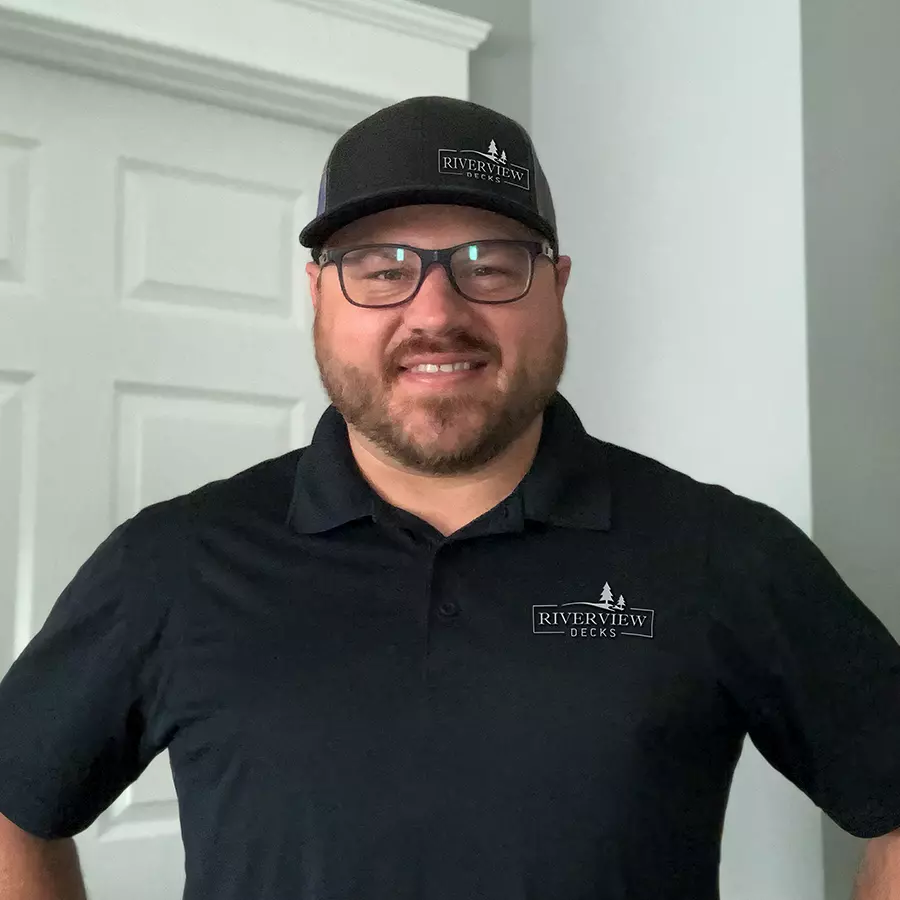 Call us at (865) 801-4545 and discuss your deck building in Maryville TN directly with Nate, the owner of Riverview Decks. Or click the button below for a free quote, and we'll personally call you as soon as possible!