The Best Deck Repair In Loudon TN
Planning to start your deck repair in Loudon TN? This guide will walk you through everything.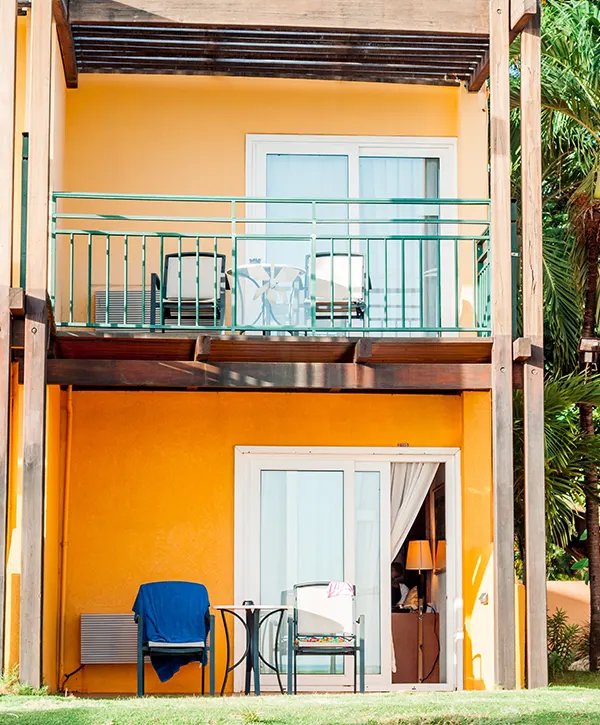 Here at Riverview Decks, we not only love what we do but also aim to provide some of the best outdoor spaces in Tennessee. If you're looking for someone to help bring your deck back to its original condition, look no further! We're experts in deck repairs and would be honored to assist you.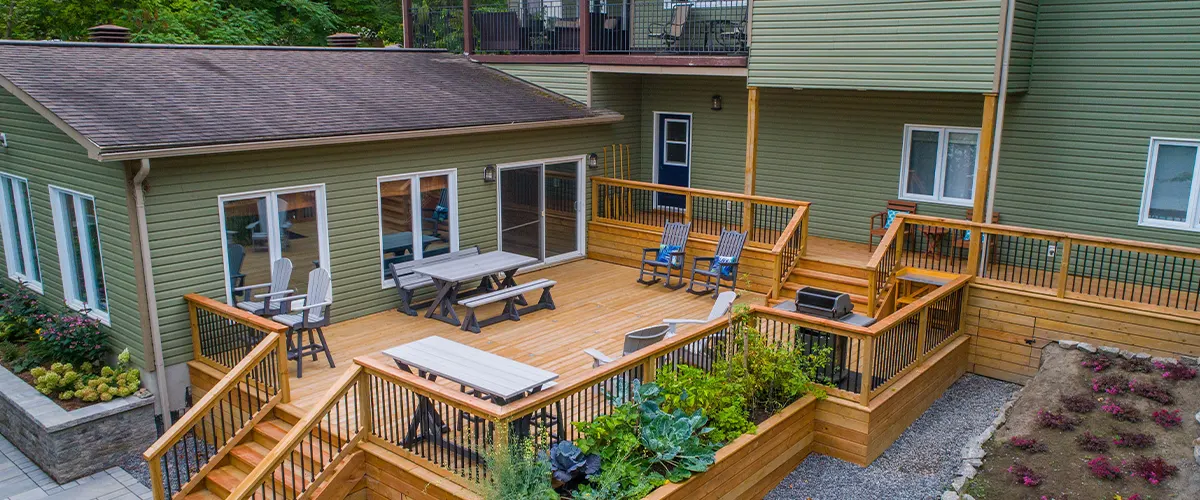 A Deck Repair Service In Loudon TN That Serves You
Our success depends on your satisfaction, so we will do everything possible to make sure your deck is safe and you are happy with the process. We promise to listen to all of your concerns and answer any questions you have along the way.
With Riverview Decks, you'll also get:
Get Your Premium Deck Repair In Loudon TN
If you only need to replace a few of the decking boards, go ahead and do it. However, if your deck is old and showing signs of wear (such as the need for new supports or rails), it will be cheaper, in the long run, to start from scratch with a totally new one.
We provide you with an extensive deck inspection at Riverview Decks so that we may discover the true issues with your structure. After that, it's up to you whether you want to continue using your deck for a few more years or replace it completely.
Get a free estimate for deck repair right now! Get the greatest price for your deck repair project in Loudon TN, and enjoy a hassle-free procedure not found with any other deck contractor.
Loudon TN Deck Owners Have Experience An Amazing Job
Become one of the happy deck owners in Loudon and share your story with your neighbors!
Our former 2nd story deck may have been up to code in the past, but between age, weather and carpenter bees we needed to replace it. 
Nate and his crew replaced the formerly code allowable 4×4 posts with 6×6 posts, joists were maybe double in number, the wooden pickets replaced by rods that almost become invisible when looking out into the backyard. 
The flooring is Trex with a decorative edge that frames the floor as well as on the stair treads. We were surprised at how fast the Trex dries after torrential rain and how comfortable it is under a bare foot.
We aren't novices at carpentry and woodworking, but we were impressed with the crew's workmanship, precision of the cuts and their eye for detail; not to mention their almost non-stop work during hot, humid days. 
Nate, the crew, and even the supply delivery people were very professional, personable, respectful and punctual – clearly a well-organized company. Thank you, Nate, and thank you to your carpenters!
Type Of Upgrades And Materials
The deck-building industry is booming and progress is being made every day with new materials and methods. If you're looking to have a deck built or repaired, look no further than the experienced professionals in Loudon TN who can take care of everything for you from start to finish. Here are the types of materials and upgrades you can undertake during the entire process.
The standard for deck frames used to be grade #1 pressure-treated wood not long ago. Because it is inexpensive and dependable, it is still prevalent today. Superior alternatives, such as Fortress Building Product's steel deck frames, now exist on the market. In any condition or environment, these metal frames will outperform wooden ones.
The most popular options for installing a wooden deck are cedar, redwood, and pressure-treated wood. Although both cedar and redwood boards are more expensive than pressure-treated wood, they provide a superior appearance as well as being less expensive overall. If you're still determined on getting a wood deck built, consider using harder woods like teak, ipe mahogany, or tigerwood. These will give your deck an exclusivity appeal.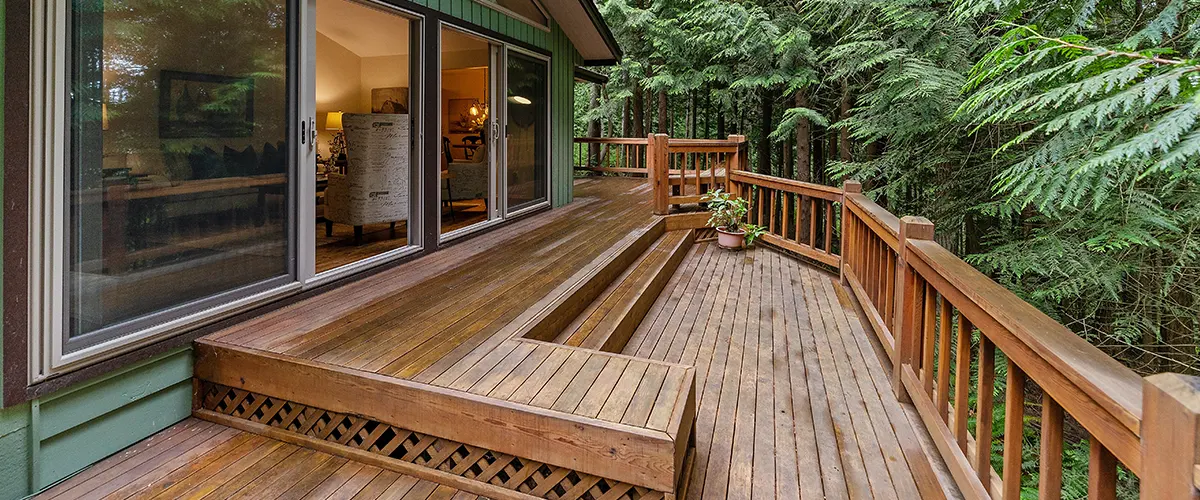 Old decks are frequently employed to support wood railings. Because they're typically damaged by water damage and decay quickly, they're a popular choice for termites. Naturally, you want them to be completely safe. You depend on them constantly, and they're meant to provide all of the assistance you require. There's only one solution to this problem after decades of use.
Aluminum staircases are a fantastic choice for any home. They're long-lasting and robust, resistant to deterioration and insect damage, with a quick and easy installation. Because they're more durable than wood railings, they'll last you longer as you get older.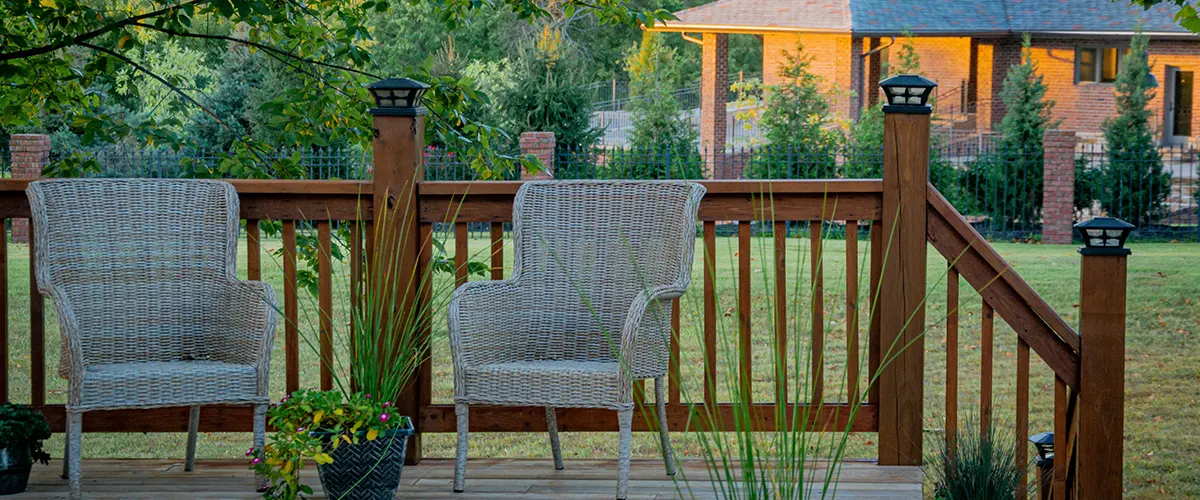 For smaller or larger decks, deck lights are a relatively recent invention. There were no stairwells or railing lights in the past, so going on them at night was hazardous. Deck lighting is now required by law and must be installed if your deck does not already have any. There are several options available, but we like low-voltage light since it lasts longer than other kinds of light bulbs.
Check Out Our Finished Deck Repair Projects In Loudon TN
We have plenty of experience with deck building in Tennessee, including the city of Loudon. Browse our previous projects to get an idea of the level of quality craftsmanship you can expect from us.
The Best Way To Start Your Project In Loudon TN
Using our quick and easy deck repair method, you'll get the greatest outcomes. This procedure was also created with your safety in mind!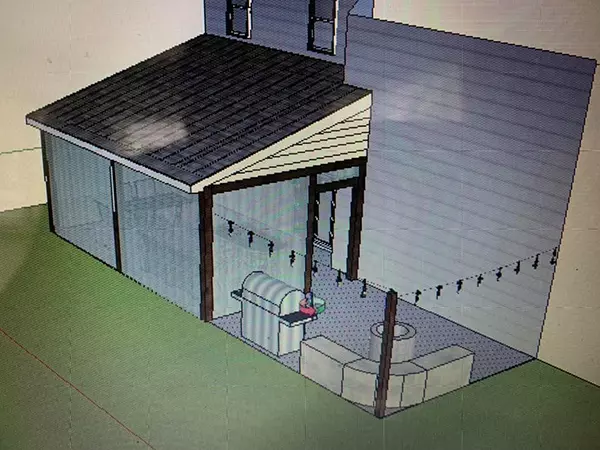 Request your free quote or call us directly!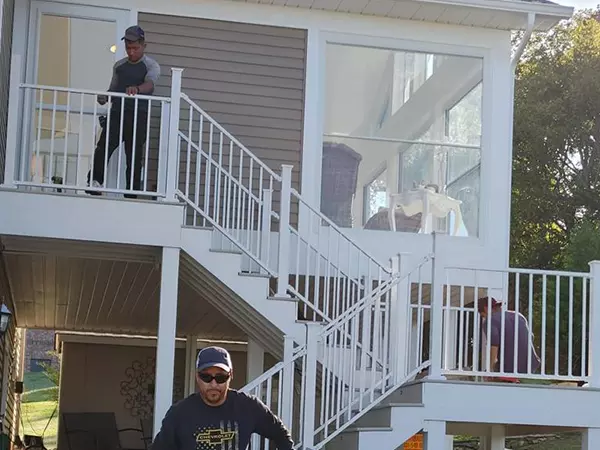 Be part of your incredible deck building journey.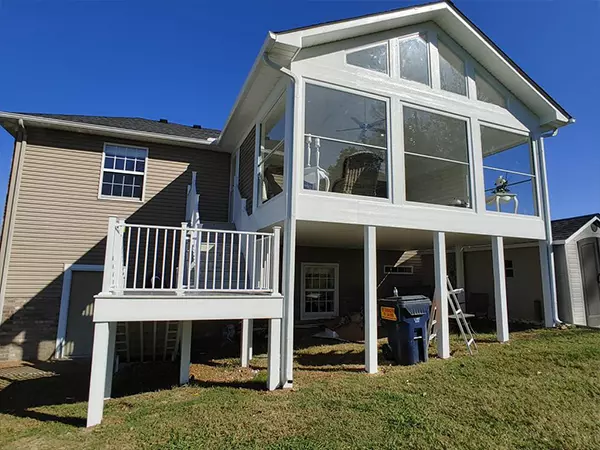 Your new deck is ready! Time to plan your next barbecue!
A Deck Repair Pricing Case Study
We replaced the rotten stair stringers in this Tennessee house, preventing the homeowners from sustaining bodily harm when they use the stairs again.
This repair deck project included:
This project comes at a low cost of $850, and we know it'll bring safety and beauty to the homeowner's deck. He was so pleased with the outcome!
Frequently Asked Questions
Repairs for a Loudon deck typically cost between $1500 and $8500, with minor problems costing less and significant issues costing more.
We know how busy you are and that your time is valuable. We can usually schedule your deck repair within a week of our initial conversation. Our quick turnarounds are possible because we're located nearby and most of our projects are local. Most repairs only take one day, but some might require more time.
Depending on your area's regulations, you may need a permit for structural repairs or to alter the layout of your deck. Obtaining these permits might be time-consuming, but don't worry—we'll take care of it! We have expertise in filing the necessary paperwork and know how to acquire all of the necessary permits for your project.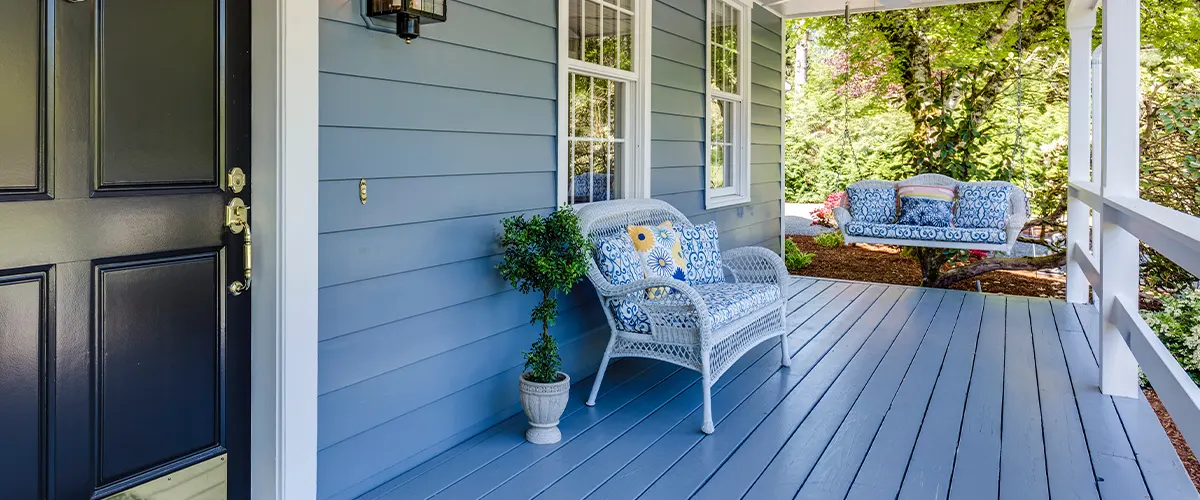 Enjoy Quality Work On Your Custom Decks Repair
Your deck repair in Loudon TN is in excellent hands. With our repair and construction services, you can rest easy knowing that your current deck will be given the best attention by the area's best deck builders.
We understand what makes your experience pleasant, and we work hard to make it happen. Our ultimate goal is for you to be completely happy with your rebuilt, existing deck, and as a result, we go above and beyond to give you an excellent job.
Your Deck Repair Awaits You!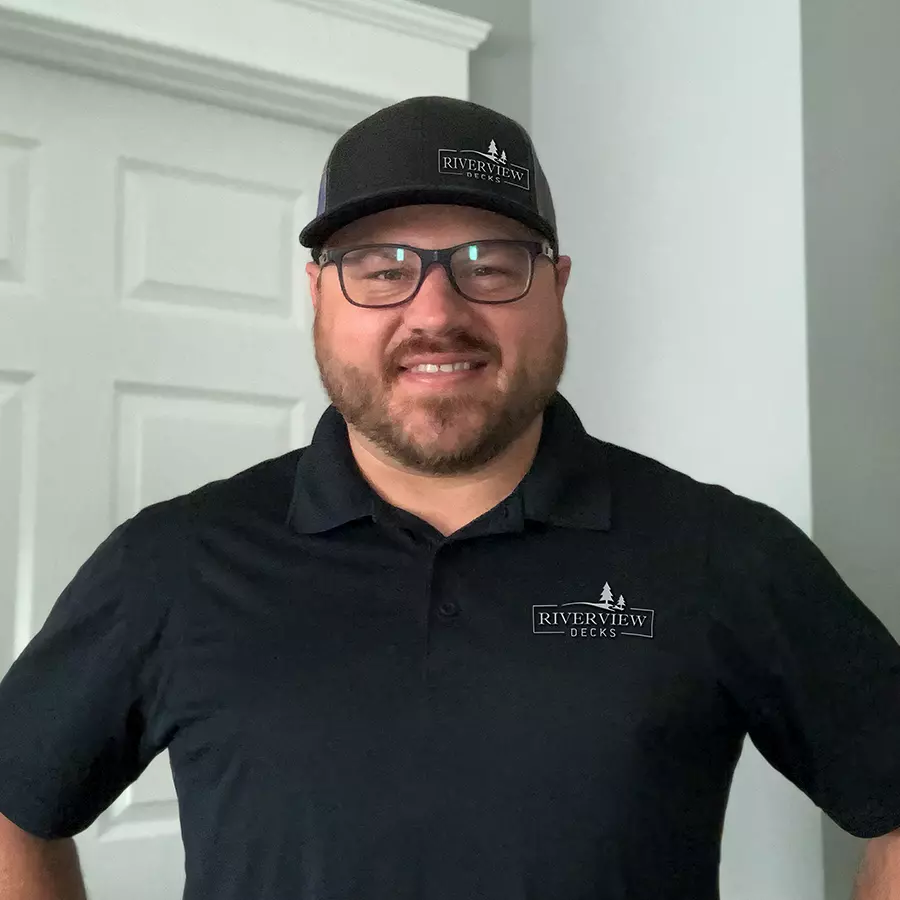 Call us at (865) 801-4545 and discuss your deck repair in Loudon TN directly with Nate, the owner of Riverview Decks. Or click the button below for a free quote, and we'll personally call you as soon as possible!