The Best Deck Building In Loudon TN
Interested in starting your deck building in Loudon TN? This guide will walk you through everything.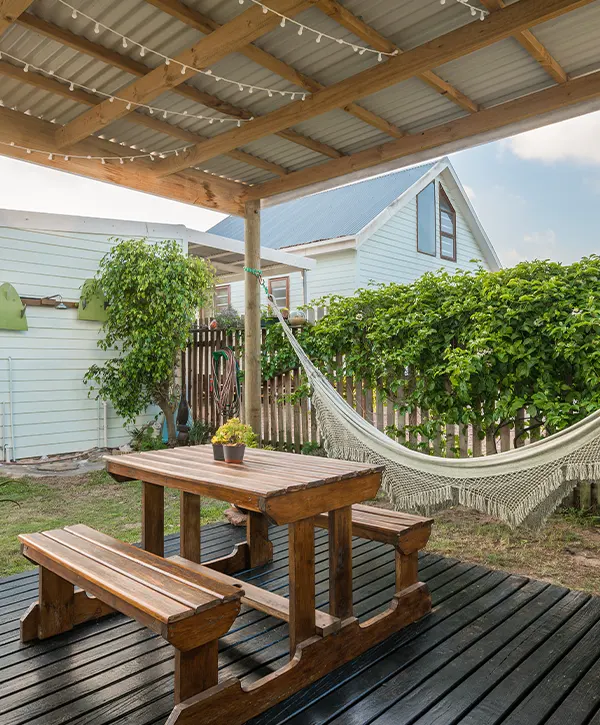 If you want to build a deck in Loudon, TN, Riverview Decks should be your go-to company! We pride ourselves on offering quick and easy solutions so that our clients can enjoy their new decks as soon as possible. Our company is one of the leaders in the remodeling industry, which means we have access to high-quality materials at an affordable price.
We want to revolutionize how homeowners perceive contractors by improving the deck-building business as a whole and transforming how individuals see contractors. Professionalism, efficiency, response time, and honesty are all important components of our work; they enable us to exceed customer expectations and construct fantastic decks!
Get Yourself a Deck with Additional Perks!
We're always happy to see our clients' pleased expressions when they see their newly finished decks. This only happens because we go beyond the expectations set for us. Plus, you'll also get:
Enjoy An Amazing Outdoor Space With Custom Decks In Loudon TN
At Riverview Decks, we realize that when you're choosing a deck from us, you want something that's not only beautiful but also safe and practical. With each of our creations, we consider these factors to ensure that you can trust your investment – both financially and emotionally.
You're receiving a high-quality deck from us, which will amaze everyone who sees it. You've found a space that fits your needs during the entire process and you'll be left with an existing deck that will make any home project worth the time and money.
Check out our deck-building offer right now! Get the best deal for your deck construction or deck repair project in Loudon TN and enjoy working with professionals that make your experience memorable!
Loudon City Homeowners Love Their Riverview Decks!
Become one of the happy deck owners in Loudon and share your story with your neighbors!
Our former 2nd story deck may have been up to code in the past, but between age, weather and carpenter bees we needed to replace it. 
Nate and his crew replaced the formerly code allowable 4×4 posts with 6×6 posts, joists were maybe double in number, the wooden pickets replaced by rods that almost become invisible when looking out into the backyard. 
The flooring is Trex with a decorative edge that frames the floor as well as on the stair treads. We were surprised at how fast the Trex dries after torrential rain and how comfortable it is under a bare foot.
We aren't novices at carpentry and woodworking, but we were impressed with the crew's workmanship, precision of the cuts and their eye for detail; not to mention their almost non-stop work during hot, humid days. 
Nate, the crew, and even the supply delivery people were very professional, personable, respectful and punctual – clearly a well-organized company. Thank you, Nate, and thank you to your carpenters!
Type Of Upgrades And Materials
The deck-building business has evolved considerably in recent years, with low-maintenance composite materials becoming increasingly popular than ever before. Aluminum parts are also becoming more prevalent, as they can aid in the longevity of your deck. However, there are many distinct materials to choose from; therefore, it's critical to conduct your study before making any judgments or a major repair or makeover to your space!
The primary reason virtually all decks fail is because of the frame. Standard pressure-treated wood, while a favorite among homeowners, isn't the most ideal choice. Grade 1 pressure-treated lumber will still rot and mold/mildew over time, compromising both safety and appearance.
For steel or aluminum frames from a reliable company, Fortress Building Products is your best bet. In addition to matching well with any kind of decking material, their products are designed for longevity. Metal framing may have a higher initial cost tag but you'll save more in the end by choosing it over wood.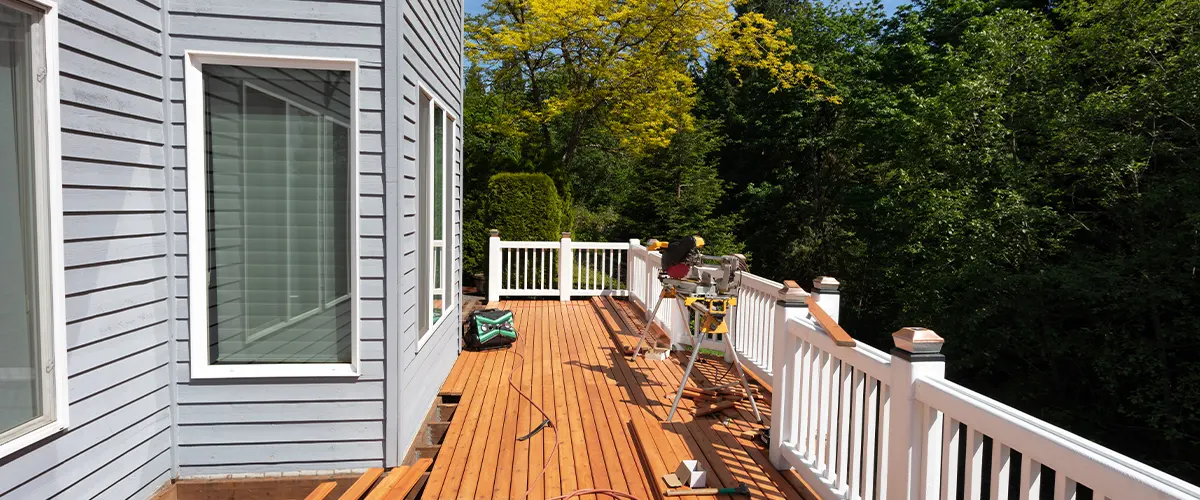 If you're tired of maintaining your wooden deck, consider replacing it with composite material. You'll save money on pricey upkeep while still getting a lovely outside space to enjoy when you choose hardwood as the material for your deck. Hardwood is an excellent choice since it requires little effort to maintain.
At Riverview Decks we work with the top composite decking brands in the industry, like TimberTech, Trex, and Fiberon, and you'll get these materials at competitive prices.
Railings will add to the aesthetics of your deck and make it appear more complete. Railings, on the other hand, not only protect you and your family but also improve how safe it feels.
With railings, your decision will be easy.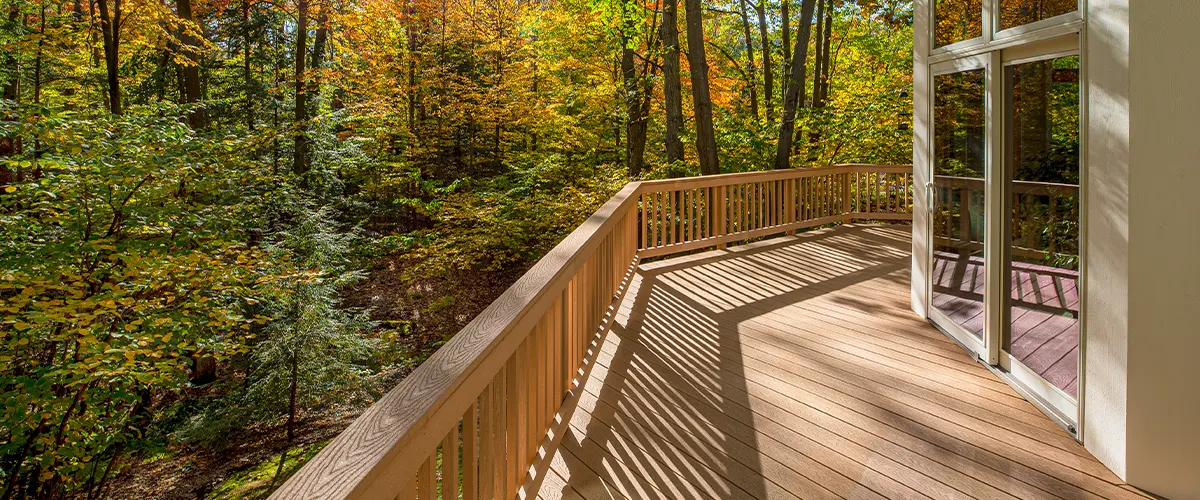 Did you know that some states and cities require homeowners to install lights on their decks? Here in Loudon, TN, we love our deck lights! Some of the most popular options are stairs and railing lights because they provide a warm ambiance while also giving your guests guidance at night.
As a general rule, low-voltage lights are the best option as they won't break the bank but still offer high quality.
Ideas For Your Deck Building In Loudon TN
Take a look at our gallery if you're not sure where to begin with your deck building in Loudon TN. Discover what you want your addition to look like and let's make it happen!
Deck Building In Loudon TN Has Never Been More Simple
This process has been designed specifically to make your deck-building project easier and finished in a timely manner.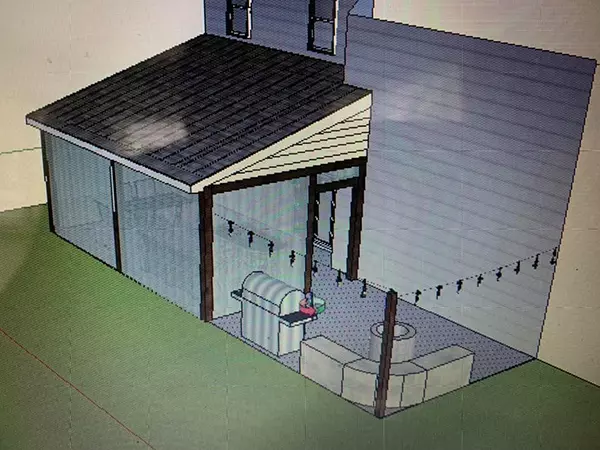 Request your free quote or call us directly to chat.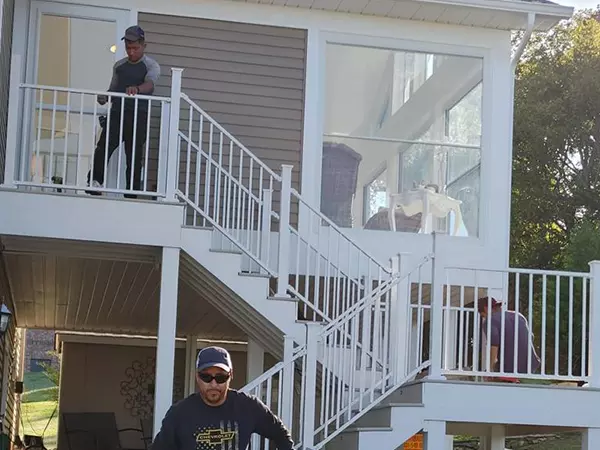 Be part of your incredible deck building journey.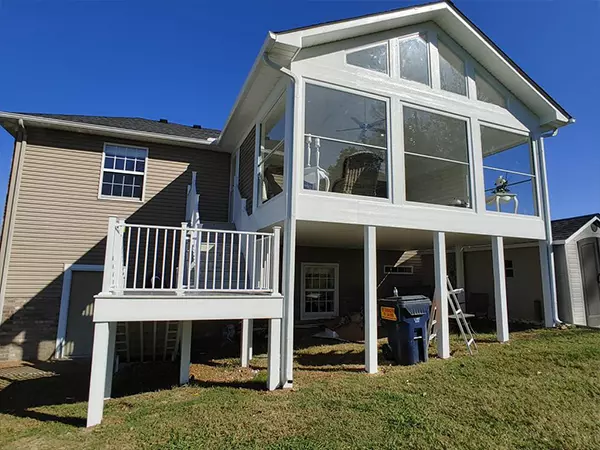 Your new deck is ready! Time to plan your next barbecue!
Deck Building In loudon Area: A Case Study
This 18'x18' composite deck project included:
The project was quoted at $68,500, where the most expensive items were the aluminum powder-coated handrails.
Frequently Asked Questions
The final cost of your deck will be affected by several factors, including its size and height, the materials you use, and whether it needs stairs or other features. For example, a basic 12×12 cedar deck would only cost around $15 thousand dollars. A more complex 20×12 composite deck with aluminum railings and fascia wrapping as well as a set of stairs could reach up to $35 thousand. Our initial on-site consultation ensures that we are both on the same page regarding what needs to be done. You will then be able to budget for the project with no trouble, as you'll know precisely what is involved and which materials would fit your taste best.
The vast majority of our projects require three days. We allow a week for more complicated operations like a bigger deck elevated off the ground with numerous improvements and features. Depending on your demands, we'll provide you with a time estimate that's appropriate for you and your family. At our on-site visit, we'll give you a more precise timetable so you may plan ahead.
Yes! We provide a 5-year workmanship guarantee, assuring that your deck will last as long as you live in your house. The manufacturer also provides a limited-to-lifetime materials warranty.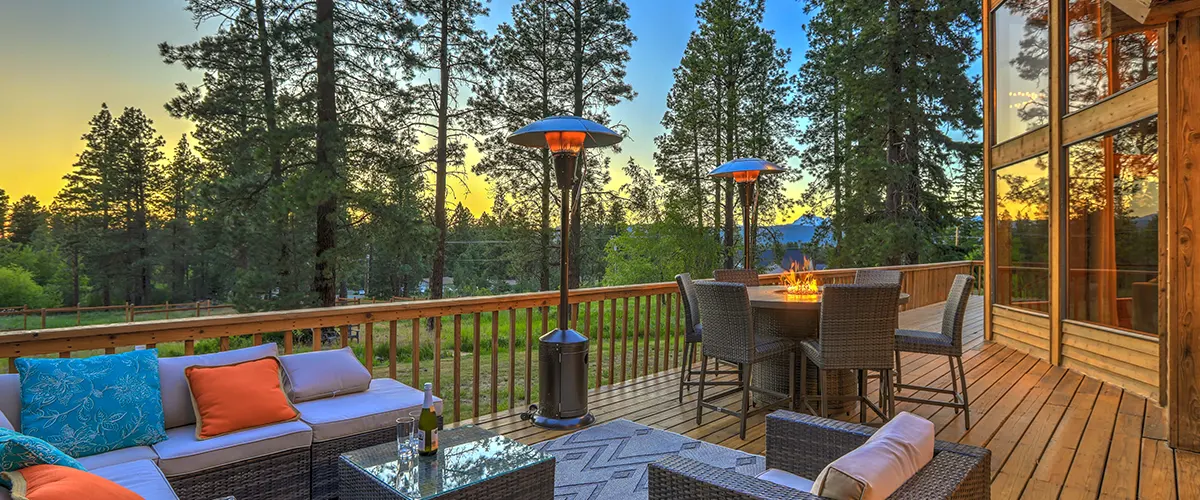 Have The Best Deck Builders In Loudon TN On Your Project!
When you're searching for a trustworthy and reliable contractor, the process may be daunting. However, if you live in Loudon, your search just got easier. Riverview Decks is one of the top deck builders in your area! They will take into account your personal preferences, requirements, and lifestyle to ensure that your project turns out exactly as you envisioned it.
We tend to over-deliver, so besides a beautiful, safe, and long-lasting deck, you'll also get:
Get The Best Deck Building In Loudon TN Today!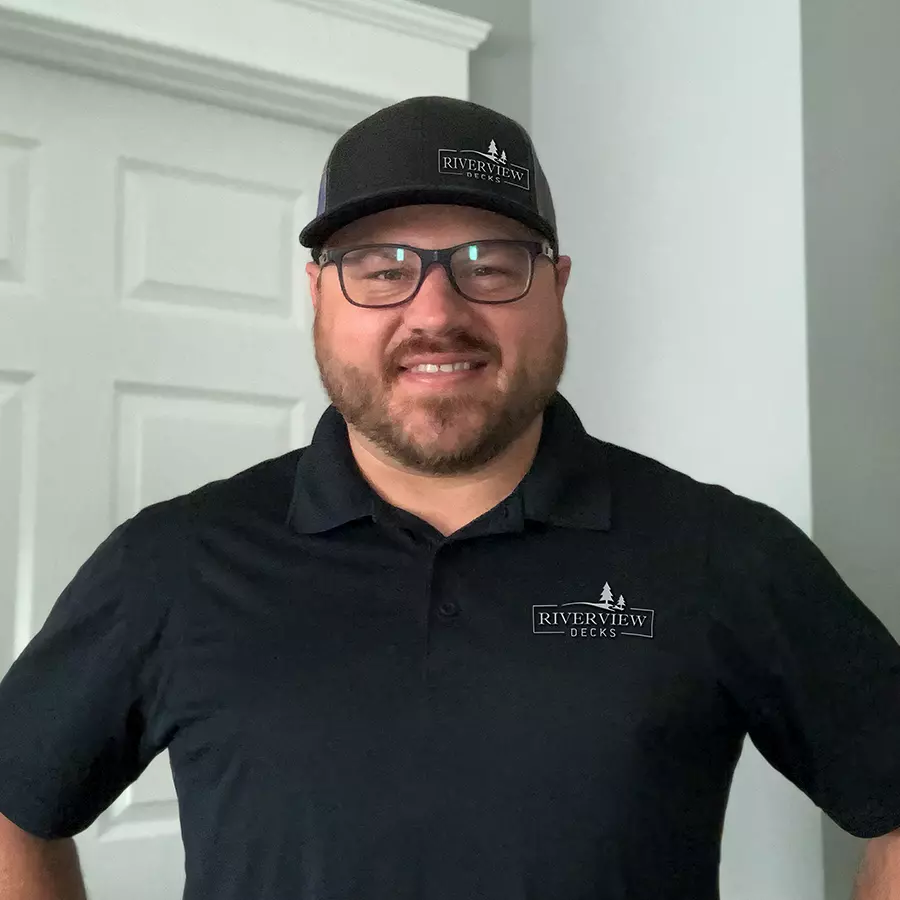 Call us at (865) 801-4545 and discuss your deck building in Loudon TN directly with Nate, the owner of Riverview Decks. Or click the button below for a free quote, and we'll personally call you as soon as possible!