The Best Deck Repair In Knoxville TN
Planning a deck repair in Knoxville TN? Check out our offer or start right now!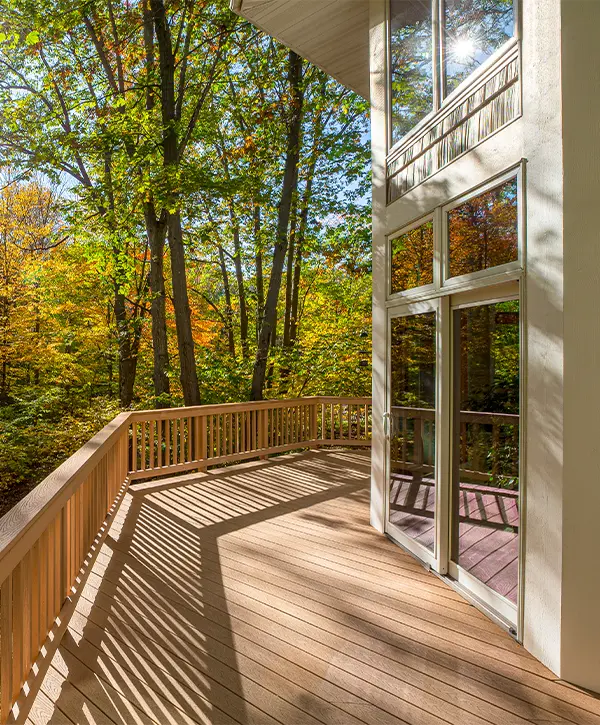 If your deck has seen the best of its days, but you're not yet ready to replace it altogether, a deck repair project might be exactly what you need to extend your deck's life for another 2-3 years.
Get yourself a premium deck repair service from your local pros in Knoxville TN. Here at Riverview Decks, we're dedicated and passionate deck builders that strive to create some of the best outdoors space in East Tennessee.
Help your deck reach its true potential again and have us on your project if you're looking for a great deck repair project.
The Only Deck Repair That Over Delivers
To ensure homeowners a smooth project and a new, safe deck, we know it takes more than coming to your home and replacing some decking boards.
We focus on transparent and honest communication, a process that puts you at ease, and a thorough repair where no issue remains unattended.
Get Your Premium Deck Repair In Knoxville TN With Riverview Decks
If you're looking to quickly replace some decking boards, sure, a deck repair might be all you need. But sometimes, your deck needs more than just a quick fix.
When you realize you also need to replace some posts, upgrade the railings, and get new footings, the entire project is not worth it anymore. In that case, a completely new deck will be a much better long-term investment, and it'll show.
This is why here at Riverview Decks we're offering you an in-depth and thorough deck inspection to see what are the real problems with your structure. We'll be honest about it, and, after all, it's your decision if you're looking to get a couple more years out of your deck or get a new one that'll last a lifetime.
Check out our deck building and deck repair offer right now! Get the best deal for your deck construction project and enjoy a smooth process like no other deck contractor offers.
Knoxville TN Deck Owners Love Their New Repairs
Become one of the happy deck owners in Knoxville and share your story with your neighbors!
Our former 2nd story deck may have been up to code in the past, but between age, weather and carpenter bees we needed to replace it. 
Nate and his crew replaced the formerly code allowable 4×4 posts with 6×6 posts, joists were maybe double in number, the wooden pickets replaced by rods that almost become invisible when looking out into the backyard. 
The flooring is Trex with a decorative edge that frames the floor as well as on the stair treads. We were surprised at how fast the Trex dries after torrential rain and how comfortable it is under a bare foot.
We aren't novices at carpentry and woodworking, but we were impressed with the crew's workmanship, precision of the cuts and their eye for detail; not to mention their almost non-stop work during hot, humid days. 
Nate, the crew, and even the supply delivery people were very professional, personable, respectful and punctual – clearly a well-organized company. Thank you, Nate, and thank you to your carpenters!
Type Of Upgrades And Materials
The deck building industry changes with every year that goes by. New materials are coming up, but also new ways of doing things.
Pressure treated wood is no longer the most popular decking material, and wood posts no longer go directly in the ground like they used to.
Let's see what are some repairs, replacements, and upgrades that our customers in Knoxville TN get for their new decks.
The deck frame used to be grade #1 pressure treated wood until not very long ago. In most cases, it still is. It's affordable and reliable, but it's far from being the best.
Fortress Building Products introduced on the market their steel deck frames for residential spaces. These are metal frames that'll always outlast wood frames, no matter the weather, their treatment, or the challenges it'll go through.
When it comes to the deck's surface, cedar, redwood, and pressure treated wood were the most common options we were seeing on decks. Cedar and redwood were a little more expensive, but they were looking great, and pressure treated wood was just incredibly affordable.
Times changed, and now, all these options are on the lower end of materials.
At Riverview Decks we work with the top composite decking brands in the industry, like TimberTech, Trex, and Fiberon, and you'll get these materials at competitive prices.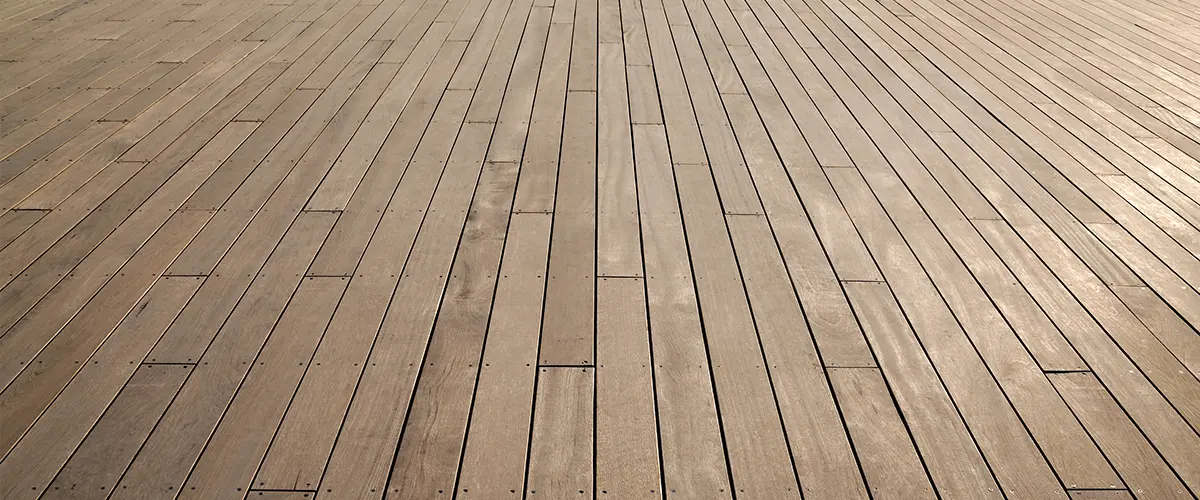 Your existing deck will probably have wood railings. These tend to rot and weaken the quickest because they're always used and they're the first victim of water damage.
Naturally, you'll want the railings to be 100% safe. You're always leaning on them and they're supposed to grant you all the support you need. For that to happen, even after dozens of years, there's only one option.
Westbury Aluminum Railings. These are strong and durable metal railings that are immune to rot and insect damage. These will serve you well as you age, and are undoubtedly more reliable than wood.
Deck lightings are more of a new upgrade to decks. Older decks don't have any lighting, either on stairs or on railings, which made walking on them at night a real problem.
Now, deck lighting is mandatory by law, and your deck construction won't pass the final inspection if it has no lights. There are numerous options to choose from, but we'd recommend low-voltage lighting with a very long lifespan.
Check Out Our Finished Deck Repair Projects In Knoxville TN
We've taken care of dozens of decks all over Eastern Tennessee, including Knoxville. Check out our finished projects and see for yourself the craftsmanship you'll receive.
The Best Way To Start Your Project
Go through a quick and simple deck repair process that puts you at the front and center of our work. We designed this solid strategy exclusively for your well-being and convenience!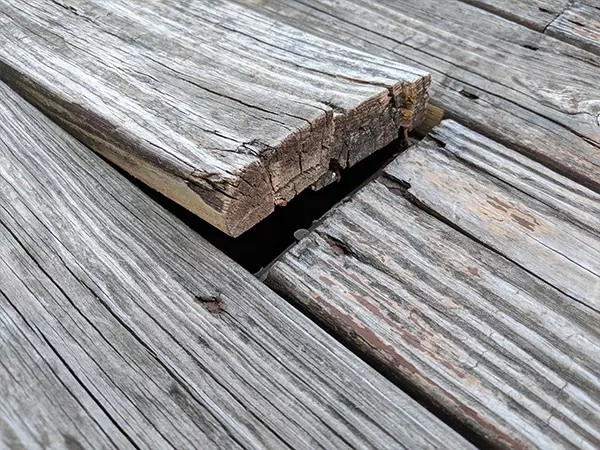 Request your free quote or call us directly to chat.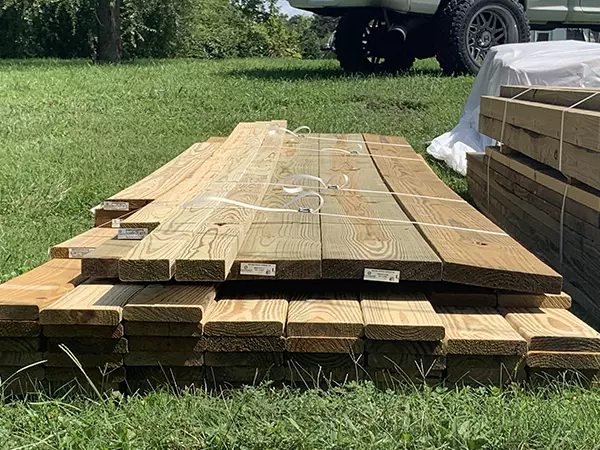 Watch your deck being repaired from top to bottom.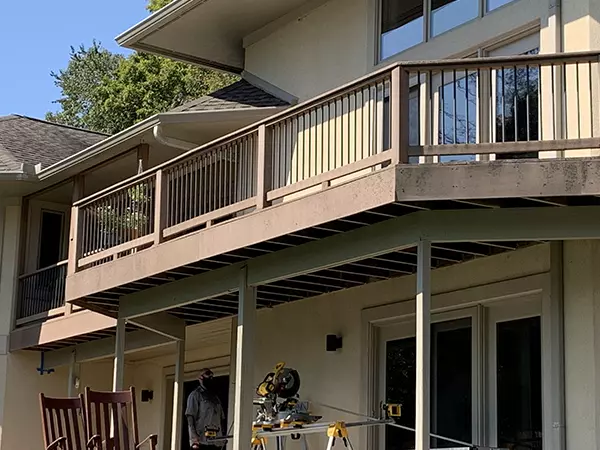 Plan your next barbecue because your deck is ready!
A Deck Repair Pricing Case Study
This was one of our deck repair projects in East Tennessee where the rotten stair stringers needed a long over-due upgrade. These put the homeowners' life at risk every time they climbed the stairs, so it was definitely time to take action.
This project included:
Before
After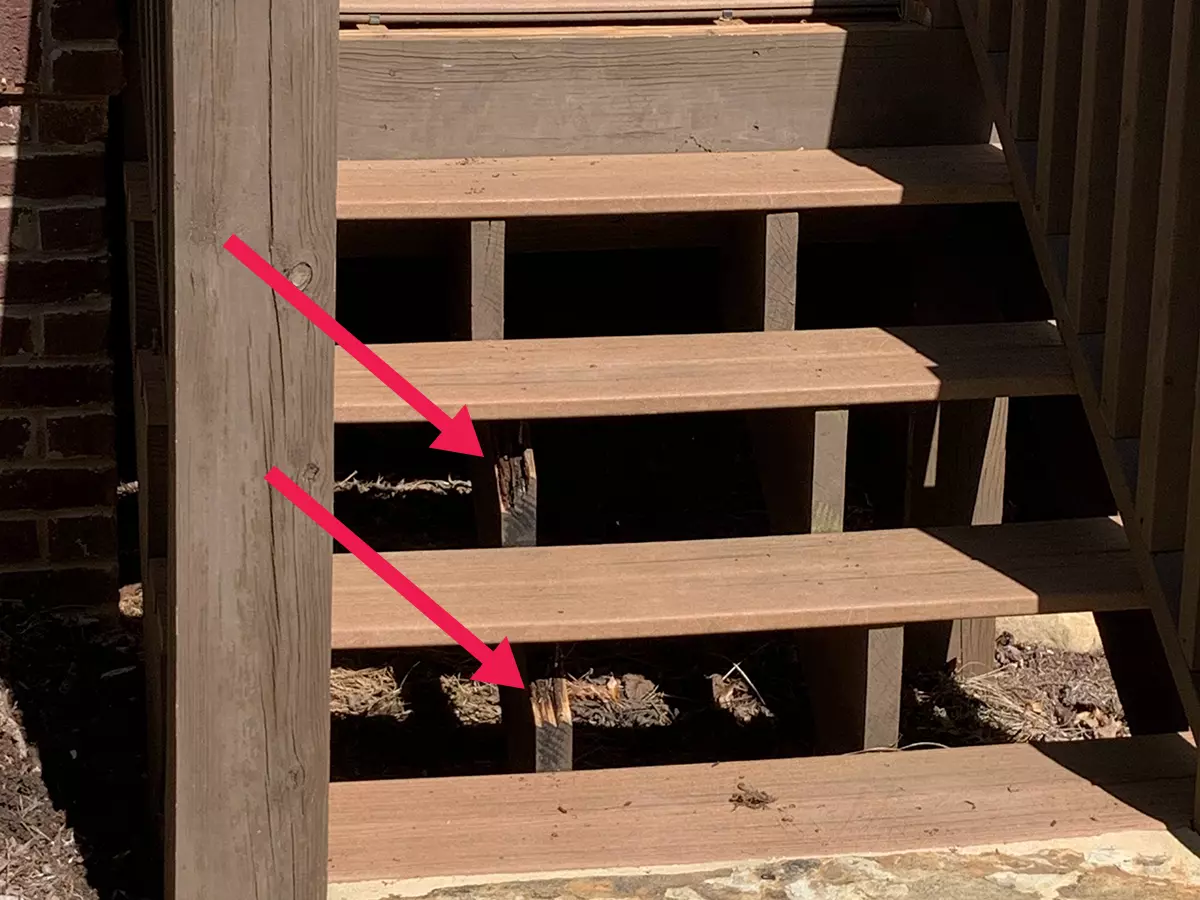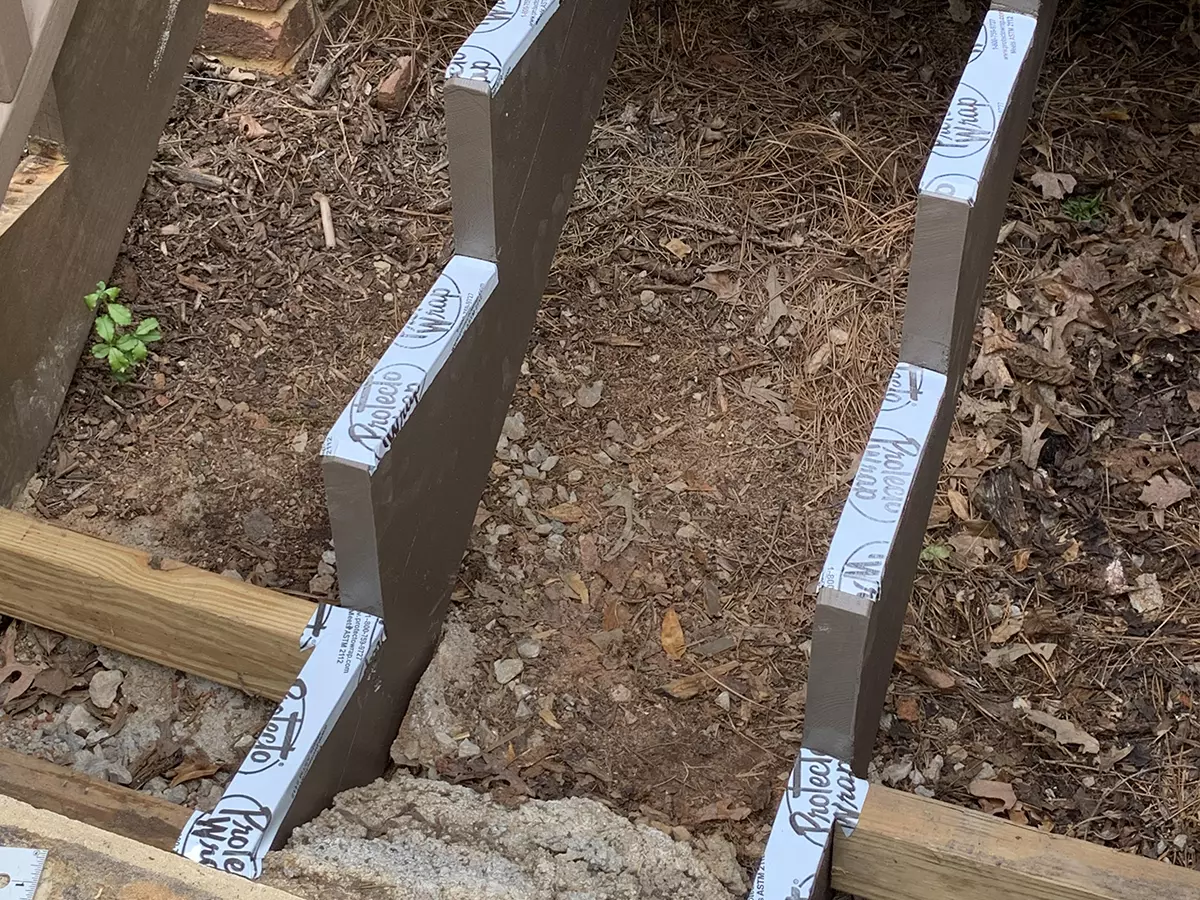 We quoted this project at $850. It was inexpensive, and we got to see the homeowner extremely excited about improving the safety and aesthetics of his deck.
Brings Your Deck Back To Its Former Glory With Riverview Decks!
Your deck repair in Knoxville TN is in good hands with your local pros.
We've been offering professional deck building and deck repair services to all homeowners in East Tennessee and Knoxville for years now. We know what makes your experience a pleasure to go through, and we strive to make it happen.
Our final goal is to see you fully satisfied with your new, repaired deck, and because of that, we tend to over deliver.
Get ready to receive:
Your Deck Repair Awaits You!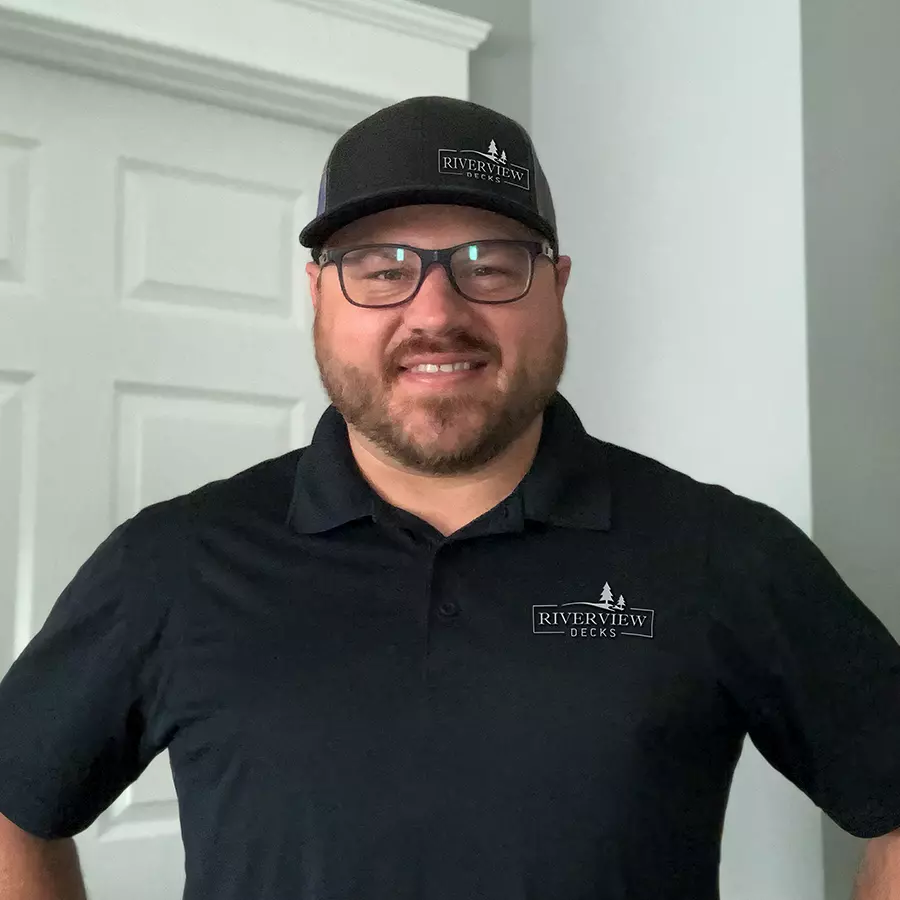 Call us at (865) 801-4545 and discuss your deck repair in Knoxville TN directly with Nate, the owner of Riverview Decks. Or click the button below for a free quote, and we'll personally call you as soon as possible!