The Best Deck Building In Knoxville TN
Interested in starting your deck building in Knoxville TN? This guide will walk you through everything.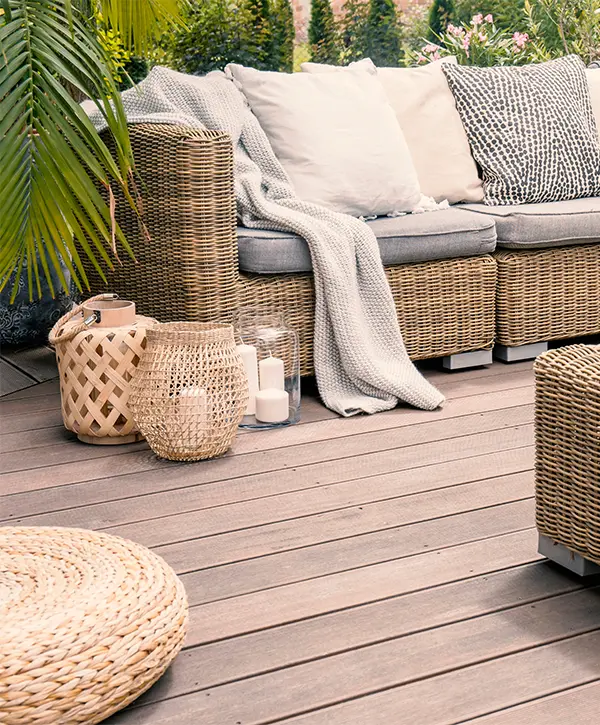 Getting a new deck is one of the best investments you can make. They boost your property's value and improve the comfort of your outdoor space like nothing else!
And if you're planning to get your deck building in Knoxville TN started, you'll want your local pros from Riverview Decks to make sure you're getting a superior product that's built to last a lifetime.
Get the best deck builders in Knoxville on your project and enjoy not only a new deck that'll leave your guests in awe, but a lot more!
A Deck Construction That Keeps On Giving
Our goal is to raise the deck building industry standards, which is why we'll always over deliver. With Riverview Decks, you're getting a premium deck building process that's designed exclusively for your needs and expectations.
With us, you'll also get:
Let Knoxville Deck Building Pros Get On Your Project
We know major projects like a deck building in Knoxville can get stressful at times. There's a lot of things happening and it's easy to get confused or to let anxieties settle in.
Here at Riverview Decks, we understood this from the very beginning, which is why we're constantly improving the process and adapting it to make your journey with us more relaxing. We want you to enjoy the excitement of getting a new deck, and our way of doing things helps us achieve that.
You'll be in full control of your project at all times, and you'll know exactly what, when, and why something is happening.
Check out our deck building offer right now! Get the best deal for your deck construction project and enjoy a smooth process with no set backs.
Our Customers In Knoxville Love Their New Decks!
Become one of the happy deck owners in Knoxville and share your story with your neighbors!
Our former 2nd story deck may have been up to code in the past, but between age, weather and carpenter bees we needed to replace it. 
Nate and his crew replaced the formerly code allowable 4×4 posts with 6×6 posts, joists were maybe double in number, the wooden pickets replaced by rods that almost become invisible when looking out into the backyard. 
The flooring is Trex with a decorative edge that frames the floor as well as on the stair treads. We were surprised at how fast the Trex dries after torrential rain and how comfortable it is under a bare foot.
We aren't novices at carpentry and woodworking, but we were impressed with the crew's workmanship, precision of the cuts and their eye for detail; not to mention their almost non-stop work during hot, humid days. 
Nate, the crew, and even the supply delivery people were very professional, personable, respectful and punctual – clearly a well-organized company. Thank you, Nate, and thank you to your carpenters!
Type Of Upgrades And Materials
The deck building industry changes every year, with newer and better technologies and materials coming up. All these new materials help us satisfy your needs better, but for you, choosing between all of them can be overwhelming.
On your on-site consultation, we'll discuss what would be the best material for your particular deck. We'll guide you through every option and help you make the best decision.
For now, let's discuss the most popular upgrades and materials.
Your deck framing is what keeps the structure stable, so you'll want it to be sturdy, durable, and resistant so it can last as long as your home.
The traditional (and most common) material choice for deck frames remains the pressure treated wood. Grade 1 and 0 treated wood are good for framing and posts, but not the best. Even these treated woods will rot at some point, and termites will start eating it from inside.
The best deck framing material is metal. Aluminum or steel framing is much stronger, durable, and a lot more reliable than wood is. In addition to these, metal doesn't require the same maintenance level that wood does, so you'll recoup a lot of its costs.
Your decking material is what sets the vibe of your outdoor space. Naturally, you want the decking surface to look great, but it also needs to be fully functional and easy to maintain.
If you want the natural wood appearance, more upscale materials like Ipe, mahogany, tigerwood, or even redwood will make your deck feel more high-end, and you'll have a better chance at impressing your guests. However, these woods are more expensive and require regular cleaning, staining, and sealing.
An increasingly popular material that saves you from the costs, time, and the effort of maintaining your deck is composite decking.
At Riverview Decks we work with the top composite decking brands in the industry, like TimberTech, Trex, and Fiberon, and you'll get these materials at competitive prices.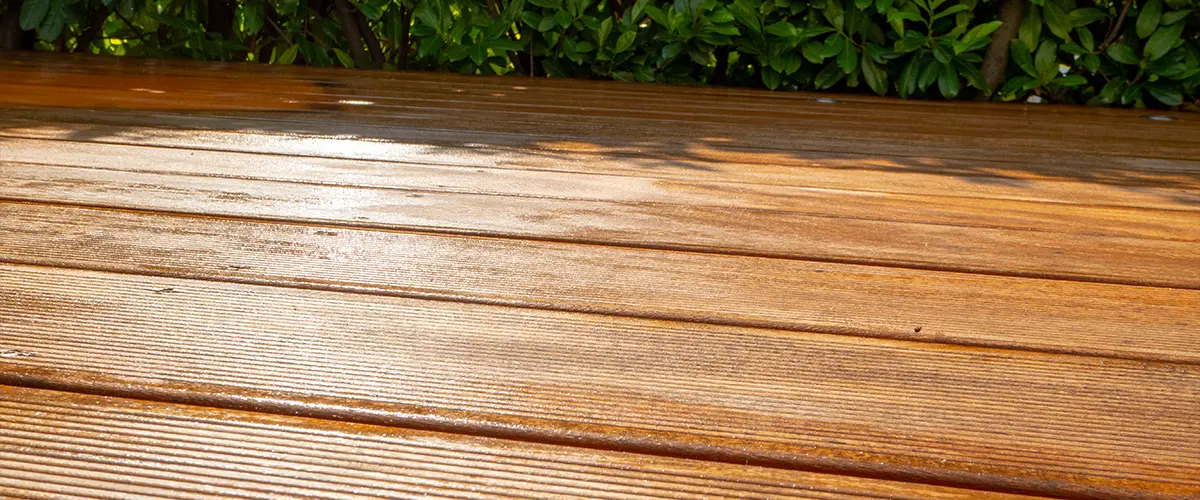 Railings are mandatory for most deck building projects. They help finish the look of your outdoor space, but they're also offering a great deal of comfort and safety for everyone on your deck.
While wood railings are still the norm, we advise many of our customers to go for aluminum or even composite railings. Even when treated and properly maintained, a wood railing will only last for a couple of years before it starts to wobble and lose its quality.
Aluminum railings from top brands like Westbury will maintain their looks and quality for as long as you'll have your deck. They're a bit more expensive, but they'll match your deck perfectly and offer it a well-deserved high-end vibe.
Lights give you a great deal of comfort, but also improve your deck's safety, especially at night. Besides, stair lights for all decks with a set of stairs are required by the building laws in most states and cities.
Lighting options are up to you. We recommend using a warm, low-voltage lighting with a long lifespan. You don't want your electricity bill to skyrocket, and you don't want to have to replace them in a few years' time.
Inspiration For Your Deck Building In Knoxville TN
Check out some of our finished decks in your area! Tell us how you'd like your deck to look and we'll make sure your vision turns to reality. Browse our gallery for some inspiration!
The Best Way To Start Your Project
Get your new deck with a simple, quick, and intuitive process that keeps you in the loop at all times.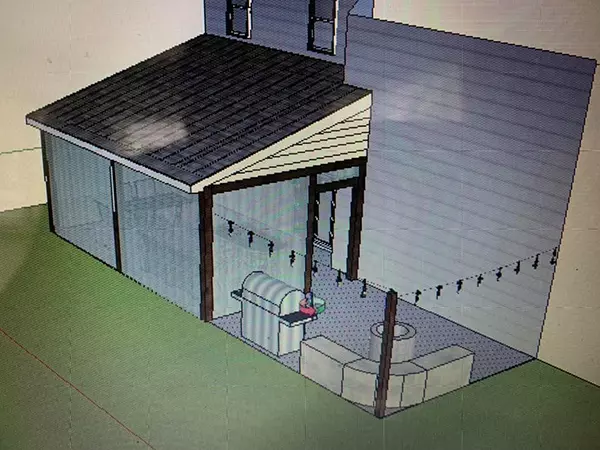 Request your free quote or call us directly to chat.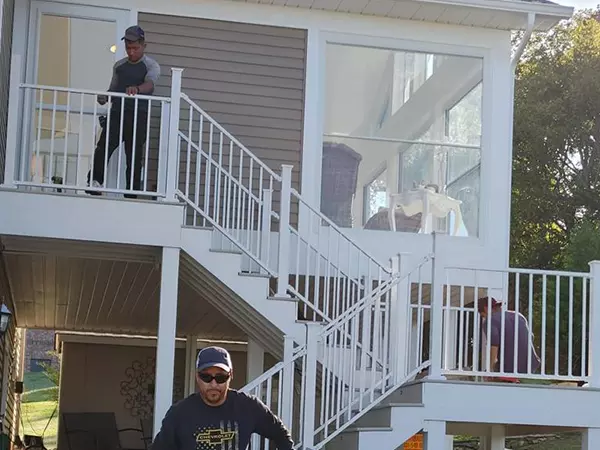 Be part of your incredible deck building journey.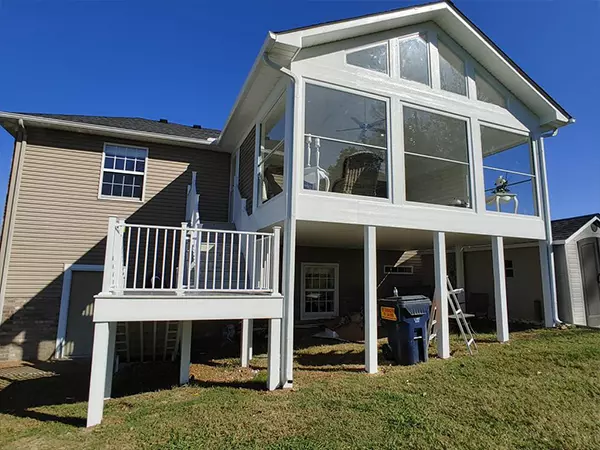 Your new deck is ready! Time to plan your next barbecue!
Deck Building Projects In Knoxville With Riverview Decks!
Deck Building In Knoxville Area: A Case Study
One of our customers in TN wanted a new, 12'x34′ deck. He knew that such a large, elevated deck with some of the best materials on the market would be a challenge, but we made everything go smooth and flawless.
The upgrade included:
Before
After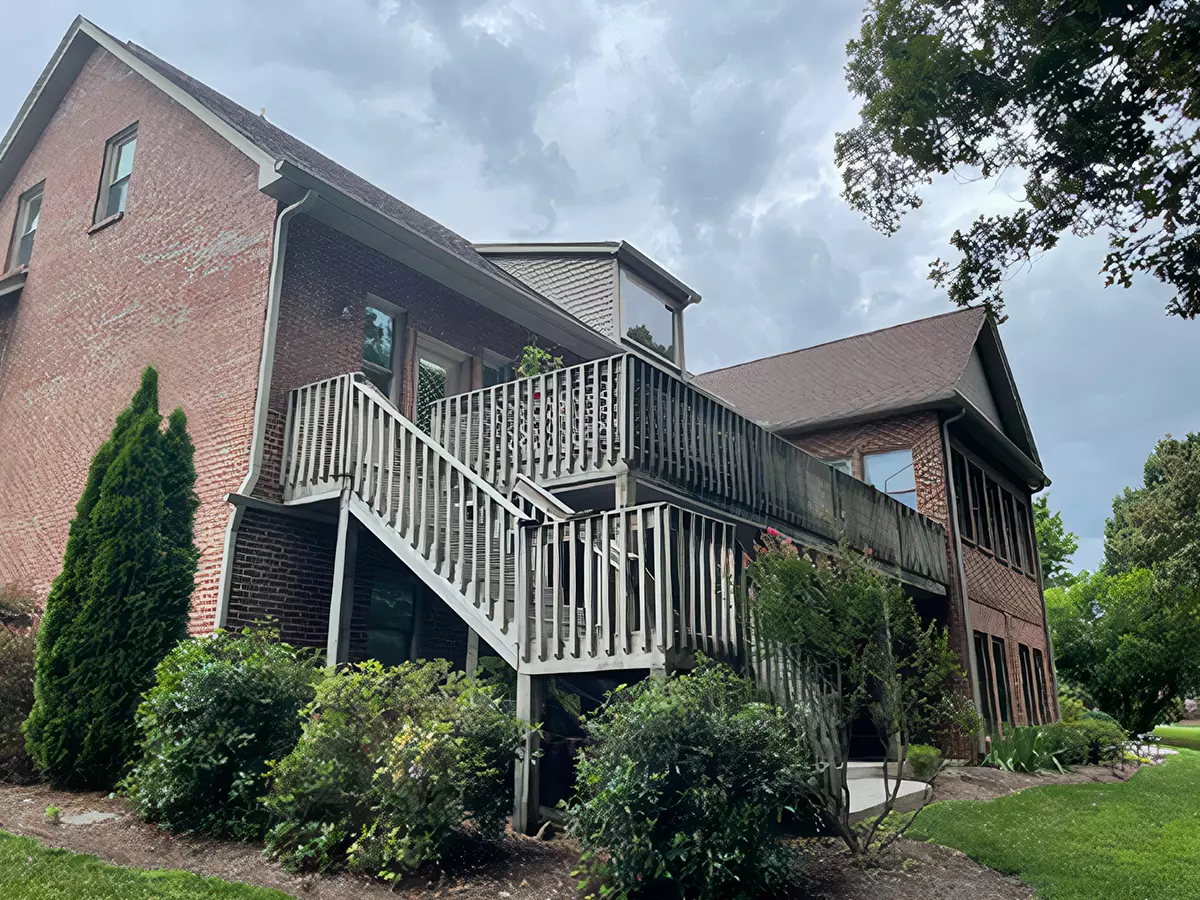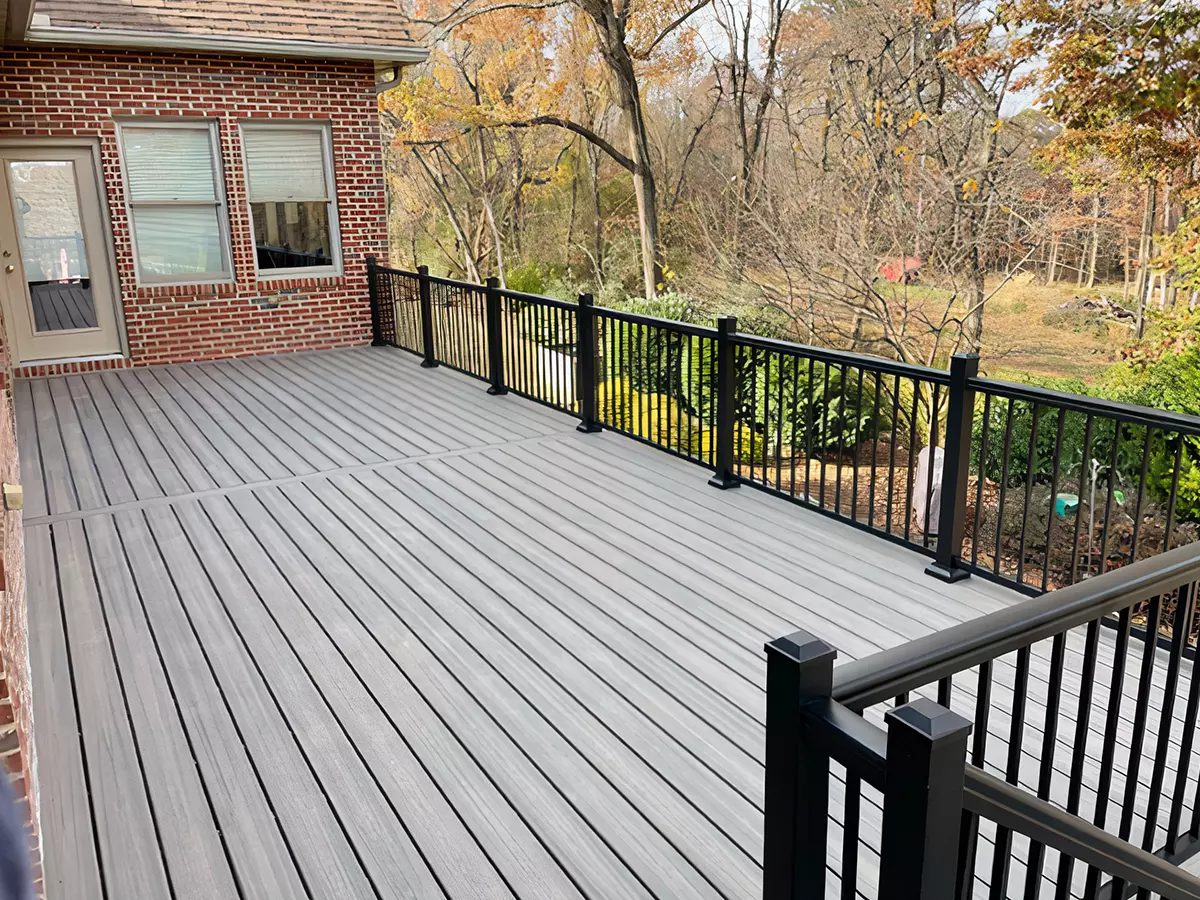 We quoted this deck building project at $89k, and the most expensive upgrade on the list was the Underdeck Oasis, priced at $15k.
Frequently Asked Questions
Size, elevation, materials, and more factors will impact the final cost of your project.
While an average 12×12 cedar deck will cost around $15k, for a 20×12 composite deck with aluminum railings, fascia wrapping, and a set of stairs, you're looking to spend around $27k.
At our on-site consultation, we'll discuss your options and see the actual scope of work, and we'll be able to offer you a better pricing estimate.
A standard, 12×12 lumber deck, takes around three days to complete. If your deck is more complex, with features such as double-inset borders, post and column wrapping, deck skirting, or other custom options, the timeframe will increase.
We'll work with you to create a detailed schedule for your project, and you'll know exactly what will happen and when.
You'll get our 5-year workmanship warranty that guarantees your deck is built to last a lifetime. In addition to this, you'll also get our limited-to-lifetime warranty on manufacturer materials. This ensures the materials on your deck have superior quality and they won't create any issues for many years to come.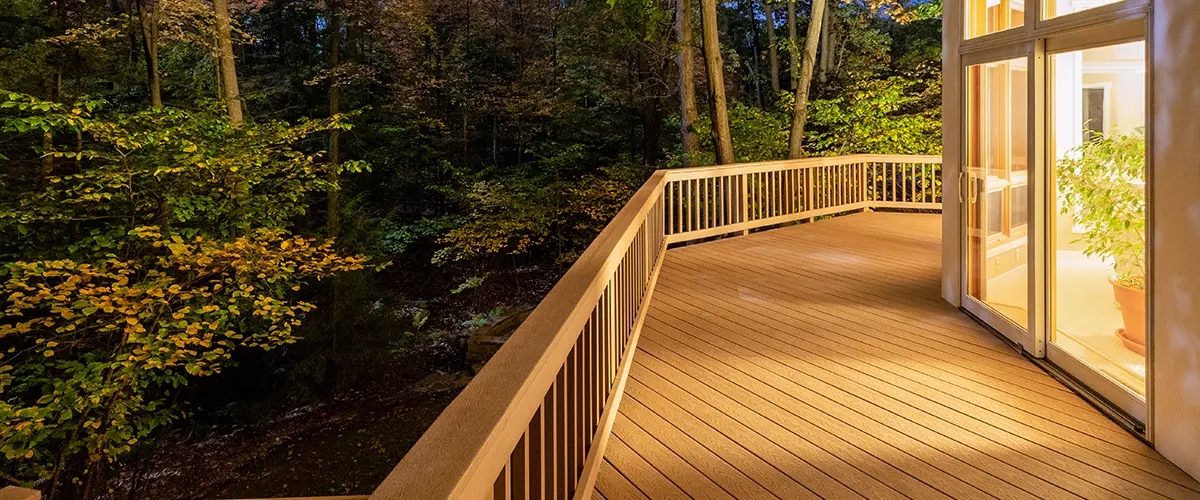 Let Riverview Decks Take On Your Project
Your deck building in Knoxville TN is in good hands with your local experts from Riverview Decks.
You'll benefit from years of experience in building decks and perfecting our craft. We are dedicated to understanding your underlying needs and wants, so you're sure to receive the best deck building service in Knoxville.
You'll get:
Get The Best Deck Building In Knoxville Today!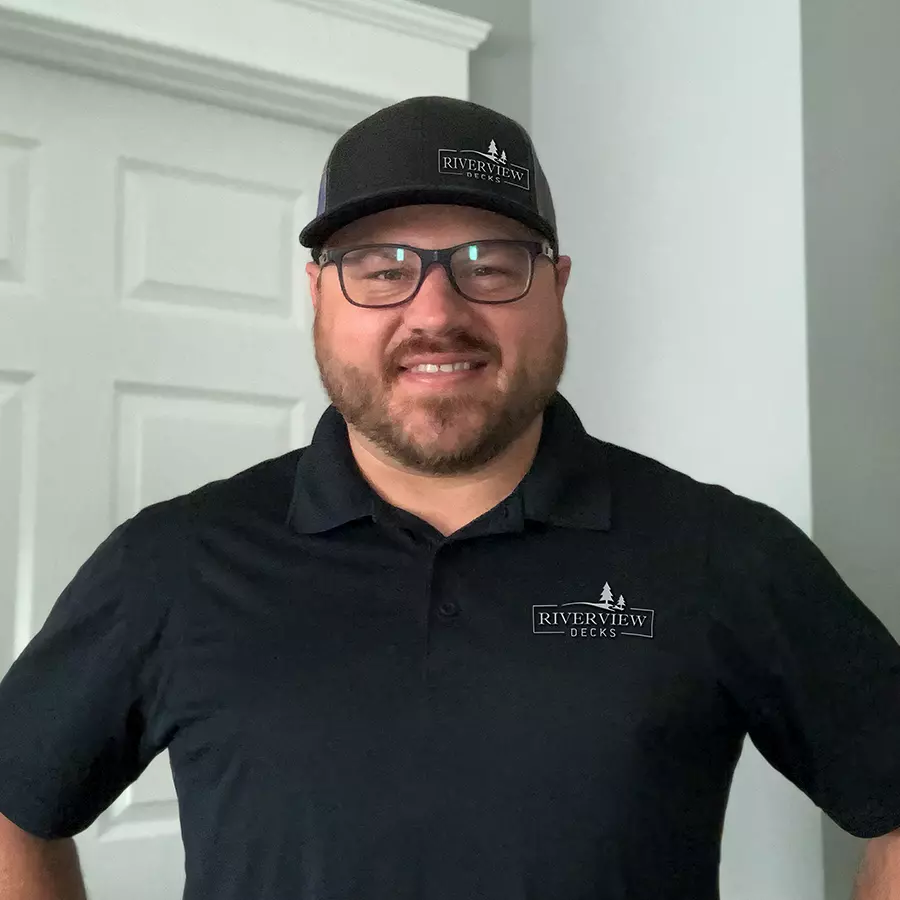 Call us at (865) 801-4545 and discuss your deck building in Knoxville TN directly with Nate, the owner of Riverview Decks. Or click the button below for a free quote, and we'll personally call you as soon as possible!