The Best Deck Building Companies in Knoxville
Interested in starting your deck building in Knoxville TN? This guide will walk you through the best companies in the area!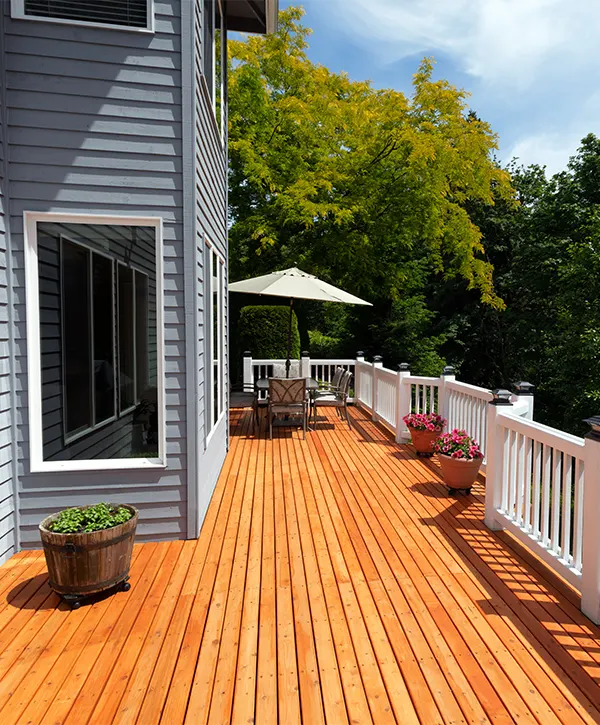 Plenty of amazing companies can give you the desired result if you want a deck in Knoxville! At Riverview Decks, our mission is to revolutionize the deck-building industry and transform the public opinion of contractors. We guarantee this by being reliable, efficient, attentive, and straightforward in our service – thus allowing us to construct decks that are beyond clients' expectations!
But if you're still unsure which deck-building company to choose, we've assembled a list of all the fantastic contractors in Knoxville that can deliver on their promise. Here are the top 4 deck building companies in Knoxville, TN: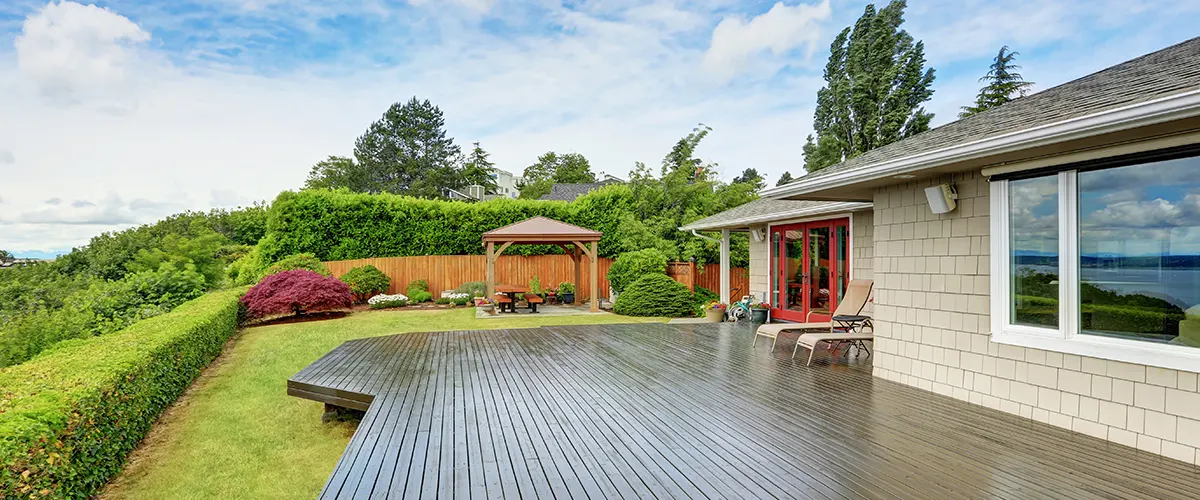 Starting With Riverview Decks
At Riverview Decks, we understand that aesthetics and safety are paramount when you purchase from us. To ensure your investment is safeguarded for years, both elements must be considered with every deck build. We guarantee the highest quality possible in all our creations!
Our company strives to give customers the quickest and most efficient services possible. That way, you can sit back and enjoy your new deck immediately! Plus, with access to top-notch materials at an unbeatably low cost compared to other remodeling companies out there – you truly won't find a better choice than us!
With Riverview Decks, the best contractor for your project is within reach! The team at Riverview will make sure to consider all of your wants and needs when constructing your outdoor oasis. Don't wait any longer – start transforming your home with them today!
Check out our deck building offer right now! Get the best deal for your deck construction project and enjoy a smooth process with no set backs.
Knoxville Homeowners Love Their New Decks!
Our former 2nd story deck may have been up to code in the past, but between age, weather and carpenter bees we needed to replace it. 
Nate and his crew replaced the formerly code allowable 4×4 posts with 6×6 posts, joists were maybe double in number, the wooden pickets replaced by rods that almost become invisible when looking out into the backyard. 
The flooring is Trex with a decorative edge that frames the floor as well as on the stair treads. We were surprised at how fast the Trex dries after torrential rain and how comfortable it is under a bare foot.
We aren't novices at carpentry and woodworking, but we were impressed with the crew's workmanship, precision of the cuts and their eye for detail; not to mention their almost non-stop work during hot, humid days. 
Nate, the crew, and even the supply delivery people were very professional, personable, respectful and punctual – clearly a well-organized company. Thank you, Nate, and thank you to your carpenters!
Tennessee Deck Builders is an amazing deck-building company that serves the greater Knoxville area. Tennessee Deck Builders shares the ideals that America was built on, and they understand what the people of Knoxville expect from their decks.
When you deal with Tennessee Deck Builders, you know they are committed to integrity, honesty and dependability. This old-fashioned belief still has tremendous value in today's world, and they consider all their employees like family members and clients as friends. Furthermore, they firmly believe that what should be done by them shouldn't ever be delegated to someone else – this fundamental rule is the backbone of their success story!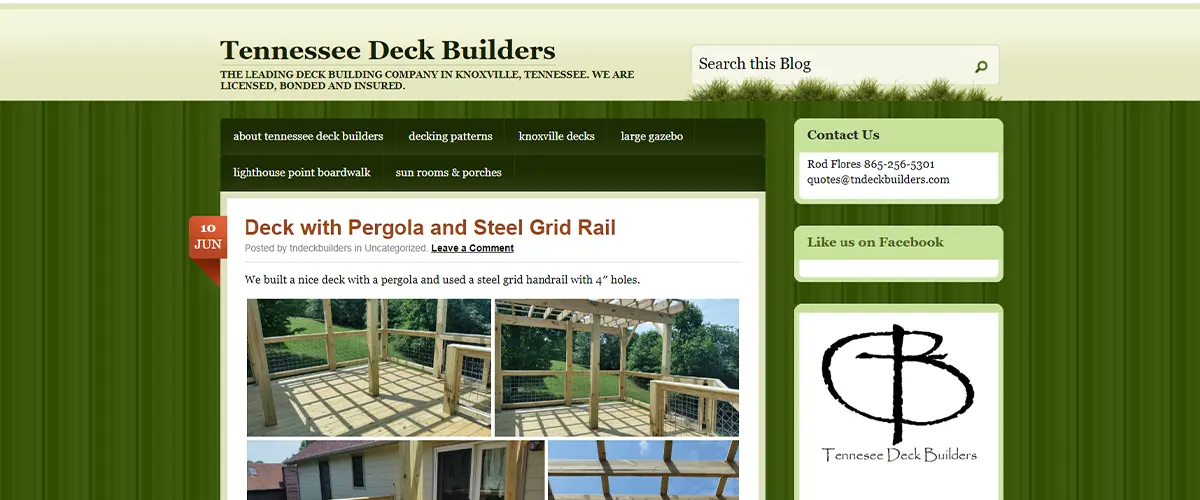 TN Deck builders are fantastic! They built me a huge covered porch and deck exactly to my specifications. They gave me a very fair estimate, showed up on time, stuck exactly to budget, and finished within their estimated time frame. My projects where well built and beautiful. Zero complaints! Will recommend to all my family and friends!
Marble City Deck Solutions
For over ten years now, Marble City Deck Solutions of Knoxville, Tennessee has been a family-run business that began with only a few knowledgeable team members. They have since expanded their staff and provided them with the necessary training to handle any deck service project that comes their way due to the ever-growing demand for quality deck solutions.
Even though they are proud to have assembled an experienced decking solution team, additional training courses help sharpen their expertise and introduce them to the most recent methods in installing decks. As our world evolves quickly with novel products arriving daily, it is essential that their staff stay ahead of trends while being knowledgeable about quality materials available for use in creating innovative decks.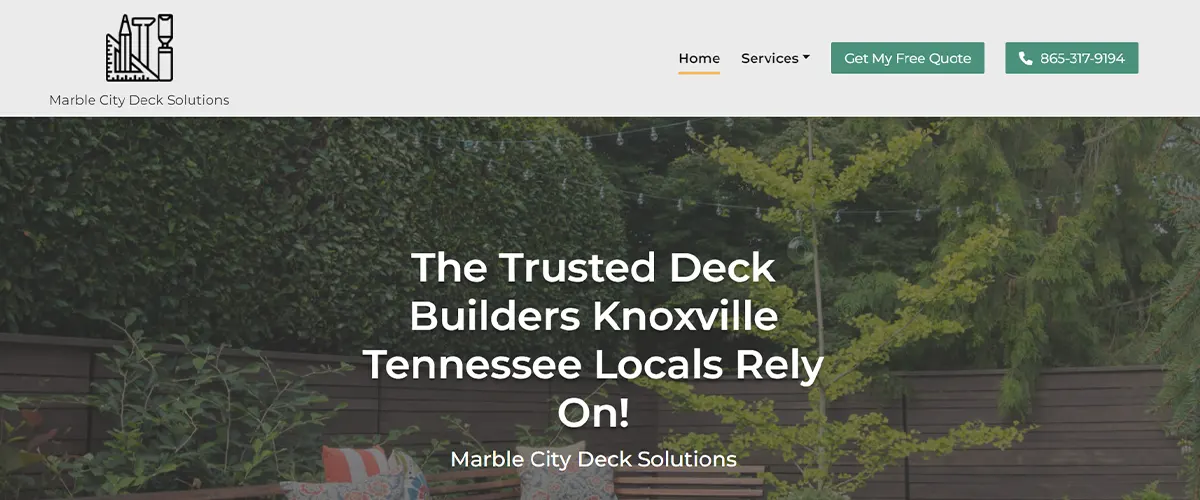 This deck builder provides goods and installations of excellent quality. They paid attention to our requests and made sure they were carried out correctly. They were also attentive and kept us informed of what was going on.
In 2002, Rian LeBlanc founded LeBlanc Decks in Bend, Oregon. Initially called LeBlanc Construction, they offered various small construction services to the area. After becoming passionate about deck-specific projects in 2008, Rian decided to shift his business's focus toward them and has since been serving clients with unparalleled excellence within this field.
For two decades, LeBlanc Decks has dedicated itself to providing exceptional customer service and premium-quality deck construction in Knox (West), Loudon, and Blount Counties. Their mission is simple: delivering the ultimate contractor experience for every single one of their clients.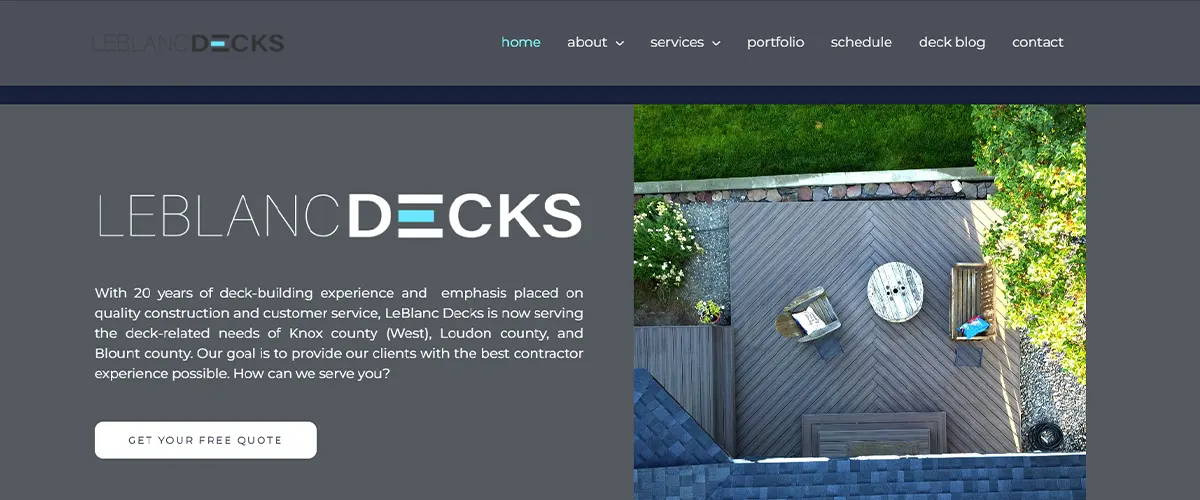 My husband and I couldn't be more thrilled with our new deck designed and built by LeBlanc Decks. Not only does the new deck design blend well with the house and landscape, it's also more functional with better use of space than the old deck. I consider the Rian and his entire crew fine craftsmen as they paid attention to the details and did some pretty intricate work with the decking material. It's not just a deck…it's a work of art!
Earthadelic Construction, Pools, & Landscaping
For all your landscaping and construction needs, Earthadelic is a fantastic one-stop shop. From kitchen renovations to deck-building services and everything in between, their experts provide exceptional craftsmanship with inspired design concepts. Whether you're looking for hardscape or landscaping services – they have it covered!
Plus, they deliver superior quality workmanship and top-notch customer service to every client throughout Knoxville and beyond. Their reliable crew has earned them a reputation for being the great at what they do with no job being too big or small for their team!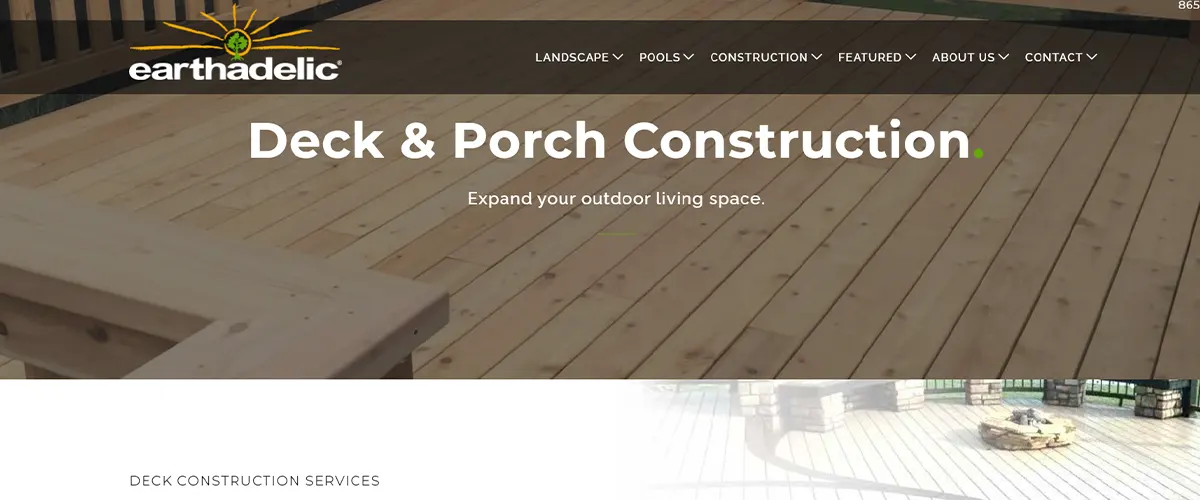 I was so happy with the work that Earthadelic did creating a boulder wall around my garden and clean up in multiple parts of my yard this summer, I had them come back and build a 12 X 12 deck adjacent to the screened porch at the back of my house. They installed a flagstone walkway from the porch with stone steps up to the deck that I love. The deck is a great size for me to use as a meditation and yoga area, a play area for young grandchildren, and gathering area for conversation with friends as we enjoy the view of the mountains in the distance. Dalton and his crew did an excellent job with the deck construction.
I've forgotten the name of the crew chief for the stone work, but they hustled and did a great job leveling that part of the yard, creating the walkway and building the steps. Very happy with the project outcome!
Get The Best Deck Building In Knoxville Today!