Time to clean your Trex decking surface? Understandably, you'd rather be careful with what you use on your composite decking.
After all, the last thing you want to do is use chemicals on this surface and ruining it forever.
We don't want that to happen, so we put together this quick guide to show you how to properly clean Trex decking or any other composite decking without damaging them.
Let's begin!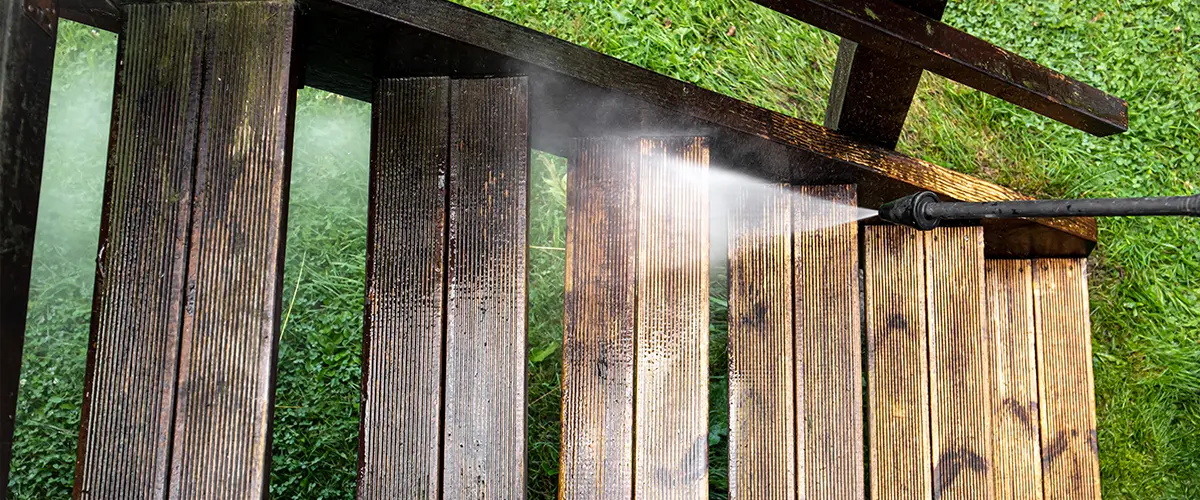 Dirt and debris will be the most frequent thing you'll clean off your deck. Luckily, it's rather easy to get rid of these without undertaking a major cleaning chore.
Spray the affected area with a hose to remove surface debris, then use warm soapy water and a soft bristle brush to remove dirt and debris from the embossing pattern.
It's recommended to pressure wash a composite deck at least once a year. However, there are a couple of things you need to make sure of before you begin.
First, use a pressure washer with no greater than 3100 psi. Secondly, get an hose attachment/adjustment to set the spray options for maximum efficiency.
Spray the deck with soap, then gently scrub each deck board with a soft bristle brush. Rinse each individual deck board using a fan tip no closer than 8-in (203 mm) from the decking surface, and rinse thoroughly. If there's any dirty water left to dry, a thin film will remain on the decking surface.
Cement, Mortar, Or Stucco Residue
To steer clear of dust particles settling on the surface, shield your decking from cement, concrete, mortar, or stucco. Once exposed to heat or moisture, these specks can cause a reaction and are practically unmanageable when removing them.
If particles get on the decking surface, Trex recommends using Sakrete™ Concrete Dissolver. Follow the instructions on the container to ensure the correct application and clean-up.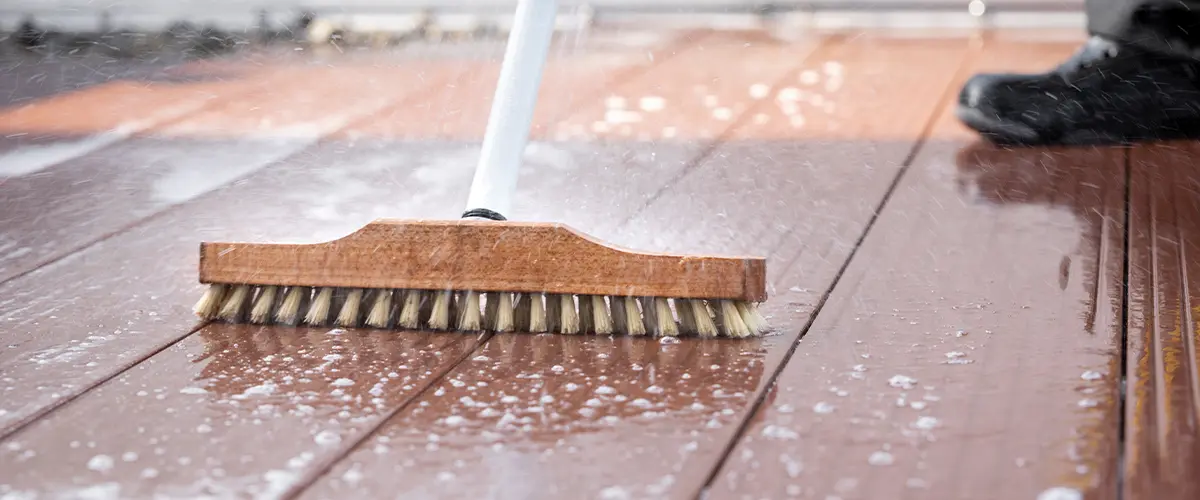 Hard water is a common problem with high levels of minerals like calcium, lime, and silica. When the water dries up, these minerals create unsightly spots on surfaces – this issue isn't related to Trex products but rather an issue with hard water itself.
Usually, white vinegar is the best solution to clean deposits from decking surfaces. However, make sure you use soft water for rinsing, and if hard water has to be used instead – dry it off immediately with a cloth or blow-dryer afterward. This way, you can avoid potential damages that might result from using hard water in this context.
A deck brightener can be a useful tool to help remove hard water spots.
If you've used chalk lines on some boards or if, by mistake, chalk got on the Trex decking surface, there's a good way to remove it. You have to, as most chalks are colored (so everyone will see them), permanent, and can even discolor the decking surface in the long term.
Trex recommends Irwin Strait-Line® Dust-Off Marking Chalk (purple), available on their website.
As the cold season approaches, there are a couple of things you can do to make sure you're deck will remain safe. If it's a wood deck, you'll need to seal it. If it's composite, we recommend taking all the furniture off of it and even applying calcium chloride or rock salt on it.
Sure, don't go overboard with the quantity, as it may ultimately harm the decking surface, but a little bit won't hurt. Of course, keep a plastic shovel handy, as you may need it to remove snow from the deck.
Note: Always shovel snow in the direction of the wood grain so you won't damage the composite board.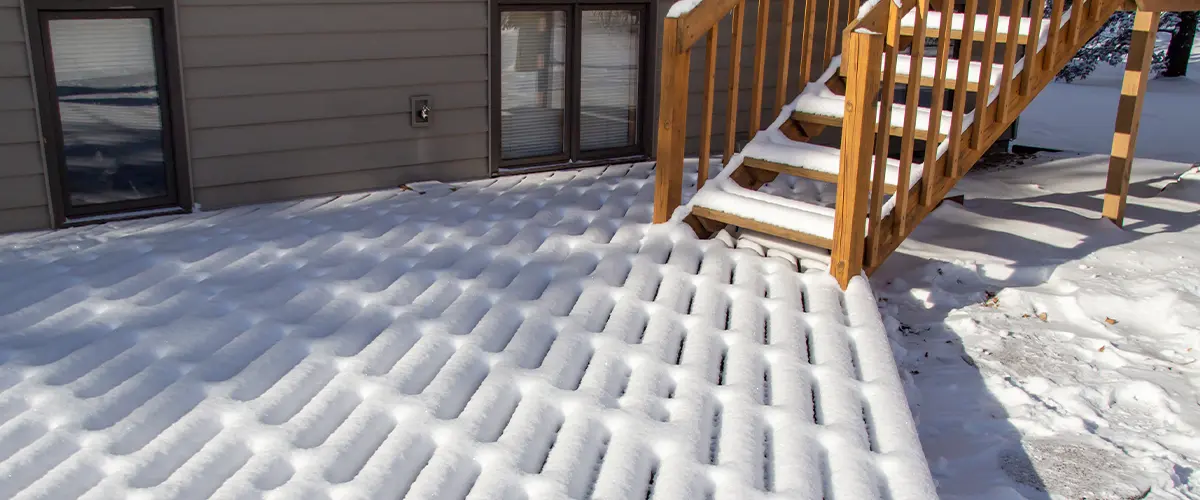 Oil, Grease, And Food Residue
If you're hosting outdoor parties, it's inevitable that you'll sooner or later have oil, grease, and food residue on your deck. Oil accumulates especially around the barbecue.
No matter what, all food debris should be removed right away. To uphold the stain warranty, it must be cleaned within seven days; hose off any residue and use a soft bristle brush with warm soapy water to clear spills from the embossing pattern. Doing this will keep your surface looking brand new!
It's important to not let debris such as pollen and dirt linger on the deck surface, since mold can feed off of it.
To get rid of this food source for the mold, you should use a hose with warm, soapy water and a soft-bristle brush to clean your deck. This will help ensure that any traces of biofilm are completely removed.
Although composite decking surfaces are much stronger and more resilient against mold and mildew, you'll still want to protect them.
Trex And Static Electricity
Although not frequent, static electricity has been known to appear on walking surfaces in areas with intense dry climates or sustained winds that stir up dust particles.
When individuals walk across composite decking material like Trex, a small electric shock can be generated if they touch a grounded metal surface such as door handles or railings.
With ACL Staticide®, you can significantly reduce static electricity on Trex decking surfaces. Both General Purpose Staticide® and Heavy Duty Staticide® are proven to be highly effective solutions – all you need is to apply the product full strength with a mop onto a dry surface, and then allow it to dry for optimal results; no additional diluting or rinsing needed!
Their products are non-toxic, biodegradable, flame retardant, and won't change the color of your decking surface. It's a water-based formula that may need to be reapplied depending on rain or other weather conditions.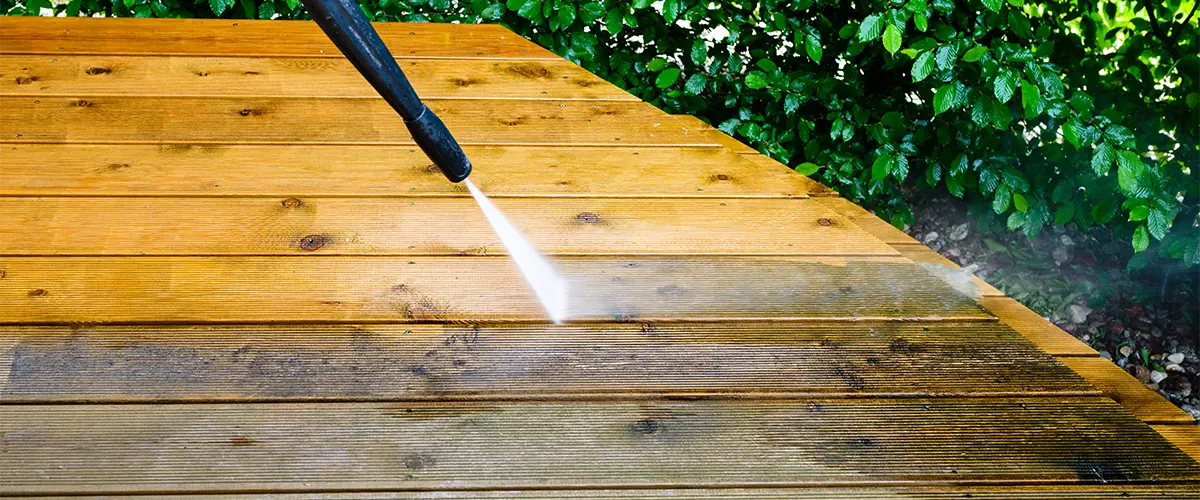 This is all you need to clean composite decking!
If you have another stain on your decking surface that we didn't cover, give us a ring at (865) 801-4545 or request a quote and leave us a message. We'll get back to you as soon as possible.
If the issue is more difficult to fix with conventional tools, we've got everything you'll need to fix it once and for all.
We offer professional deck repair services, including decking maintenance to all homeowners in and around Knoxville, TN! Contact Riverview Decks today!