If you want to get a composite deck for your new outdoor space, there's one more thing you need to take care of. The deck frame.
While there are many deck framing options you can use for your new project, not all of them bring the same functionality. In fact, some of them might not work well at all for composite decking.
In thig blog, you'll discover what is the best frame for composite decking, as well as a few tips to increase its efficiency. However, for more information about deck framing, check out our guide!
Let's begin.
Wood Frame For Composite Decking
When it comes to wood frames for a composite deck, there are a few things you need to consider.
First, you need to make sure the picture frame border is made from pressure treated lumber. This is essential, as it will help protect the frame from rotting and decay.
Secondly, you need to make sure the frame is properly constructed. The frame should be made from 2×4 or 2×6 lumber, and it should be fastened together with nails or screws. The frame should also be properly spaced and level, so that the decking boards can be evenly installed.
Finally, you need to make sure the frame is properly supported. The frame should be attached to the house with joist hangers, and it should have cross-bracing installed to provide extra support.
If you follow these guidelines, you'll be sure to have a sturdy and reliable frame for your composite decking. However, note that a deck made entirely of wood (wood frame, wood decking and deck railings) is not as durable as composite, even with the right maintenance.
Even pressure treated lumber can suffer from water damage and pest infestation. And while pressure treated decking can be refinished and treated again, you can't do it on a deck framing.
This material is not suitable as a frame for composite decking because it won't last as long as the deck boards. Long before your decking will start looking worn out, the frame will cause more serious problems.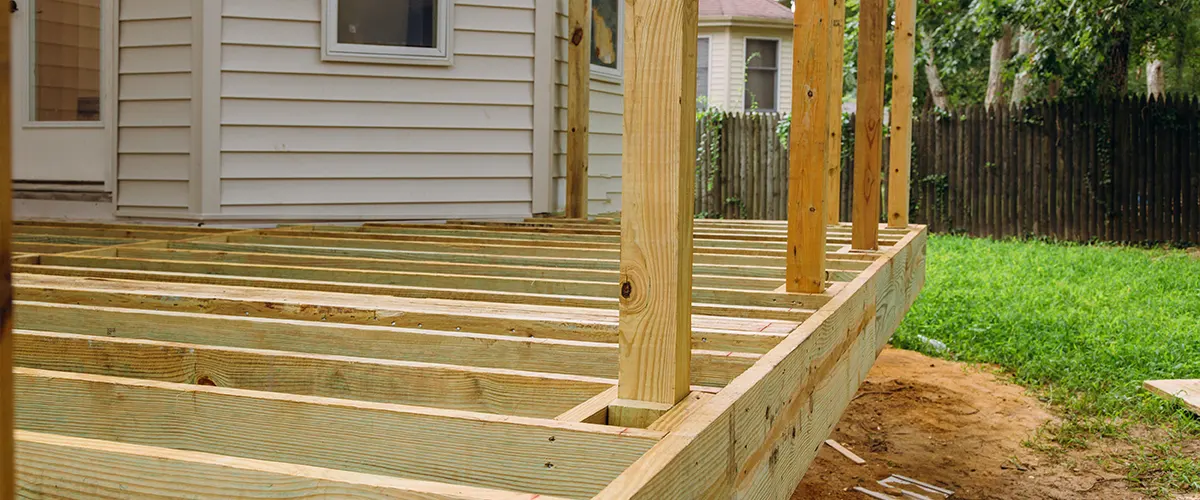 Composite Frame For Composite Decking
As you already know, composite deck boards are water resistant and rot-free material, used more frequently as decking. Using a composite frame for composite decking has a lot of advantages.
Besides, who wouldn't want a composite frame for composite decking? Matching these two will give your outdoor space a beautiful and flawless vibe. It'll tie the entire space together and create a smooth flow between each material.
Disadvantages Of Composite
Even if a composite frame is a lot better than a wood frame, there are still some drawbacks of composite materials in general.
For starters, the cost of composite is a little higher than timber. You'll also find less sizes and shapes available. For example, you may not find as many options in terms of bearer thicknesses as you will from pressure treated lumber.
With all these, composite decking materials remain one of our top picks to use for a frame for composite decking.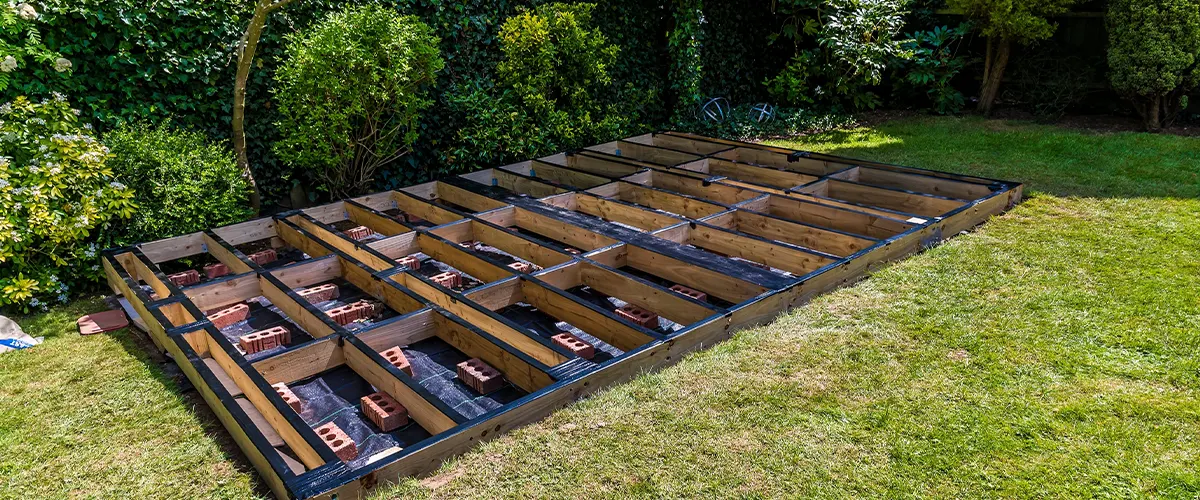 Metal Frame for composite decking
An increasingly popular deck framing option is a metal framework, namely, an aluminum frame.
And it's easy to see why. 
Aluminum is resistant to water, fire, time, pests, and pretty much anything you throw at it. The elements won't hurt it and will ensure your deck is safe for many years to come.
Aluminum won't warp, sag or rot and will easily outlive the life even of your composite decking boards. It can also span greater distances, so you won't need as many bearers as you would with a pressure treated lumber frame.
If you want to learn more about metal frames, check out our article "Why Is A Deck With Steel Frame The Best Choice You Can Make?".
The only read disadvantage to a metal frame is its cost. An aluminum frame for composite decking will cost you more than a composite or a wood frame, but the value it'll bring is enormous.
An aluminum frame means a deck that will never need to be replaced entirely. It'll be the last deck you'll ever build, simply because it will stand the test of time and Mother Nature.
Fortress Building Products makes some of the best metal frames on the market, and we at Riverview Decks love installing them.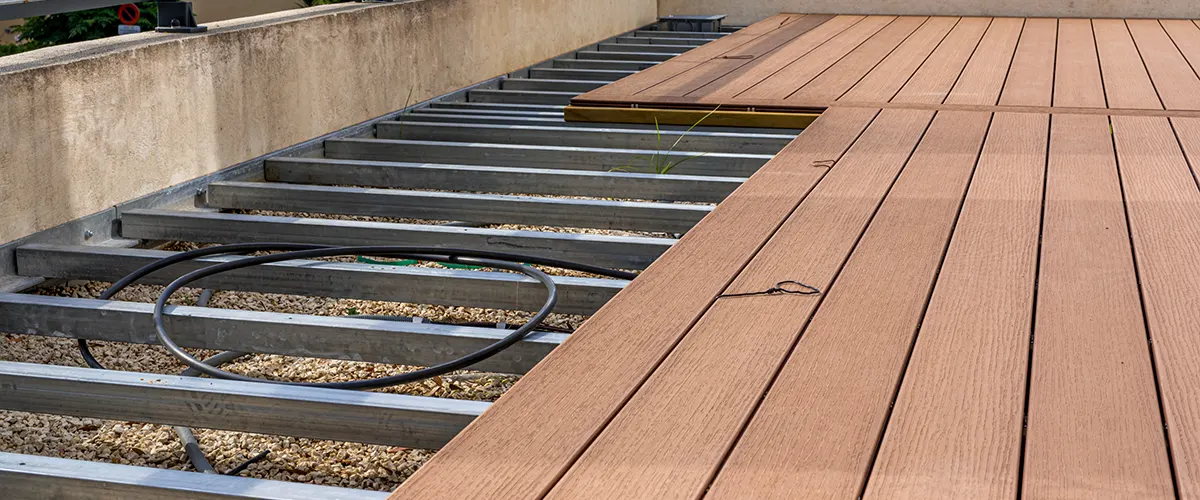 Other Considerations When Building A Frame
When building a frame for composite decking (or any kind of decking, for that matter), there are a few things you'll want to keep in mind to ensure your deck is fully functional.
Drainage of the frame and decking
You'll need to have a gradient of at least 1 in 100 (1 percent) over the entire length of your deck, which is equivalent to 10mm of fall for every 1m of deck.
This helps the water run off from your house and ledger board, so you'll keep it somewhat dry and away from water damage.
Make sure you leave a gap between the decking and the ground, especially if the ground is a solid surface, like a concrete patio. A minimum airflow and drainage gap beneath the deck is crucial to its longevity.
When it comes to rim joist spacing, you want to make sure there's enough space for the composite decking to expand and contract. Most decking manufacturers recommend a 16-inch joist spacing for their products.
If you're using a metal frame, you can go with a 12-inch joist spacing, as aluminum is more stable than composite.
Tip: Hidden deck fasteners ensure the screws will remain invisible when walking on your deck, keeping the surface neat and consistent.
Be sure to check the manufacturer's guidelines for your specific deck joists, as some may have different recommendations.
A ledger board is a horizontal piece of lumber attached to the house wall that supports one end of the joists.
You'll want to make sure your ledger board is properly secured to the house. The last thing you want is for your deck to come crashing down because the ledger board wasn't properly attached.
There are a few different ways to secure a ledger board to the picture frame border and the house, but the most common is through the use of lag bolts or through-bolts.
Lag bolts are large screws with a hex head that are driven into the house wall with a wrench. Through-bolts are similar to lag bolts, but they have a nut and washer that are installed on the inside of the house wall.
Both options are equally effective, so it's up to you to decide which one you prefer.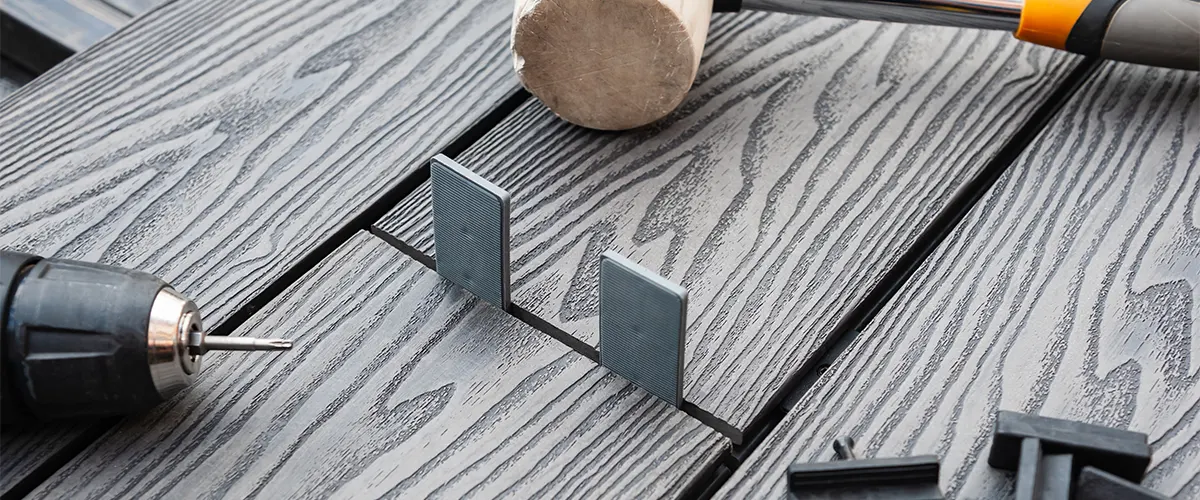 Without any doubt, the best frame for composite decking is an aluminum frame.
This will make your deck last for more than a lifetime, and will make it much safer than any type of wood will. To add even more functionality and style to your home, try samples of each deck board you're interested in to match your entire deck.
Even if aluminum framing is a bit more expensive, the value it'll bring to your home is immense.
If you want to find out more about a frame for composite decking, Riverview Decks is at your service. We're your local deck builder in Knoxville, TN, and our goal is your success. Give us a call at (865) 801-4545 or request a free quote and let's discuss your deck project!