Making a deck plan can prove to be more overwhelming than you initially thought it is. But it doesn't have to be.
When you're prepared and you know exactly what you want to accomplish with your new deck, the production phase of your outdoor space should be smooth, quick, and effortless.
Below, you'll find what to consider when making your deck plan, and several popular deck plans that homeowners love.
Let's begin.
The size of your deck is one of the most important factors to consider. You'll need to decide how much space you want to cover, and what kind of activities you'll use the deck for. Do you want a large deck for entertaining, or a small one that's just for relaxing?
Keep in mind that a bigger deck will require more materials and take longer to build.
To help you form an idea, take a look at one of our projects:
A Deck Building In Farragut
This was a 12'x18' deck in Farragut, TN. Our customer wanted a low-maintenance material and a safe deck that'll last for many years. We knew wood decking wouldn't be the best choice, so our customer was excited with the composite material we chose.
This project included:
We quoted this outdoor living space project at $48,950, where the most expensive item was the grand stairwell, coming in at $13,650.
The shape of your deck is another important element to consider. The most common shapes are rectangular, square, and L-shaped. But you can also get creative and choose a more unique shape for your deck.
Just keep in mind that the more complex the shape, the more materials you'll need and the longer it will take to build.
The shape of the deck is a huge factor that'll impact the total cost of building your deck. For example, for a square shaped deck you'll need four posts for the deck framing, but for an L-shaped deck, you'll need more complex deck designs.
We'll talk more about different deck plans below.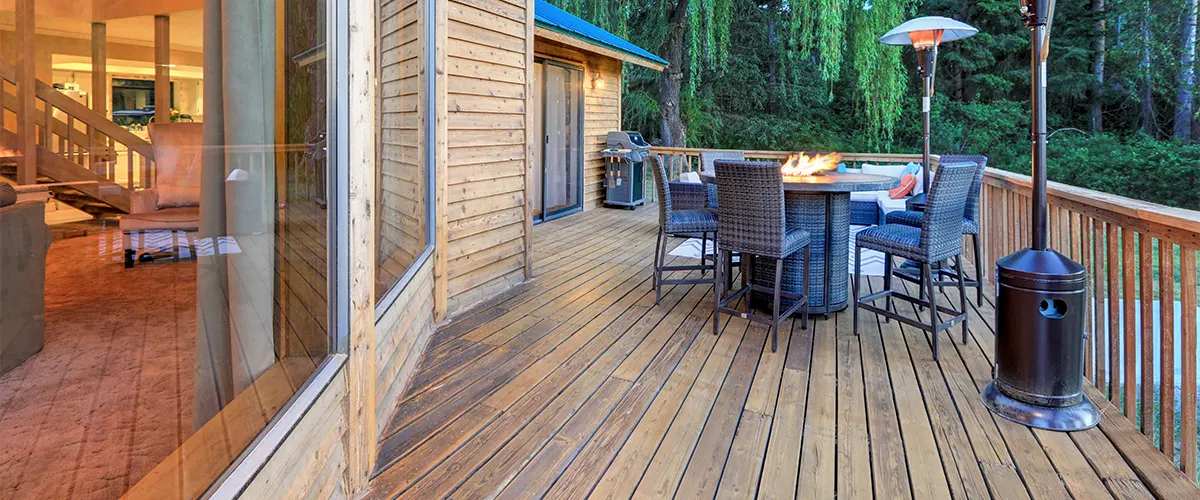 The material of your deck is also an important factor to consider. The most common materials are wood, and composite. Each has its own benefits and drawbacks that you'll need to consider.
Let's discuss them for a second.
Wood decks are still the most popular choice for many homeowners because at a first glance, they're more affordable and look better.
Despite this, wood decks have many drawbacks, and a lot of our customers decide to replace their old wood decks with new, low maintenance composite decking.
For example, wood requires constant maintenance. This means yearly staining and sealing to ensure the wood is in a good condition. Skip a maintenance year, and you'll already see your deck beginning to rot and look old.
A great advantage that wood has is the natural look that it'll give to your deck, but with the right composite, you can mimic the same vibe.
Composite material is a man-made product that is made of plastic and wood fibers pressed together.
The main benefit of composite decking is that it doesn't require the same level of maintenance that wood does. It won't rot, it's more durable, has a higher resistance to the elements (including pets), and you don't have to stain or seal it at all!
It's true that composite can be more expensive upfront, but with the cost of wood constantly increasing in the last few years, you'll find yourself saving a whole lot more money with composite decking than with wood. Put in short, a composite deck is the closest you can get to your dream deck.
If you're looking for a DIY deck project, we recommend you contact a professional first to help you with some insights. Unless you have serious carpentry experience, building a deck on your own can turn into a never-ending nightmare.
Finally, you'll need to consider your budget. Deck building can be expensive, so you'll need to make sure you have the funds available to cover the cost of materials and labor. Once you have a budget in mind, you can start planning your deck accordingly.
At Riverview Decks, you'll get the most cost-effective solutions for your outdoor space, no matter the budget. We'll find a deck that'll suit your needs and we'll make sure we're staying within time and on budget.
Don't forget to budget for:
Popular Deck Plans Homeowners Love
Now that you know what to consider when making your deck plan, let's take a look at some of the most popular deck plans.
Tip: You can find several free deck plans here. These free plans are the courtesy of decks.com, a leader in the deck building industry in the USA.
A rectangular deck is one of the most common deck shapes. It's simple and straightforward, and it can be easily adapted to any space. Rectangular decks are great for entertaining and can accommodate a variety of activities.
A square deck is another popular option. It's simple and efficient, and it can be easily adapted to any space. Square decks are great for entertaining and can accommodate a variety of activities.
An L-shaped deck is a great option if you want to maximize your outdoor space. L-shaped decks are perfect for corner lot homes and can provide a great deal of privacy.
A U-shaped deck is a great option if you want to create an intimate outdoor space. U-shaped decks can be built around a pool or hot tub, and they can provide a great deal of privacy.
As long as you're taking into account all these factors, your deck plan should be solid, and the process easy.
If you want an expert's advice on what would be the best option for your particular situation, your local deck builders from Riverview Decks will guide you through all the options.
Request a quote so we can get acquainted with you and your project, or call us directly at (865) 801-4545.
Make the first step in reclaiming your outdoor space!