If you've ever dreamed of turning your deck into a haven of warmth, camaraderie, and visual splendor, you're in for a treat.
Whether you're a fan of traditional charm, modern aesthetics, or innovative designs, we've curated 20 unique concepts to inspire you.
The soft crackle of a roaring fire, the gentle glow against the night sky, and the comfort of camaraderie are just a few of the delights that await as we delve into the realm of deck fire pit inspiration.
In this article, we explore a diverse array of deck fire pit ideas that will undoubtedly spark your creativity and transform your outdoor space into a captivating retreat.
Ignite Your Outdoor Ambiance with 20 Captivating Deck Fire Pit Ideas
When it comes to transforming your deck into a cozy and inviting outdoor haven, incorporating a fire pit can be a game-changer. A fire pit not only adds warmth and ambiance to your deck but also creates a focal point that draws people together.
Whether you're a fan of traditional designs or seeking a modern twist, we've compiled 20 inspiring deck fire pit ideas to ignite your creativity and help you curate the ultimate outdoor retreat.
Traditional Brick Fire Pit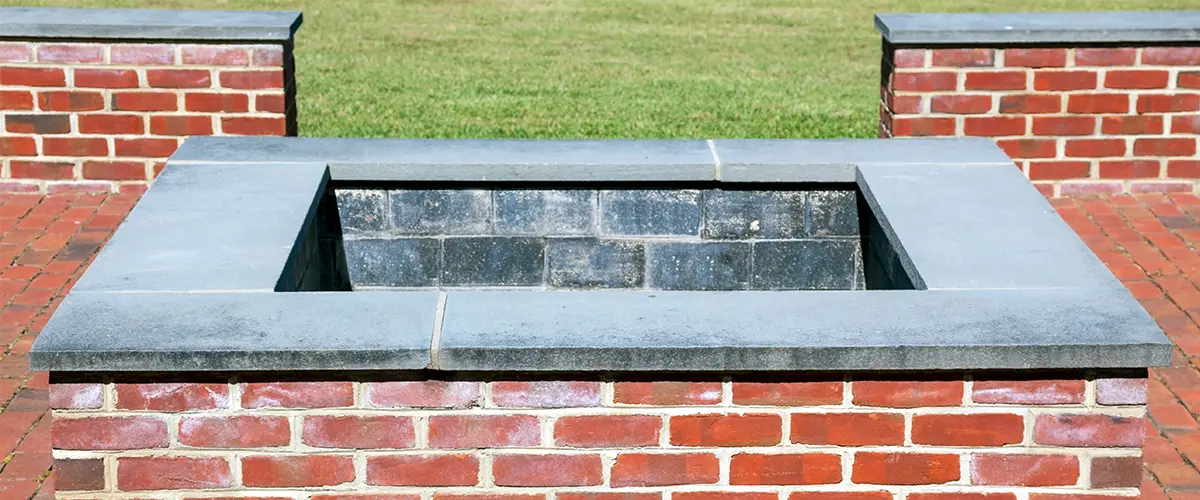 Create a classic look with a traditional brick fire pit. Its timeless design adds warmth and a focal point to your outdoor space, making it the perfect spot for making s'mores and cozy conversations.
Blend your fire pit with natural surroundings by opting for an in-ground design. This earthy approach creates an open-air atmosphere, making it the ideal space for enjoying a roaring fire under the stars.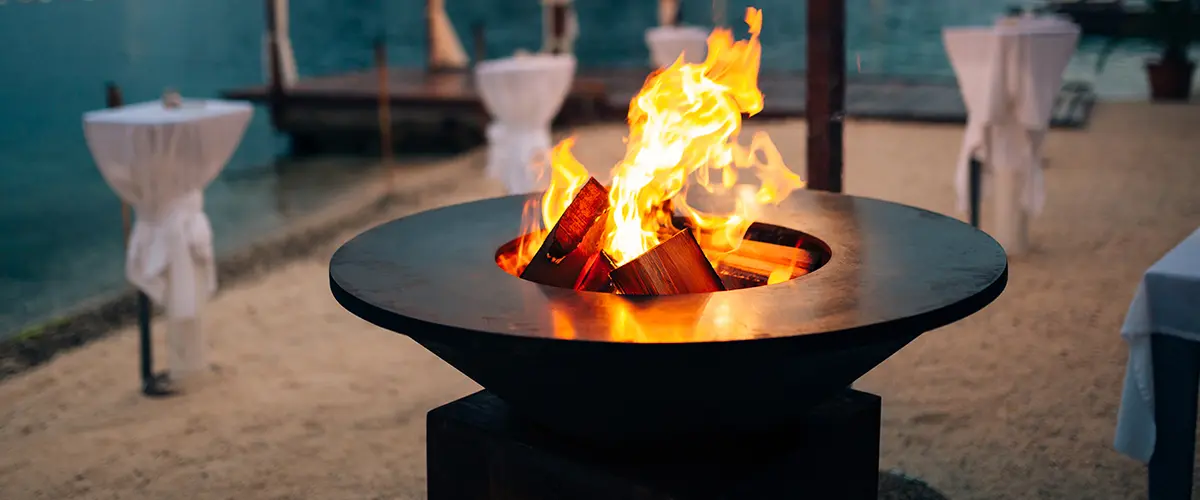 Infuse an industrial edge into your deck with a sleek metal fire pit. Its modern aesthetics and clean lines complement a contemporary outdoor space, while the roaring fire provides comfort and visual interest.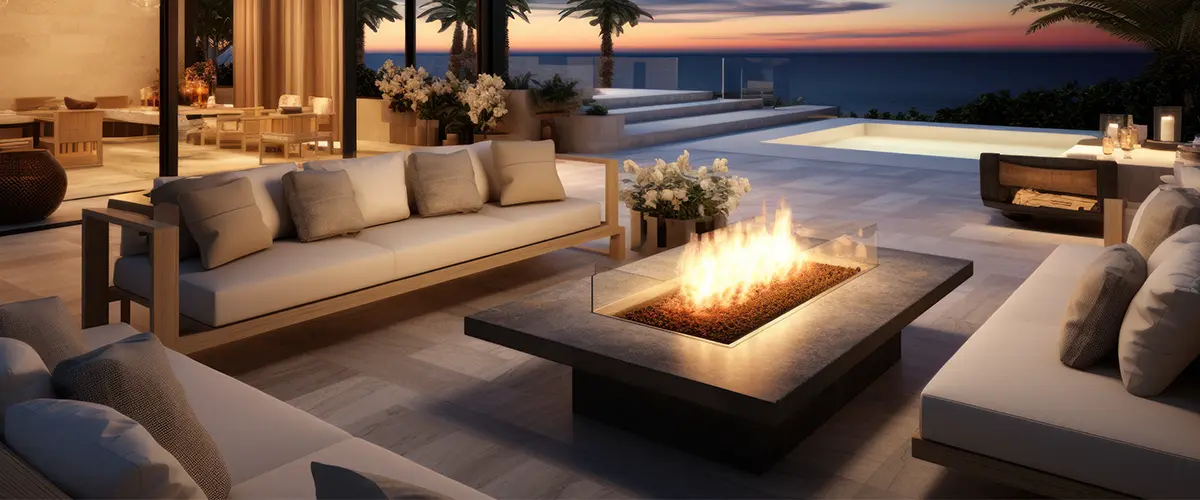 Combine functionality and style with a modern fire pit table. This innovative piece acts as a focal point and coffee table, elevating your outdoor space's design and creating a cozy corner for relaxation.
Round Fire Pit Seating Area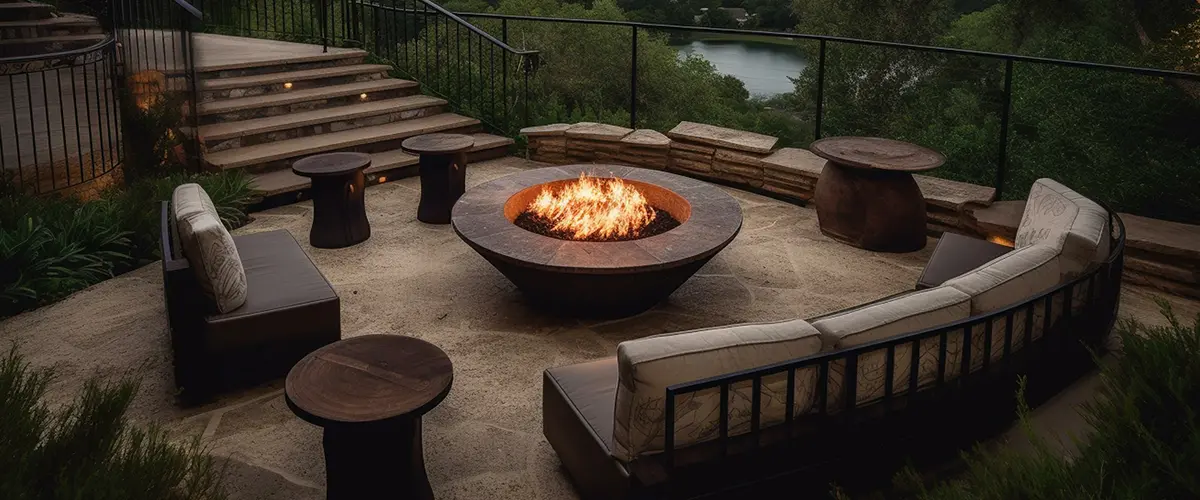 Design a welcoming round fire pit with ample seating around it. This arrangement encourages intimate conversations, while the fire takes center stage, offering the perfect spot to unwind and enjoy the outdoors.
Sunken Seating Area with Fire Feature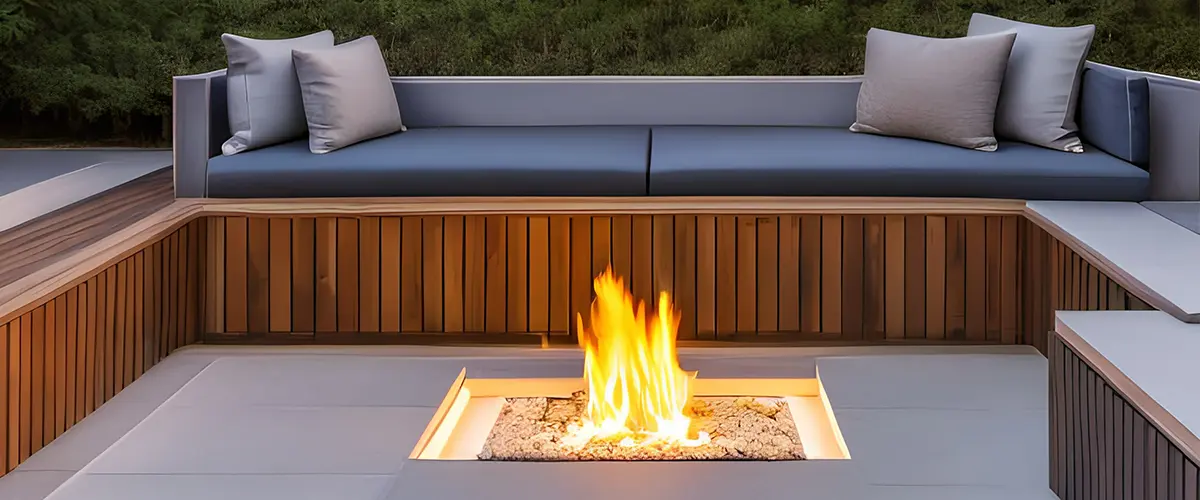 Elevate comfort and style by creating a sunken seating area with a captivating fire feature. This arrangement defines a cozy corner in your outdoor space, where conversations flow effortlessly around the roaring fire.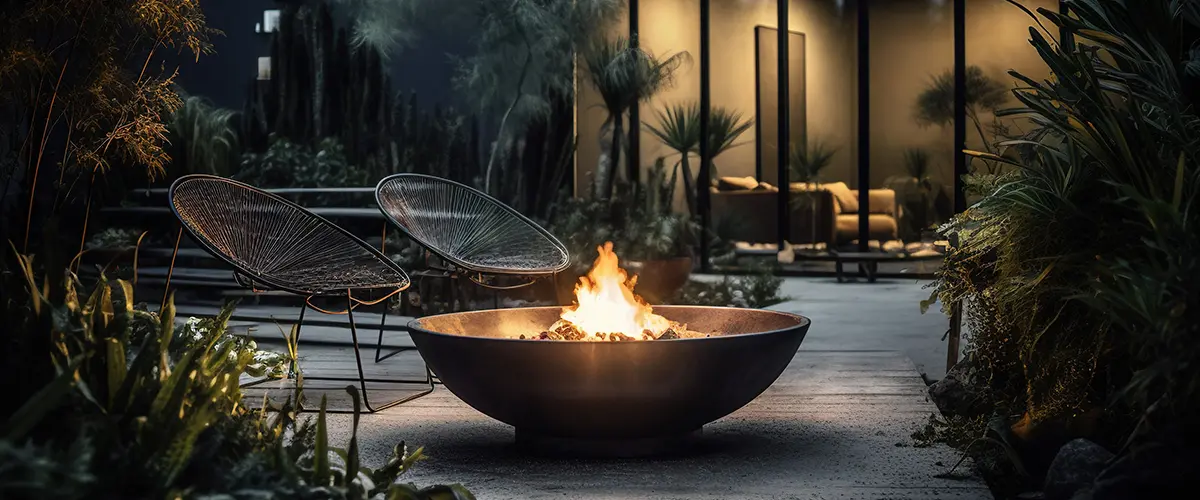 Revel in the rustic allure of a wood-burning fire bowl. Its natural design complements your deck's wooden elements, adding warmth and ambiance to your outdoor entertaining area.
Rectangular Fire Pit for Entertaining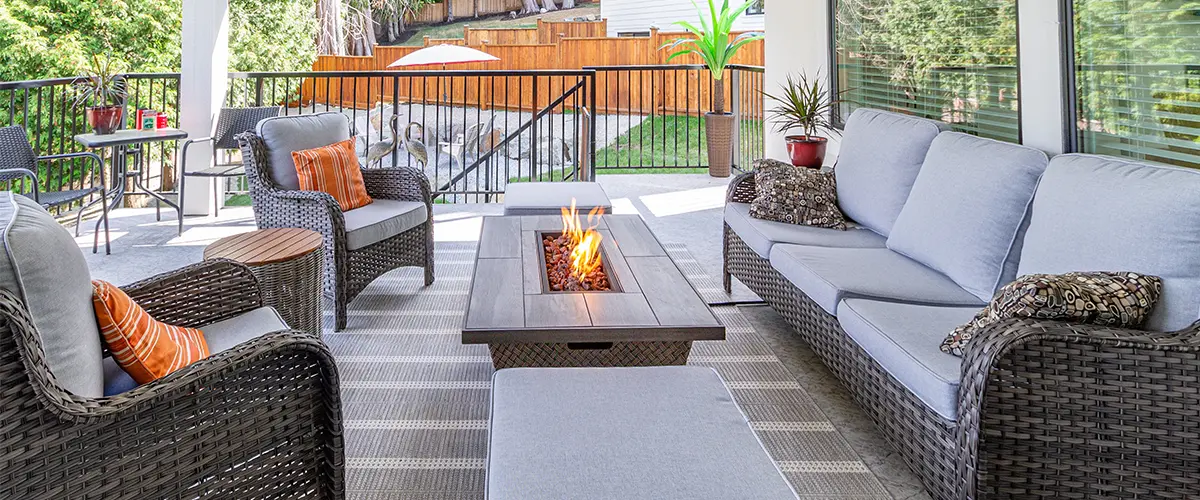 Host memorable outdoor gatherings with a rectangular fire pit at the center. Its elongated design accommodates a larger seating area, making it the ultimate spot for sharing stories and creating lasting memories.
Floating Deck with Fire Pit
Craft an illusion of space with a fire pit integrated into a floating deck. This design seamlessly merges with the surrounding environment, creating an open-air oasis for relaxation.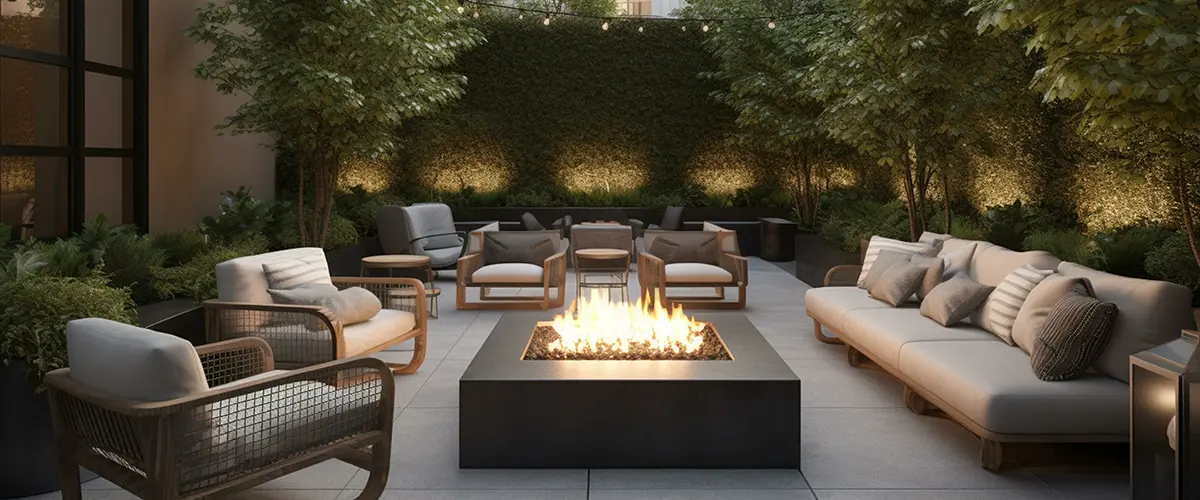 Design an outdoor living room around a fire pit, offering a cozy corner for relaxation. The fire's warm glow transforms this space into a retreat where you can unwind and enjoy the open air.
Wood-Fueled Fire Pit with Seating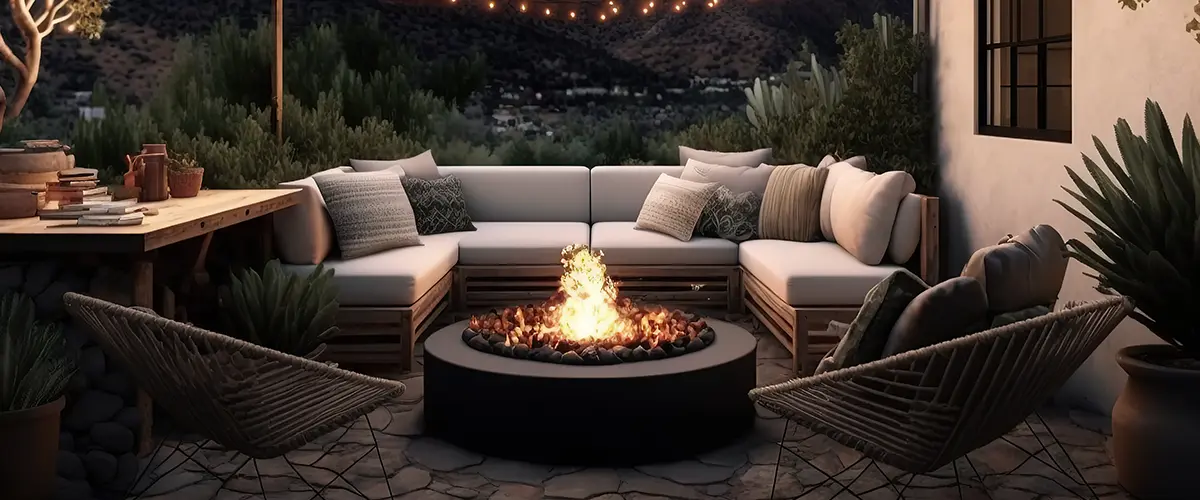 Enhance the natural atmosphere with a wood-fueled fire pit surrounded by comfortable seating options. This design encourages guests to gather around the fire and enjoy conversations under the open sky.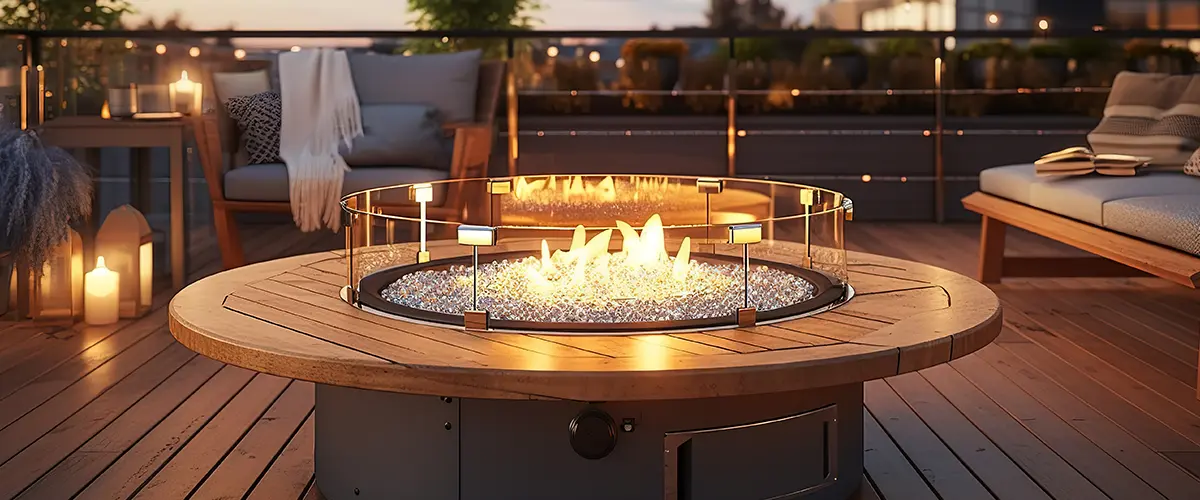 Create visual interest by slightly raising your fire pit area, making it a captivating focal point for your deck. The elevated design adds depth to your outdoor space and offers an easily accessible fire feature.
Outdoor Fire Pit with Hot Tub
Combine luxury and relaxation by integrating a fire pit into your hot tub deck area. This harmonious design invites you to enjoy the best of both worlds: a soothing soak and the cozy warmth of a fire.
Fire Pit as the Deck's Centerpiece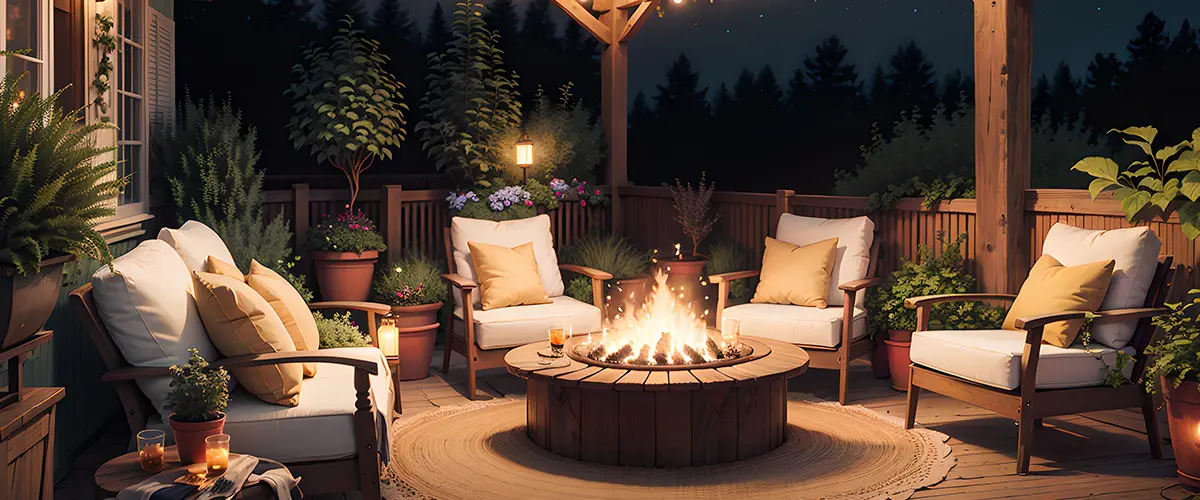 Place your fire pit at the center of your deck for a show-stopping effect. The fire becomes the centerpiece, surrounded by comfortable seating, making it the perfect spot to create unforgettable memories.
Deck Fire Pit Area with Natural Stone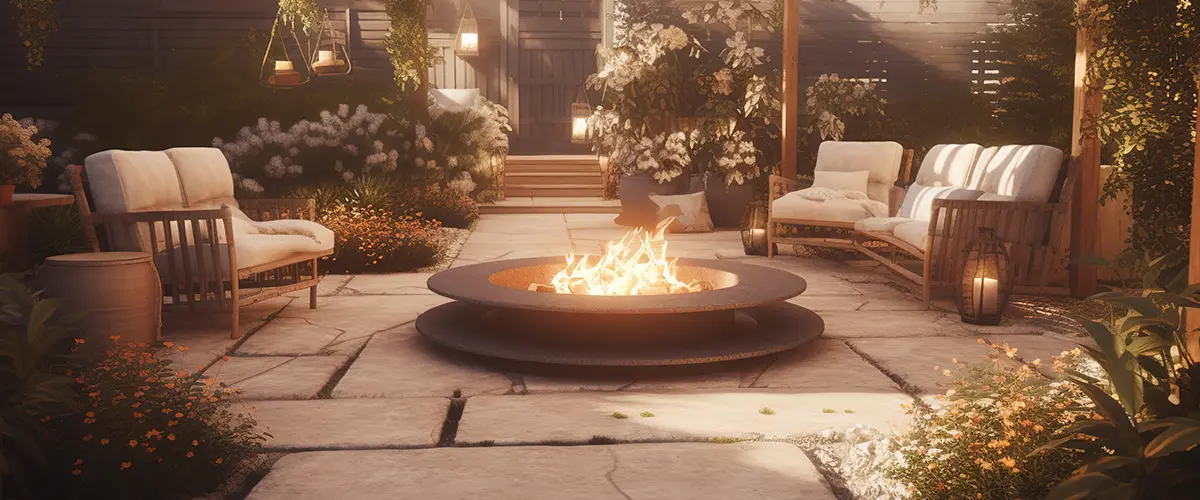 Embrace the raw beauty of natural stone by incorporating it into your deck fire pit area. The combination of wood and stone adds visual interest, creating a unique outdoor space with a touch of rustic elegance.
Modern Take on a Fire Pit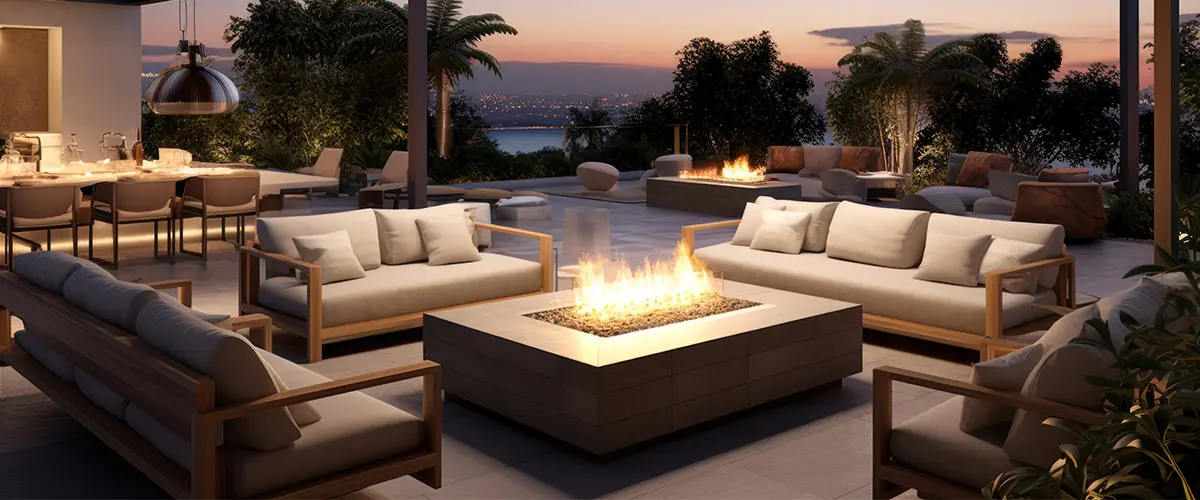 Choose a modern fire pit design that features clean lines and minimalist aesthetics. This contemporary approach creates a stylish outdoor focal point that complements your deck's modern design.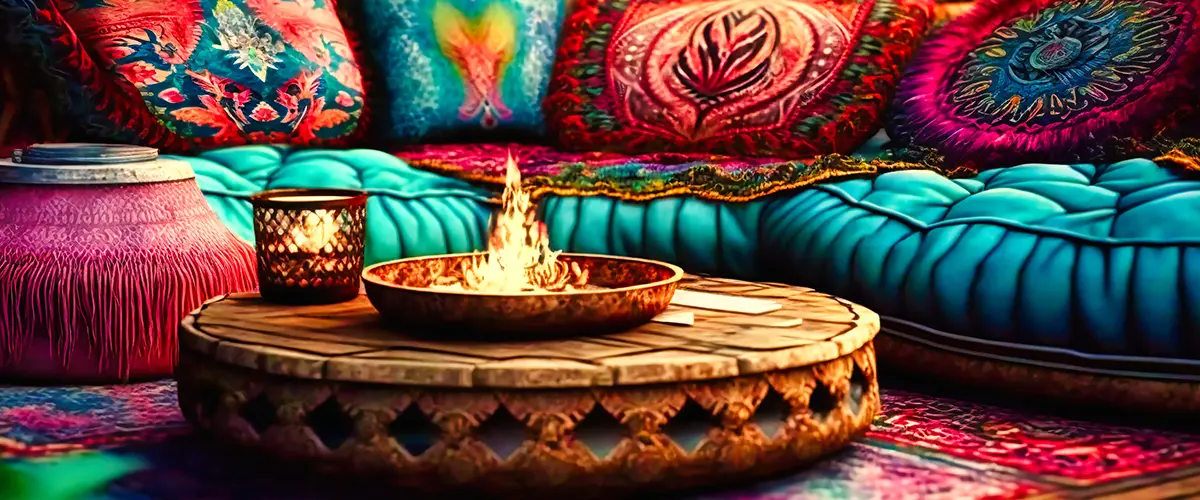 Unite functionality and style with a fire pit that doubles as a coffee table. This versatile piece offers a convenient surface for placing drinks and snacks while keeping your guests warm and comfortable.
Outdoor Fire Pit with Seating Area
Craft a dedicated fire pit seating area on your deck. Arrange comfortable outdoor furniture around the fire pit to create a cozy corner where conversations and laughter flourish.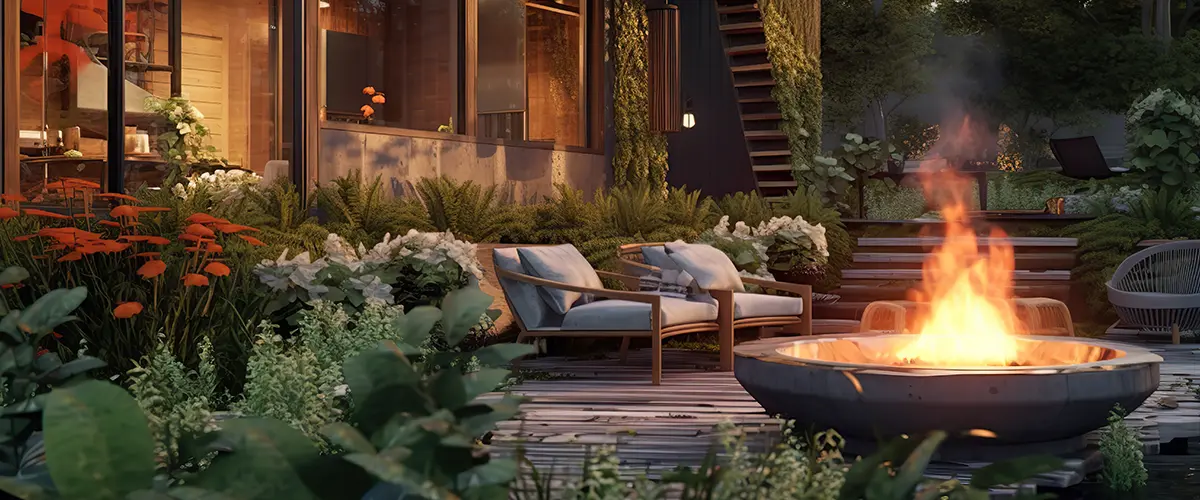 Incorporate a sleek concrete fire bowl into your deck design. Its minimalist aesthetic complements various styles while providing a captivating fire feature for your outdoor entertaining.
Unique Fire Pit with Visual Interest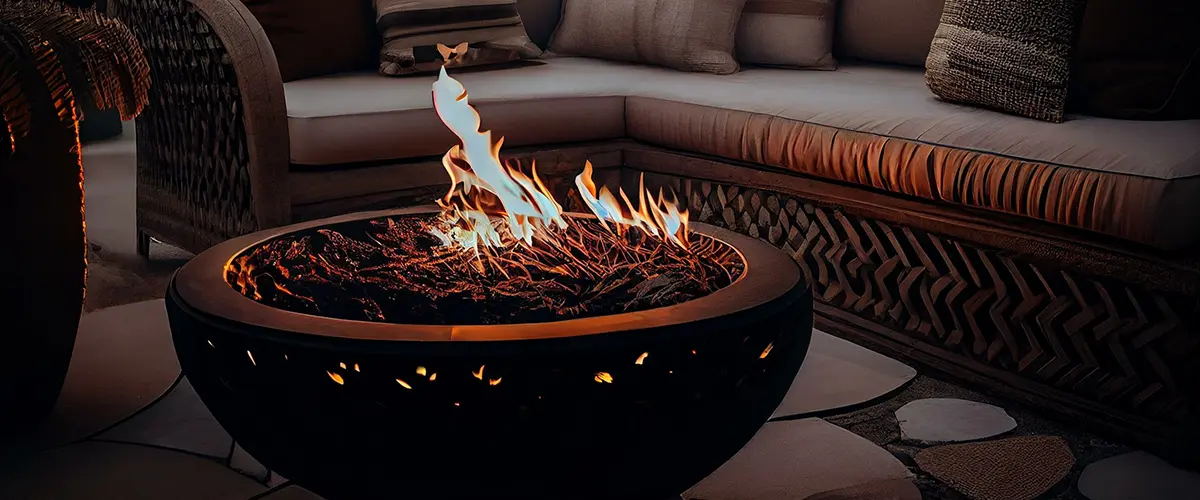 Choose a unique fire pit design that adds visual interest to your outdoor space. Whether it's a creative shape, innovative materials, or a custom-made piece, this fire pit becomes a conversation starter in your deck area.
We Build The Perfect Fire Pit Decks
From hot tubs to fire pits, we build decks that are tailored to how you plan to use your outdoor space. If you're ready to add a little extra warmth (and style) to your backyard this winter, give us a call! We offer complete deck building services for fire pits, outdoor BBQs, lounging in the sun, and many other outdoor activities.