Step into a world of wonder where your deck comes alive with endless possibilities. Deck covering is the secret sauce that turns your outdoor area into a cozy retreat, no matter the season.
From keeping you dry during showers to providing cool shade on sunny days, these brilliant solutions will make you fall in love with your deck all over again.
Whether you desire a cozy retreat for quiet evenings or a shaded oasis for vibrant gatherings, our selection of deck covers has something for everyone.
Get ready to discover the perfect cover that complements your lifestyle and accentuates the beauty of your deck.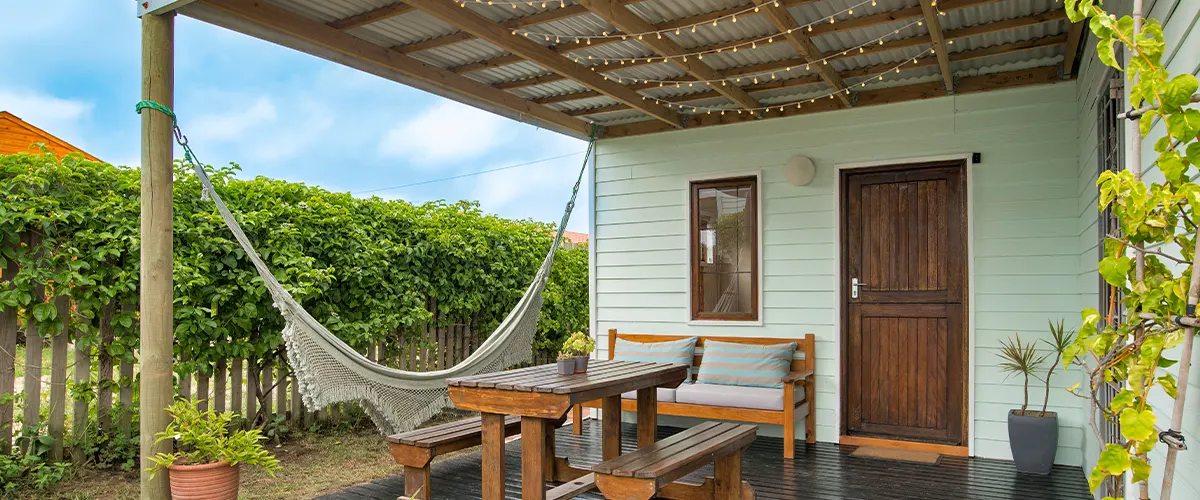 24 Deck Covering Options To Consider
From cool shade sails that provide natural light to solid roofs for year-round enjoyment, we've gathered a curated selection of deck coverings to inspire your deck design.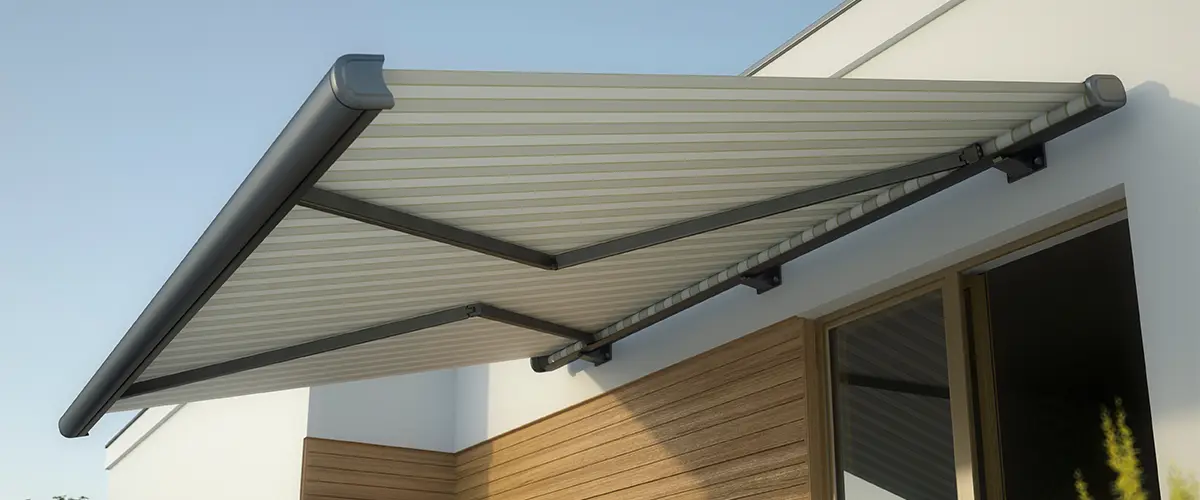 Embrace the best of both worlds with retractable awnings. These versatile covers offer shade and respite on hot summer days, while allowing you to pull them back effortlessly, allowing sunlight to bathe your deck whenever desired.
Blend style and practicality with pergolas adorned with a canopy. This classic and elegant option provides partial shade, creating a delightful space for outdoor dining, entertaining, or relaxation.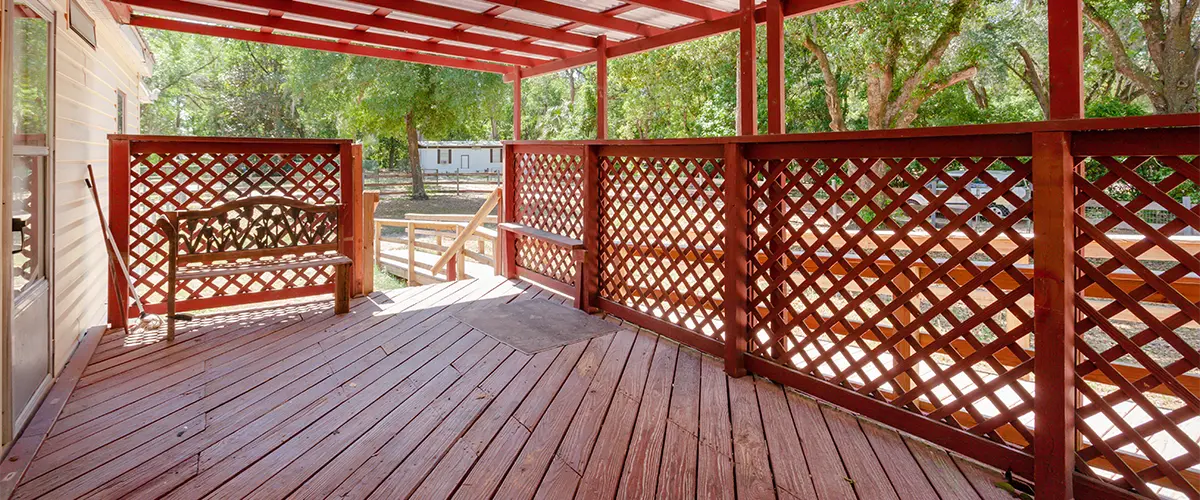 Elevate the intimacy of your deck with lattice privacy screens. These intricately designed panels add a touch of sophistication while offering the perfect seclusion for quiet moments with loved ones.
Enjoy year-round comfort on your deck with clear vinyl panels that act as a protective barrier against wind, rain, and snow. The best part? You can savor the beauty of your surroundings without obstruction.
For an eco-friendly and visually striking option, consider bamboo shades. These natural covers infuse your deck with a serene ambiance, allowing you to immerse yourself in the beauty of nature.
Elevate the aesthetics of your deck with outdoor curtains that exude elegance and sophistication. These versatile additions not only offer privacy but also protect against the sun's glare and gusts of wind.
Create a captivating outdoor retreat with a gazebo. Offering full coverage and an enchanting atmosphere, gazebos are perfect for hosting memorable gatherings or simply unwinding in tranquility.
Embrace simplicity and versatility with deck umbrellas. These budget-friendly options are easily adjustable, providing shade precisely where you need it.
Add a touch of contemporary flair with vibrant shade sails that not only serve as striking design elements but also shield your deck from intense sunlight, keeping you cool and comfortable.
Take charge of your deck's sun exposure with adjustable louvered roofs. Ideal for adapting to ever-changing weather conditions, these covers offer unmatched convenience and comfort.
Invest in durability and low-maintenance appeal with metal roofing. This robust option not only safeguards your deck from the elements but also adds a modern touch to your outdoor space.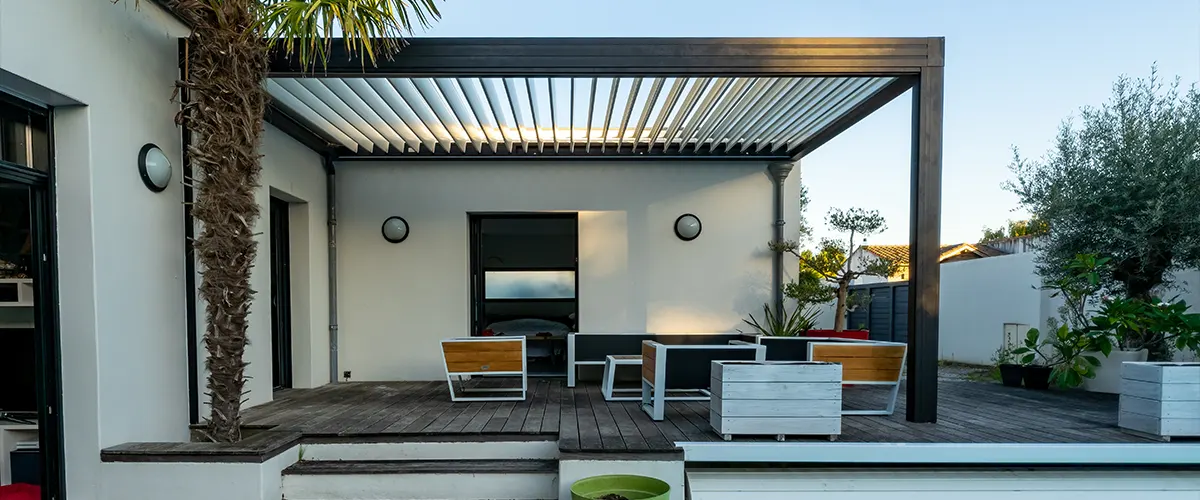 Timeless and charming, wooden pergolas blend seamlessly with natural surroundings. They provide partial shade and lend an inviting focal point to your deck.
Unite nature with design by incorporating a trellis covered in climbing plants. This eco-friendly solution not only offers shade but also creates a refreshing green sanctuary on your deck.
xperience the epitome of luxury and comfort with motorized screens. Effortlessly enclose your deck with these advanced covers, adjusting them at your convenience.
Maximize your living space by transforming your deck into a fully functional sunroom. With this versatile cover option, you can enjoy the great outdoors regardless of the weather.
Add an element of Zen to your deck with outdoor bamboo blinds. These elegant covers seamlessly connect with nature, offering shade and serenity in equal measure.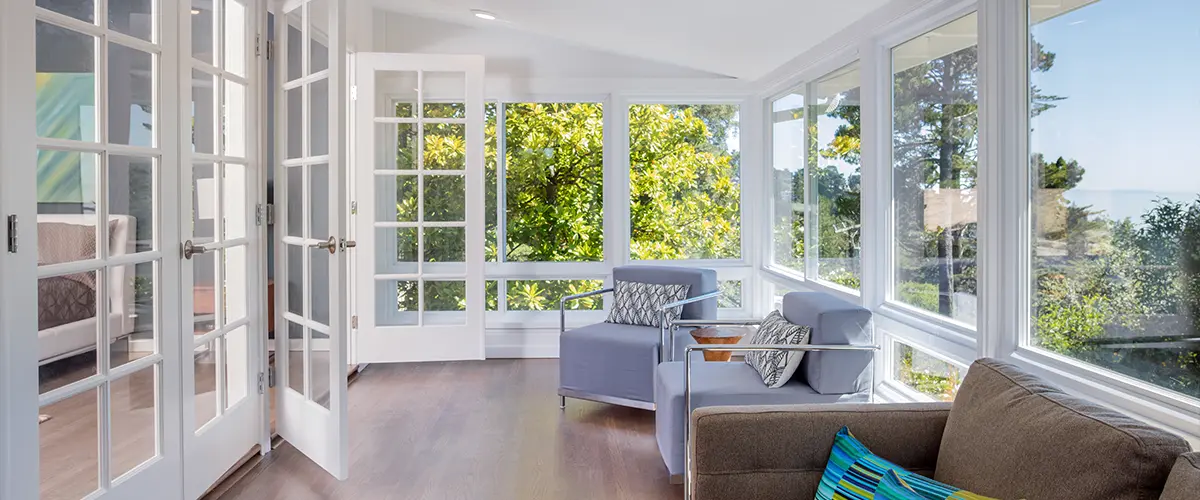 Maximize your living space by transforming your deck into a fully functional sunroom. With this versatile cover option, you can enjoy the great outdoors regardless of the weather.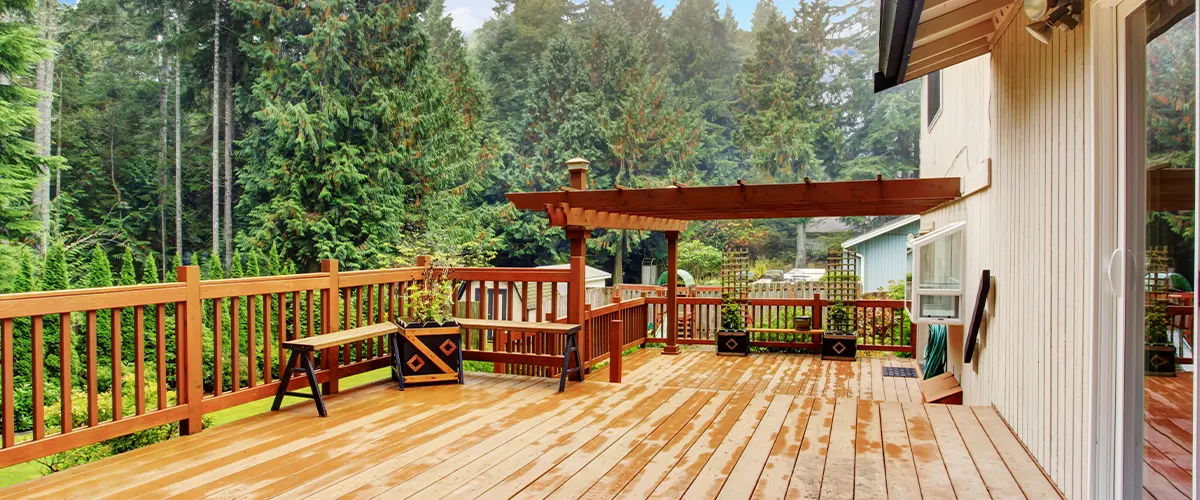 Opt for a stylishly versatile option with shade pergolas that offer both sunlit and shaded areas on your deck. This is ideal for accommodating various activities and moods.
Solid Roof with Skylights
Combine the advantages of a solid deck roof with the allure of natural light through skylights. This seamless integration illuminates your deck while maintaining a cozy, sheltered environment.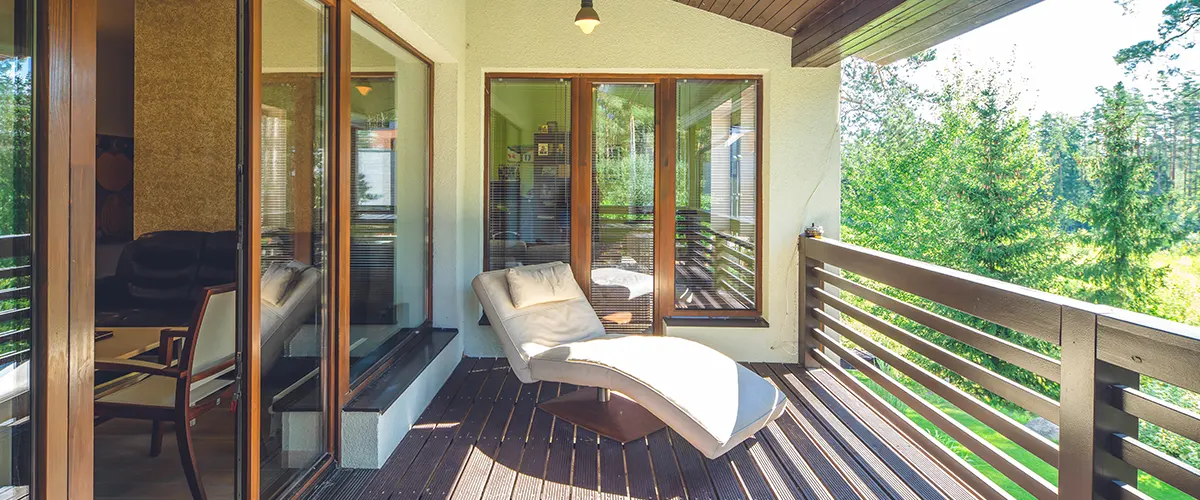 Rely on the sturdiness and resilience of aluminum patio covers to protect your deck from harsh weather conditions, ensuring your outdoor space remains inviting year-round.
Create an inviting ambiance with freestanding canopies that provide partial cover to specific areas of your deck. This option adds charm and functionality to your outdoor setting.
Unleash the full potential of your deck day and night with a screened-in enclosure. Keep pesky insects at bay while reveling in a comfortable, breezy environment.
Embrace modernity with slatted wood covers that offer partial shade and architectural flair. This chic option ensures the perfect balance of light and ventilation on your deck.
How To Cover A Deck With A Roof
Covering your deck with a roof is a fantastic way to transform it into a functional and inviting outdoor space that can be enjoyed year-round.
Whether you're looking to shield your deck from the elements or enhance its aesthetics, a roofed deck provides numerous benefits. Follow these steps to achieve a well-covered deck that perfectly suits your needs:
Let's Build You A Covered Deck
At Riverview Decks, we'll present you all your options when it comes to the efficiency of your deck. As expert deck builders, we can also add covers to your deck and make it a place suitable for relaxing regardless of the weather. 
Give us a call at (865) 801-4545 so we can further discuss your needs, or request a quote and we'll get back to you ASAP.