Building a deck from the ground up requires a lot of time, expertise, and skill. But ultimately, what every professional needs to get started are deck building materials.
You'll need dozens of different tools that are either essential, meaning you can't build a deck without them, or they're meant to make your life easier and save time – like a plate tamper against a manual ground tamper.
In this article you'll find your complete deck building materials list that'll smooth out your deck building process.
Let's begin.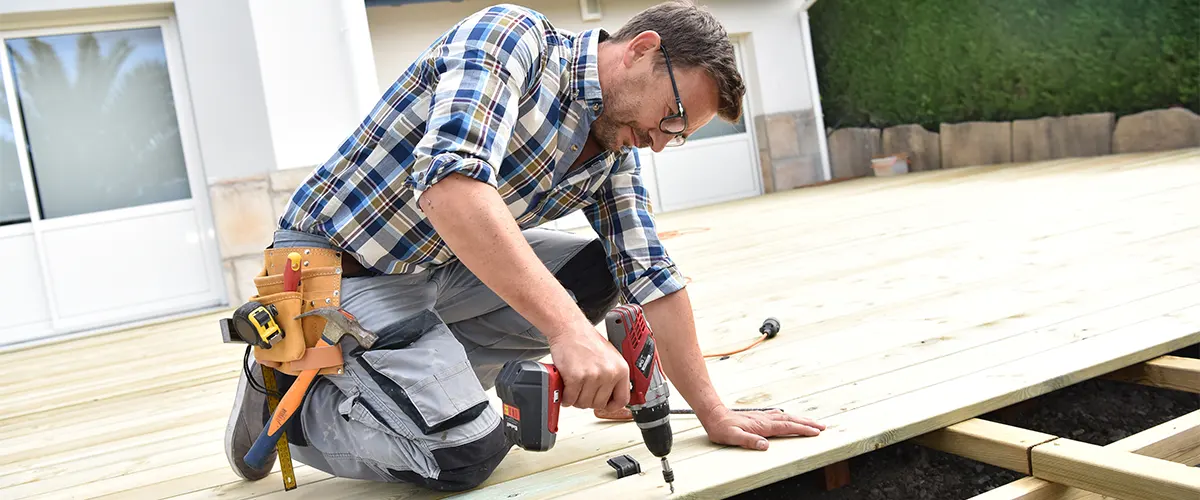 Materials For Leveling Ground
For floating decks, it's mandatory to level the surface on which your new deck will go. But besides leveling, there's also digging, measurements, and cleaning that needs to be done.
Let's see what you'll need on your deck building materials list to level the ground for your new deck:
If, however, you're building a deck with two levels, you need much more tools and attention. Check your local building codes to make sure you're not missing anything. 
At Riverview Decks, we take care of your building permits and make sure your new deck is safe and up to the highest standards. We offer professional deck building and deck repair services in Knoxville, TN.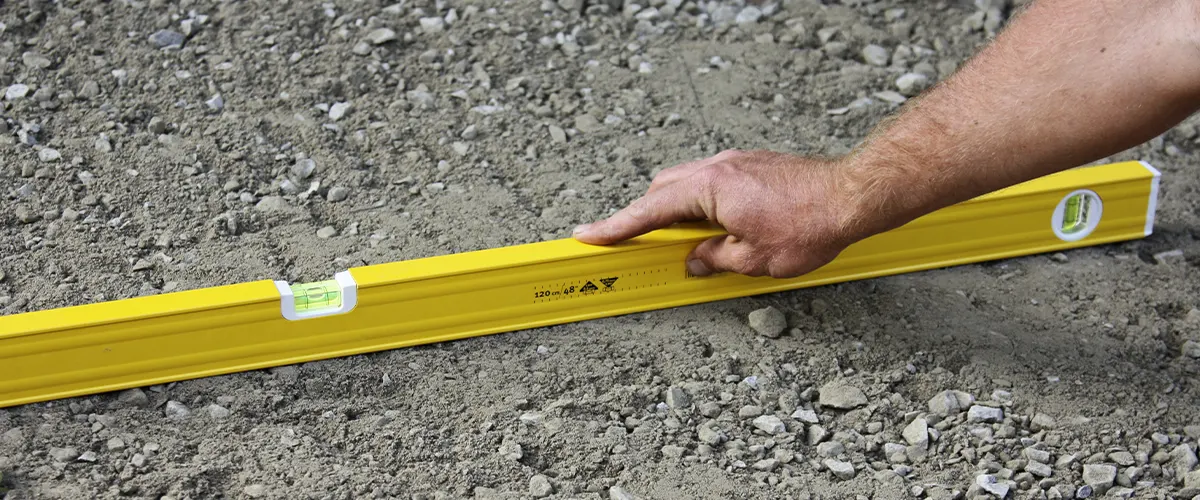 Frame And Decking Materials
If you chose a metal frame for your deck building materials list, all you need to install them are in the manufacturer's instructions. Your deck builder will know precisely what's the best way to install it.
If you're building a deck frame from pressure treated lumber or another wood species, you'll need several tools and materials on your deck building materials list. 
These will be crucial when installing the railing materials, but also the deck material that you'll choose.
We have a quick guide about deck framing, so check it out if you're interested!
Note: If you have composite materials on your deck building materials list, remember that you'll have to get the right size and finish from the start, as you can't refinish or repair composite decking.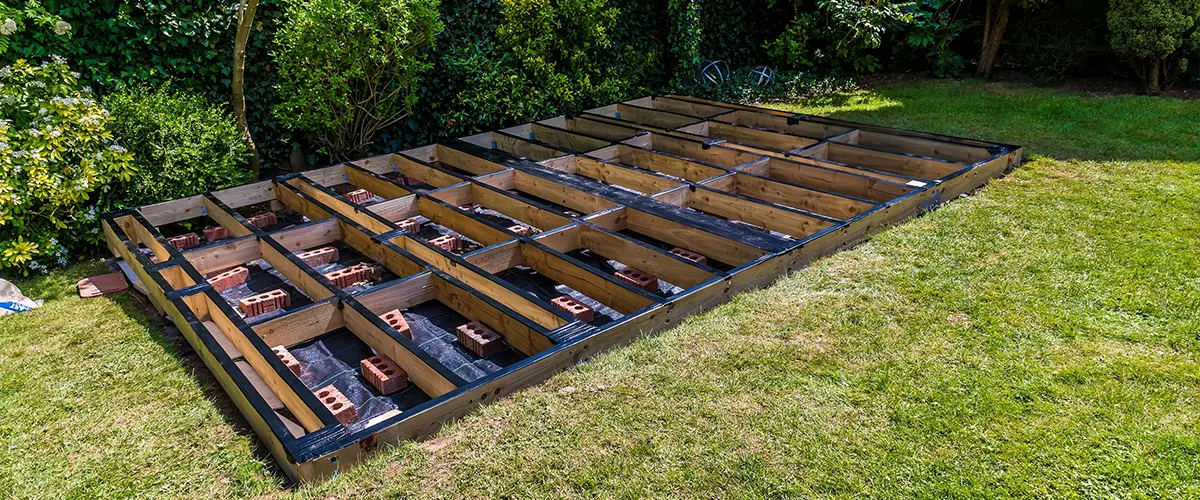 Materials For Finishing The Deck
If you're building a wood deck you'll need to treat the wood decking materials against the elements. While hardwoods require less maintenance and repairs, softwood deck boards like cedar and redwood decking (two popular choices for decking) will need a lot of care.
To finish up your deck and boost both its aesthetics and durability, you'll need to stain and seal it.
Remember that before applying stain or any sealant, your deck needs to completely dry. When your new deck is ready, wait about two weeks to treat it with stain and sealant.
Let's see what you need to get started
Note: Composite deck building materials like Trex, TimberTech, or Fiberon requires little to no maintenance at all. It's a manufactured decking material that offers higher strength and durability than wood, and it's the top choice for homeowners tired of keeping up with the maintenance of their decks.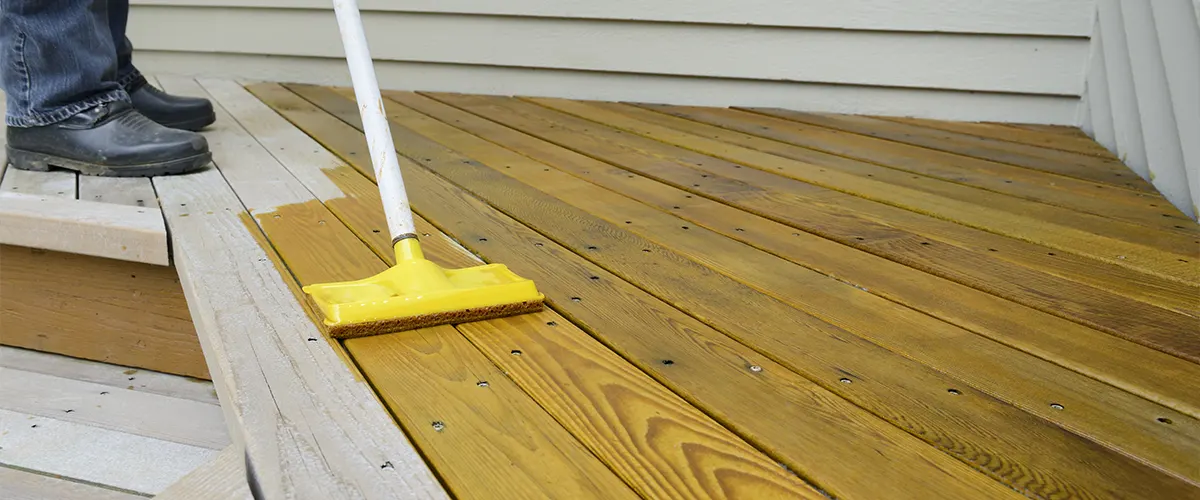 This deck building materials list included the most common tools you'll need to build your deck. Your deck builder will most likely have all these with him at all times during your project, but if not, renting these can get expensive.
And if you're planning to take on a deck building project by yourself, you should know that it's not as easy as one might think.
Besides all, decks need to be safe for you and your loved ones. You can't have the little ones running around barefoot on a deck full of splinters, and you can't entertain all the people you want to invite on a deck that's simply not safe.
At Riverview, we make it our number one priority to give you a deck that is highly functional, 100% safe, and leaves every one of your guests in awe. You and your project will be at the front and center of our work, which is why your journey with us will be effortless.