Deck Repair Cost in Alcoa TN
Curious about how much a deck repair project costs in Alcoa, TN? This guide will walk you through everything.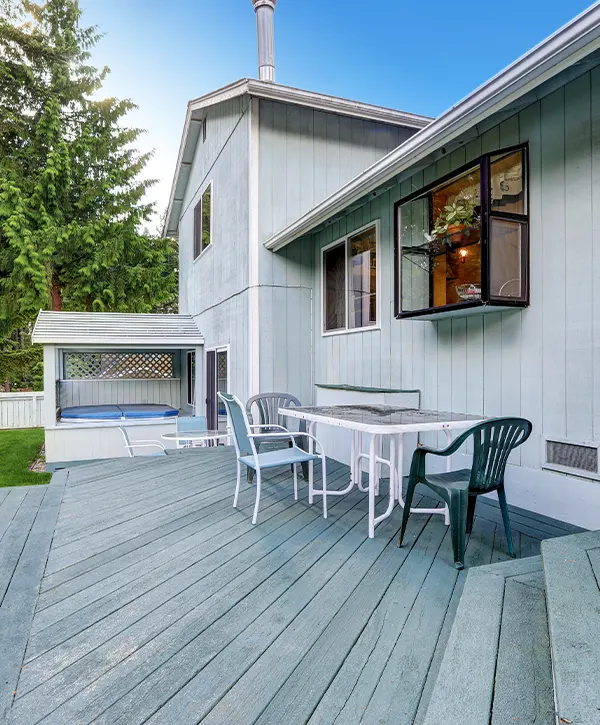 Stop spending money on inadequate repairs and lackluster craftsmanship – Riverview Decks is here to turn your backyard into a haven of relaxation! Our deck repair services are cost-effective yet provide exceptional results. And our team will take care of the entire process so you can bask in an inviting outdoor space with friends and family without worrying about breaking the bank.
Avoid the traps of hidden costs and low-grade repairs – contact us now for unbeatable rates on top-notch services! Don't let your worries about Alcoa's deck repair prices keep you up at night – get in touch today for a fantastic deal.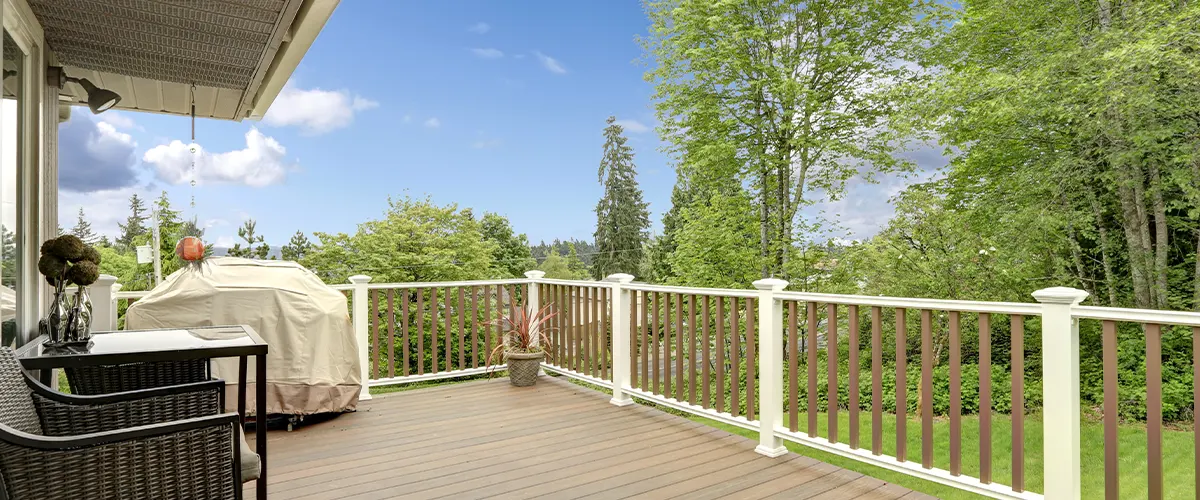 Typical Deck Repair Cost In Alcoa, TN
As you start planning your dream deck, it's important to remember that the size of your deck and the materials used, as well as any add-ons you may want, can greatly impact its cost. Don't forget about pampering yourself with a few luxurious details if desired – which could mean an even bigger price tag.
Over time, reinforcement or replacement of components might be needed, all adding up to more monetary expenditure for sure. Here are average prices for a deck repair cost in Alcoa, TN.
| Size (square feet) | Average Cost |
| --- | --- |
| Basic Deck Construction 10'x10' | $900 |
| Average Deck Construction 12'x18' | $3.5k |
| High-end Deck Construction 18'x18' | $9k |
Don't wait any longer to get the backyard of your dreams. Contact Riverview Decks today, and we'll provide you with a complimentary estimate over the phone. Once we come out to take a look at your property, we'll give you an even more accurate quote. With our assistance, enjoying your own space is easy and won't break the bank!
Labor Costs In Deck Repair In Alcoa, TN
While DIY deck repair may seem straightforward, inexperienced individuals might forget key elements that put everyone who uses it later on in danger. To keep yourself and others safe from any potential mishaps or harm, it's best to leave these repairs to a qualified professional instead of attempting them alone. With their expertise, you can be assured that the job will get done right!
As the architect's utmost duty is to guarantee safety and practicality, their designs will be more than just visually attractive. If you want a high-quality architect, paying them between $125 and $250 per hour for their services would be wise.
To craft a lovely, safe outdoor deck that meets your needs and tastes, it's essential to engage the services of an experienced design specialist. They can help you decide on complementary hues, fencing or railings materials, and posts that will fit into your space. As these experts bring invaluable insight with them, we recommend allocating between $100-200 per hour; this project usually takes 3 -4 hours in total.
Are you looking to transform your porch? Then contact an expert deck builder and contractor in Alcoa, TN right away! Highly-skilled carpenters can charge up to $35/hour for repairing custom decks. Decent professionals may ask around $25 while amateurs might offer as low as $15 per hour – so make sure that the quality of their service is worth every penny. With help from the best pros, it's time to bring life back into your dream porch!
If you're looking to work with a contractor that makes getting your well-deserved deck so much easier, this is it! With Riverview Decks, you're getting your own architect, deck designer, and builders, all-in-one.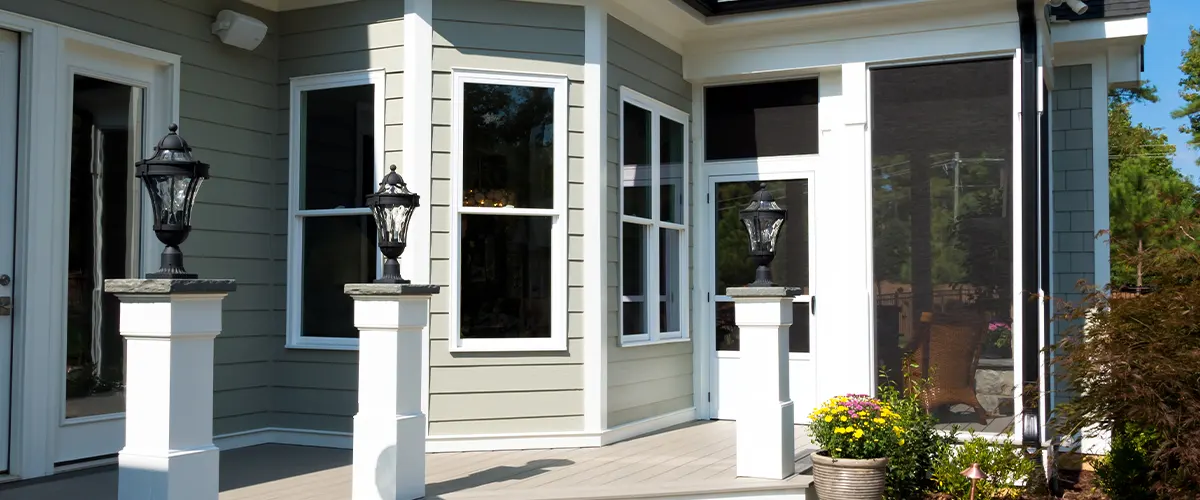 Deck Repair Materials Cost
Before we move forward, let's discuss your preferred decking material. Here are the costs associated with various composite and wood decks of varying sizes – so you can make an informed decision!
Let's see the cost associated with different sizes of composite and wood decks:
More and more people are choosing pressure-treated pine for their decks because it's cheaper than other options and still looks good.
Although pressure-treated wood is a softwood, it's still susceptible to rot and pest damage. If you choose this type of wood, be aware that it will require constant attention and care.
Let's see some other types of wood and their cost of installation:
Pressure-treated pine deck: $15.00 to $18.00 per square foot installed.
Bamboo deck: $19.00 to $22.00 per square foot installed.
Cedar deck: $25.00 to $28.00 per square foot installed.
Composite deck: $29.00 to $31.00 per square foot installed.
Redwood deck: $33.00 to $35.00 per square foot installed.
Cumaru deck: $34.00 to $36.00 per square foot installed.
Massaranduba deck: $35.00 to $38.00 per square foot installed.
Garapa deck: $33.00 to $35.00 per square foot installed.
Tigerwood deck: $39.00 to $42.00 per square foot installed.
Ipe deck: $47.00 to $49.00 per square foot installed.
Teak deck: $49.00 to $51.00 per square foot installed.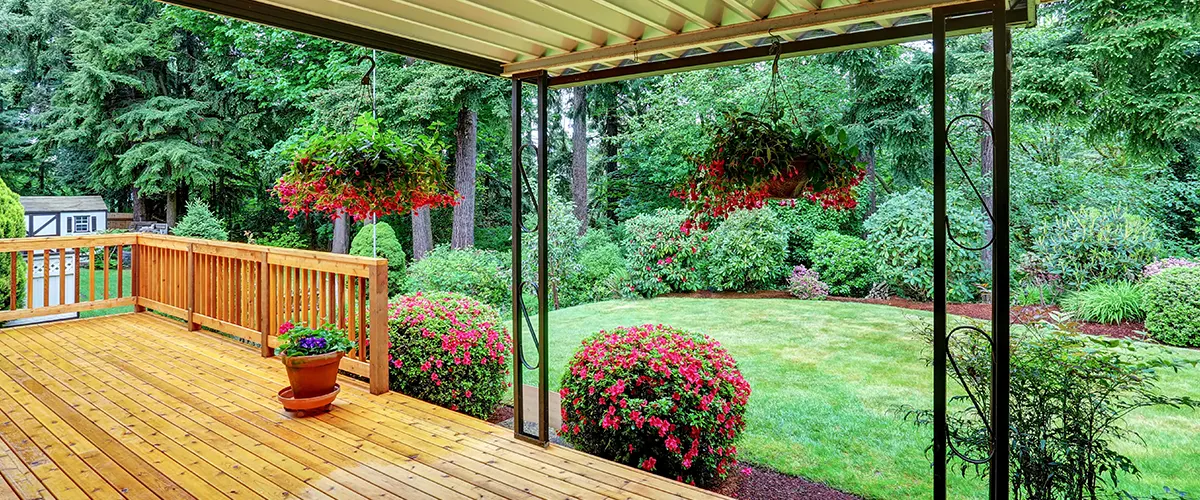 One of the reasons you might want to install a composite deck at your home is that you will not need to spend extra money on sealants and it will only require pressure washing once per year. If this is the right kind of material for your home, we suggest using TimberTech or Trex decking brands because they offer a wide range of options.
Instead of delaying our order process, we'd rather acquire the readily available materials. Composite decking boards usually cost around $60-$70 for every square foot; however, depending on your budget and needs, there may be other better-suited products to consider.
As you make the important decision of designing your home, there are certain details that can be tailored to personal preference, such as window shutter colors. However, when it comes to selecting railings for elevated decks, safety should remain at the forefront.
Metal railings provide both durability and strength against wear and tear while also being impervious from rotting or bug infestations! Investing in a quality railing solution provides peace-of-mind knowing that your deck is secure.
We understand that composite may be a tempting choice for many. However, when customers learn about the advantages of TimberTech products which don't cost significantly more than metal railings and become aware how quickly composite items can deteriorate due to its wood components over time, they almost always make the switch.
Wood railings may look nice, but they require a lot of up-keep and treatment. If you don't care for them properly, they will break down and become weak– which can be very dangerous on any deck or balcony.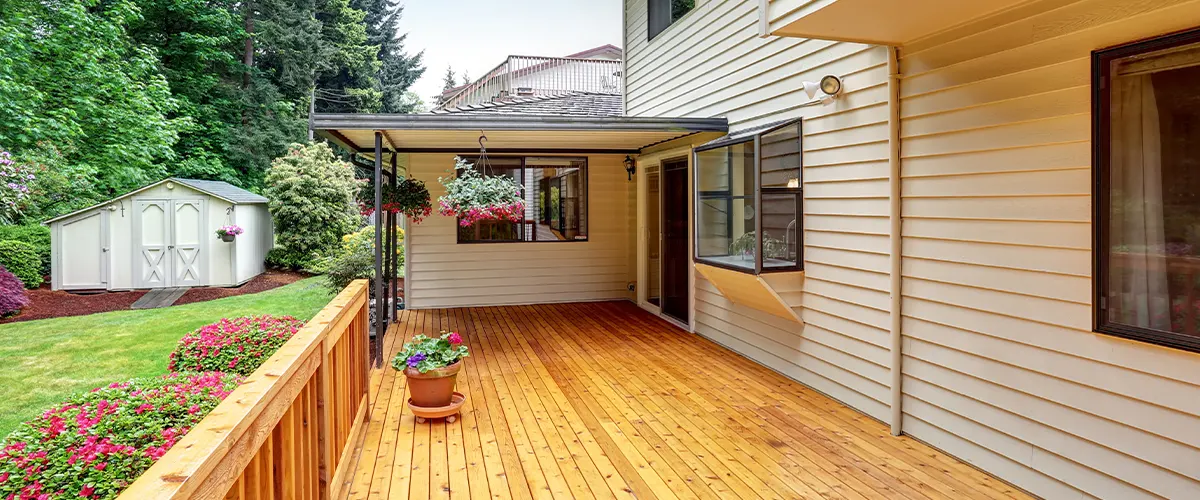 If you want to add a modern twist to your deck, there's no better choice than footings. These concrete foundations provide an upscale look that standard blocks and posts cannot match. Though they come with a higher price tag, the H-pier footing should be at the top of your list if money is not an issue – these are highly reliable and undeniably luxurious in quality and function!
Although most people choose to use pressure-treated wood for deck posts due to its cost savings, this decision may not be the best investment in terms of long-term value. If you want a durable, low-maintenance option, consider investing in Fortress Building Products' steel frame. Not only does it last longer than other materials, but it requires far less maintenance!
If you aim to enjoy your deck for years to come, then pressure-treated wood is the perfect foundation material. It's solid and reliable – made for longevity! To add a touch of customization, opt for brackets or screws that provide additional flair. This way, your deck can be uniquely yours while maintaining its strength and durability.
Your contractor can also recommend materials based on budget requirements, so make sure to have this conversation first if money is tight. However, we suggest opting for metal frames for those who desire something truly luxurious!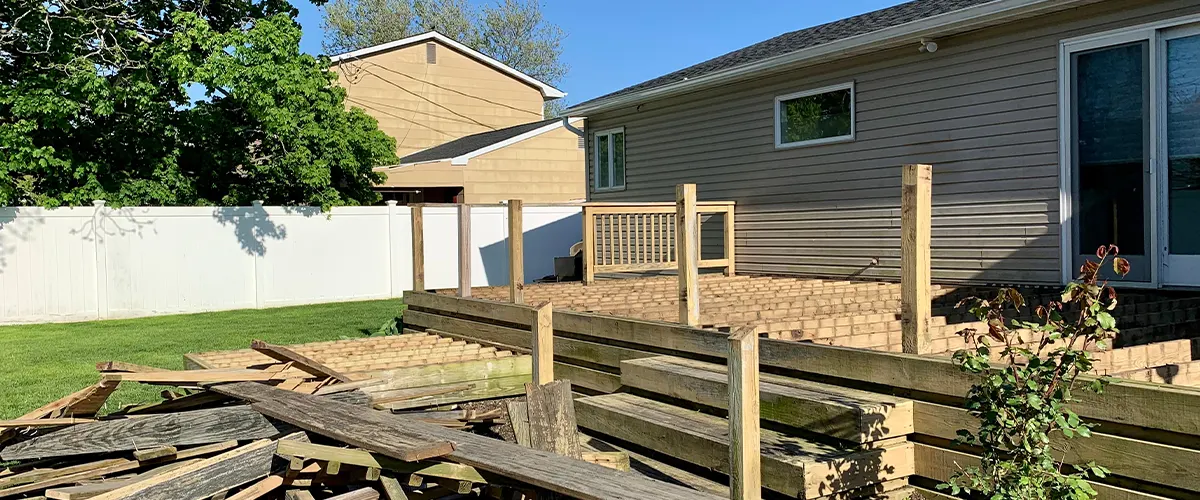 Accessories and other additional features are not required, but they can make your time on the deck more convenient. For example, shade structures provide relief from the sun's heat, or anti-slip boards can be helpful for a pool deck.
Let's look at some of the most common upgrades.
3 Quick Tips When Budgeting For A Deck Repair Project
Don't Underspend Or Overspend
Wooden decks and railings may look like a cost-effective solution, but they require extra attention in the long run. That's why we offer unmatched value at our company – custom options that suit your budget without compromising on quality! Our customers have realized substantial savings on repair costs because of this progressive approach; they don't need to choose between one or the other as they can get both with us. Maximize your investments now by choosing wisely – invest in something that will last for years to come!
Know What You're Paying For
As you search for the ideal contractor to complete your project, make sure you ask lots of questions! It demonstrates that you're dedicated to achieving a superior outcome and gives us more understanding of what needs doing. At our company, we take pleasure in customers who inquire about services–it's an opportunity for us to guarantee their wishes are fulfilled!
It is always wise to allocate extra funds in your budget for any unforeseen issues, and here at Riverview Decks, we provide 20% breakage coverage on all of our materials. Even if everything goes smoothly throughout the course of the project, it's good practice to have spare decking boards ready for when your original ones become worn with use. Ultimately this will save you time and money down the line!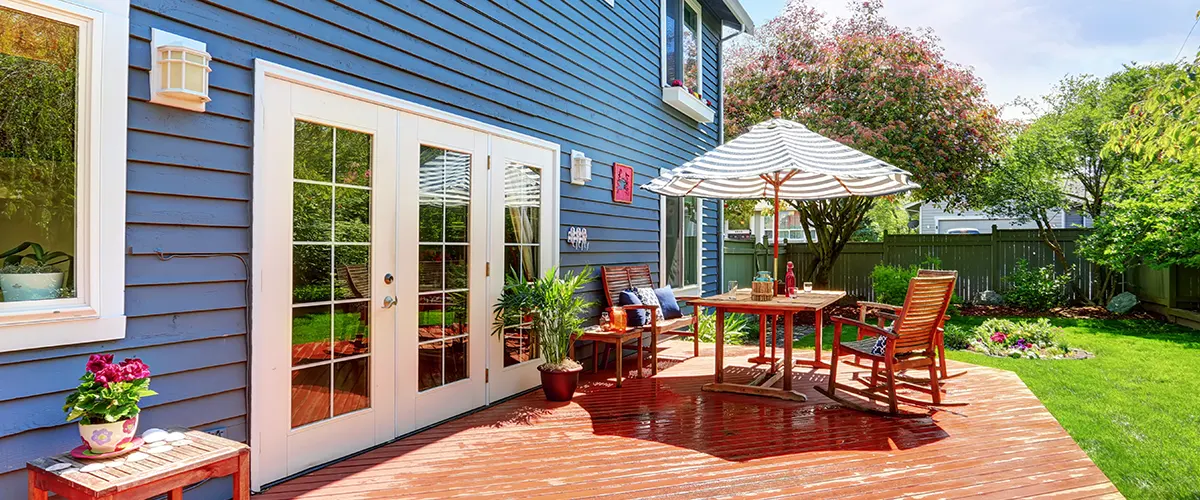 Ensure Your Money Is Well-Invested With Riverview Decks
When you entrust your investments with us, we guarantee a tranquil and worry-free experience. From start to finish of the project, we keep our clients informed on costs for materials and pricing so that there are no surprises down the road. Moreover, viewing the completed product is an incredible reward after all those planning hours!
With us, you'll get:
Get The Best Decking Solutions In Alcoa, TN Right Now!