Deck Building Cost in Loudon TN
Curious about how much a deck building project costs in Loudon TN? This guide will walk you through everything.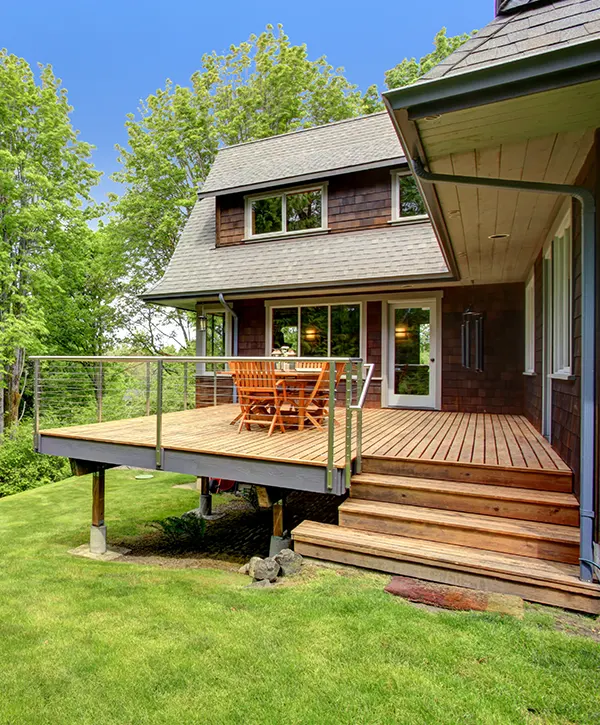 At Riverview Decks, we believe a deck can be the finishing touch to any home. However, some homeowners may worry that constructing one will cost too much or compromise quality. With our company, you don't have to fret over these worries! We offer prices that won't break your budget while providing top-notch materials and services.
We have carefully curated the highest-quality materials and employed experienced professionals to construct your ideal deck, all at an attainable cost. To provide you with a hassle-free experience every step of the way, we guarantee that our services will never disappoint!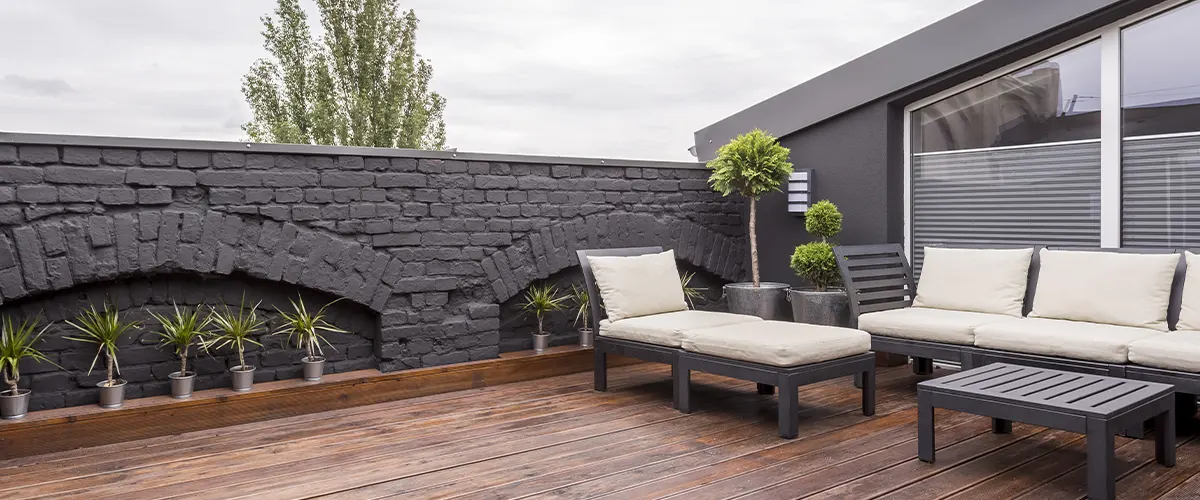 Typical Deck Building Cost In Loudon, TN
When choosing to construct a deck in Loudon, TN, the overall expense will mainly depend on its size. Elevation and materials come second and third, respectively, when considering cost factors. Furthermore, any additional amenities you include may increase your total expenses too.
Last but not least, don't overlook that bringing in a professional contractor also comes at an added price tag; however, here's some good news: Here are the average estimated costs for building decks so you can easily plan ahead!
| Size (square feet) | Average Cost |
| --- | --- |
| Basic Deck Construction 10'x10' | $40k |
| Average Deck Construction 12'x18' | $65k |
| High-end Deck Construction 18'x18' | $80k |
Make the most of your backyard this summer and call Riverview Decks for a new deck! We provide free estimates over the phone, but after we come to take a look at your property, we'll give you an even more accurate price quote. You deserve to enjoy your own deck-building project and with our help, that's easy and affordable!
Labor Costs In Deck Building In Loudon, TN
If you've never built a deck before, avoid the temptation to try it yourself. Deck-building is an exact science: minor omissions could lead to dire consequences for anyone using your deck in the future. Therefore, leave this task in the hands of experienced professionals with both knowledge and expertise regarding safety details and features essential when constructing decks.
A professional builder will get the job done more quickly and efficiently than someone without experience–saving you time and stress. In every case, hiring somebody knowledgeable is always worth your money compared to trying to do the project yourself.
An architect's first priority should be the functionality and safety of your deck design rather than its outward appearance. A reliable architect will charge you hourly, with rates falling between $125 to $250 per hour.
If you want a deck that is not only stylish but safe, working with an architect is your best bet. They can help you choose the colors, materials, railings, and posts for your new deck. However, since they are highly sought-after professionals, they charge $100-$200 per hour for their work. For most projects of this nature, it takes 3 -4 hours to complete.
If you want a porch, find reliable professionals who will make your vision come to life. In Maryville, Tennessee, carpenters with experience usually charge $30-$35/hour for building custom decks while those with less experience charge around $25/hour, and beginners are sometimes willing to work for as little as $15/hour.
If you're looking to work with a contractor that makes getting your well-deserved deck so much easier, this is it! With Riverview Decks, you're getting your own architect, deck designer, and builders, all-in-one.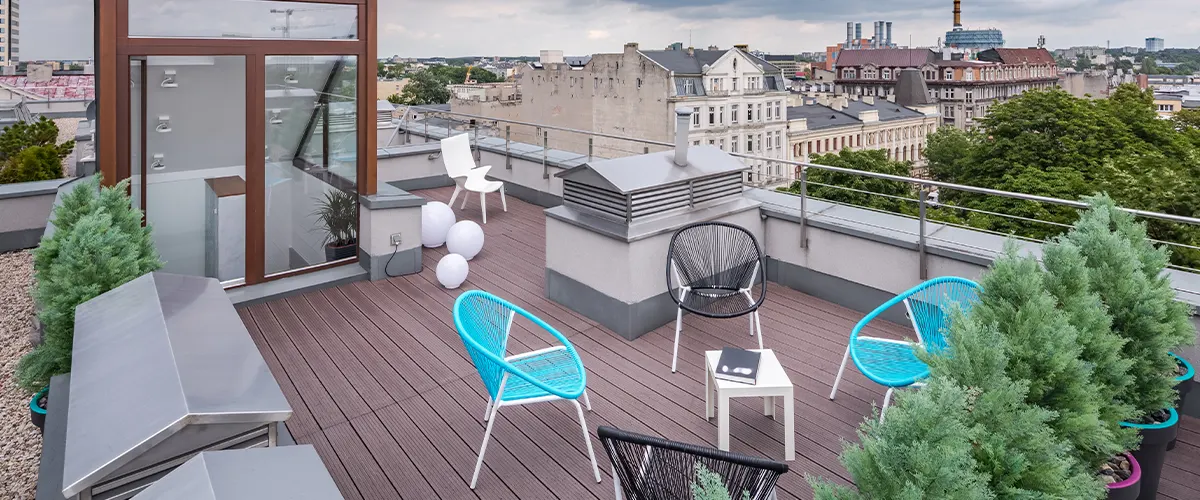 Deck Building Materials Cost
We provide both wood and composite decks, so when you first contact us, we'll ask what style of deck interests you. Wood decks are less expensive but require more maintenance, while composites don't rot or splinter and only need occasional cleaning–ideal for our older customers.
Let's see the cost associated with different sizes of composite and wood decks.
Let's see the cost associated with different sizes of composite and wood decks:
Pressure-treated pine is increasingly popular for building decks because it is more attractive than other types of wood and doesn't cost as much.
However, pressure-treated wood is a soft wood that's susceptible to rot and pest damage. It requires constant attention and care, so definitely consider that before making your decision.
Let's see some other types of wood and their cost of installation:
Pressure-treated pine deck: $15.00 to $18.00 per square foot installed.
Bamboo deck: $19.00 to $22.00 per square foot installed.
Cedar deck: $25.00 to $28.00 per square foot installed.
Composite deck: $29.00 to $31.00 per square foot installed.
Redwood deck: $33.00 to $35.00 per square foot installed.
Cumaru deck: $34.00 to $36.00 per square foot installed.
Massaranduba deck: $35.00 to $38.00 per square foot installed.
Garapa deck: $33.00 to $35.00 per square foot installed.
Tigerwood deck: $39.00 to $42.00 per square foot installed.
Ipe deck: $47.00 to $49.00 per square foot installed.
Teak deck: $49.00 to $51.00 per square foot installed.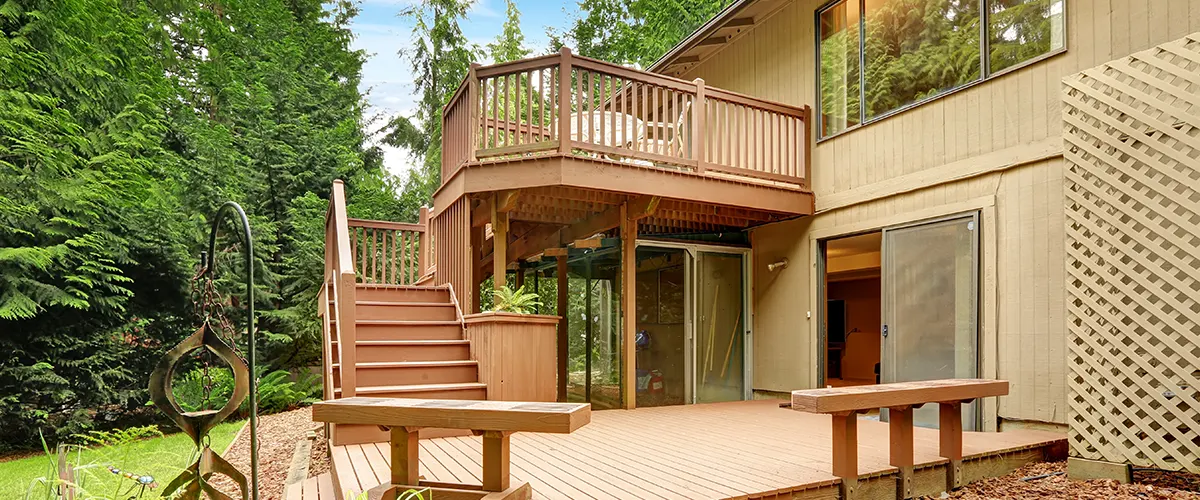 Some advantages of having a composite deck include not needing to spend extra money on sealants and only pressure washing it once a year. If you think this is the right kind of material for your home, we suggest using TimberTech or Trex decking brands because they're easily accessible with plenty of various options.
Instead of waiting days or weeks for your order, we'd prefer to gather the composite decking boards you need right off our shelf. Normally these kinds of materials cost anywhere from $60-$70 per square foot; yet, if it better fits your budget and necessities, we're happy to explore other potential solutions.
While some home choices may be purely a matter of personal preference, like shutter color, others – such as railings on an elevated deck – are mandated by law. As metal is currently the safest option available and incredibly resilient against damage while concurrently impervious to rot or pest attacks, it looks set to remain the material of choice for years to come. With these benefits in mind, metal railings can provide ample peace-of-mind when safety is paramount!
We recommend avoiding composite for a few reasons. Composite is typically more expensive than an average metal rail and may degrade over time since it contains wood components.
Although wood may give your home a classic look, it is the least practical railing option because it requires routine upkeep and treatment. If you don't take care of it, wood will start to decay and become unsteady, which falls into the category of a dangerous hazard on any deck.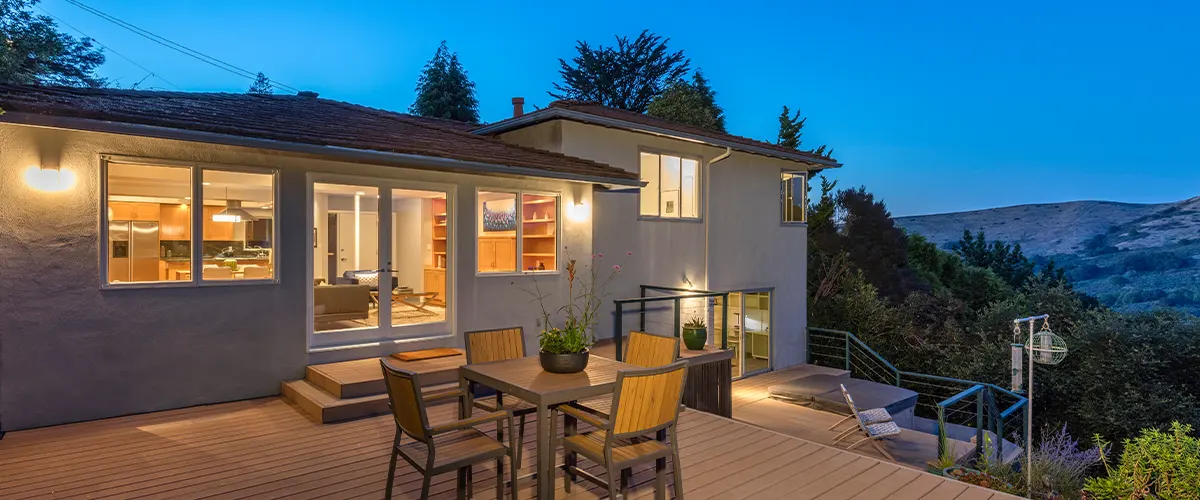 Constructing a strong, enduring deck necessitates three main features: poured concrete footings, upright posts and the frame. Although costlier than other substitutes, pour concretes create an aesthetically pleasing look for your project. Additionally, H-piers are not only pricey but also provide the safest foundation you can use for your deck construction.
Grade #1 pressure-treated wood is the most popular lumber used for posts, but it's not the best choice. Metal frames from Fortress Building Products are a better option if you're looking to build an upscale deck.
When constructing your deck, the frame is a crucial foundation. Pressure-treated wood should be used for durability, while various hardware like brackets, nails, and screws offer an individualized look. Your contractor will walk you through each option as they come with different costs associated with them. If you are looking for something higher quality than other materials available, then metal framing may be worth considering!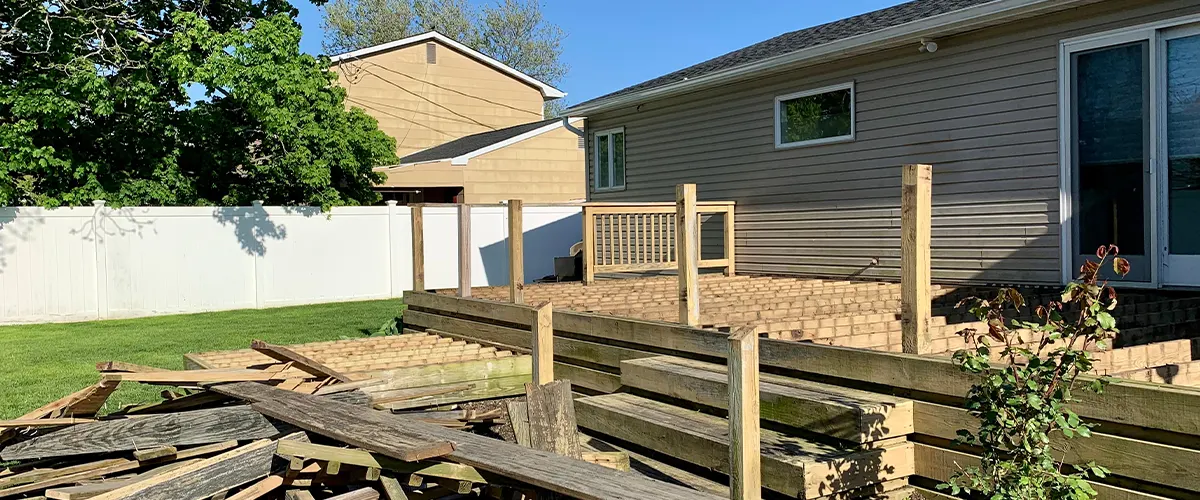 Although not technically required, accessories and additional features can improve your experience on the deck. For example, shade structures offer respite from the harsh sunrays or anti-slip boards can make it easier to move around a pool deck.
Let's look at some of the most common upgrades.
3 Quick Tips When Budgeting For A Deck Building Project
Don't Underspend Or Overspend
When selecting a wood decking or railing solution, it is essential to consider the required maintenance before opting for the cheaper route. Luxurious choices requiring less work may not be ideal either. Fortunately, at our company we specialize in crafting custom decks that adhere to your budget without sacrificing quality; you no longer need to stress about potential repairs!
Know What You're Paying For
We want you always to feel comfortable asking us questions about your project! We think this is the key to choosing the right contractor because it demonstrates a dedication to the project. Furthermore, it allows us to understand your individual needs better.
Murphy's Law allows us no escape, and the inevitable "bad luck" that comes with it is why having a backup budget is essential for any project. Fortunately, Riverview Decks provides breakage insurance at 20%, so you don't have to worry about unexpected expenses on your materials. While all may go according to plan now, investing in extra boards and other elements can help you prepare for future changes due to wear-and-tear over time.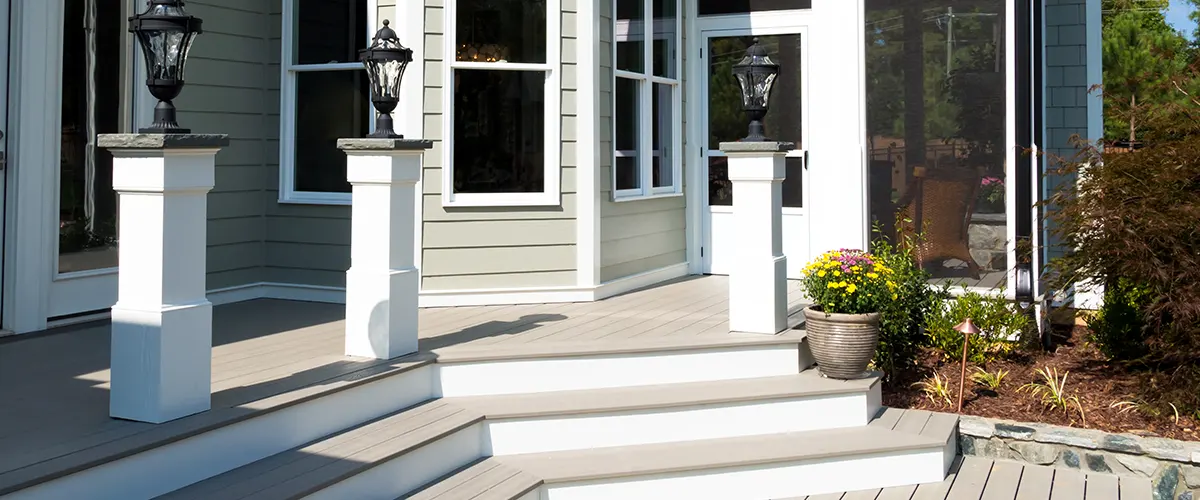 Ensure Your Money Is Well-Invested With Riverview Decks
Let us help you bring your perfect deck to life without the worry of cost. We'll provide a full and itemized list of materials upfront, so that you can trust every penny is worth it in the end! It will be such an amazing sight when all your hard work comes together – we're here to make sure that happens for you!
With us, you'll get:
Get The Best Decking Solutions In Loudon TN Right Now!