If your deck is looking a little worse for wear, it might be time to call in the professionals.
Deck repairs can be tricky, so it's best to leave it to the deck contractors near you.
In this blog post, we'll outline what you need to know before hiring deck builders and some tips on finding the best deck contractors in your area.
So whether your deck is in need of a few repairs or you're starting from scratch, read on for all the info you need!
What to look for in a deck contractor?
When looking for a deck contractor, it's important to consider their experience and qualifications. 
Now that you know what to look for in deck contractors, let's move on to finding them!
How Can You Find Deck Repair Contractors?
Deck repair contractors can be found in a few different ways. You can ask for recommendations from friends or family who have had deck work done in the past. Home improvement stores are also a good place to start your search. The staff at these stores typically have a list of recommended deck contractors in the area.
Another option is to search online for deck contractors in your area. This is a great way to see reviews and compare prices. When searching online, be sure to use specific keywords like "deck repairs near me" or "deck builders near me."
Check their profiles on Google, or their listings on Yelp, Houzz, Angi, Nextdoor, or Yellowpages.
Once you've compiled a list of potential deck contractors, it's time to start making some calls! 
This is where you can ask specific questions about their deck building and repair experience, pricing, and availability. Don't make your decision solely based on the deck repair cost. 
Deck repair and deck building services are not cheap and if you want your new addition to look perfect, you need to check other aspects like past projects and experience as well.
Don't forget to ask for references from past clients as well. This is the best way to get a feel for what it's like to work with a particular deck contractor.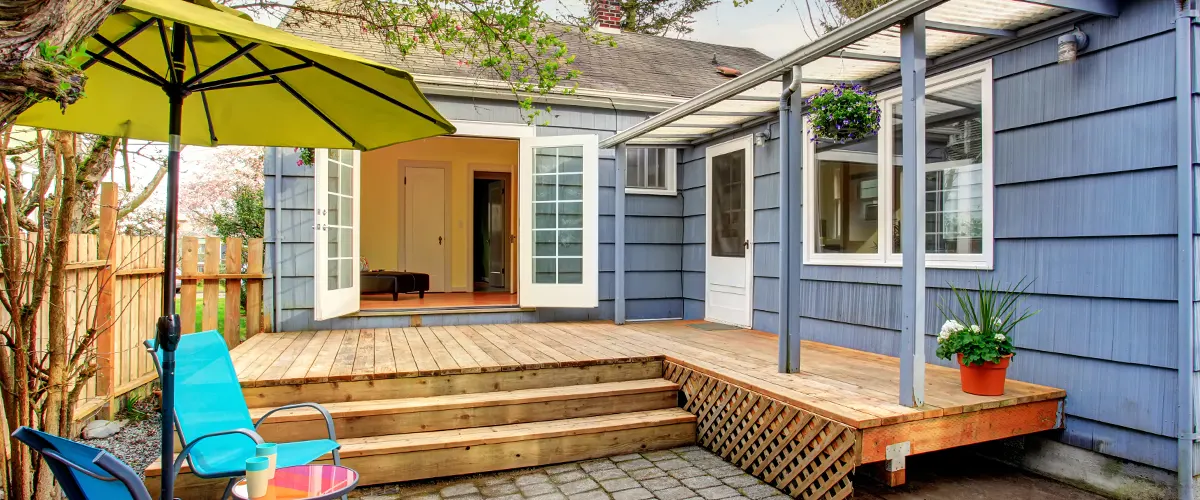 The importance of meeting with the contractor in person
When meeting with deck contractors, it's important to meet them in person. This way, you can get a feel for their experience and qualifications and ask any questions you have about the deck repair process.
It's also a good opportunity to get a sense of the contractor's personality. You'll want to work with someone who you feel comfortable with and who you can trust to do a good job with your wood deck.
So, when you're meeting with deck contractors, be sure to ask all the important questions and take the time to get to know them.
What questions to ask deck contractors?
If you're in the market for deck repair companies and contractors for your deck repair project, you need to have a list of questions ready when you meet the deck repair contractor that's right for your home. 
We've compiled a list to make your job easier:
If you're in the market for a deck contractor, it's important to do your research first. 
Make sure to ask around and get quotes from several contractors before making a decision. Meeting with the contractor in person is essential, so you can see their work firsthand and ask any questions you may have. 
Once you've made your decision, be sure to follow through with the final steps to hiring them! 
At Riverview Decks, we put your needs at the front and center of our work. We're a team of dedicated deck builders and we offer professional deck building and deck repair services in Knoxville, TN. Transparent communication, honesty, and reliability are just a few things you'll enjoy when working with us.