Before we begin, know that deck repairing is not a project anyone can undertake. Many deck problems are more serious than they tend to appear, especially framing and railing issues.
But if you're looking to replace some rotten wood boards, that could be a simple DIY project that you can start.
Let's start with the most common deck issues, and we'll continue with some quick deck repairing techniques that can uplift the functionality of your deck.
The 5 Most Common Deck Problems
We've been in the deck building and deck repairing industry for many years now, so we know for a fact what are the most common issues with wood decks.
Some of them require professional repair, some are easy fixes that anyone with a little building experience can do. 
However, there's one issue with decks that will require much more than a repair. More on that in a second.
Uneven decks create a trip hazard every time you step outside on your deck. This happens when the decking boards are installed wrong, but more often it happens because the posts are sinking in the ground.
Note: Many older decks have posts placed directly in the ground. This creates more pressure on the soil, and with time, the ground will move around, damaging the structural integrity of your deck.
If the decking boards are installed poorly, this can even cause water to puddle on your deck instead of draining away, causing serious damage to your decking material.
Rotten decking, railing, and framing is caused by water damage and is the most serious issue with wood decks.
This happens when water infiltrates the wood through cracks, splits, or holes made by nails. If you live in a humid area that gets a lot of rain, constant sealing is the best way to protect a wood deck from rot, but it's far from enough.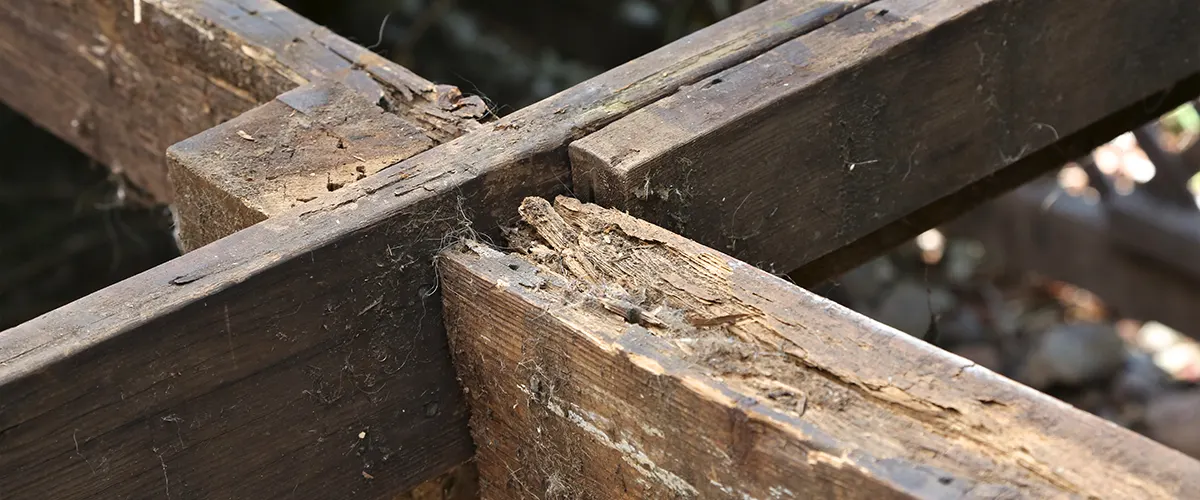 3. Warped, Cupped, Or Split Boards
This is a common problem with many wood decks. While composite decks are almost immune to warp, cracks, or dents, wood decks are still susceptible to water damage, even when treated.
When your decking boards start warping or splitting, it's mostly because of the elements. Splits occur when the wood texture dries excessively because of the UV sun rays, and warping is caused by moisture.
Treating all the boards with deck stain and a good deck sealer can slow down this process, but you'll have to do it constantly throughout your deck's lifespan.
Both of these can lead to rot and pests damage and rot, which are no match for a simple deck repairing project.
4. Visible Nails Or Screws
When the nails or screws of your deck have worked their way out of the decking, they leave sharp points exposed that can cause serious injuries.
This might happen because the wood starts to warp, or because water has gotten into the nail hole and weakened the nail.
Corrosion is a common problem with deck hardware, causing nails, screws, or joists to loosen or even fail under heavy weights.
The rail is what ensures the safety of everyone on your deck. When the rail starts moving around, the safety of your deck is compromised, and you need to take action as soon as possible.
Your rail can move around because of different causes. Loosened nails or screws are the most frequent reason, but there can also be rot involved.
This happens when the railing supports too much weight, or when it's simply not durable and resistant enough.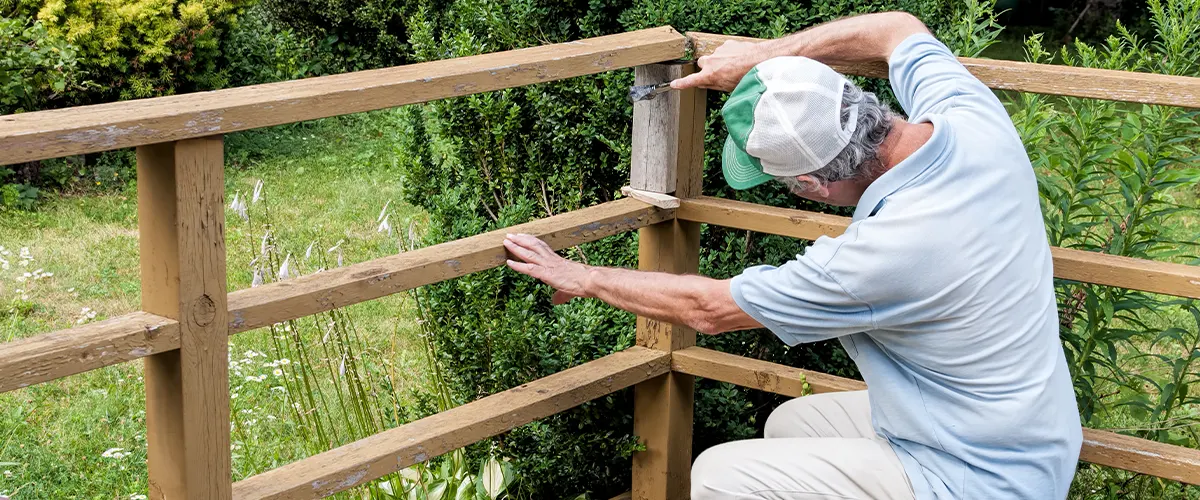 We've had so many homeowners call us for a deck repairing project that ended up rebuilding their entire backyard deck with composite decking because there was no other option.
Rot in the inside of the pressure treated lumber posts is the most concerning problem that decks can have. You can't see this kind of rot unless you're cutting into the post. Sometimes you can cut and find nothing, while other times, you can save a homeowner from a disastrous event.
This mostly happens because there are no concrete deck footings on the ground, and the posts are placed directly on the wet soil. This causes rot at the base of the post, but also on the inside.
Just like rot on the fascia board that attaches a deck to a house, if there's rot, you risk having your deck collapse under your feet. And deck collapses are among the most common accidents with decks.
The best way to fix this major issue is to have a professional conduct a thorough inspection of your deck posts and take care of any deck repairing project that you have for him.
When To Hire A Professional
A professional is needed for most deck repairs because they have the experience and knowledge to do the job properly, without you risking your safety.
Replacing decking boards, repairing rot, and fixing warped or split boards are all tasks that are best left to the professionals. They have the necessary tools and the expertise to fix these problems quickly and effectively, while ensuring the safety of your deck.
If you're unsure about a deck repairing project, or if the problem seems too big to handle on your own, get in touch with your local deck builders.
At Riverview Decks, you'll get cost-efficient solutions for any deck problem. We'll work together to create the perfect plan to tackle your project. Call us today at (865) 801-4545 and let's repair your deck together!