The Best Deck Building Companies in Alcoa
Interested in starting your deck building project in Alcoa? This guide will walk you through the best companies in the area!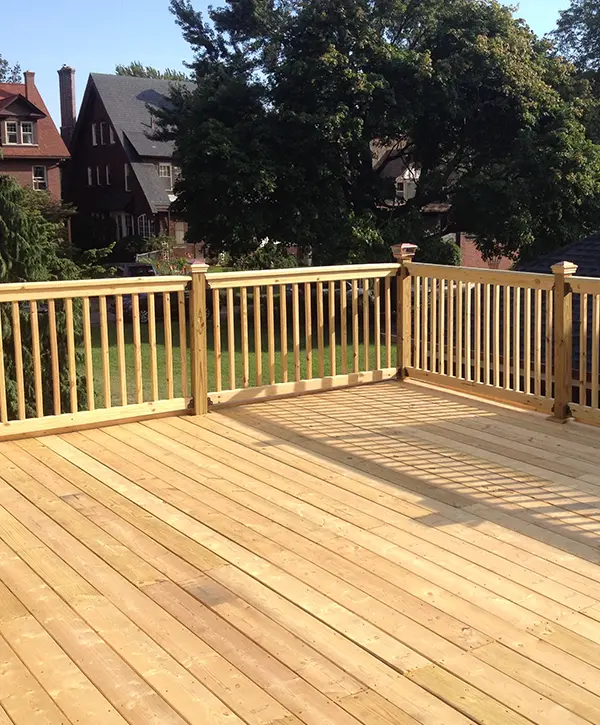 When looking for a deck builder in Alcoa, plenty of excellent companies are available. Nevertheless, Riverview Decks stands out in our goal to revolutionize the deck-building industry and alter how people view contractors.
We aim to exceed our customers' expectations by providing a reliable and efficient service. You can trust us to deliver a stunning deck that is sure to impress.
To assist you in selecting the appropriate contractor for your requirements, we have compiled a list of dependable deck-building contractors in Alcoa. These are our three recommended options for deck repair companies that can deliver exceptional outcomes.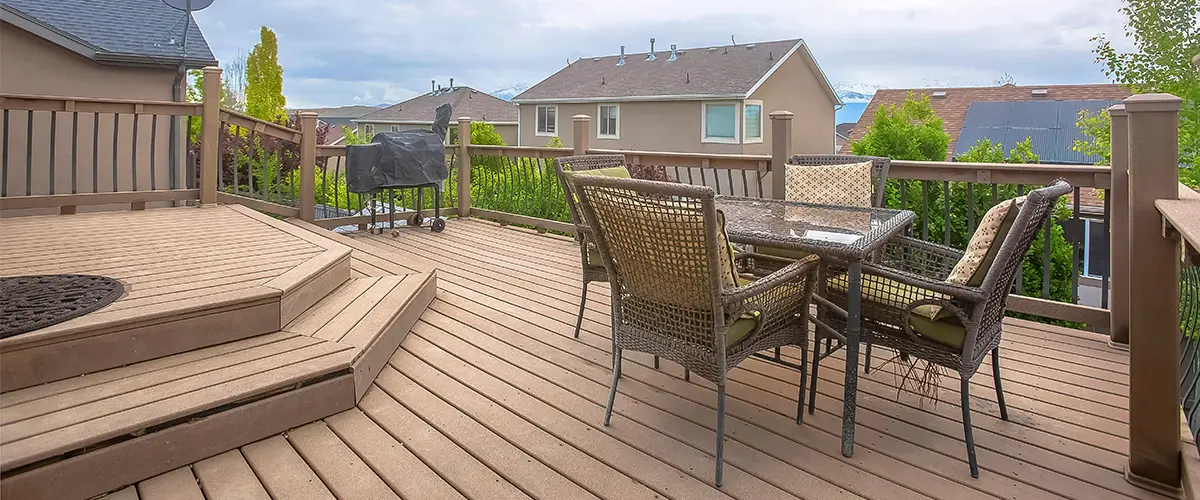 Starting With Riverview Decks
Riverview Decks is dedicated to constructing decks that are of excellent quality and provide safety. We understand that your investment should be functional and visually appealing. Our team takes great pride in using high-grade materials and providing outstanding craftsmanship to guarantee that your deck remains sturdy and attractive for many years.
We offer quick and reliable services to our customers, so you can enjoy your newly renovated deck without any delays. In addition, we provide high-quality materials at unbeatable prices compared to other companies. If you select us for your home renovation requirements, we assure you that you will be completely satisfied.
Check out our deck building offer right now! Get the best deal for your deck construction project and enjoy a smooth process with no setbacks.
Alcoa Homeowners Love Their New Decks!
Our former 2nd story deck may have been up to code in the past, but between age, weather and carpenter bees we needed to replace it. 
Nate and his crew replaced the formerly code allowable 4×4 posts with 6×6 posts, joists were maybe double in number, the wooden pickets replaced by rods that almost become invisible when looking out into the backyard. 
The flooring is Trex with a decorative edge that frames the floor as well as on the stair treads. We were surprised at how fast the Trex dries after torrential rain and how comfortable it is under a bare foot.
We aren't novices at carpentry and woodworking, but we were impressed with the crew's workmanship, precision of the cuts and their eye for detail; not to mention their almost non-stop work during hot, humid days. 
Nate, the crew, and even the supply delivery people were very professional, personable, respectful and punctual – clearly a well-organized company. Thank you, Nate, and thank you to your carpenters!
Tennessee Deck Builders is a deck building and repair company that operates in and around Knoxville. They prioritize providing excellent workmanship and service to their customers, and understand that high-quality materials and work are important to people in East Tennessee who value American heritage.
Tennessee Deck Builders values integrity and dependability above all else. They treat their employees like family and their clients like friends. Their traditional approach to service is still valuable in today's world. They maintain their success by never subcontracting work they can handle themselves.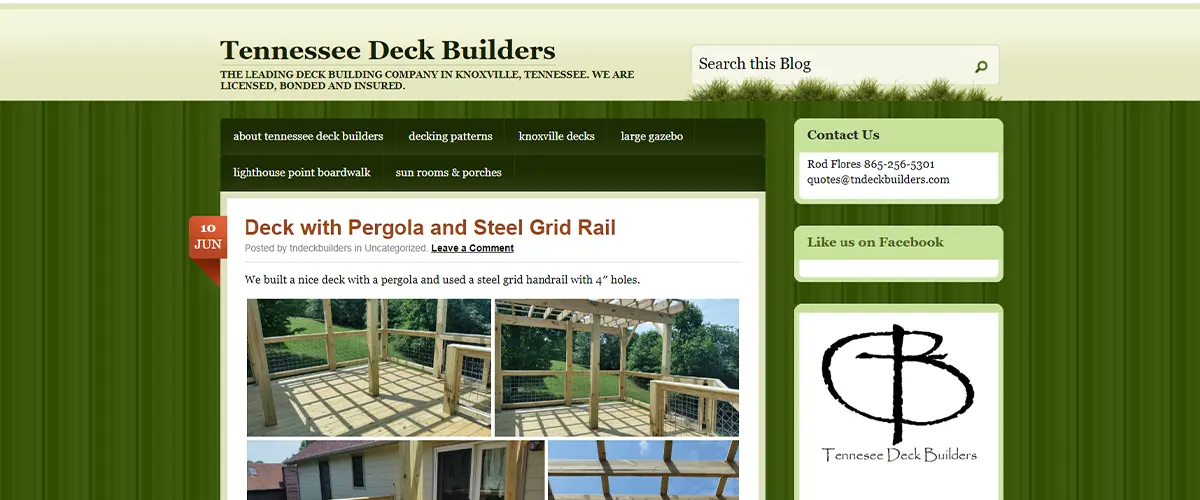 TN Deck builders are fantastic! They built me a huge covered porch and deck exactly to my specifications. They gave me a very fair estimate, showed up on time, stuck exactly to budget, and finished within their estimated time frame. My projects where well built and beautiful. Zero complaints! Will recommend to all my family and friends!
LeBlanc Decks was founded by Rian LeBlanc in Bend, Oregon in 2002. The company, originally named LeBlanc Construction, initially offered a range of small-scale construction services in the area. However, Rian developed a deep passion for deck projects in 2008 and decided to focus the business on them. The results have been outstanding, and his customers can always expect top-quality workmanship that comes with years of experience.
LeBlanc Decks has been providing top-quality deck construction work and exceptional customer service in Knox (West), Loudon, and Blount Counties for 20 years. They aim to create the ultimate contractor experience for each client and are dedicated to delivering the best results every time.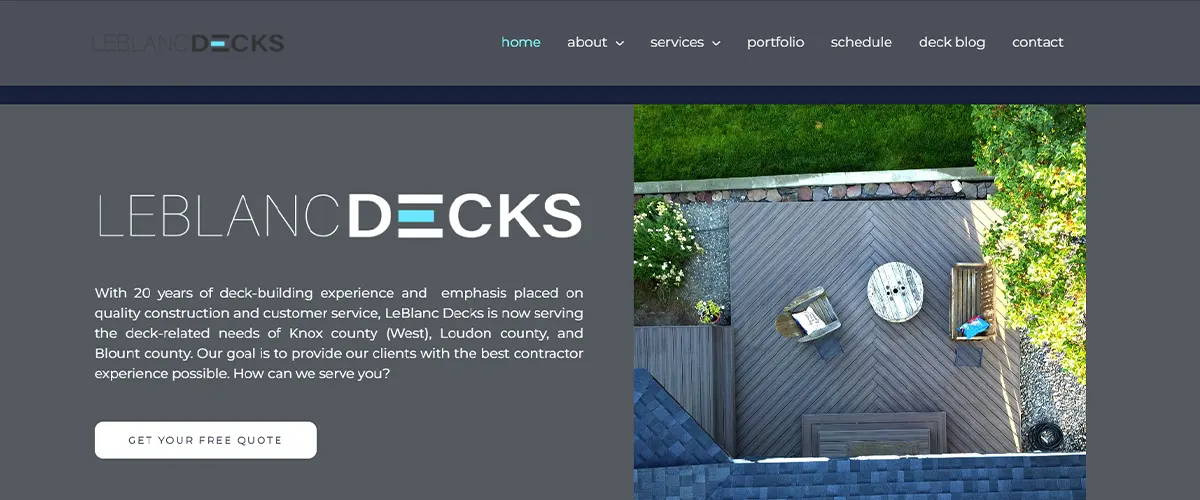 My husband and I couldn't be more thrilled with our new deck designed and built by LeBlanc Decks. Not only does the new deck design blend well with the house and landscape, it's also more functional with better use of space than the old deck. I consider the Rian and his entire crew fine craftsmen as they paid attention to the details and did some pretty intricate work with the decking material. It's not just a deck…it's a work of art!
Ensure Your Money Is Well-Invested With Riverview Decks
We'll help you turn your decking dreams into a reality – with no hassle and an affordable price tag! With our itemized list of materials, each cent will bring this vision to life. Picture it: the result that comes after all your hard work turns out spectacularly – and we want to be part of that journey for you!
With us, you'll get:
Get The Best Deck Building In Alcoa Today!