If you're looking for the best deck lighting to create an inviting and relaxing outdoor space, look no further! In this post, we'll share our top tips for choosing the right type of deck lights to suit your needs. From solar lighting options to LED bulbs, there's sure to be a perfect solution for your deck or patio. So read on and find out how to light up your life (outdoors)!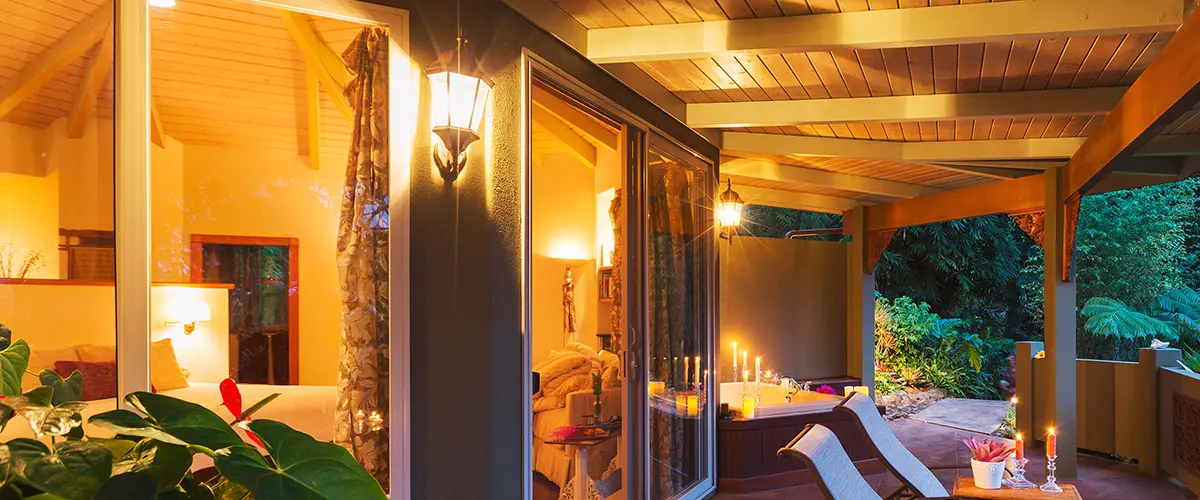 Brightening Up Your Outdoor Space With Deck Lighting
There's nothing like spending time outside on a beautiful summer evening. Whether you're sitting around with friends or just enjoying the peace and quiet, your deck should be a warm and inviting place to spend time. And one of the best ways to make it more inviting is by investing in some amazing lighting. Here's why having great lighting on your deck is well worth the effort.
One of the most important reasons for adding lights to your deck is that it increases safety and security. A well-lit deck makes it easier for you to walk around without tripping over furniture or stairs, making it a much safer space for you and your family. Additionally, exterior lights make it easier for anyone who visits to find their way around. Also, strategically placed motion sensor lights can help deter any unwanted visitors or animals that may wander onto your property at night.
Deck lighting can create a visually appealing atmosphere and add a sense of ambiance to your outdoor space. It can be the perfect way to set the mood for outdoor entertainment, whether it's a family movie night or just gathering with friends.
With the right selection of deck lights you're sure to find something that will bring charm and sophistication to your outdoor living space.
Deck Lighting Ideas And Options
Summer nights are perfect for entertaining outdoors. But, without proper lighting, you're bound to end the family gatherings sooner than you'd like. If you're looking to take your outdoor area to the next level and extend the usability of your deck, deck lighting is a great way to add ambiance and safety.
From solar-powered string lights to LED spotlights, here are some deck lighting ideas that will make your entire backyard shine.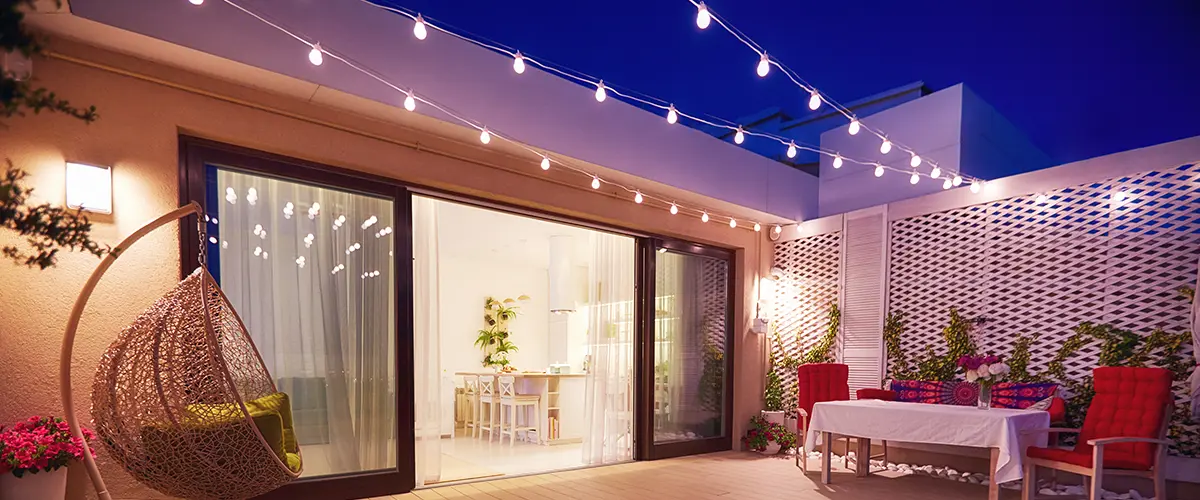 String lights are a classic way to light up any space—especially an outdoor area like a patio or deck. Solar lights are ideal for this purpose since they draw energy from the sun during the day and activate when it gets dark outside.
This type of lighting looks beautiful hung around railings, posts, or trees in your yard. 
2. In-Floor LED Spotlights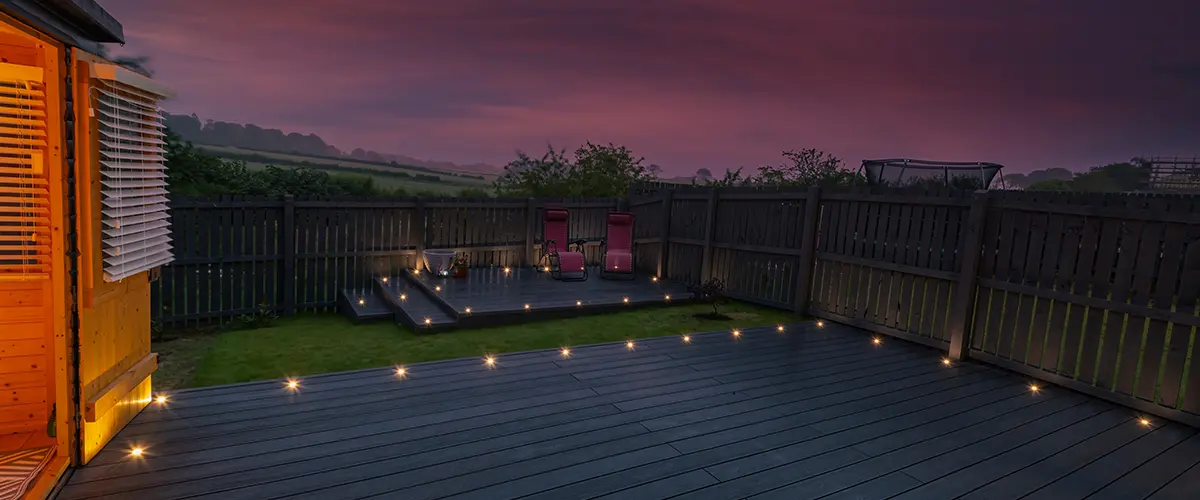 For more focused illumination in certain areas of your deck, LED spotlights might be just what you're looking for. These lights produce a bright but pleasant glow that can help guide guests on your deck and around your outdoor living space. You can also used LED spotlights to illuminate any landscaping elements that may be tucked away in darker corners of your backyard.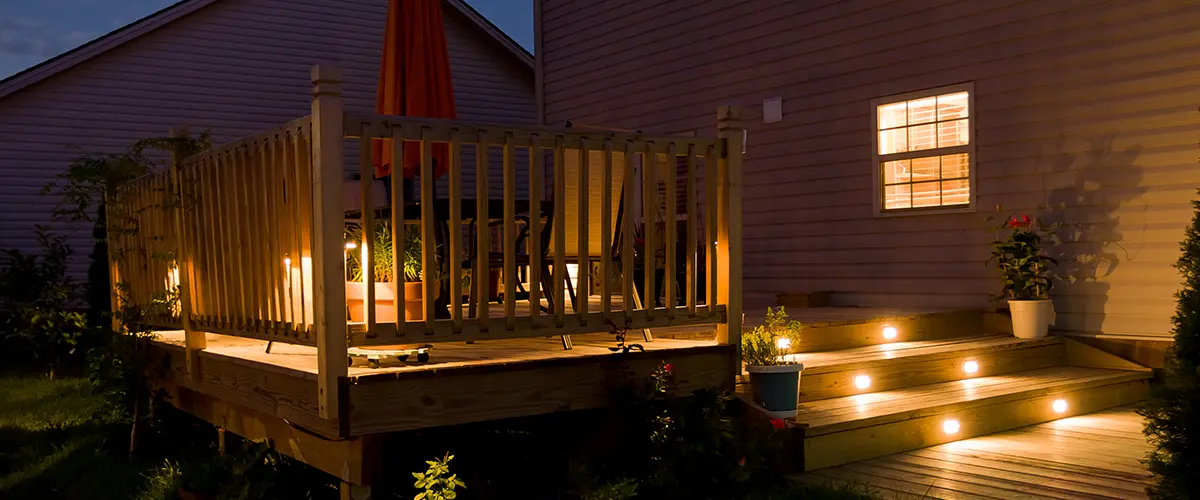 Step lights are an excellent choice for anyone who has stairs leading down into their back or front yard—or anywhere else where additional visibility is needed at night. Step lights cast a warm glow over each stair tread. There are even solar-powered options available if you don't want to run electricity out into these parts of your property.
4. Under Rail Deck Lighting
A more aesthetical use of lighting, under rail lighting will cast an accent light on your deck railing, highlighting every feature of your beautiful deck.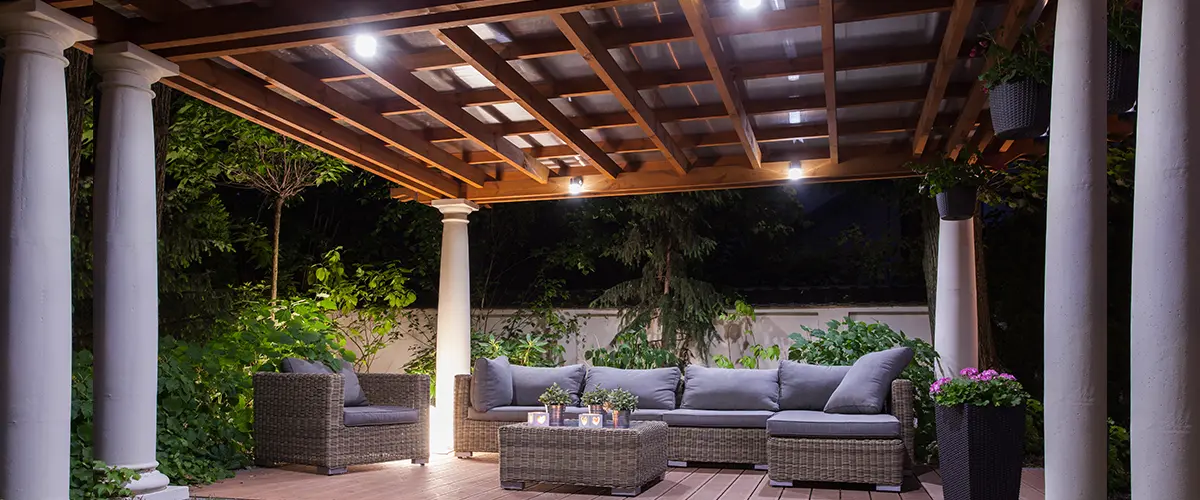 If you have a two-story deck, you'll also need lighting under your deck, whether you've created an outdoor living space or the space under your deck is a simple storage area. In both cases, you can make the place look nice with appropriate lighting. Just make sure you waterproof under your deck so that you can enjoy it no matter the weather!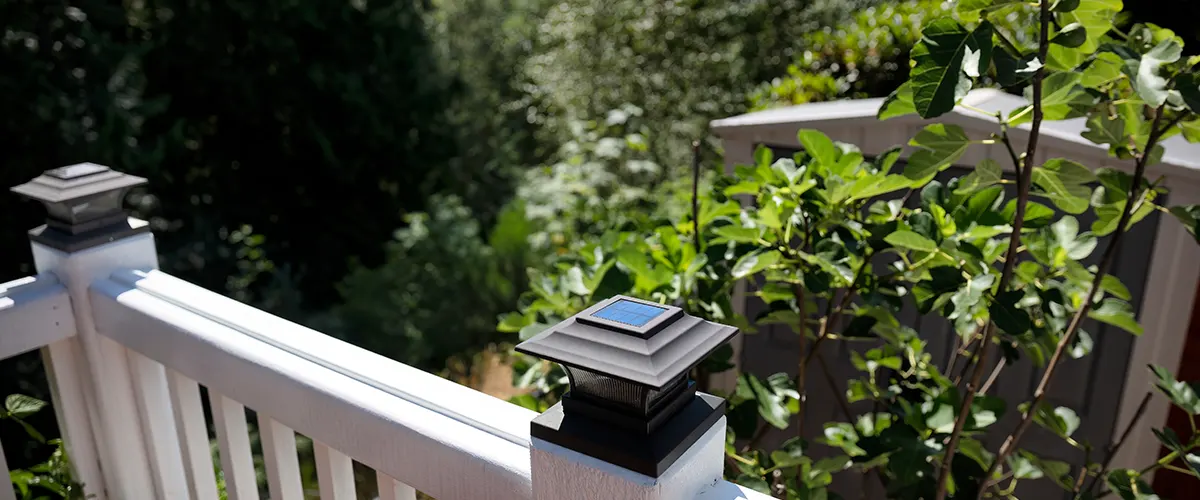 Deck post cap lights are quick and easy to install, requiring only basic tools and wiring setup. These lights attach directly to the top of a wooden or composite deck post, adding both visibility and aesthetic appeal.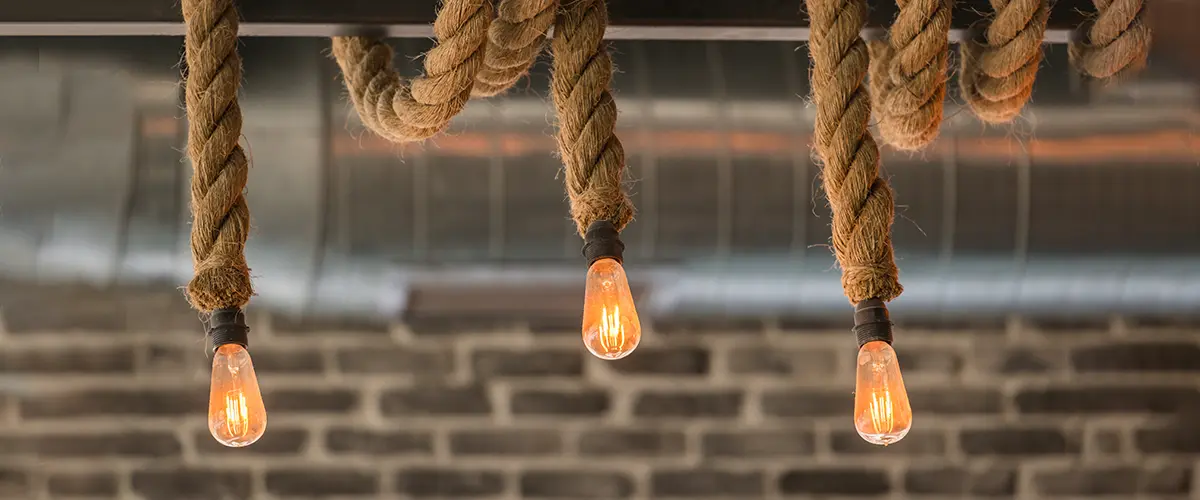 One popular option is rope lighting. Rope lights are versatile and come in various colors and lengths that can be used to create custom designs or illuminate pathways on your deck. They can also be discreetly tucked away along railings or stairs, giving off a soft glow without taking up too much space.
Solar-powered string lights provide an energy-efficient way to brighten up decks with no additional wiring required – simply place them in direct sunlight during the day and watch them turn on at nightfall.
With these tips in mind, you're well on your way to achieving the perfect deck lighting setup.
But if you're still not sure where to start or need help with your deck installation, get in touch with us. We'd be happy to lend a hand and make sure your deck is looking its best for summer entertaining.
Riverview Decks is a certified residential contractor specializing in deck building and deck repair in Knoxville, Maryville, Farragut, Lenoir City, Oak Ridge, and more of Tennessee.