A front porch deck can sometimes be more difficult to build than a deck. They require more attention and need to be stronger than deck.
They need to sustain some extra weight, and they need to be safe and durable.
But a front porch decking is a beautiful project that will make the entrance to your home more welcoming and cozy.
In this article, you'll discover what you need to know to start your front porch decking project!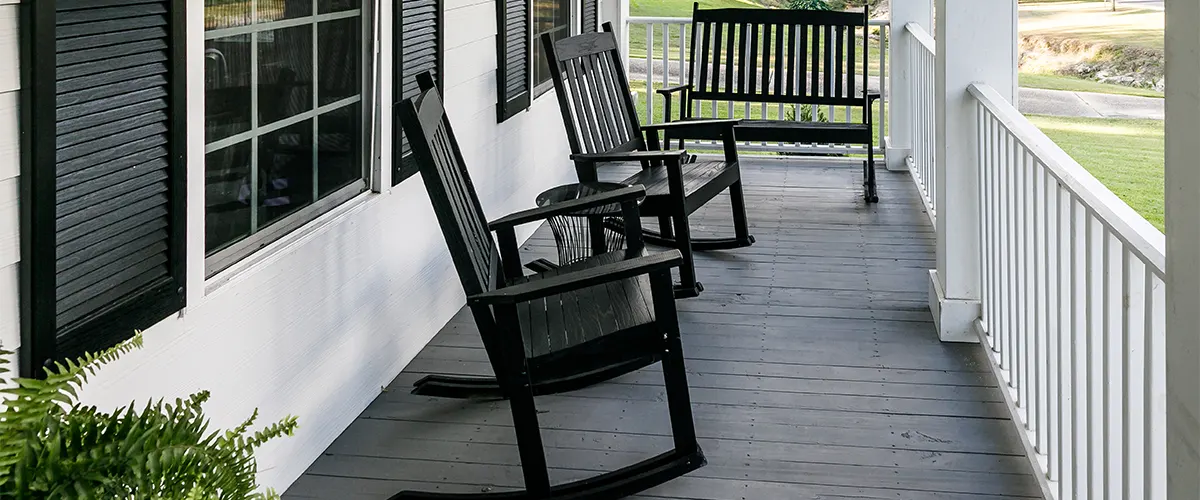 Before we begin with the entire process of building a front porch decking, let's discuss the most crucial aspect of building a front porch.
Weight Of The Front Porch Decking
A front porch deck needs to support 80 lbs per square foot, compared to 55 lbs per square foot for decks. The extra 25 lbs are required to support your home's roof and the snow that it can collect.
Besides, front porches also need a roof, so that's even more weight that your porch decking will have to support.
The reason front porches need to be more durable is because they typically have to support more weight. Not only do they need to support the weight of people, but they also need to support the weight of the porch roof. This extra weight can make it difficult for a wooden porch deck to be as sturdy as regular decks.
7 Steps To Building A Front Porch Decking
There are several practical issues to think about, such as how much a porch will cost to construct and if permits are required.
Let's see some quick steps to building a front porch deck.
Adding a front porch to your house not only gives you an additional outside living room, but it can also cut off the light inside your home. Do you adore having a bright breakfast nook? 
Think carefully before adding a porch that blocks sunlight if you want to let the sunshine in.
A Victorian mansion needs a very different style of porch than a 1920s bungalow.
If you live in a historic home or a historic district, contact your city's planning department to determine whether there are any rules that you need to follow. Historic properties may have restrictions on the type of materials that may be utilized.
For example, if your property was built in the 1800s, you might not be allowed to use specific materials (such as vinyl screening or composite decking) when constructing a porch.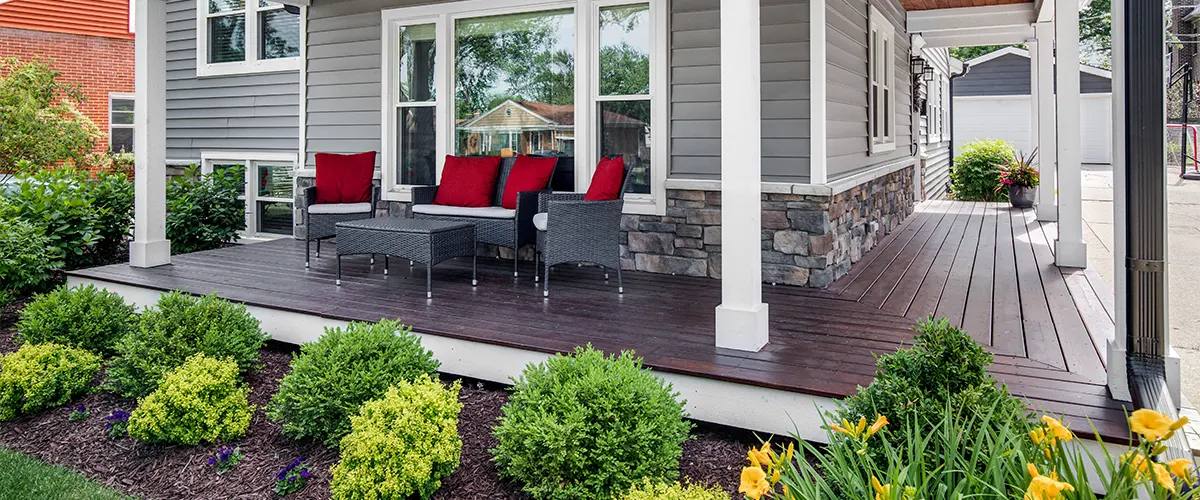 You should inspect the current appearance, style, and structure of your house before you begin construction. Make sure everything is in sync. Some porches have a basic wooden raised porch with a simple railing and roof, similar to those seen on a farmhouse. Other porches feature altered balustrades.
If you want to get some inspiration for your front porch decking, check out these deck plans from decks.com, or read our article on deck plans!
You'll also need to consider what materials you'll want to use. Using wood components for the entire porch will require more maintenance, whereas composite decking will require more money upfront, but also more money and time saved on maintenance. Decide if your design will include stone flooring or even tile or brick.
To support the porch, install a ledger board on your house wall. Then, using an auger or post digger, make holes for the foundations. To avoid frost heaving in a chilly climate, you'll need to dig down before the freezing line. Foundation tubes, cement, rebar, posts, and post anchors are all required.
Place the foundation tube in the hole, pour in the cement, and secure with rebar. Next, you'll anchor the posts to the footings. Your porch framing will attach to these posts.
Begin with the perimeter beams when building your front porch. Nail the final beams to the porch foundation after arranging them on top of it. Make sure they're level before continuing.
The joists support the front porch flooring, which is built on top of the foundation beams. To support the weight of the front porch decking, you'll need to install them at regular intervals. The size of your porch determines how far apart they should be placed.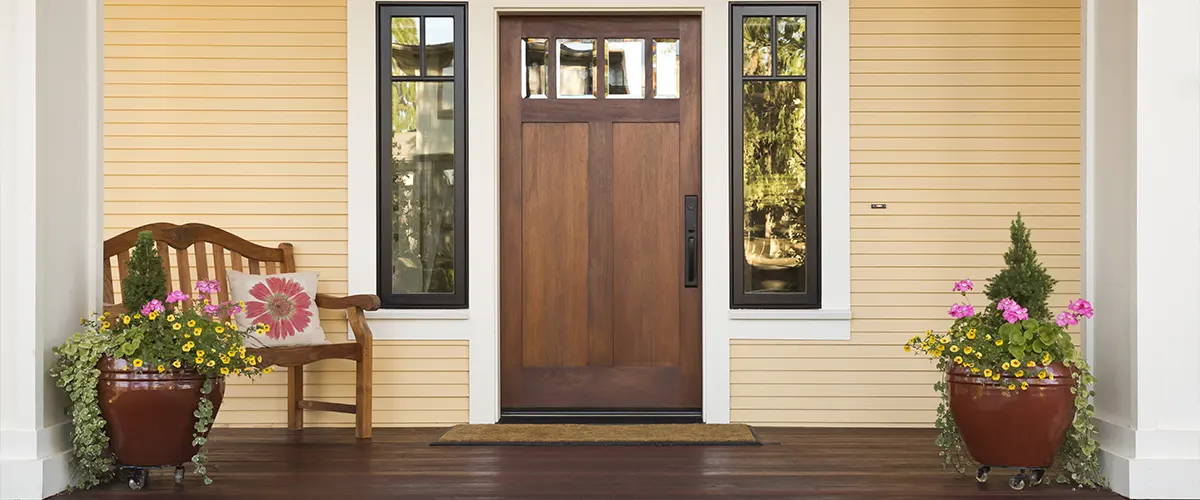 Make notches in the rails at each end of the porch to fit them around the railing posts. This will give you a clear idea of where the railing posts will go, so you can install the decking around them.
The porch boards should be attached so that there is a gap between each one. Because of the overhang, the decking will have a small projection from the edge. If you intend to paint or stain your new front porch floor, clean up any debris before doing so.
Although water doesn't get on a porch as easily as on a deck, its wood can still rot. Rotting outdoor flooring is the most common issue with outdoor spaces, so a rot resistant wood, like composite, is the best choice you can make for your porch flooring.
Our advice is to avoid pressure treated lumber at all costs.
Regardless of whether you go for simple and clean postings or more ornate ones, you'll need to secure your railing posts to the porch and build a sturdy foundation. Then, at the end of the rails, you'll need to install the cleats that will support them all around.
As it's a front porch, we recommend some nice porch columns that'll leave every one of your guests in awe. Wood columns will look amazing and they're affordable as well.
No matter how many steps your front porch will have, you'll need posts, stringers, treads, and risers to build safe and functional porch stairs.
Start by adding a ledger board to the porch posts for stability.
Add the stringer for the stairs next. They should be level to support the steps. Then add the risers. Finally, you'll install your porch stair treads (please note that in some cases, treads may need to be put before the risers).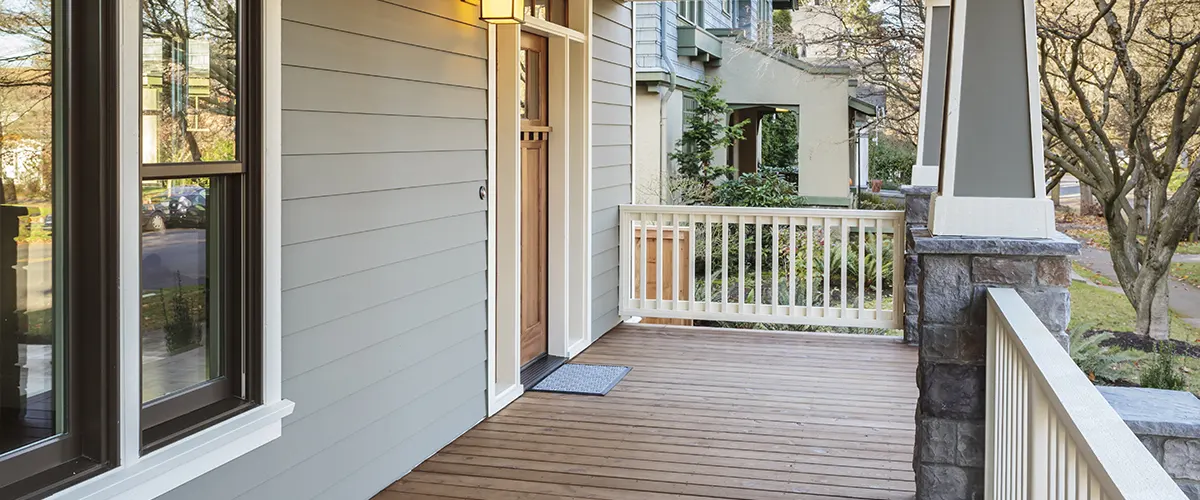 Finishing Up Your Front Porch Decking
Once your front porch decking is completed, you'll want to finish it to complete the entire look. If you choose wood materials, you need to sand the railings and floorboards and choose a paint or stain that'll tie the space together.
A proper finishing helps your porch stay good looking for years to come.
If, however, you've chosen vinyl, plastic, or composite decking materials, you can skip painting or staining your front porch decking. These materials are low-maintenance, and a quick pressure wash is all they need.
At Riverview Decks, we'll make the entire deck building and porch building a pleasure to go through. We take pride in our transparency and our craftsmanship, and we aim to give you the best end-product in Knoxville, TN.