Just like regular decks on the side of your home, a freestanding deck is also a great home addition that makes your life better in many different ways, but also increases your property's value.
However, there is a difference between freestanding decks and regular decks.
While most decks are attached to a house with a ledger board, a freestanding deck is an independent structure. Like maybe a deck on top of an older concrete patio.
But there's more to a freestanding deck than this, so let's begin.
Why Choose A Freestanding Deck
You've probably noticed that regular decks are attached to houses with a ledger board. A large piece of wood that makes sure your decking is connected to the house wall.
But on houses whose exterior is made of bricks or stones, a ledger board and an attached deck are not really possible, as you can't screw it into the bricks.
In this case, free standing decks are the best alternative.
Here are some other reasons homeowners choose freestanding decks:
Types Of Wood For A Freestanding Deck
There are many types of wood you can use for your freestanding deck, but some are better than others.
Here are three types of wood you might want to consider:
Cedar is a popular type of wood for most decks, including a free standing deck. It's affordable, relatively strong, and can withstand a great deal of wear and tear when treated properly.
However, cedar is a softwood, so it's more susceptible to rot and pests than a hardwood or a composite. Even with regular maintenance, cedar will eventually start rotting.
Redwood is also a popular choice of lumber for decks because of its red color and the vibe it brings to your outdoor space. It has more natural oils than cedar, which help it resist rot and insects better.
Like cedar, redwood lumber will need constant maintenance. The best side of getting a wood deck is the possibility to refinish them, an option not available for composite decks.
3. Pressure-Treated lumber
Pressure-treated lumber is treated with chemicals to resist rot, insects, and weathering. It's the poorest choice for any deck, as this type of wood is not strong nor durable.
Most traditional wood decking is made with pressure treated wood or cedar.
Pressure-treated lumber is, however, way more affordable than any other wood type out there.
Composite decking materials are manufactured to look like wood but is made of renewable materials and wood fibers. It's very durable and low maintenance, making it a great choice for a freestanding deck or for floating decks.
Composite decking boards and an aluminum deck frame make the best new deck you can possibly get these days.
Although a more hefty price tag upfront, a composite deck will help you save a lot of time, money, and energy on its maintenance. You won't need to buy any sealant, stain, or paint, so you'll get to invest that money elsewhere in your home.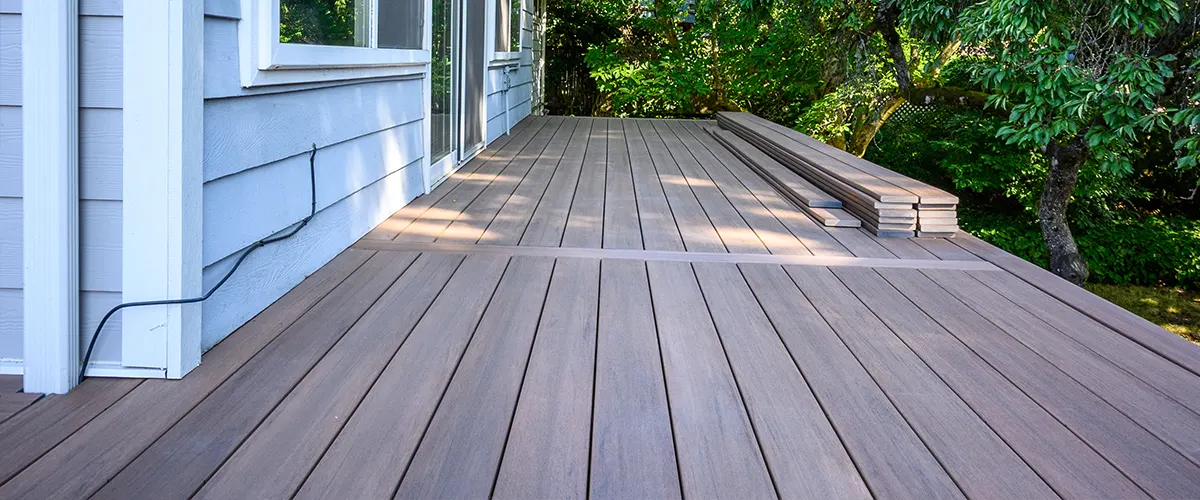 Building Codes For Freestanding Decks
Building codes for deck building are determined by the local government. To obtain a building permit, you'll need a lot of paperwork about your project. Everything from where in your backyard it'll go to the freestanding deck posts, deck framing, or other materials you'll use.
As long as your deck meets the following conditions, there is no need for a permit according to the model building code.
Disadvantages Of A Freestanding Deck
It's true that having a deck has a lot of benefits. For your well-being, your outdoor living space, and your property's value as well. But when a deck is in a bad shape, it can do more harm than good.
And while free standing decks look great and can bring great value, there are some drawbacks to having one.
Free standing decks are great investments that can create a great vibe in your outdoor space. They're dedicated to relaxing and kicking back with a few friends, but they sometimes lack flexibility.
For example, a freestanding deck is mostly on ground-level. It's most often far from the house, and not as large as a deck attached to the house.
However, many freestanding decks don't require a building permit, which can save you some time and money. Besides, it's usually a smaller and more affordable home addition.
If you need help building your freestanding deck, contact your local deck builders in East Tennessee and Knoxville TN. Riverview Decks have been upgrading people's homes with utmost care and dedication. We're experts in deck building and we'll give you the best deck in your neighborhood.