Creating an outdoor living space that is both beautiful and practical can be a tricky endeavor. Finding the right decking finishes for your particular application takes time, research, and—perhaps most importantly—a keen eye for detail. With so many choices available to you, it's important to understand not just what types of deck finishes are out there but which one might best suit the needs of your outdoor space.
In this blog post, we will explore in depth the different kinds of deck finishes as well as how they differ in quality, appearance, and longevity so you can select with confidence when remodeling or building a new deck.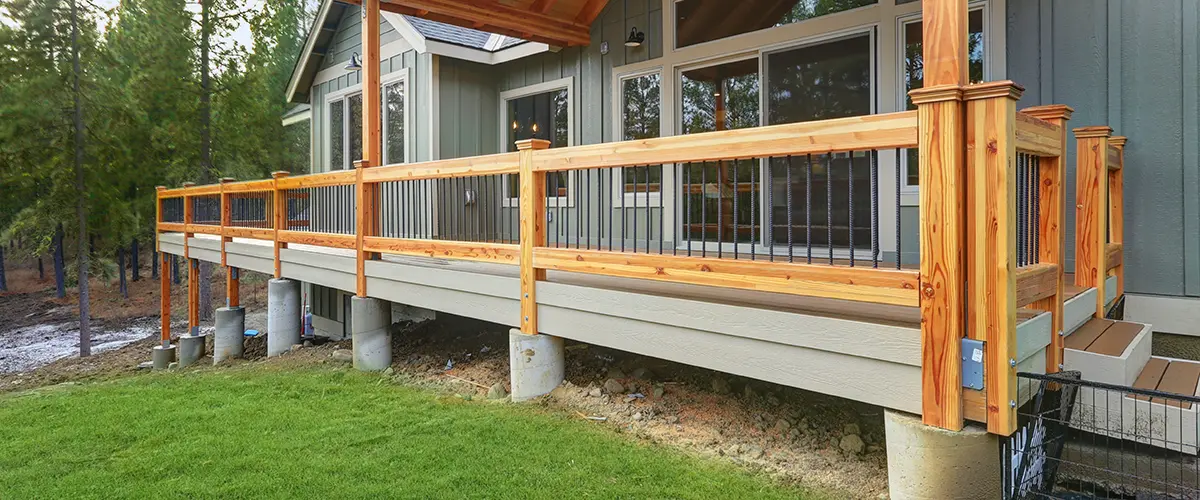 Understanding the difference between deck finishes and stains
There are many options to choose from when selecting the perfect deck finish or stain for your outdoor space. Understanding their differences is key to making the best selection for your deck. Deck finishes provide a layer of protection against moisture and other environmental elements, while stains provide slightly more than just color, incorporating a subtle hint of shine as well.
Finishes are designed to coat the surface of the wood, offering both a protective and decorative layer, while stains penetrate deep into the wood's grain, providing long-lasting protection without affecting comfort underfoot. With this knowledge, you can find the right combination of look and protection that best suits your needs.
It is important to take many key factors into consideration before selecting a finish or stain for your outdoor deck. The material of your deck, the amount of sun exposure it receives each day, and even the climate in your region can all affect which finish or stain will work best for you.
Different materials may require different types of treatments to keep them in top condition and many stains and finishes may only be suitable in certain climates or weather conditions. For example, some finishes are waterproof, while others are more suited to areas with high humidity and direct sun exposure. Researching these details beforehand and choosing the right product can help you keep your deck looking as beautiful as possible for years to come.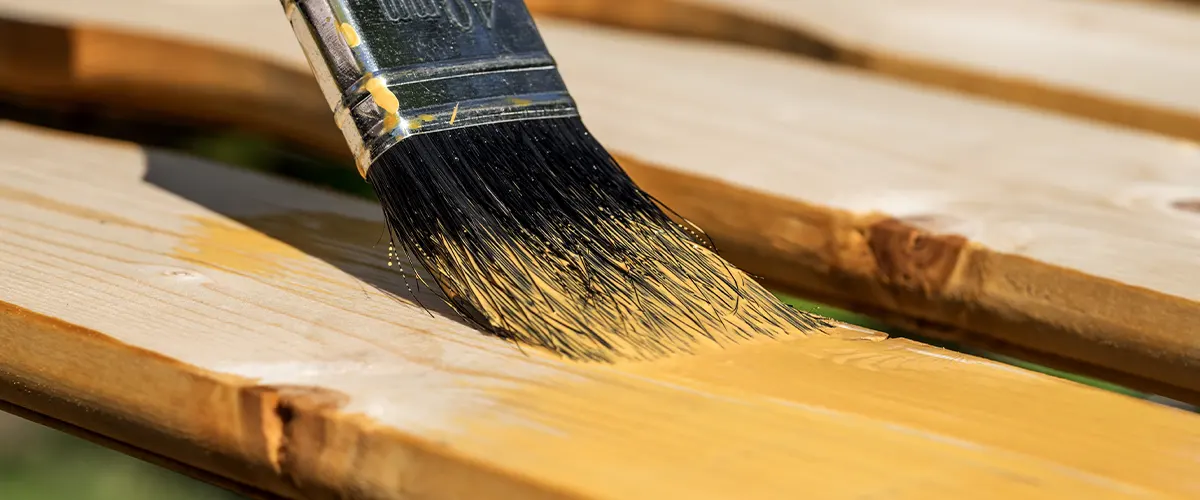 Researching the different types of finishes available
Decks are a popular outdoor feature for many homeowners, but unfortunately, many don't realize that simple installation is only the first step. You must choose the appropriate finish or stain to ensure your deck lasts. Various finishes and stains are available on the market, so it's important to research them carefully and decide which one will work best in your unique space.
You'll need to consider factors like the type of wood you are using for your deck, along with local weather patterns, before choosing your finish. It's also a good idea to read reviews from other owners to understand what works best. By investing some time into researching finishes and stains, you can ensure that your deck will look great and last a long time!
Checking out reviews to ensure you are getting a quality product that will last
Research is key when it comes to finding the perfect finish and stain for your outdoor deck. Reading reviews online can help you determine the quality of a product before you purchase it, saving you time and money in the long run. Reading these reviews will give you an understanding of how well a particular product stands up to weathering and how long-lasting it is so you can make an informed decision about the product. By investing a bit of time in getting to know the various available products, you can be assured that your outdoor deck will look great for years to come.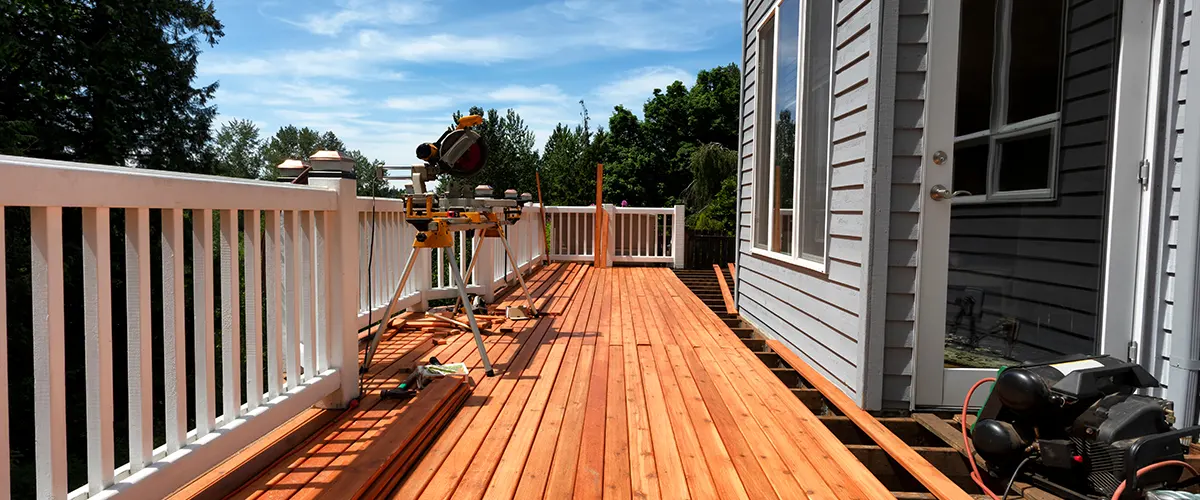 Comparing prices to make sure you get the best deal on your purchase
When it comes to upgrading or improving your home's outdoor space, price is an important consideration. Comparing different brands and types of stains and finishes for your deck can help you make the most cost-effective decision possible. Pricing can vary significantly depending on the quality, level of protection, and type of finish/stain you select.
This is why it is essential to take your time when deciding which option would be best suited to your needs and budget. Due diligence in performing research on cost-effectiveness is well worth the effort when considering these types of investments in your home.
Asking a professional for advice if needed
If you are unsure which deck finish or stain best suits your outdoor space, it is wise to consult a professional. If a contractor is performing the job, they should be able to provide advice on what type of stain or finish would be best for protecting your deck against UV rays and moisture damage. Gathering this information can help ensure you select the right option for your home, preserving its beauty and luster longer.
Even if you plan on hiring someone else to do the work, it's worth researching different materials and products so you can explain what look you are going for. Talking to a professional about these options can help narrow your choices and ensure that your outdoor space lives up to its full potential.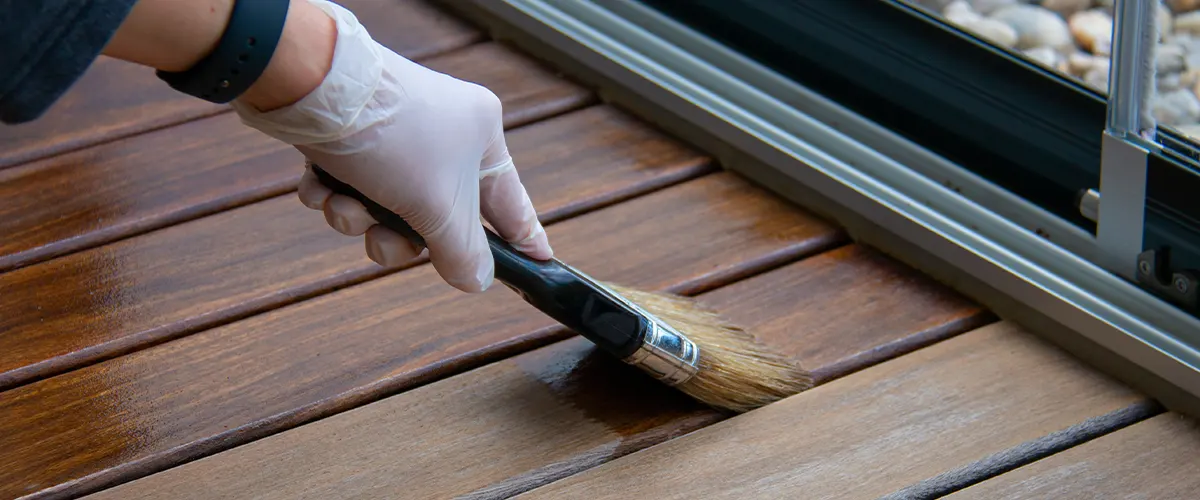 A Guide to Deck Stains for Your Outdoor Space
If you're looking to enhance the look of your outdoor space, wood decking stains are an easy and cost-effective way to make a difference. There are several different types of deck stains available, each with its own unique properties and benefits. We'll take a look at some of the most popular options so that you can decide which one is right for your needs.
Oil-based wood deck stains are some of the most durable and long-lasting options on the market. They penetrate deeply into the wood, providing excellent protection from moisture and UV rays. Oil-based deck stains also resist cracking, peeling, fading, and mildew growth. However, they do require frequent maintenance and they can be difficult to apply correctly due to their thick consistency.
Water-based deck stains are becoming increasingly popular because they provide excellent protection while being easier to apply than an oil-based deck stain. They're also less likely to fade or crack over time, making them an ideal choice for long-term projects. The downside is that water-based deck stains often don't last as long as oil-based ones so they may need to be reapplied more often if you want them to remain in good condition.
Semi-Transparent Deck Stains
Semi-transparent deck stains are a great option if you want to add color without completely hiding the natural color and texture of the hardwood decking beneath it. These types of stains allow some of the wood grain to show through while still providing UV protection from harmful elements like sun exposure and moisture damage. Semi-transparent decks tabins will typically need reworking every few years depending on weather conditions in your area.
To wrap up, when it comes to choosing the best decking finishes for your outdoor space and wood surface, always think about your needs and budget as well as the environment. Consider alternative decking materials that are available, then select your finish to give your wood decks the best natural beauty possible. With all these options at hand and with the right preparation and application techniques, you can be sure that your deck will look its best for many years to come.
At Riverview Decks, we take pride in learning how to customize an amazing outdoor experience for our customers, so get in touch if you need to finish your pressure treated wood deck or build a new one! We guarantee you won't regret making the decision to work with us. You won't just have a beautiful wooden deck when we're done – you'll be left with timeless memories of evenings spent with family and friends underneath the stars on your gorgeous exterior decks! If you want to find out more about deck finishes or other alternatives to your project, get in touch with us today at (865) 801-4545 or request a free quote!