Building a deck from the ground up, without any existing structure, means you'll also have to think about what your deck will look like.
This means designing the layout of your deck. And the best way to visualize your outdoor space without wasting any money is to use a deck designer software.
These apps allow you to create your deck design from nothing! You get a selection of materials, layouts, features, and even outdoor furniture.
But what's the best deck design software out there?
Let's find out.
What To Consider When Choosing Your Deck Designer Software
There are many apps like these on the market, and all of them bring something different to the table.
Some will have a much simpler user interface and will be much easier to navigate, while others are more complex and bring dozens, if not hundreds of new features.
Needless to say, some are free, some offer a free trial, and some require a paid subscription.
Here's what you should be looking for in the first place:
Free Deck Designer Software
You'll probably use the app just once, for your own deck. Unless you're a deck builder, a contractor, or a landscaper, investing in a paid deck design app with hundreds of features might not be the best choice.
There are several free deck designer software out there that have all you need to create your perfect outdoor space.
A 2D deck designing app gives you the bare minimum when it comes to looks. You can still visualize your new structure, but you'll also have to imagine how it'll look finished.
A 3D plan will show you how everything will look. It'll display length, width, height, and depth as well. It's a much easier way of understanding the end-product, making 3D a great feature to have on a deck design app.
Like we mentioned already, user interface is a big factor that you'll have to consider when trying your first deck designer app.
If you don't have plenty of time to navigate the app and learn it inside out, an app with a simple and intuitive interface will make it much easier for you to start creating.
More complex apps will have hundreds of features that you'll need to discover and use. Some will require more time on your behalf, but you'll gain a wider range of options.
It all depends on why you need the app and how often you'll use it.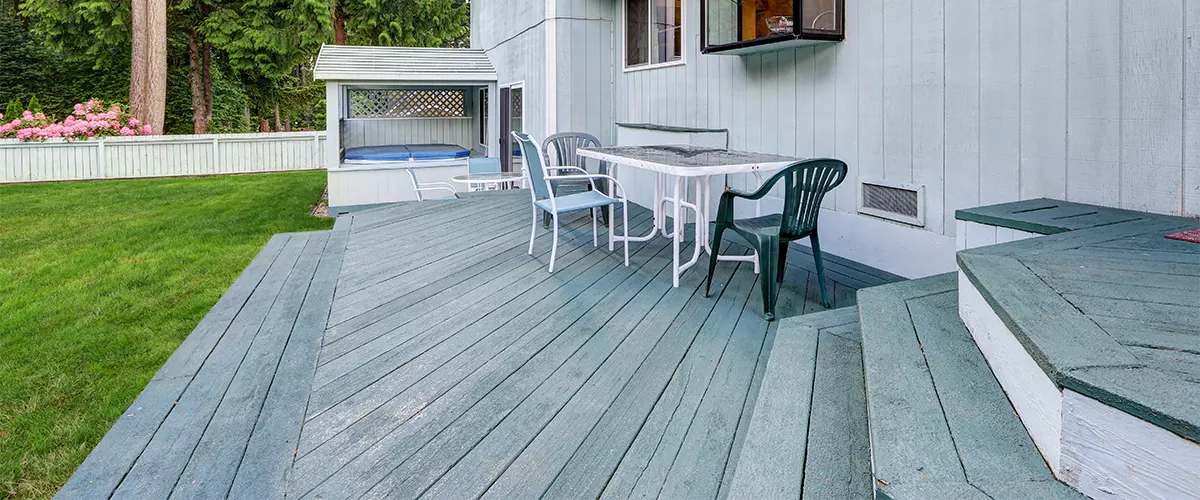 Our Top Deck Designer Software Pick
The AZEK/TimberTech Deck Design Tool is a free deck design tool and a balanced option, ideal for homeowners who want to shoot their shot at designing their own deck. It's an accessible option with many features, but also a relatively simple interface.
Users may pick from a number of free deck templates or build their own from the ground up. It's simple to envision the final outcome thanks to options for 2D, 3D, and presentation views.
This user-friendly design was made with homeowners in mind. The finished deck will look like it is evident from the clear graphics and precise 3D renderings.
It works for both Windows and iOS, on laptops and tablets (not available for phones), it's free, and has both 2D and 3D rendering.
AZEK/TimberTech Deck Design Software options are:
If you already have the tool, it's time to start using it. Once again, it's a free deck design software, so there shouldn't be anything stopping you.
Naturally, you'll need a deck plan. If you don't have one already, there's a large selection of deck plans right here (courtesy of decks.com).
Note: For many of the deck plans here, you'll need a building permit from the city building department. The process of applying for one can get complicated, so if you'd rather have someone else do it for you, get in touch with us!
After you see some deck plans and designs, it's time to design your own. The app will have a tutorial and you'll know all the essentials in no time. After that, you can get creative.
You can also read more about deck plans in our article "4 Things To Consider For The Best Deck Plan".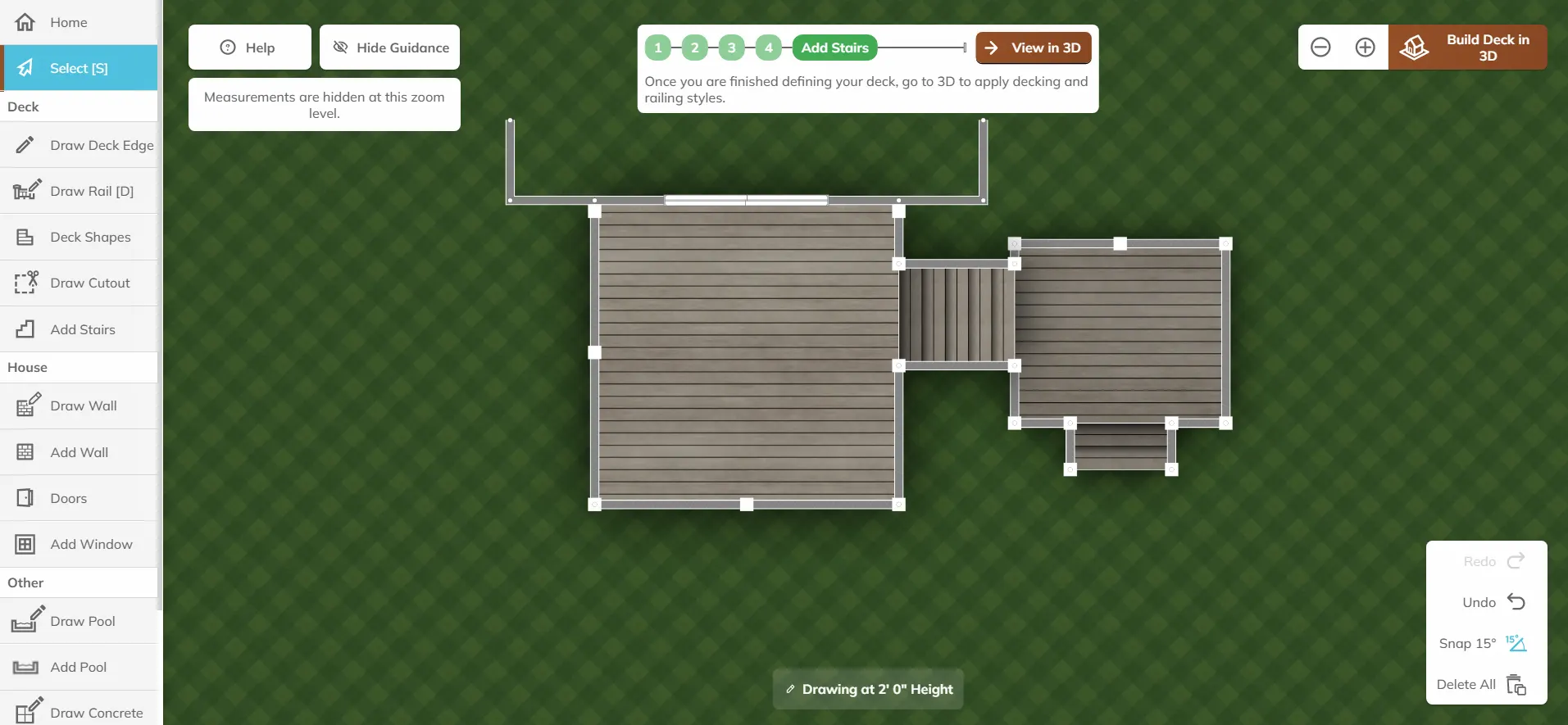 How To Make Your Project Flow Smoother
If you're familiar with building decks and designing them, you could probably try and tackle your deck building project on your own. Although we wouldn't normally recommend it, each homeowner can make his or her own decisions.
If, on the other hand, you have no experience in carpentry, deck building, or designing outdoor spaces, you'll need a professional deck builder and designer.
Having a pro work on your deck gives you peace of mind that your outdoor space will turn out great.
At Riverview Decks, our deck builders and designers will ensure your project will flow smoothly and the end-product will leave all your guests in awe. You'll host the best dinners and entertain everyone on your dream deck.
For a lot of deck builders, the best deck designer software is the one that offers the perfect balance between ease-of-use, functionality, and options. We chose the AZEK/TimberTech Deck Design Tool because it has everything you need to get started and design a deck project.
Are there other options? Of course! But are they great for beginners? No really. They're either too complicated, have too many features that are hard to get used to, they're too expensive, or are simply bad.
Some other options worth looking into are:
If you want a professional deck designer to help you out with your deck plans, request a free quote right now. Or if you want to talk directly to your local deck builders in Knoxville TN, call us at (865) 801-4545!